If you want to bring some winter charm to your home, you can make your own coffee filter snowflakes. You can easily turn these everyday items into stunning seasonal decorations with just a few steps. Explore 20 easy DIY coffee filter snowflakes that you can make at home. Whether you prefer a basic or a complex pattern, there is a design for everyone. Plus, each coffee filter snowflake pattern comes with clear instructions to guide you along the way.
One of the best things about coffee filters is that they are versatile and can make different snowflake effects. You can stick to the traditional white snowflakes or add some color and texture with other materials like straws, pasta, or washable markers.
You can also experiment with different techniques like using a printable template or adding watercolor effects to your coffee filters. These crafts are not only fun for adults, but also great for kids, as they help them learn about symmetry and improve their fine motor skills.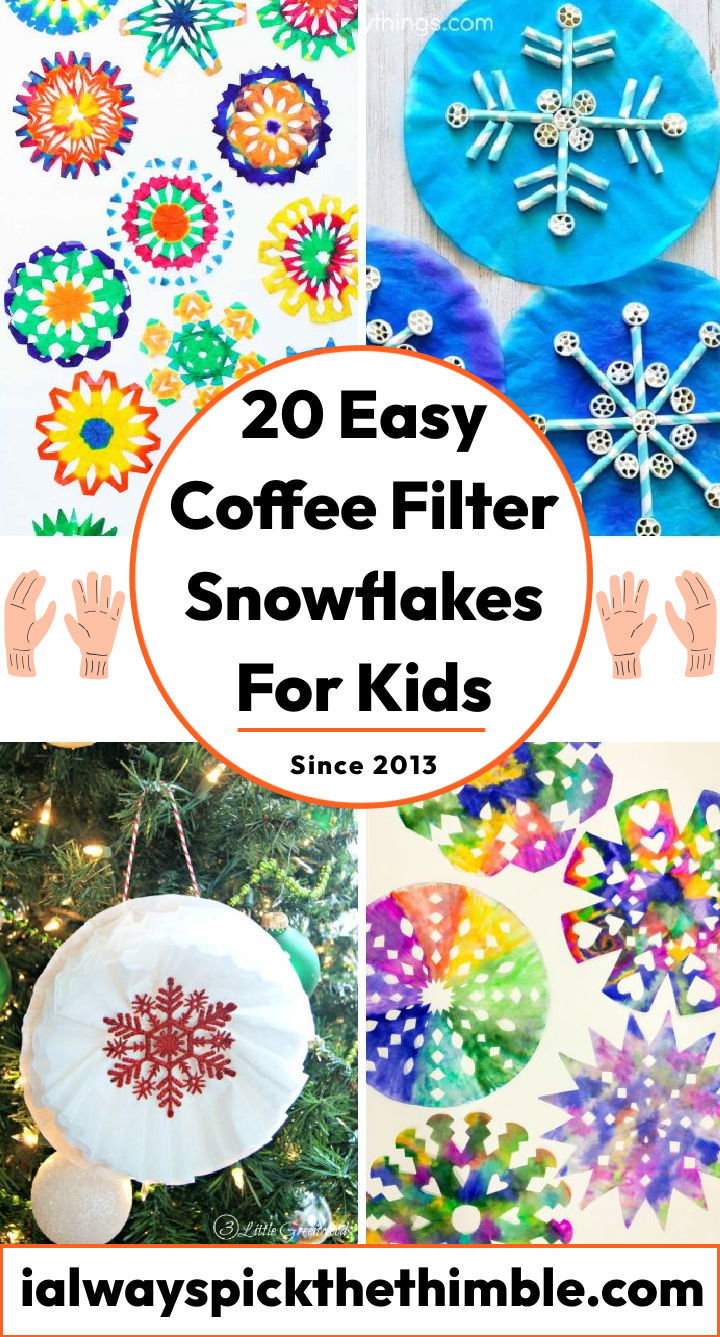 Making snowflakes from coffee filters is a fun and rewarding activity that allows you to customize your holiday decorations. You can use these handmade ornaments to beautify any space, whether it's hanging from a window, decorating your fireplace, or even giving them as a special gift. So, grab your coffee filters and get ready to unleash your creativity, making your own coffee filter snowflakes.
1. How to Make Coffee Filter Snowflakes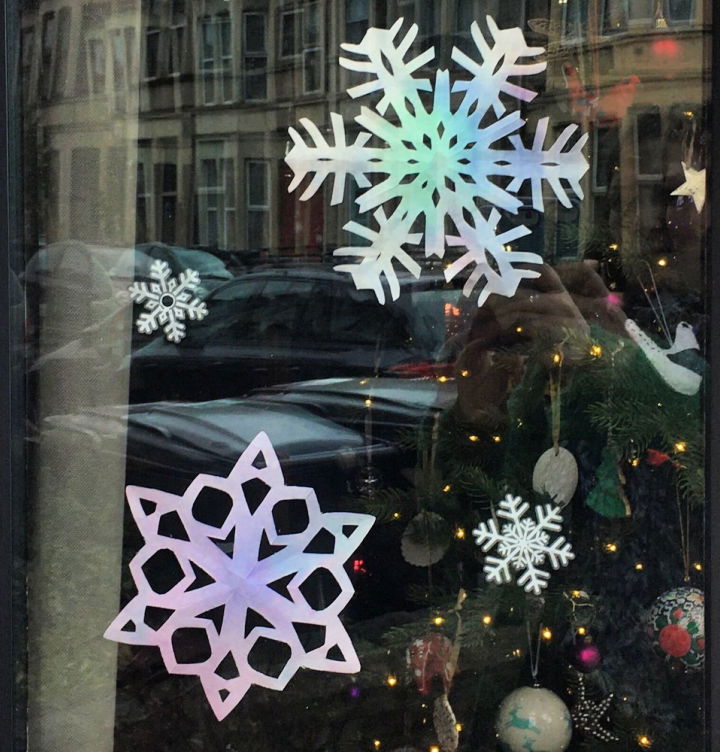 Make coffee filter snowflakes this winter season! This fun and unique activity is simple and will add a beautiful touch to your home. Watch as the paint blends and catches the light, makingstunning patterns!
Every snowflake you make will be one of a kind – a sun catcher that can stay up all winter. Remember to take down the leaf garland first, so you have plenty of materials for your project. Enjoy this creative crafting opportunity today! mudandbloom
2. DIY Coffee Filter Snowflakes – Inexpensive Decoration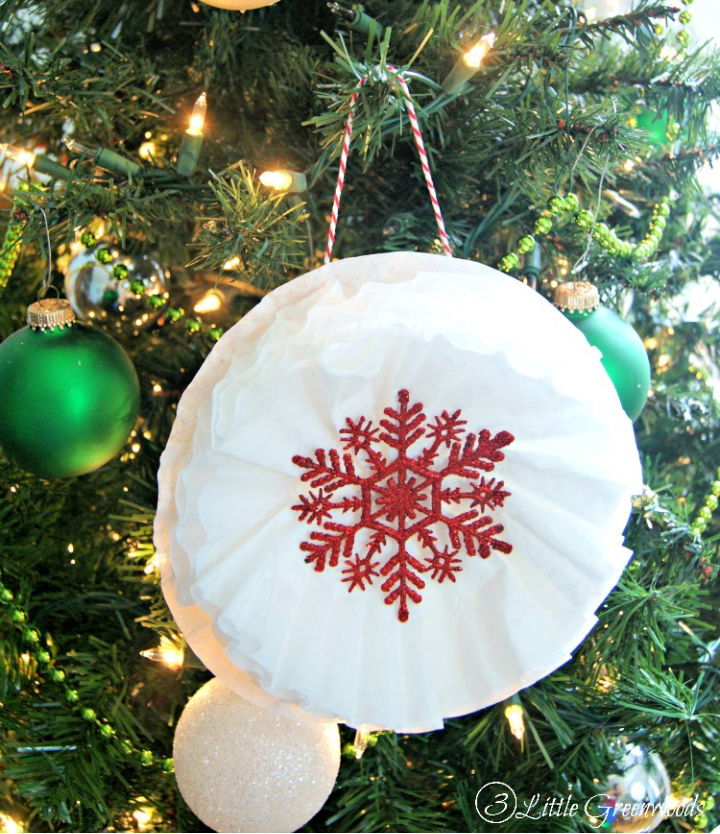 Make your Christmas tree stand out this year with white ornaments! DIY coffee filter snowflake ornaments are the perfect way to add holiday decorations that will pop against any tree. You only need a few household items and creativity to make your unique snowflakes.
Not only will they look great, but they're also incredibly affordable and easy to make. Transform your Christmas decor with these beautiful coffee filter snowflakes that will add a touch of elegance and color to any holiday celebration! 3littlegreenwoods
3. Make Your Own Snowflakes With Coffee Filters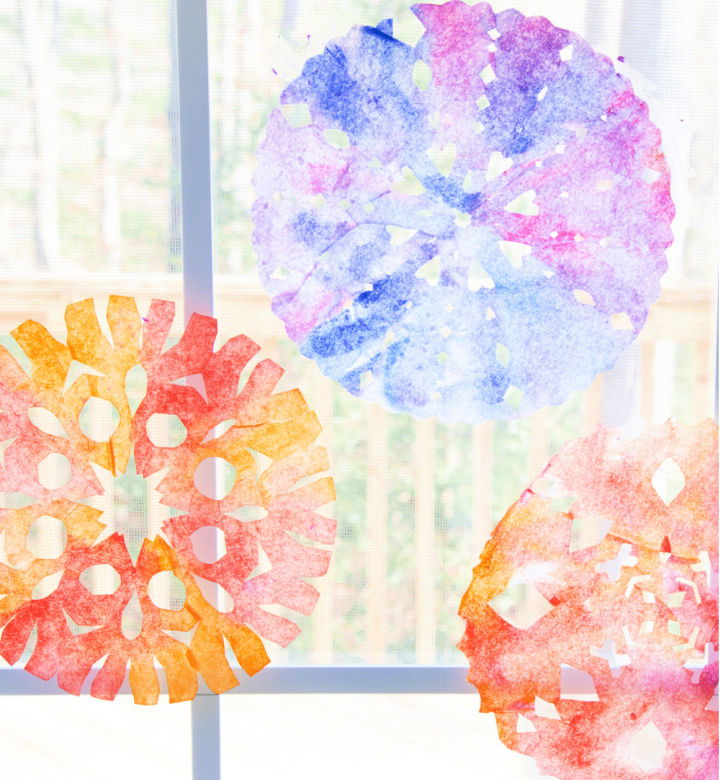 Are you looking for a fun and easy winter activity? Learn how to make snowflakes with coffee filters! Cut 8 ½ x 11 paper into smaller squares, fold it up, and round off the edges. Add watercolors for a creative winter art project to entertain kids all season.
With just a few simple steps, you'll have beautiful snowflakes to hang around your home or give as gifts this holiday season. Get crafty today with this quick, fun DIY idea! artfulparent
4. How to Make Snowflakes With Coffee Filters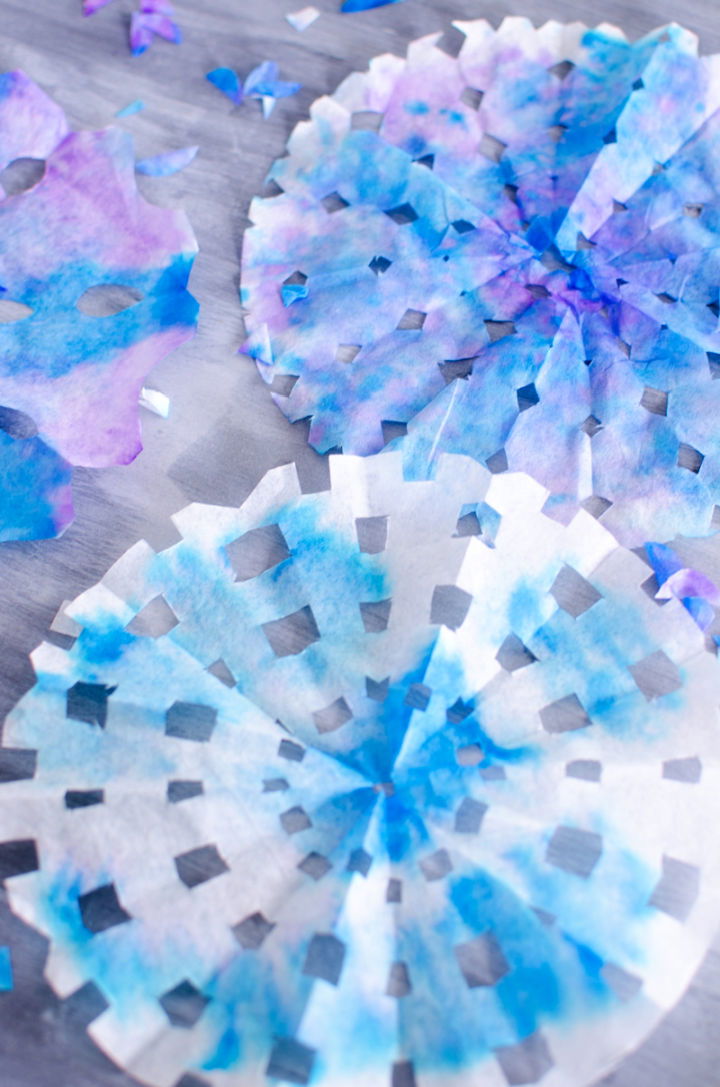 Learn how to make snowflakes out of coffee filters with this easy-to-follow tutorial and step-by-step instructions. Transform your home into a winter wonderland with these easy-to-make coffee filter snowflakes! With just coffee filters, washable markers, and some imagination, you can bring the snow indoors with dazzling results.
Make it extra special by trying something new – switch up your regular paper snowflake craft days to try making coffee filter snowflakes instead. And when the fun is done, throw them away or wipe them clean and start again!
Get creative and have fun making coffee filter crafts today! agrandelife
5. Coffee Filter Straws and Pasta Snowflake Craft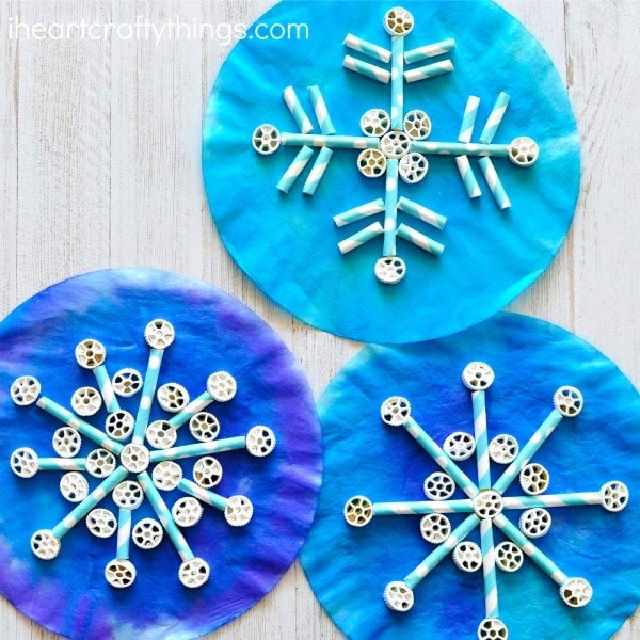 Get the kids excited for their first snowstorm of the season! This fun and creative winter craft is perfect for this time of year. Kids will have a blast putting together these awesome snowflake designs using coffee filters, paper straws, and pinwheel pasta.
Not only does it help them be creative with symmetry, but they'll also enjoy some great textures once put together. Get ready for weekend crafting as your little ones design their unique snowflake! iheartcraftythings
6. How to Make Snowflakes Out of Coffee Filters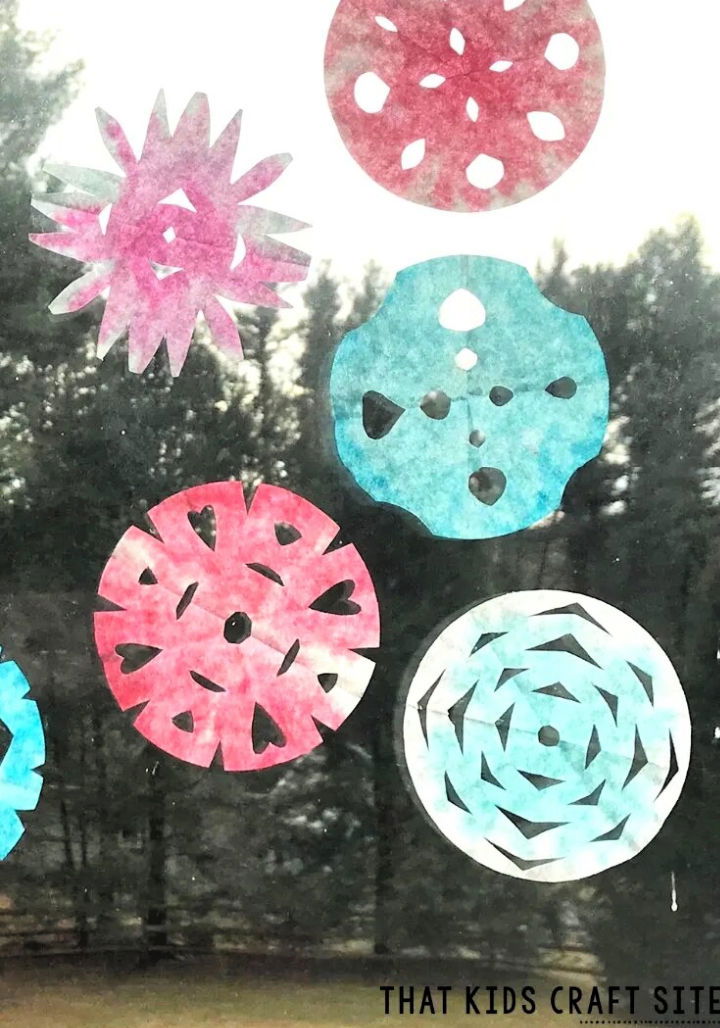 Make your own winter wonderland with this simple and affordable how to make a snowflake out of coffee filters. Make beautiful snowflakes for your winter decorations with coffee filters! Learn how to make this simple yet stunning craft in no time. This easy guide will show you step-by-step the materials and techniques needed to make this festive coffee filter snowflake decoration.
With just a few common materials, patience, and tips, you can soon produce amazing results for adorning your home during Christmas. Experience the joy of bringing snowy creations to life with this delightful DIY project.
Get creative today and start making unique shapes for your coffee filter snowflakes! thatkidscraftsite
7. DIY Clear Snowflake Ornaments From Coffee Filters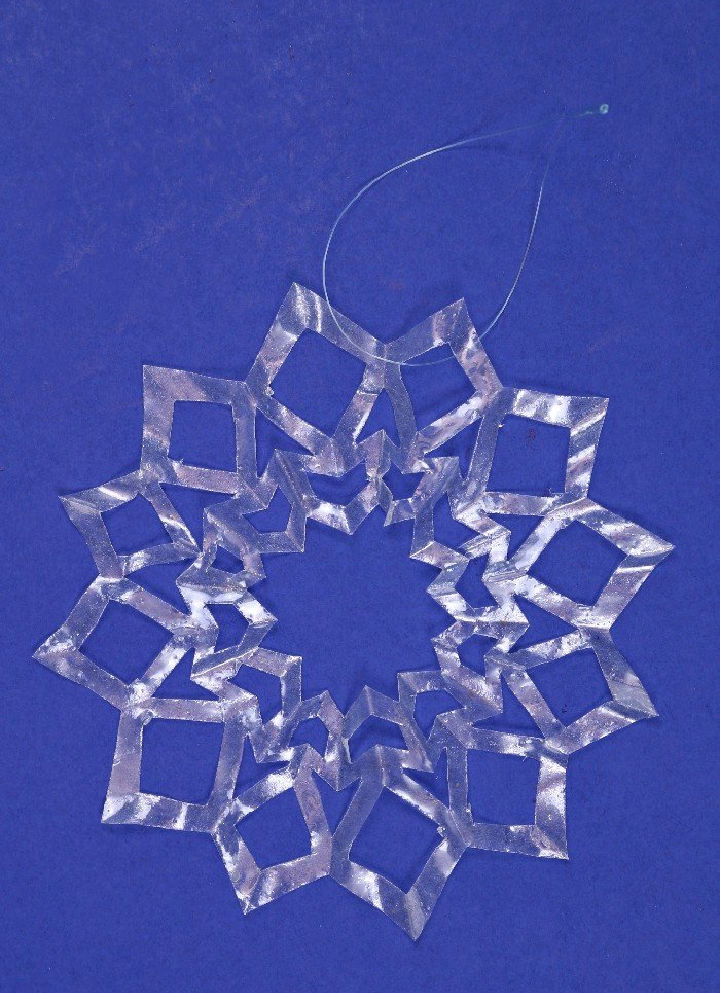 Are you looking for an easy and unique craft project to make this holiday season? Look no further! You can make beautiful snowflake ornaments using coffee filters with just a small amount of resin. Crafters discovered this technique while doing some research earlier this year – the results were so stunning that experts had to try it out myself.
After some experimentation, they could make gorgeous Christmas ornaments from the basic household item. If you want to make something special for the holidays, try Lear snowflake ornaments from coffee filters! madincrafts
8. Make Coffee Filter Snowflakes With Markers
Are you looking for a fun and creative craft activity for your child that loves snowflakes? Try making coffee filter snowflakes with markers! This easy-to-follow tutorial is perfect for entertaining your little one on chilly days. All you need are coffee filters, markers, and scissors – everything else will come together quickly.
Your kids will love seeing their creations take shape from the coffee filters as they color them in beautiful wintery designs with markers. Hang these pretty snowflakes by the window and watch them catch sunlight all day! kidzcraftcorner
9. Coffee Filter Snowflakes With Washable Markers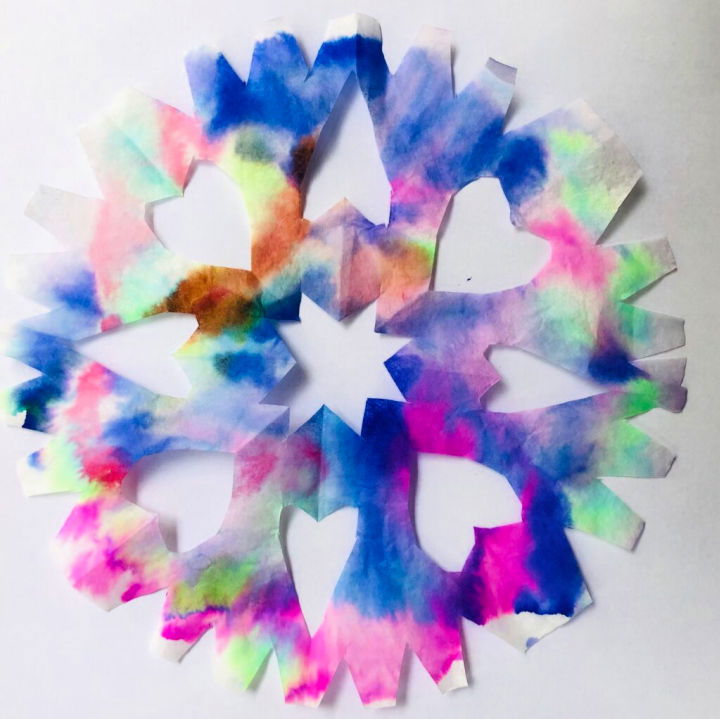 Encourage creativity and imagination in young children with these fun and educational snowflake craft for kindergarten. This easy and fun snowflake craft brings a winter wonderland into your home! Make coffee filter snowflakes with washable markers – perfect for preschoolers or kids of any age. If you're like crafters, you probably have a big pack of coffee filters waiting to be used – and this is the perfect way!
Crafters have previously used coffee filters for crafts such as butterflies, so let's get creative and make some cute snowflakes for the holiday season! glitteronadime
10. Make Coffee Filter Holiday Stars for the Mantle
Bring a festive touch to your home this holiday season with these beautiful coffee filter holiday stars! Learn how to craft folded, pinwheel, and concertina stars that can be hung on the mantle, Christmas tree, or garland. This fun and unique twist on paper bag stars will transform your home into a winter wonderland.
Get creative with colorful coffee filters for a delightful seasonal decoration you won't find anywhere else! Start crafting now for an unforgettable holiday celebration. delineateyourdwelling
11. Easy Coffee Filter Snowflake Craft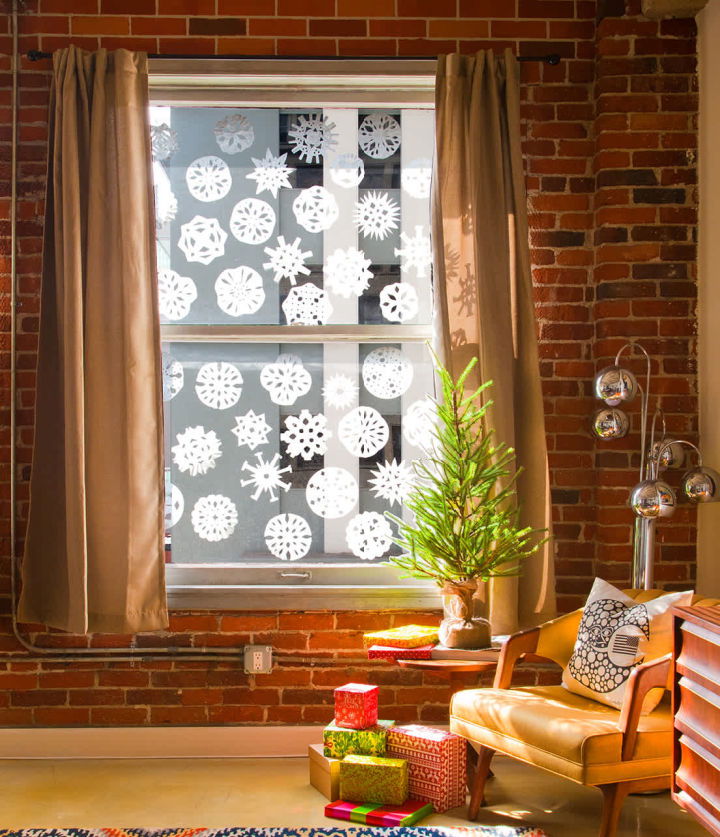 Make unique snowflakes just like you did in grade school but with a twist! Instead of regular white paper, get creative and use coffee filters for DIY coffee-filter snowflakes. The thinner paper makes it easy to cut through small shapes, which is perfect for younger kids.
Plus, the round shape of the coffee filter eliminates the need to cut out any circles – making this craft easier than ever before. With DIY coffee-filter snowflakes, you can have wintery fun without all the hassle. mom
12. DIY Coffee Filter and Cupcake Paper Paper Snowflakes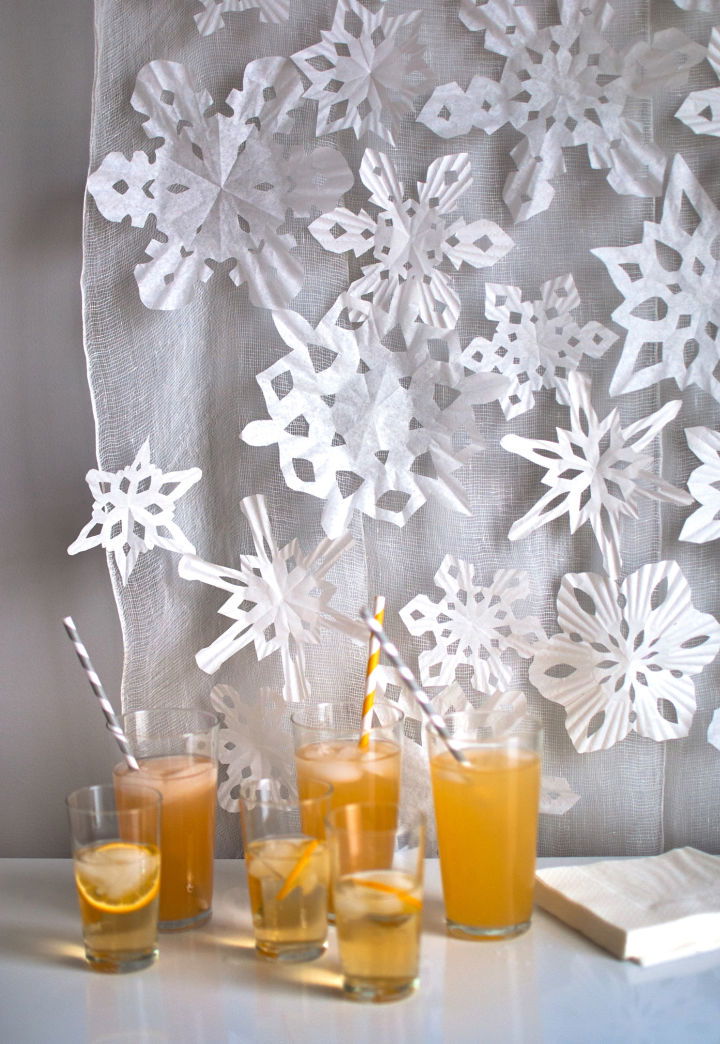 Get inspired with these free printable coffee filter snowflakes templates that make creating your snowflakes a breeze. Make beautiful paper snowflakes easily and economically! Stop using up your stash of origami paper and start using coffee filters or cupcake papers instead. These thin materials are perfect for folding and snipping into elaborate designs, plus they're affordable, so you can make as many snowflakes as you want.
With the easiest coffee filter & cupcake paper snowflakes craft project, you don't have to worry about cutting squares from printer paper – fold, snip, and enjoy amazing results. supermakeit
13. Coffee Filter Snowflake Craft for Winter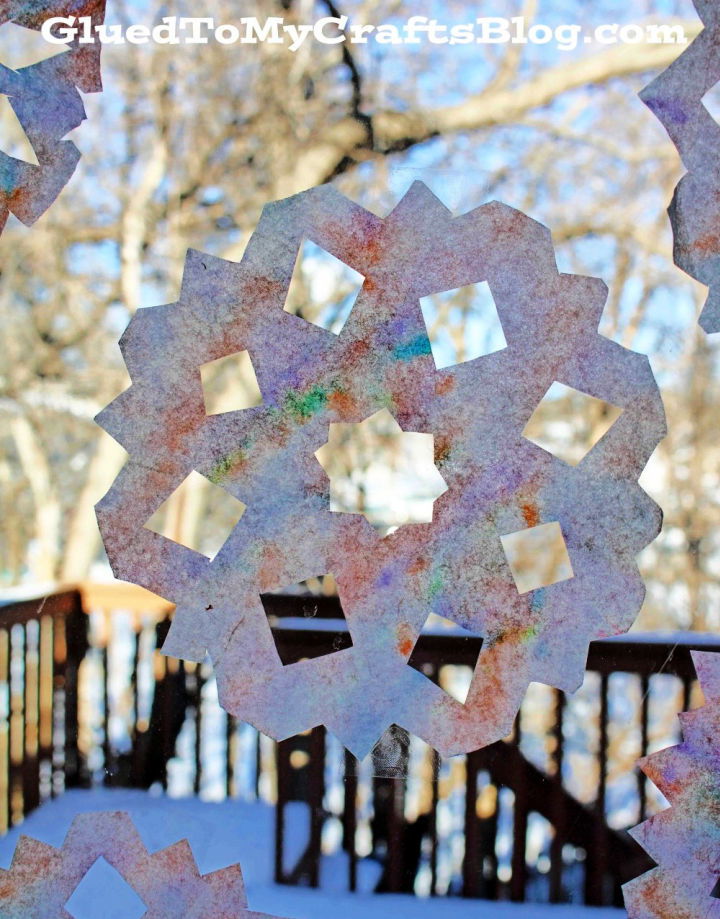 Do something fun this winter and make a coffee filter snowflake! This easy DIY craft is great for kids and adults, so grab your coffee filters and start creating. You can make beautiful designs perfect for decorating the home or classroom with just a few simple steps.
This tutorial has all the information you need to get started, with step-by-step pictures and helpful tips. So have fun this winter by making your coffee filter snowflake craft idea! gluedtomycrafts
14. Make a Snowflake Out of a Coffee Filter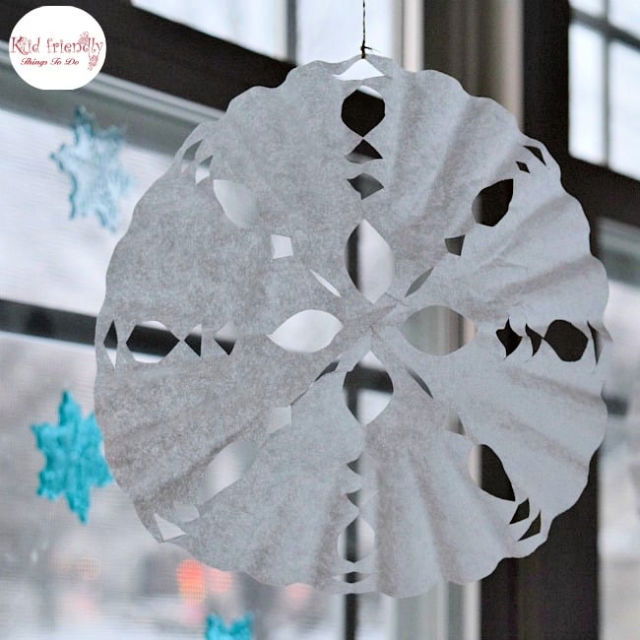 Make a beautiful decoration for your winter wonderland with this easy and fun snowflake made from coffee filters! With just a few supplies, kids can make these delightful decorations quickly. You only need coffee filters, scissors, markers, paint, and glitter. Instructions on how to craft the snowflakes will help guide each step so it's stress-free for everyone involved.
Make sure to hang up all finished creations once complete – they're guaranteed to add sparkle and cheerfulness to any home during the holiday season. This craft is perfect for young children, but adults will have just as much fun makingthem too! kidfriendlythingstodo
15. DIY Coffee Filter Paper Snowflakes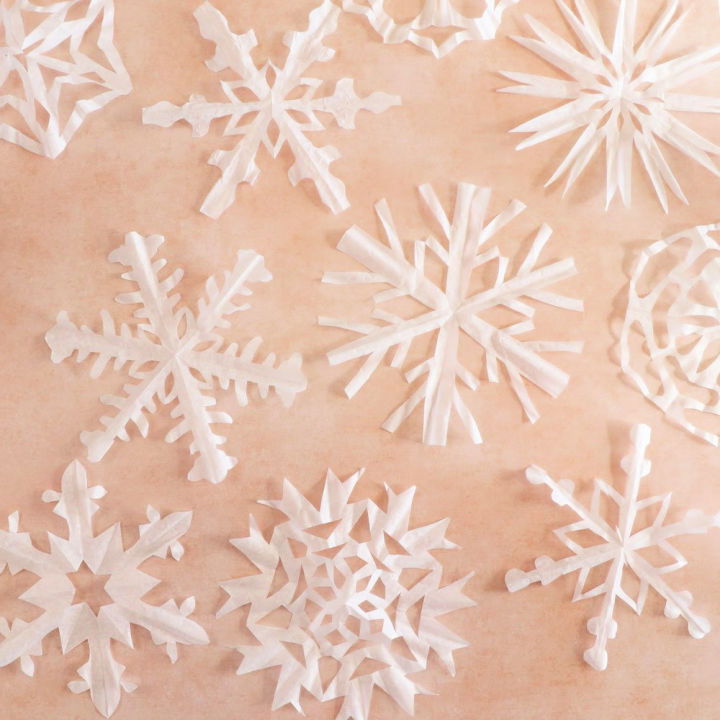 Make the holidays merry with a fun and easy craft: paper snowflakes! Perfect for Christmas advent calendars, these simple decorations are great to make with the kids any time during winter. All you need is some colorful paper and scissors and your imagination!
Let your creativity run wild as you make beautiful, unique shapes for your snowy masterpiece. Get ready to bring a touch of winter wonder into your home this year with easy paper snowflakes! laurascraftylife
16. DIY Tie Dye Coffee Filter Snowflakes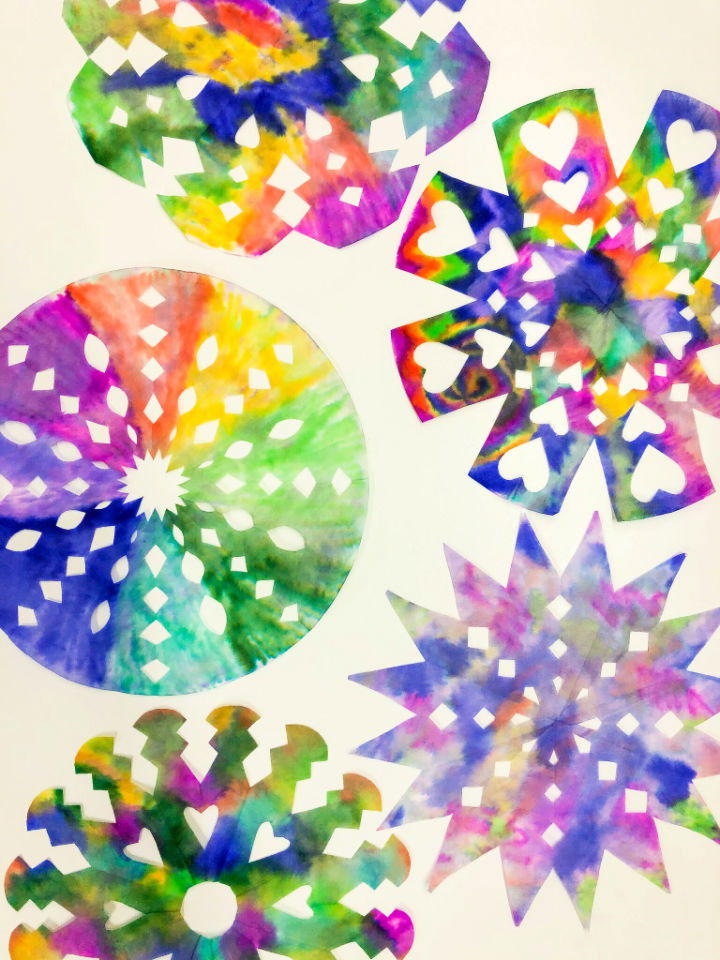 Encourage creativity and imagination in young children with these fun and easy snowflakes for preschoolers. Make a festive and unique look this holiday season with tie-dye snowflakes! These snowflakes are featured in Christmas kits this year, bringing joy to parents and kids alike. The process is simple: color a coffee filter with markers, spritz with water until the colors blur together, leave them to dry, and cut into snowflake shapes.
Hang your creations near a window for the sunlight to shine and bring extra cheer into the room. Try out these tie-dye snowflakes for an unforgettable Christmas experience! craftandboogie
17. Coffee Filter Psychedelic Snowflake Craft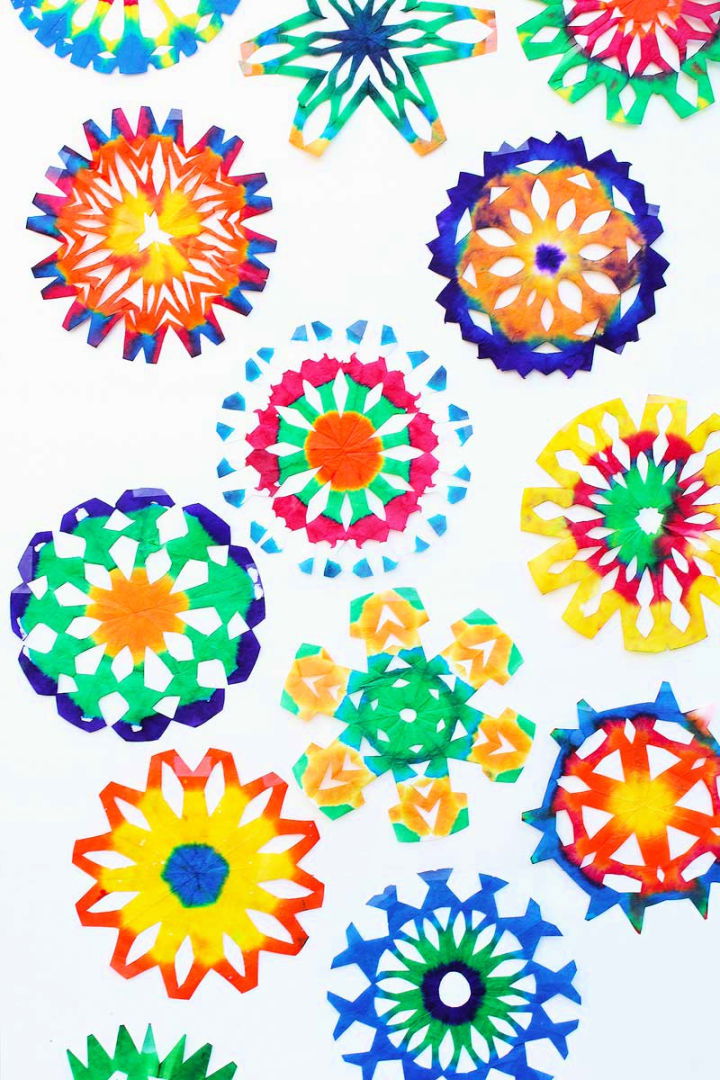 Introducing the psychedelic snowflake craft, a winter-themed steam project that combines art and science! Perfect for kids and families, this craft provides an opportunity to learn about absorption, radial geometry, and more while makingbeautiful snowflakes.
Gather materials such as construction paper or cardstock, scissors, markers, or colored pencils, and watch in amazement as you turn your home into a winter wonderland with these one-of-a-kind decorations. Try it today for some colorful fun science learning! babbledabbledo
18. DIY Coffee Filter Snowflake Art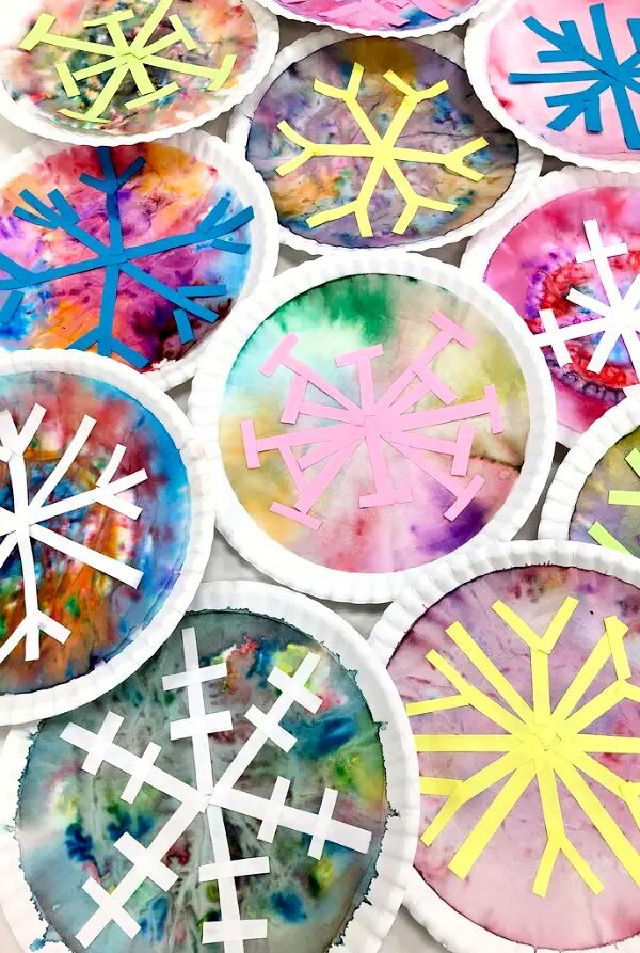 Create a winter wonderland with these fun and easy snowflake crafts for kids that are sure to spark their imagination. As an art teacher to young learners, reaching and engaging all of your students can be challenging. That's why coffee filter snowflake art is perfect for any classroom! Combining coffee filters, paints, markers, and a little creativity allows you to make beautiful snowflakes, with no two being alike.
This activity will capture the attention of students with various interests, strengths, abilities, and sensory sensitivities and those with special needs – making it the ideal art experience for everyone! Join the craft in celebrating winter weather by makingyour unique masterpiece this season. fantasticfun
19. Simple and Easy DIY Coffee Filter Snowflakes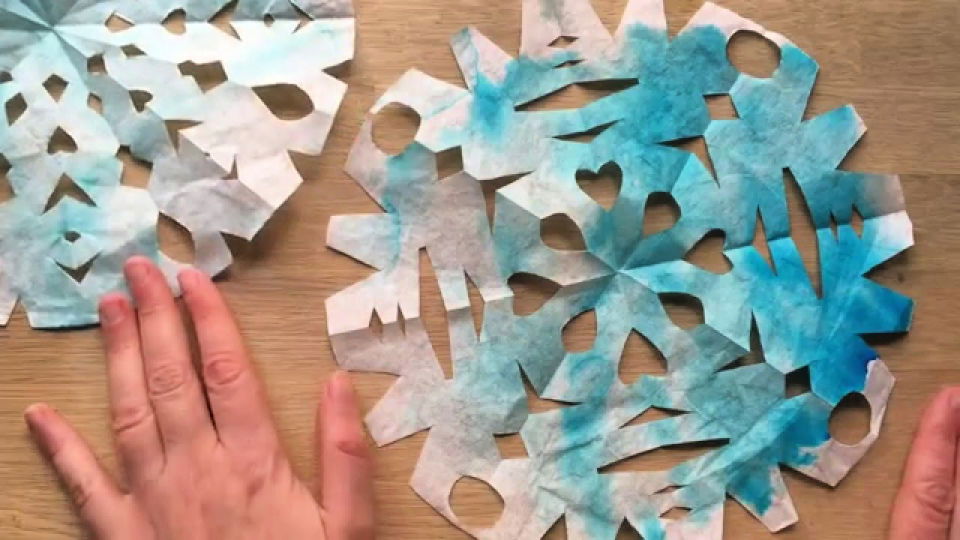 Make your beautiful coffee filter snowflakes this winter! This fun and easy craft will give you a cozy winter feeling. Get creative with crafting these lovely paper snowflakes and add some cheer to the cold months.
Making one of these unique snowflakes only takes a few steps; follow the step-by-step guide and make something special for your home. Try out easy DIY coffee filter snowflakes today for an enjoyable crafting activity everyone in the family can enjoy!
20. Coffee Filter Snowflakes With Free Templates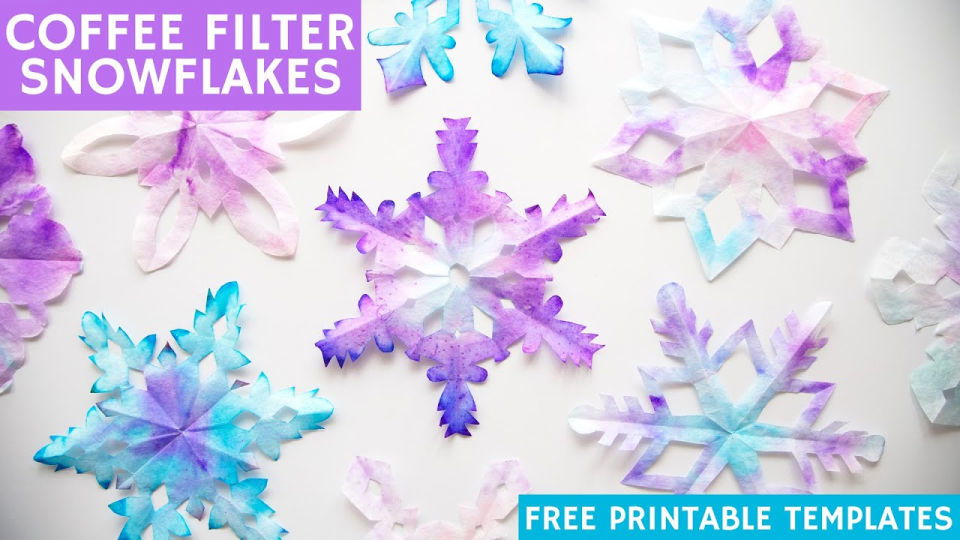 Make beautiful and unique snowflakes with coffee filters! This simple, inexpensive craft project is perfect for winter fun. Get the free printable templates online to make your coffee filter snowflakes.
Learn how easy it is to use these templates and a few common items around your house, like scissors and glue, to make amazing pieces of art you can hang up or give away as gifts this holiday season. Enjoy the cozy feeling of making something special with family or friends this winter!
Conclusion:
Snowflakes are a beautiful symbol of winter that can be easily recreated at home using coffee filters. With these 20 easy DIY coffee filter snowflakes, you'll have plenty of ideas for creating your own winter wonderland indoors. These easy-to-make snowflakes are perfect for decorating windows or hanging from the ceiling, adding a touch of winter magic to any room.