A DIY camp kitchen box is your key to enjoyable outdoor cooking, making your camping trip hassle-free and even more memorable. Discover 25 free DIY chuck box plans, each offering unique camp kitchen box ideas that are cheap and functional, perfect for camping lovers at any level. A camp kitchen box, or "chuck box," makes for an organized, efficient, and portable kitchen, allowing you to cook and enjoy meals in the great outdoors with the same ease and comfort as at home.
Among these free chuck box plans we've gathered, you'll find a wide range of styles and designs suitable for a multitude of camping needs. From lightweight and compact solutions ideal for backpacking adventures, to more comprehensive designs aimed at the needs of car camping and larger group outings, there's a DIY chuck box plan for everyone. Many of these chuck box plans come with clear instructions, detailed diagrams, and even video tutorials to guide you through the assembly process. And each plan also provides a complete list of materials and supplies needed, ensuring that your DIY project runs smoothly from start to finish.
Building your own camp kitchen box is not only a great way to save money but also allows you to customize your box to fit your specific needs and preferences. With the right tools, some time, and a dash of creativity, you can create a DIY camp kitchen box that's perfect for your next camping adventure. So grab your materials, choose from our top 25 DIY chuck box plans, and get started on your next fun and fulfilling project today. Make your camping experience even better with a customized DIY camp kitchen box!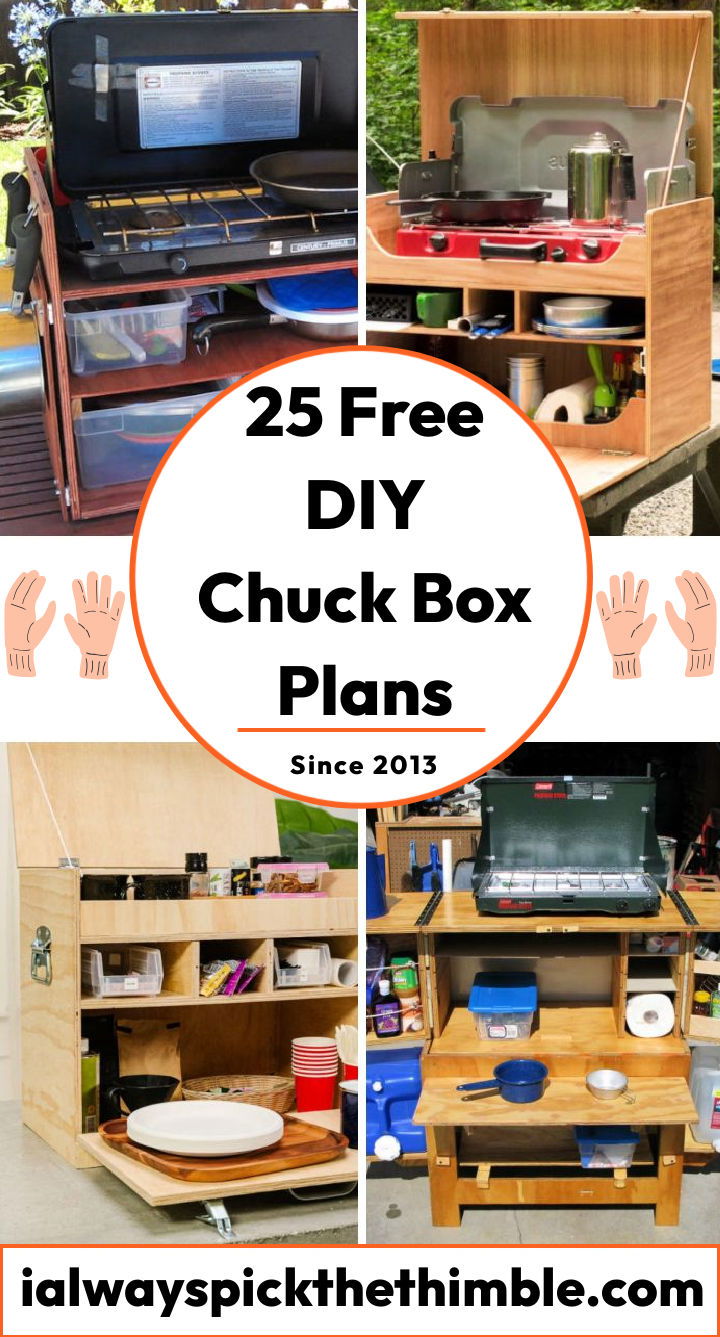 What is a Chuck Box and Why You Need One for Camping
A chuck box, also known as a camp kitchen box or a patrol box, is a light, functional and portable box that is used to store and carry camp kitchen items, such as pots and pans, crockery, cutlery, spices, cooking oil, stove, fuel, water, and other essentials. It is designed to make your outdoor cooking experience easier, more organized, and more enjoyable.
A chuck box can help you:
Save time and hassle by having everything you need for cooking in one place
Keep your campsite tidy and prevent losing or forgetting items
Protect your kitchen gear from dirt, moisture, and animals
Create a comfortable and convenient workspace for preparing and serving food
Enjoy the outdoors without compromising on quality and taste
How to Choose the Right Material and Design for Your Chuck Box
There are many different types of chuck boxes available on the market, or you can make your own using DIY chuck box plans. The material and design of your chuck box will depend on your personal preferences, budget, camping style, and the size and weight of your kitchen gear.
Some of the most common materials used for chuck boxes are:
Wood: Wood is a natural and durable material that offers strength and rigidity. It can also be easily customized and painted to suit your taste. However, wood can be heavy, bulky, and prone to warping or rotting if not properly treated or maintained.
Plastic: Plastic is a lightweight and waterproof material that is easy to clean and resistant to rust and corrosion. It can also be molded into various shapes and sizes to fit your needs. However, plastic can be flimsy, brittle, and susceptible to cracking or melting if exposed to high temperatures or direct sunlight.
Metal: Metal is a strong and sturdy material that can withstand harsh weather conditions and rough handling. It can also be folded or welded into compact and sleek designs. However, metal can be heavy, noisy, and prone to denting or scratching if not properly coated or protected.
Some of the most common designs for chuck boxes are:
Box: A box design is a simple and classic design that consists of a rectangular box with a hinged lid that opens up to reveal the contents. The lid can also serve as a table or a stove platform. The box can have drawers, shelves, dividers, or compartments to organize the items inside. A box design is easy to make and use, but it can be bulky and heavy to carry.
Cabinet: A cabinet design is a more advanced and sophisticated design that consists of a box with one or more doors that swing open to reveal the contents. The doors can also serve as tables or stove platforms. The cabinet can have drawers, shelves, dividers, or compartments to organize the items inside. A cabinet design is more elegant and spacious than a box design, but it can also be more complex and expensive to make or buy.
Backpack: A backpack design is a modern and innovative design that consists of a backpack with multiple pockets, pouches, straps, or hooks to store and carry the items. The backpack can also have a foldable or detachable table or stove platform. A backpack design is more portable and versatile than a box or cabinet design, but it can also be less stable and secure.
Tips and Tricks to Organize and Pack Your Chuck Box Efficiently
Once you have your chuck box ready, you need to organize and pack it efficiently to make the most of the space and avoid clutter. Here are some tips and tricks to help you:
Make a list of all the items you need for your camp kitchen, and check them off as you pack them.
Use smaller containers or ziplock bags to store spices, cooking oil, condiments, and other liquids or powders. Label them clearly and keep them in a separate drawer or pouch.
Use nesting pots and pans that fit inside each other to save space. You can also use silicone or collapsible cookware that can be folded or rolled up.
Use lightweight and durable dinnerware and flatware that can be easily washed and reused. You can also use biodegradable or compostable plates and utensils that can be disposed of without harming the environment.
Use hooks, straps, or magnets to hang or attach items that can be easily accessed or used frequently, such as towels, spatulas, knives, or scissors.
Use foam pads or bubble wrap to cushion and protect fragile or sharp items from breaking or scratching.
Use elastic bands or rubber bands to secure loose items or prevent them from rattling or spilling.
Use color-coded labels or stickers to identify different items or categories of items.
Use clear or transparent containers or drawers to see what's inside without opening them.
Common Mistakes and Problems to Avoid When Building and Using a Chuck Box
Building and using a chuck box can be fun and rewarding, but it can also pose some challenges and difficulties. Here are some common mistakes and problems to avoid when building and using a chuck box:
Choosing the wrong material or design for your chuck box: Make sure you choose a material and design that suits your needs, budget, camping style and the size and weight of your kitchen gear. Consider the pros and cons of each material and design before making your decision.
Cutting or drilling the wood or plastic incorrectly: Make sure you measure and mark the wood or plastic accurately before cutting or drilling. Use a saw or drill that is appropriate for the material and thickness. Follow the instructions and diagrams carefully and check your work frequently.
Forgetting or losing some items or parts: Make sure you have all the items and parts you need for your chuck box before starting the project. Keep them in a safe and organized place, and check them off as you use them. If you are buying a chuck box, make sure it comes with all the accessories and hardware you need.
Packing too much or too little: Make sure you pack only the items you need for your camp kitchen and avoid overpacking or underpacking. Use a checklist to ensure you don't forget anything important or pack anything unnecessary. Balance the weight and volume of your chuck box and make sure it fits in your vehicle or backpack.
Damaging or breaking your chuck box or its contents: Make sure you handle and store your chuck box carefully and avoid dropping, bumping, or crushing it. Use protective materials to cushion and secure your chuck box and its contents. Check your DIY chuck box regularly for any signs of damage or wear and tear, and repair or replace any broken or faulty parts.
How to Maintain and Repair Your Chuck Box for Long-Term Use
A chuck box can last for many years if you take good care of it and maintain it properly. Here are some tips on how to maintain and repair your chuck box for long-term use:
Clean your chuck box after every use: Wipe down the surfaces and drawers with a damp cloth and mild soap. Rinse and dry thoroughly. Wash and dry your kitchen gear before putting them back in the chuck box. Remove any stains, spills, or dirt from the chuck box and its contents.
Treat your chuck box with a protective coating: Apply a coat of paint, stain, varnish, oil, wax, or spray to your chuck box to protect it from moisture, UV rays, insects, mold, or rust. Follow the manufacturer's instructions and reapply as needed.
Lubricate the hinges, latches, handles, knobs, screws, nuts, bolts, washers, and other moving parts: Use a lubricant such as WD-40, silicone spray, graphite powder, or oil to keep the moving parts smooth and prevent them from squeaking, sticking, or jamming. Follow the manufacturer's instructions and reapply as needed.
Tighten or replace any loose or missing parts: Check the hinges, latches, handles, knobs, screws, nuts, bolts, washers, and other parts for any signs of looseness or missing. Tighten or replace them as needed. Keep some spare parts handy in case of emergencies.
Store your chuck box in a cool, dry, and ventilated place: Avoid exposing your chuck box to extreme temperatures, humidity, or direct sunlight. Store it in a shed, garage, basement, closet, or under a cover. Leave some space around it for air circulation and prevent mold or mildew growth.
The Benefits of Having a Camp Kitchen Box for Your Outdoor Adventures
Having a camp kitchen box for your outdoor adventures can make a big difference in your camping experience. Here are some of the benefits of having a camp kitchen box:
You can cook delicious and nutritious meals anytime and anywhere: With a camp kitchen box, you can prepare and enjoy your favorite dishes in the comfort of your campsite. You can also try new simple recipes and experiment with different ingredients and flavors. You can cook for yourself, your family, or your friends and share the joy of food and fellowship.
You can save money and reduce waste: With a camp kitchen box, you can avoid buying expensive or unhealthy food from restaurants, convenience stores, or vending machines. You can also use up the food you already have at home or buy fresh and local produce from farmers' markets or roadside stands. You can also reuse or recycle your kitchen gear and containers and minimize your environmental impact.
You can improve your skills and knowledge: With a camp kitchen box, you can learn new skills and knowledge related to cooking, camping, and survival. You can learn how to use different tools and techniques, how to adapt to different situations and conditions, how to manage your resources and time, and how to solve problems and overcome challenges.
You can have fun and create memories: With a camp kitchen box, you can have fun and create memories that will last a lifetime. You also can express your creativity and personality through your food and presentation. You can also bond with your loved ones and make new friends through your food and stories. You can also enjoy the beauty and wonder of nature and appreciate the simple pleasures of life.
25 Easy and Inexpensive DIY Chuck Box Plans with Step-by-Step Instructions
If you want to save money and unleash your creativity, you can make your own chuck box using some basic tools and materials. Here are 25 easy and cheap DIY chuck box plans that you can follow:
1. How to Make a Camp Kitchen Box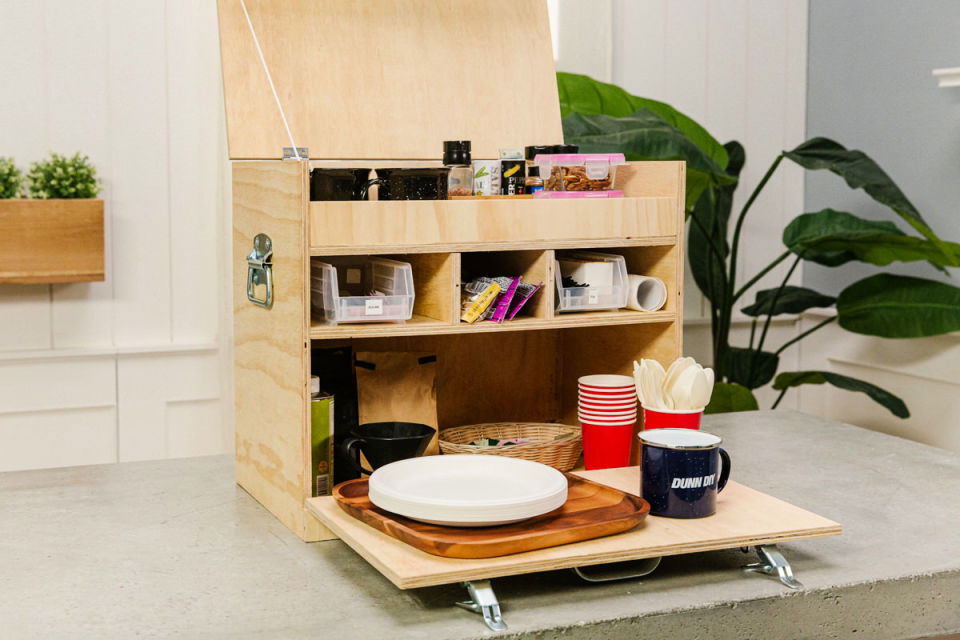 Craft your DIY camp kitchen box and be ready for a weekend camping trip anytime! This guide leads you through the step-by-step instructions for makingyour custom chuck box. You only need a ½″ sheet of plywood, a pull handle, door hinges, chest handles, and string or chain for successful last-minute camping adventures.
Make it as simple or complex as needed to fit all your needs – from plastic containers for food storage to hooks and dutch ovens. Build the perfect chuck box to accommodate all your family camping trips easily! diy dunnlumber
2. How to Build a Wooden Chuck Box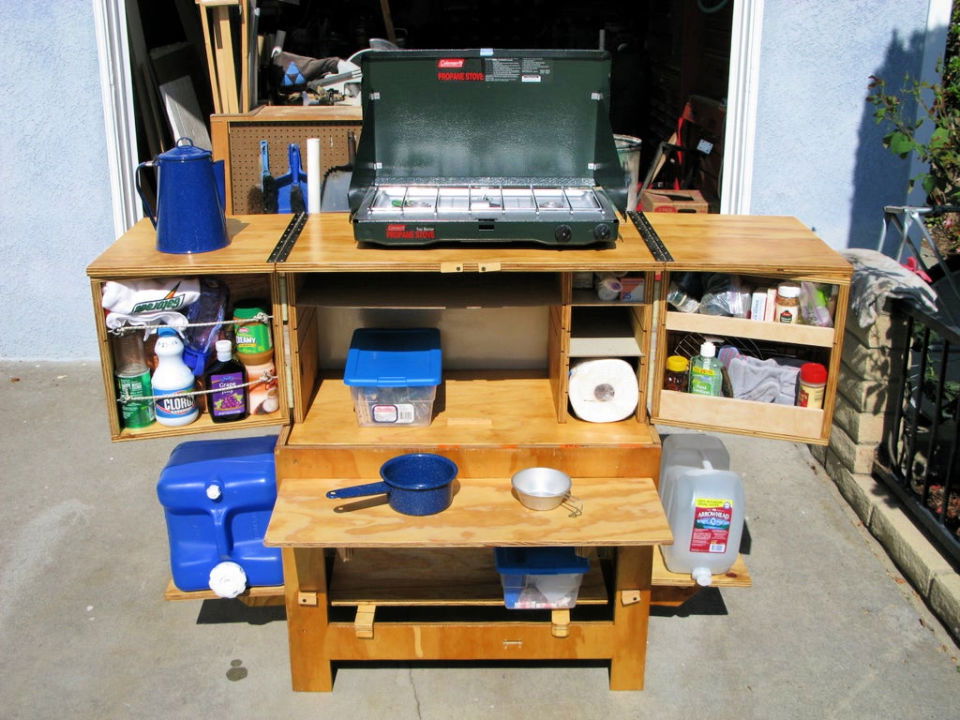 Chuck box-camp kitchen is the perfect solution for car camping needs. Organize your cooking, eating, and cleanup supplies in one convenient storage container that can go anywhere you need! This box features adjustable shelving and compartments to customize it however you want.
Plus, there's no more dealing with cardboard boxes full of camp stuff – the chuck box offers an efficient way to keep everything organized without wasting too much space or weighing down your vehicle. Get ready for a stress-free camping trip with this reliable portable chuck box – the camp kitchen! instructables
3. Portable DIY Camp Kitchen Box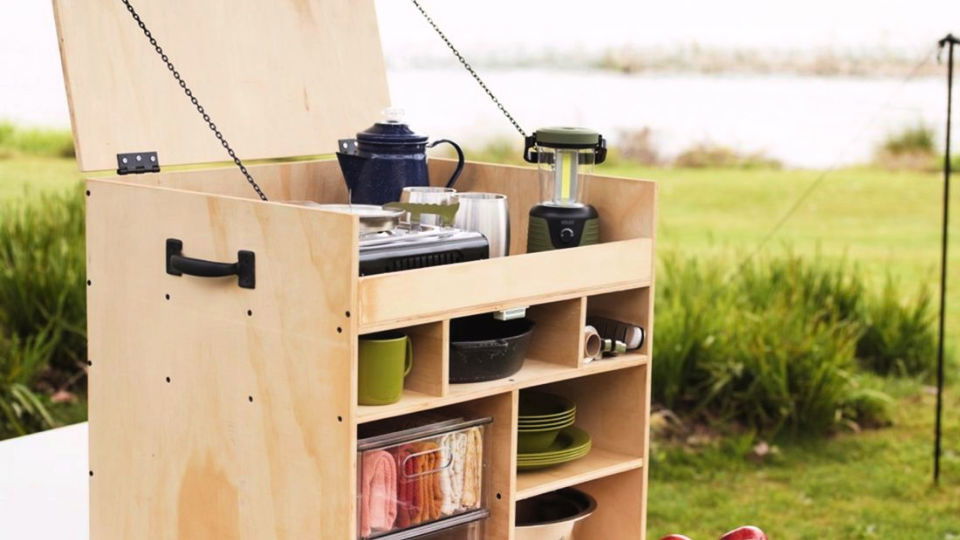 Transform your next camping trip into a luxurious outdoor adventure with this DIY portable camp kitchen box! This 'chuck box' lets you store all your cooking and kitchen essentials in one place, keeping them secure when traveling. Make it easily with 1220mm x 610mm plywood sheets, clock chain, handles, 90mm x 60mm loose-pin butt hinges, eye hooks, cabinet handle fastener, adhesive, and danish oil – sandpaper also included to make sure surfaces are smooth. Attach magnetic cupboard catch for added security and enjoy a hassle-free holiday experience! bunnings
4. Glamping Style Deluxe Camp Chuck Box Plan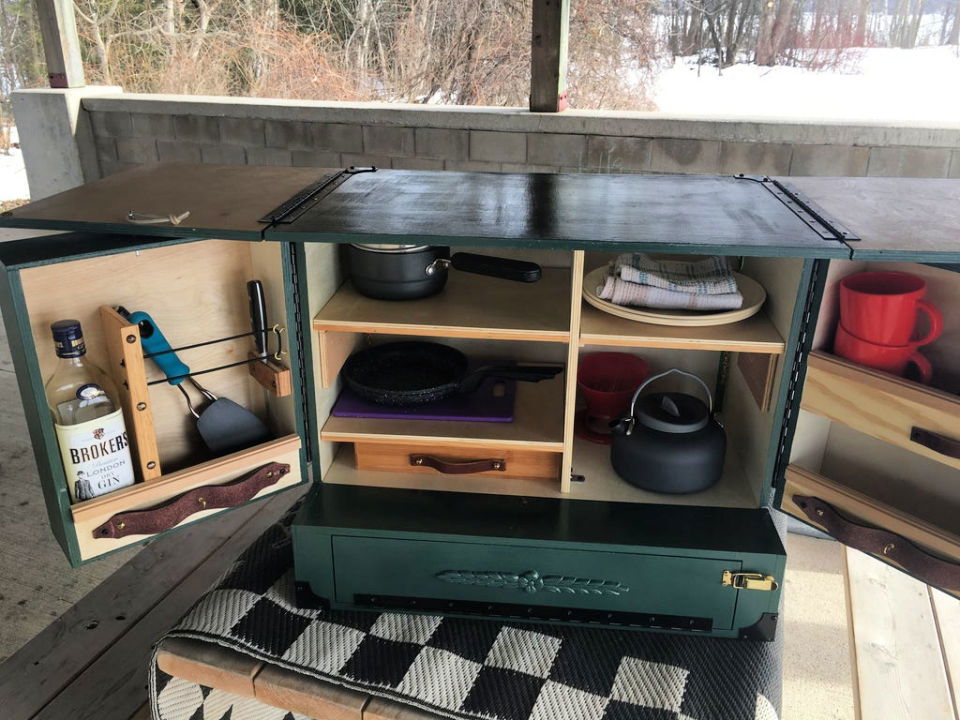 Upgrade your camping experience with this deluxe camp chuck box – designed for glamping style! This luxury box is reminiscent of a vintage picnic hamper and can be customized to fit your needs.
This plan provides the materials needed (sheets of poplar or birch plywood, ¼″ x ¾″ pine, exterior acrylic paint, latex primer, water-based polyurethane, and chest hardware) so you can build your ideal chuck box in no time. Whether big or small, shelves or none, fold-out doors or not – this deluxe camp chuck box will make all your glamping dreams come true! instructables
5. DIY Camp Kitchen Chuck Box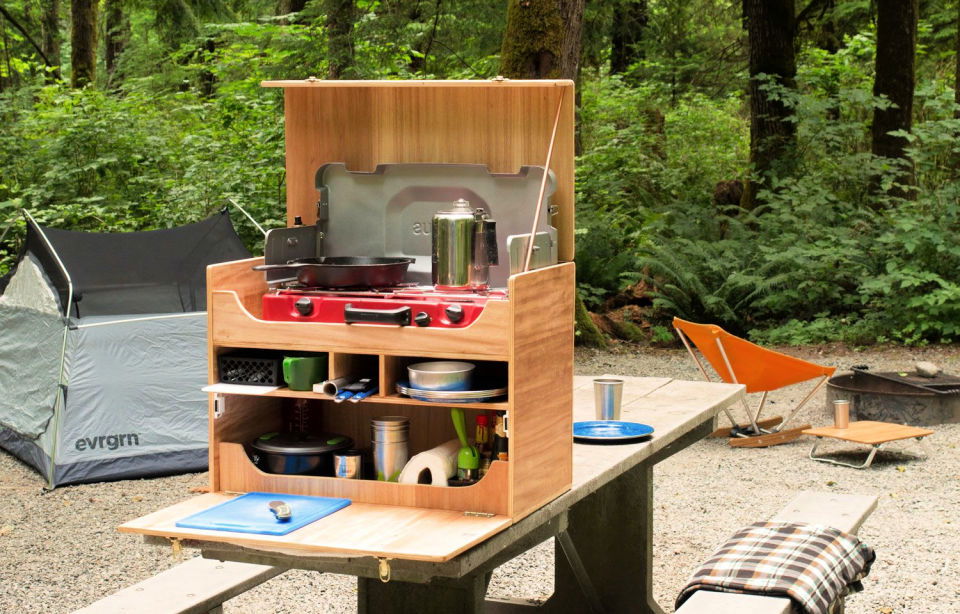 Building your camp kitchen chuck box is perfect for an organized camping trip. Easily store your cooking and dining supplies with this DIY wooden box. This tutorial provides instructions on constructing a durable, attractive camp kitchen to impress your friends and keep everything you need at arm's reach! You will need a sheet of ½" plywood, hinges, latches, magnetic closures, glue, and a lid prop for assembly. Build this rustic yet functional camp kitchen chuck box today to ensure your outdoor adventures are stress-free! rei
6. Make a Campman Chuckbox
Make a campman chuck box, your DIY camp kitchen! Start with an old toolbox and strip it down, then add a drop-down door to the front. Next, fabricate some side shelves for extra storage of your camping gear. Finally, stock up on all the supplies you need – like plates, bowls, and utensils – and you'll be ready to enjoy your one-of-a-kind campman chuck box creation. This unique way to equip yourself for outdoor cooking is perfect for those exploring the great outdoors or needing more convenience when setting up a campsite meal time. Make yours today – it's easy as 1, 2..3! instructables
7. DIY Vanlife Removable Chuck Box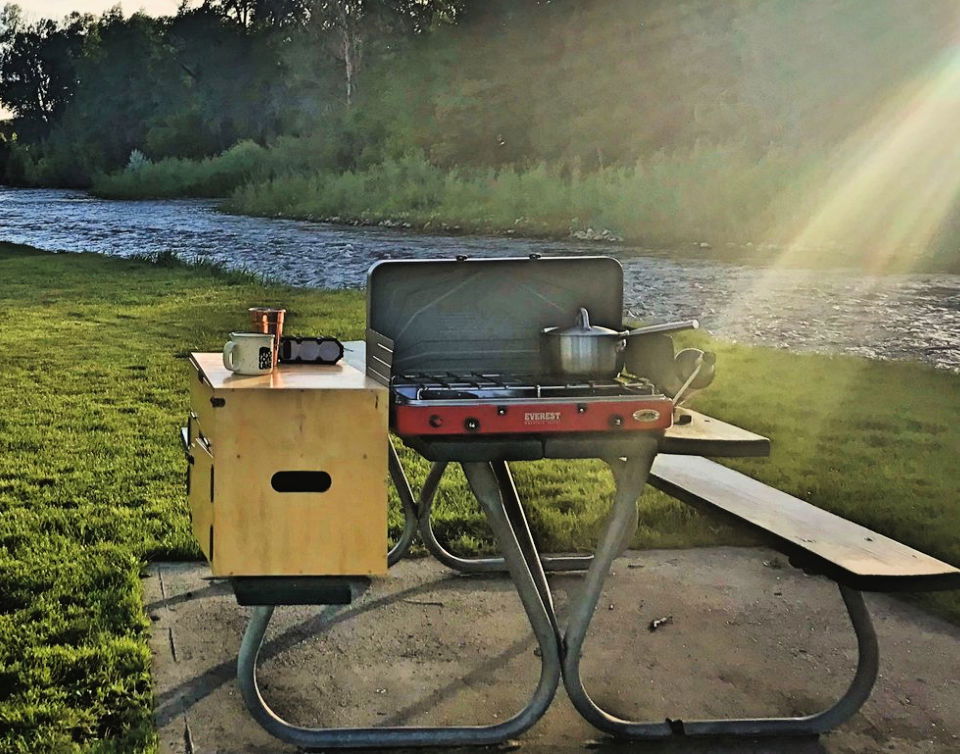 This removable chuck box makes mealtime and cooking easier while living in your van. This sturdy plywood box is customized to fit into cabinetry but can be easily removed to take outside for outdoor cooking and dining.
With a camp chef Everest two-burner camp stove, ½″ sanded plywood, wood glue, pine trim, hinges, and hook & staple latch, you'll have everything you need for the perfect setup. After assembly, add the stain you choose, followed by a clear water-based polyurethane finish to protect against the elements. Enjoy hassle-free outdoor cooking all summer long! thevanimals
8. Ultimate DIY Camp Box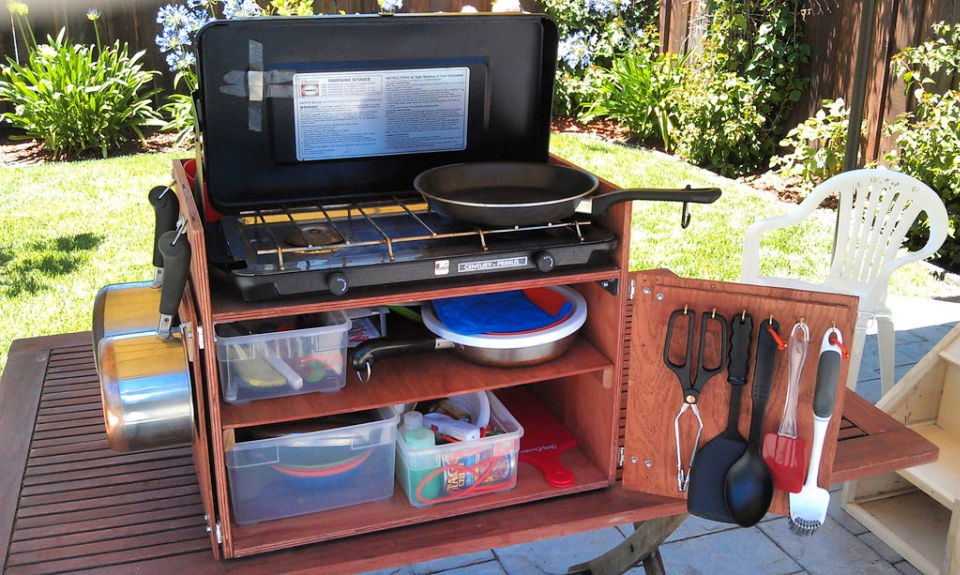 The ultimate camp box is the perfect solution for campers looking for an easy way to store and carry all their cooking gear. This box is made from ½″ plywood, 16″x 18″, 22″x16″, 23″x18″, and ½″x23" in size, with corner brackets, hooks, small hinges, and l-brackets included. Lightweight yet durable, this box makes it a breeze to pack up your camping equipment without hassle. It's designed for one person to carry easily and set up quickly – no more worrying about lugging heavy cookware around! Get your ultimate camp box today and start enjoying stress-free camping trips! instructables
9. DIY Folding Camp Kitchen Box
Bring your kitchen on the go – a folding camp kitchen is an ideal tool for any camping enthusiast! It is made with scrap wood and plywood and features multiple adjustable shelves, an extendible 5ft countertop for food prep, and two folding doors. When unused, the kitchen folds into a box just 30″ wide x 17″ deep x 20″ tall – perfect for your next outdoor adventure! With this amazing camp kitchen (or chuck box), you can make your camping trips even more memorable without breaking the bank.
10. Make a Compact Camp Kitchen Box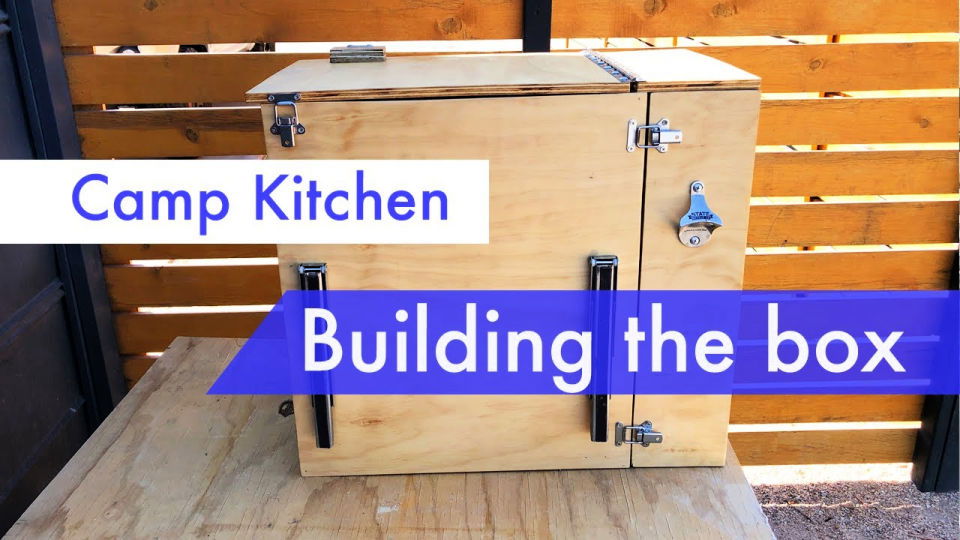 Unlock the potential of your camping trips with the simple, compact camp kitchen: building the box! This project allows you to organize your cooking equipment and store essentials like oil, sugar, coffee, and more in one handy box. Save time and money using braces instead of drawers and inexpensive tubs on rails. Get organized for your next camping trip today with this simple, compact camp kitchen: building the box! It's easy to ensure all your supplies are secure and ready when needed!
11. How to Make a Camping Kitchen Box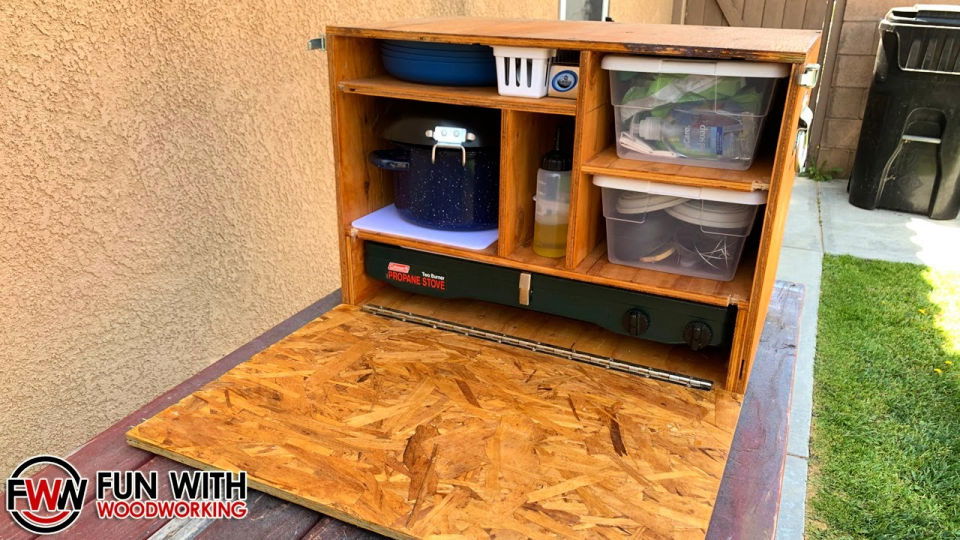 Construct a compact and convenient chuck box for outdoor cooking with ease. This quick and easy-to-build box is made from sturdy materials that withstand various weather conditions, making it perfect for camping, picnics, or other outdoor activities.
It's the ideal way to keep your camp kitchen organized and fully stocked with everything you need in one place. With plenty of space for food storage, this patrol box is an essential part of any outdoor adventure! Get ready to take on the wilds with this handy tool – provide comfort while out in nature by having a reliable camping companion!
12. Ultimate DIY Wooden Chuck Box
Discover the ultimate DIY camp kitchen chuck box! This all-inclusive storage solution will make your camping trips a breeze. This custom design allows you to store and organize your essential camp cooking tools, making them easily transported wherever you go. With several ideas for customization and combination, you can make a handy kitchen station that fits your unique needs. Enjoy quality outdoor meals with no fuss – get an ultimate DIY camp kitchen chuck box today!
13. Homemade Lightweight Chuck Box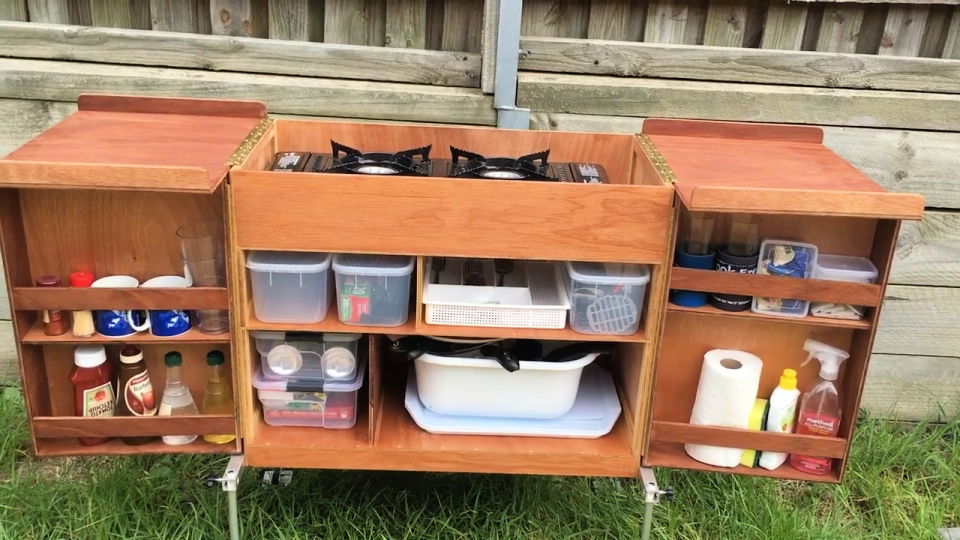 A lightweight camp kitchen or chuck box is the perfect solution for your outdoor cooking needs. This special design ensures a light yet sturdy construction, so quickly removing the car or trailer and setting it up is easy. Its telescopic legs ensure it will be level and stable on any terrain. Whether camping in the woods or at a picnic, this camp kitchen will make your mealtime more enjoyable. Enjoy delicious meals outdoors without sacrificing convenience with this convenient, lightweight camp kitchen!
14. Portable Camp Kitchen Plan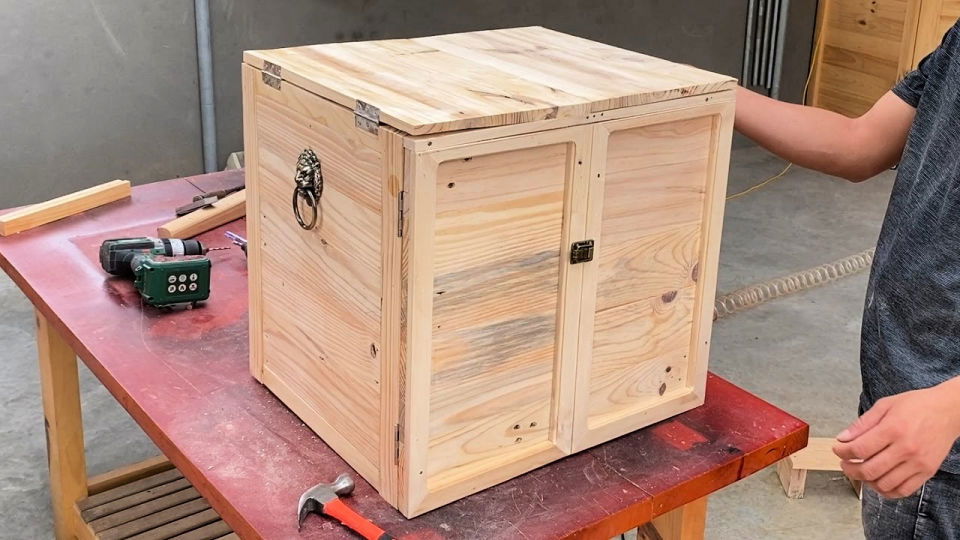 Get the comforts of home cooking with you on your next camping or picnic trip with a portable camp kitchen. Perfect for campers, tailgaters, and outdoor enthusiasts alike, this DIY kitchen is easy to assemble and includes all the essentials: counter space, shelves for food storage, and a charcoal grill for cooking. With plenty of room for all your cookware, utensils, and ingredients, you can whip up delicious meals in no time—all without breaking down between destinations! Get ready to take your outdoor adventures to the next level with a fully equipped portable camp kitchen.
15. Handmade Camping Kitchen Box Plan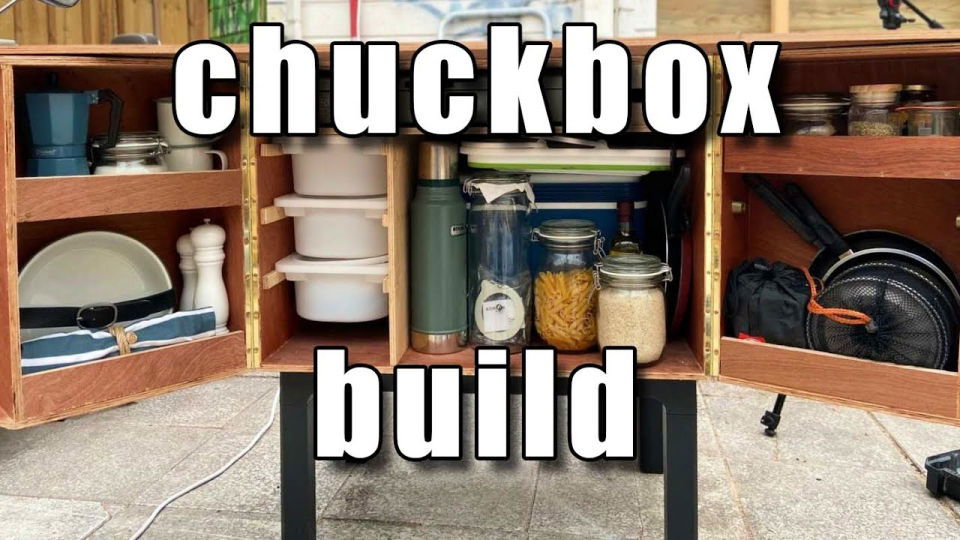 Are you looking to bring the convenience of a kitchen outdoors? Build your DIY checkbox and take your camping cooking game up a notch! Crafted with a sturdy design, this specialized box can store more than just pots, pans, herbs & spices. It's perfect for organizing utensils, food items, and other camp accessories while providing an easy culinary setup in any outdoor setting. Get creative and make it unique to your needs – no matter what you choose to build, you'll end up with the perfect chuck box!
16. Build Your Own Chuck Box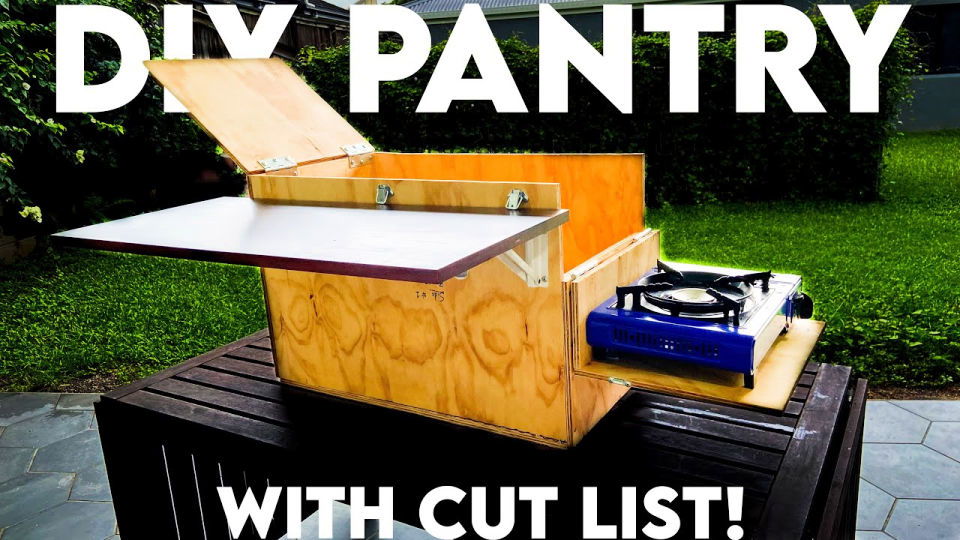 From assembling to cooking, this build-your-chuck box is the perfect way to make mealtime a breeze. This box is designed with one goal in mind: to make cooking simpler and more efficient. With this chuck box, you can store all the food items necessary for preparing meals without searching through multiple cabinets and drawers.
It will save time when cooking and keep your kitchen organized so you don't have to worry about clutter. This great solution will help streamline your meal-prepping process and allow you to focus on makingdelicious dishes instead!
17. DIY Camping Kitchen in a Box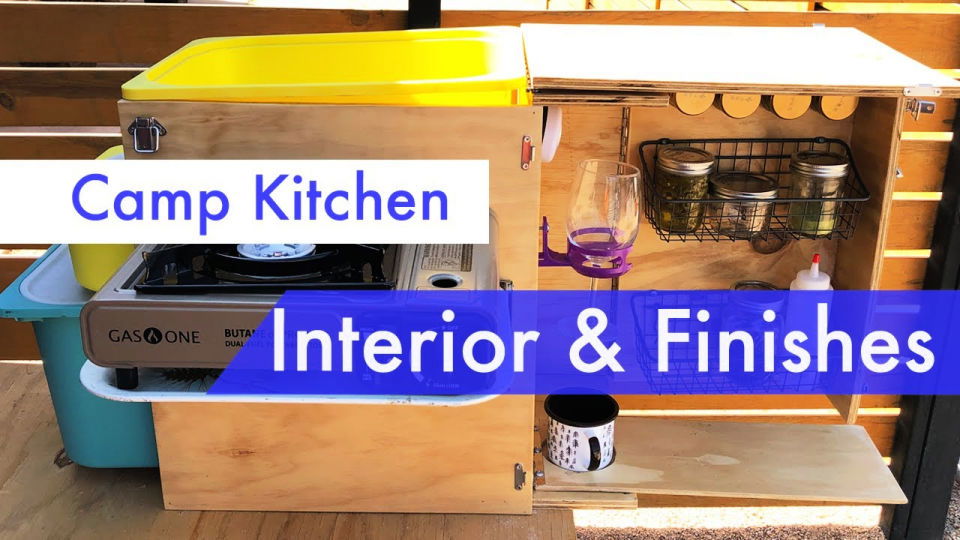 Turn out the perfect camp kitchen with this interior storage and finishing touches! This low-woodworking expertise design will easily fit in your 4runner and sleep arrangement. Use rails for drawers, pantry shelves, a spice rack, and more – plus wire baskets, handles, folding shelf brackets, latches, and sipcaddy wine glass holders to complete the look. Get everything you need to make a great outdoor space ready for any adventure!
18. Build a Wannigan Camping Grub Box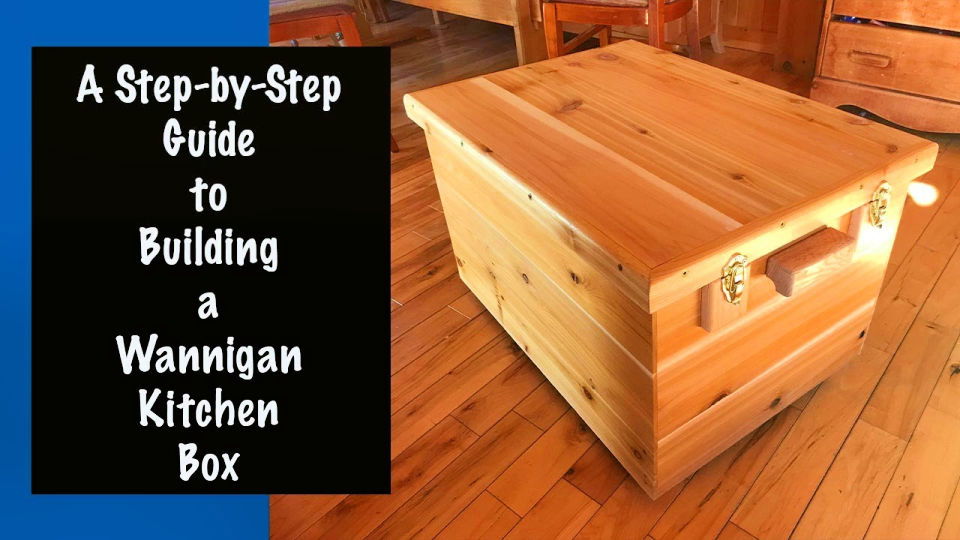 With this guide on building a cedar wannigan box, show the luxury of having a stocked kitchen and pantry on your canoe camping trips. This detailed tutorial takes you through the step-by-step process, ensuring your wannigan is seam-sealed with epoxy and has a gasket lid for maximum water-tightness. Make an easy and efficient way to bring all the necessities for delicious meals during your next trip today!
19. DIY Free Standing Camping Kitchen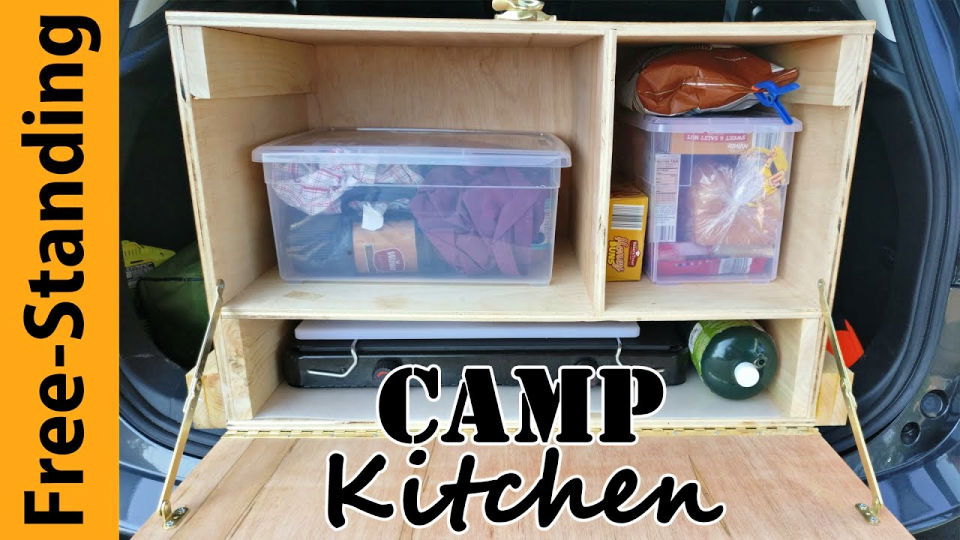 Take your camping adventure to the next level with a free-standing camping kitchen! This latest design features an updated look and fits a typical two-burner camping stove, two propane bottles, four large cutting board plates and utensils, and a pot and pan with plenty of room left over for dry ingredients or snacks. The camp stove fits on top at the perfect working height, while the door can store items or help prepare food. Get your hands on this great camping kitchen now – it's essential for any weekend outdoors!
20. Custom Camp Kitchen Out of Plywood
Dreams of al fresco feasts come alive with the perfect camp kitchen! With step-by-step instructions, preservawood will help you build your camping kitchen box perfect for storing all food and supplies outdoors. This project is easy and fast, so you'll have plenty of storage space without wasting too much time or effort. All the materials, such as rare earth magnets and pocket hole plugs, can be found easily. So don't wait any longer – start building your camping kitchen today with preservawood!
21. Easy Patrol Box Design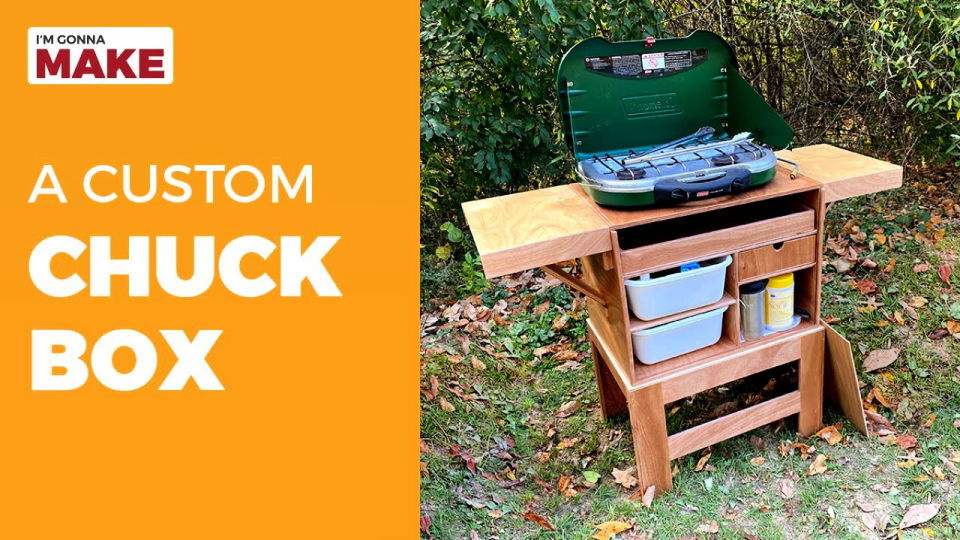 Let the great outdoors be your culinary playground and transform your car camping experience with a handy camp kitchen! A chuck box is essential, providing you and your family or friends with everything they need to make delicious meals. This all-inclusive solution simplifies meal-prepping from easy-to-carry cookware sets, coolers, propane stoves, and grills to utensils like spatulas and tongs. Plus, cooking together creates lasting memories that will keep you returning for more outdoor adventures. Build camp kitchens today to explore new recipes, stories, and places!
22. DIY Camping Kitchen in a Suitcase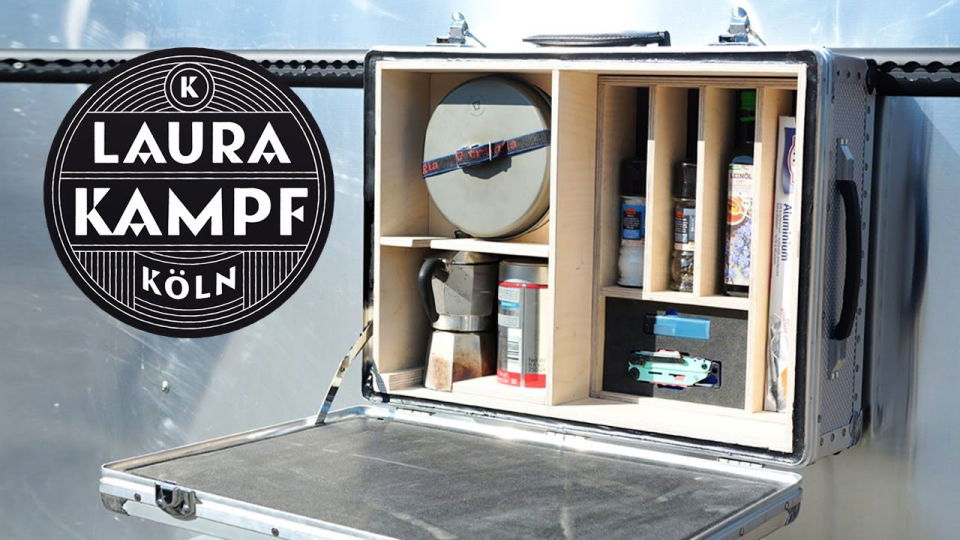 Say goodbye to lugging around heavy camping equipment! This clever camping kitchen in a suitcase offers an innovative way to travel with your kitchen supplies. Customize and build your tiny camper kitchen using recycled materials for the perfect compact design. With this lightweight and reliable option, you can easily set up camp in no time, allowing you to enjoy the great outdoors more. No matter where you are headed—from mountain hikes to beachside getaways—the clever camping kitchen in a suitcase will make life on the road easier than ever!
23. Aluminum Camp Kitchen Box Tutorial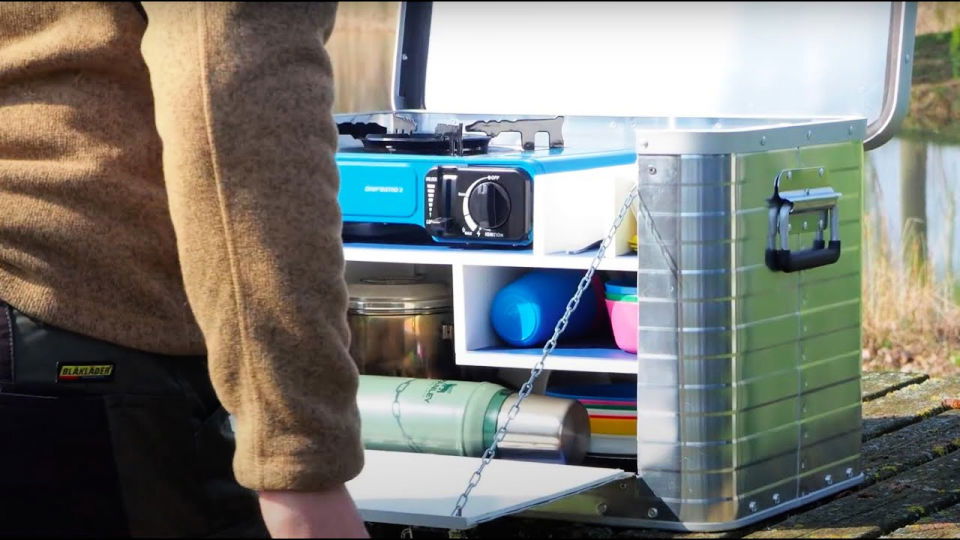 Don't let bulky camping gear weigh you down; make your outing easier with a DIY chuck box! These easy-to-follow instructions give you everything needed to make your personalized chuck box!
Start by cutting out the front panel easily – then use it as a template for perfect measurements every time. Add compartments that fit your needs, adding convenience and organization to each trip! Finally, customize and decorate the box however you like so that it's unique to you – making sure those camping trips are easier than ever before. Get started today with the detailed DIY chuck box guide!
24. Tiny Portable Boy Scout Chuck Box Plan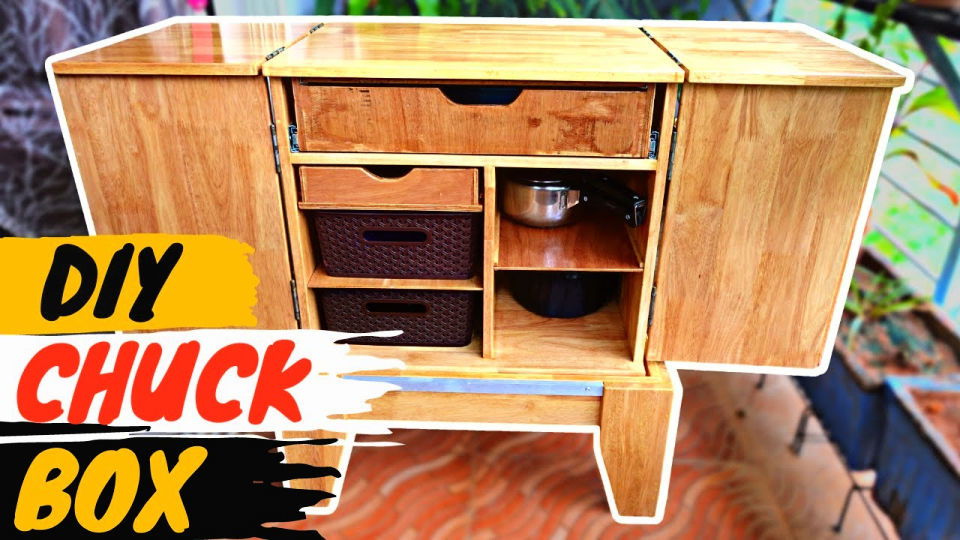 Spend your next camping trip cooking in style with this DIY chuck box! Perfect for campers of all skill levels, this chuck box ensures you have everything to cook delicious meals outdoors. Enjoy the convenience and portability of storing all your cooking gear in one place. Make sure your outdoor trips are always memorable with this handy tool. You can assemble a quality chuck box that lasts years with just a few simple supplies. Get creative and make it unique to fit your needs. Get ready for the best outdoor experience ever with this DIY chuck box!
25. Make a Chuck Box Camp Kitchen for a Truck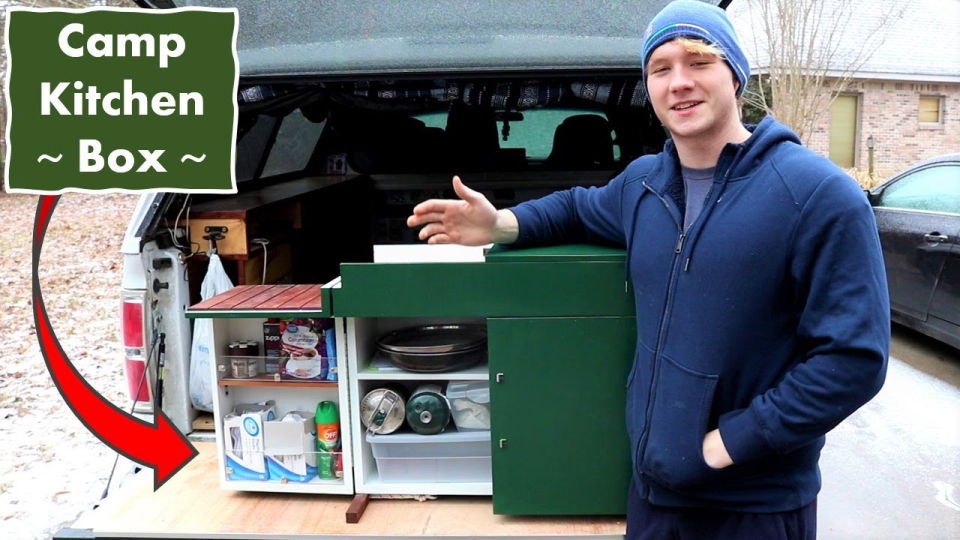 Introducing a chuck box designed for truck campers – a kitchen storage box. This custom-made box is crafted with fine half-inch plywood and reinforced with some ¾″ structural pieces and 11/32″ parts, ensuring lasting durability while featuring a unique mahogany slat interior paneling. Make your truck camper experience more comfortable by having all the essentials in one convenient place – get your chuck box today!
Conclusion:
A chuck box or DIY camp kitchen is more than just a box. It is a portable and practical solution for your camp kitchen needs. It can help you organize and store your kitchen gear, create a comfortable and convenient workspace, and cook delicious and nutritious meals anytime and anywhere. Whether you make your own simple chuck box or a more functional one, you can customize it to suit your preferences, budget, camping style, and the size and weight of your kitchen gear.
You can also maintain and repair it for long-term use and enjoy the benefits of having a camp kitchen box for your outdoor adventures. A chuck box can make your camping experience easier, more organized, and more enjoyable. It can also help you save money and reduce waste, improve your skills and knowledge, have fun and create memories, and enjoy the beauty and wonder of nature. So, what are you waiting for? Explore our 25 cheap and easy DIY chuck box plans or camp kitchen box ideas above and build your own. Grab your chuck box and hit the road! You'll be glad you did! 😊