Building a carport is a practical project that protects your vehicle and enhances the aesthetics of your property. For homeowners seeking cost-effective shelter solutions, Learn how to build a carport with these 25 cheap and easy DIY carport ideas and plans for a functional and stylish carport for your vehicles with step-by-step instructions. From building a wooden carport to constructing a solar carport, the ideas are numerous. Following clear and simple instructions, along with the right materials and tools, you can start constructing your own carport with ease that is tailored to your preferences and needs.
A popular trend in DIY carport construction is incorporating storage space or multi-functional features. From using shipping containers to attaching the carport to your house, the innovative ideas provide additional functionality. For those on a budget, easy DIY metal carports or 2-car carports can be designed with affordability in mind. The free guides and videos available online provide complete visual illustrations and assembly instructions for all skill levels. Whether it's a carport for your RV or a simple carport on a budget, a wealth of options is accessible.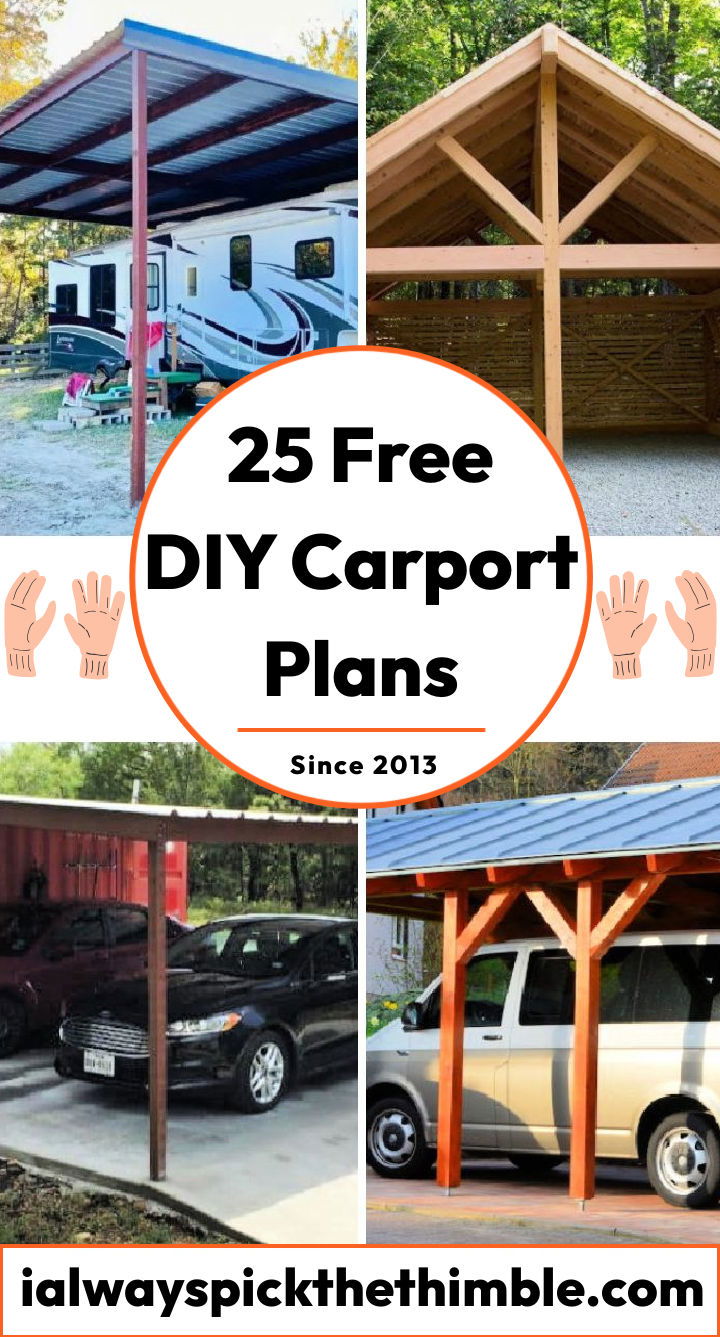 Building your own carport is a rewarding and practical project that not only adds value to your home but also allows for customization and creativity. Whether opting for a homemade wooden carport or a clever solar solution, the options for a DIY carport are endless. With helpful resources and accessible tutorials, you can start constructing a carport that suits your style and requirements today. So, grab your supplies and begin your carport construction journey, bringing your DIY carport ideas to life!
1. How to Make a Solar Carport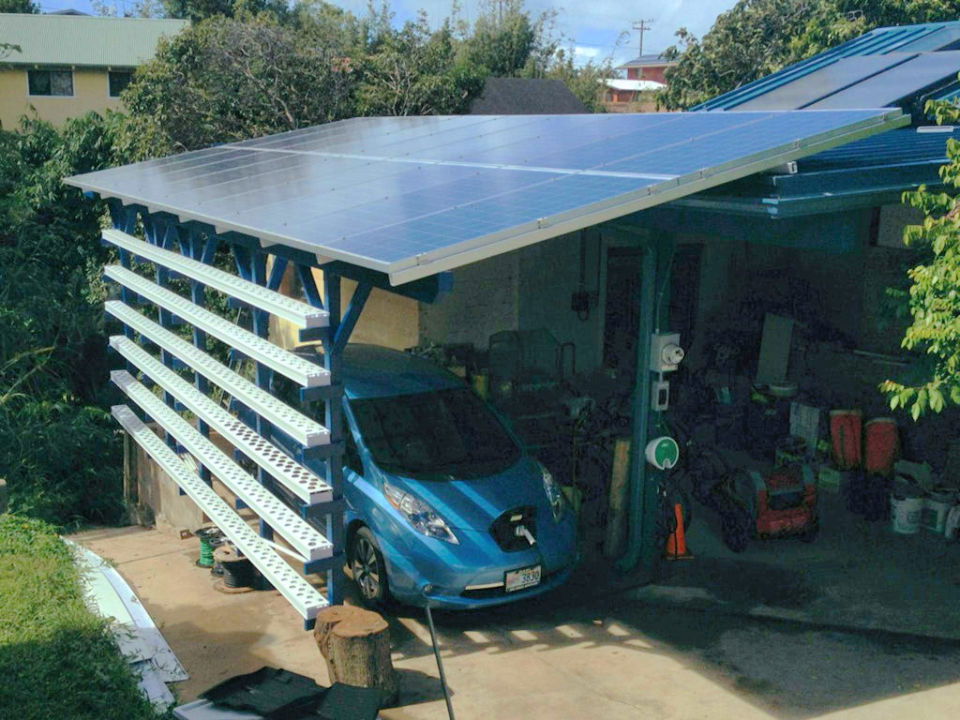 This project development is an affordable, easy-to-assemble, and completely sustainable solution for all your needs in one small footprint. It's portable, so even renters can own and take it with them as they move.
The solar carport provides water, food, shelter, electric energy, and transportation – install free standing or as a lean-to off the side of your building. Solar panels form the roofing while solar racking forms the racking, eliminating the need for typical ash-fault, metal roofing, plywood sheeting & wood rafters.
Battery inverter & ev charger guarantee efficient use of electricity produced by its solar system while water catchment & aquaponic wall provide ample food supply! Get this cost-effective, eco-friendly solution today! instructables
2. DIY Shipping Container Carport and Storage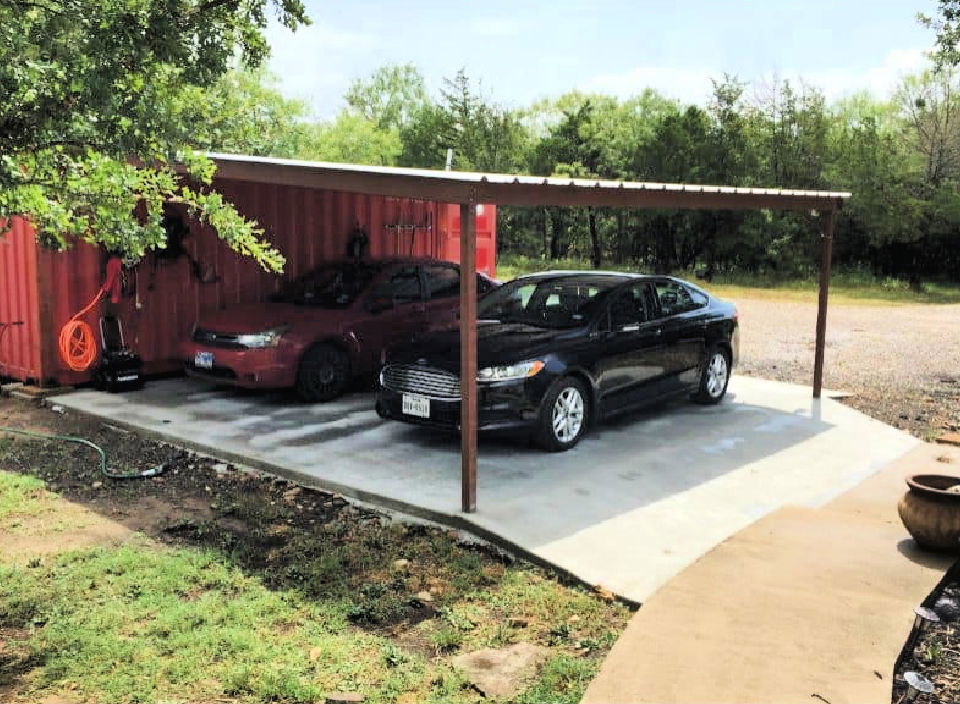 Looking for an affordable and easy way to protect your vehicle from the elements? Consider a shipping container carport & storage idea! This unique storage idea effectively shields wind, rain, snow, and UV rays, adding valuable curb appeal to your home. Plus, you can build this carport without breaking the bank. With a shipping container carport & storage idea, you'll surely have an attractive, protective space that will keep your vehicle looking good for years. isavea2z
3. How to Build a Carport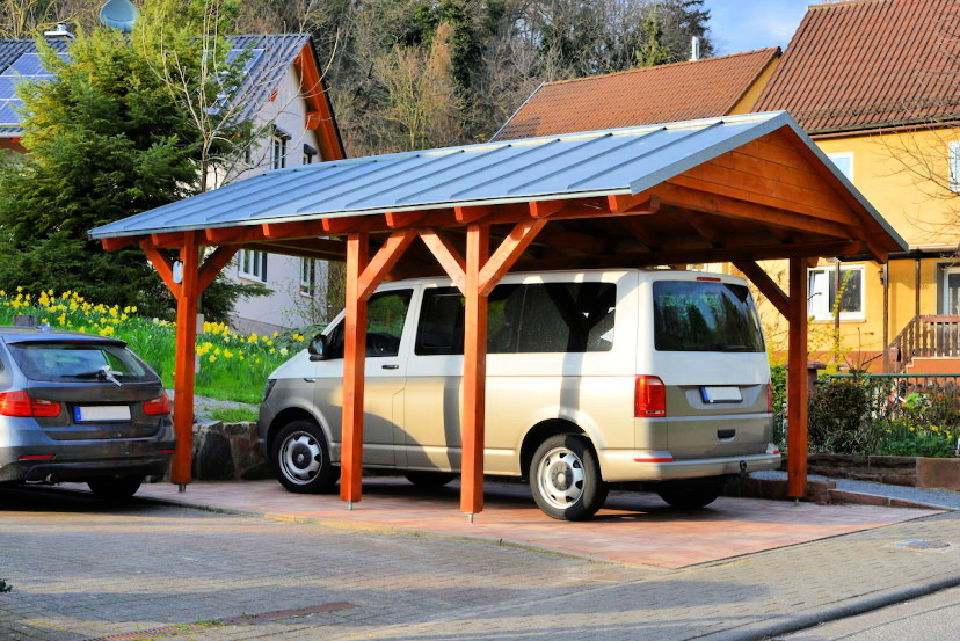 Building a carport can be the perfect DIY solution for adding extra protection to your property without investing in a full garage. This tutorial will show you four types of carports, each crafted from different materials. All you need is the right tools and know-how; find out how to construct your custom carport today! Get ready for more outdoor storage space that won't break the bank. masterclass
4. Homemade Wooden Carport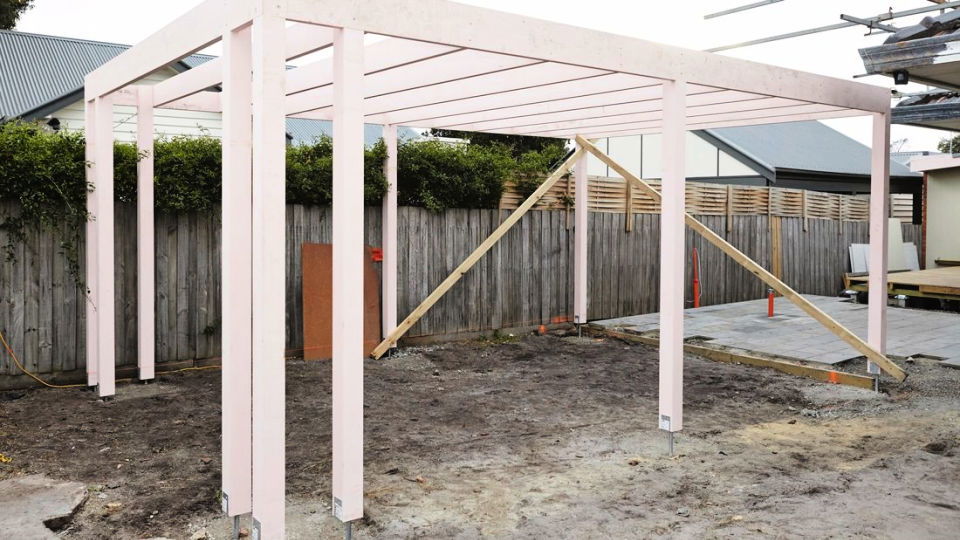 Creating a carport is a great way to protect your vehicle from the elements. Before you start, check and cover any legal or safety issues to ensure everything goes smoothly. Essential materials include posts, beams, batons, rafters, stirrups, string lines, and hurdles. Once these are all ready, it's time for the fun part – building! With detailed instructions on building a carport from scratch and helpful tips along the way, it can be done easily. Get started today, and soon you will have built an attractive carport that lasts long into the future. bunnings
5. DIY Carport Attached to House
Enhance your home's curb appeal with this DIY carport attached to the house! Customize it to fit your needs, and make a 3-car parking space without breaking the bank. This project is of intermediate difficulty level and will take around one week. Make a stunning addition to your home in no time – start building your carport today! myoutdoorplans
6. Easy DIY Metal Carport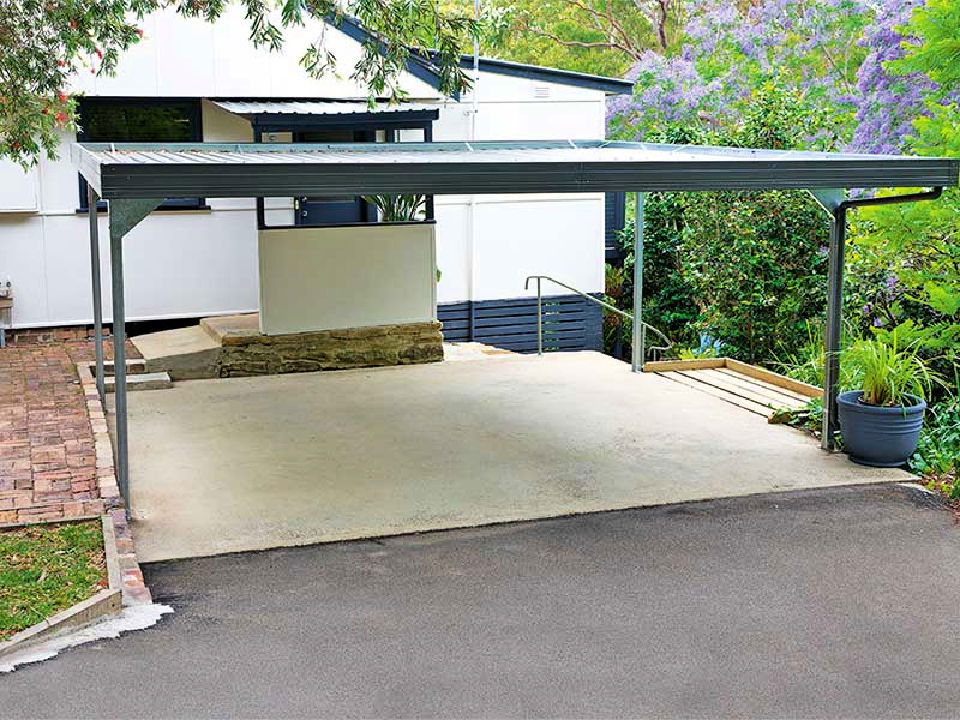 Building a DIY carport is an easy way to protect your vehicles from storm damage, dirt, and rain. With a skillion-roof carport kit, you can quickly build an affordable, stylish addition to your property. The kit includes all the materials necessary for construction, allowing anyone with basic DIY skills to complete the project quickly and easily. If you're looking for a budget-friendly solution that adds value to your home while protecting what matters most – look no further! handyman
7. Make Your Own RV Carport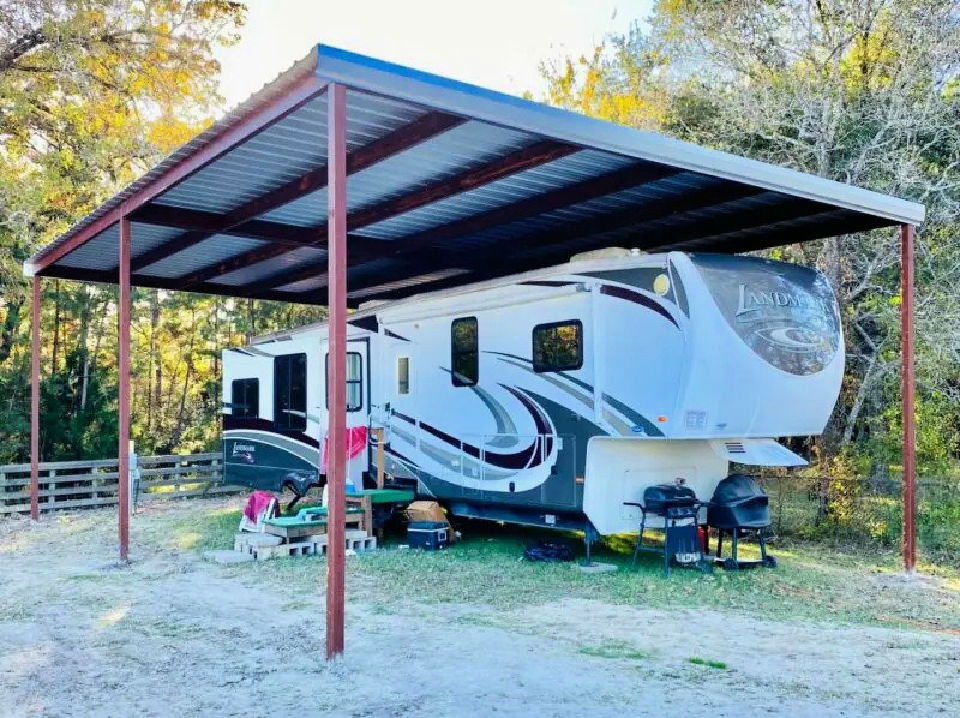 Searching to save money and provide security for your RV when it's not in use? A DIY carport is the perfect solution. You can easily build one yourself with the right supplies, meaning you'll spend less on construction costs and more on fantastic camping adventures. This convenient shelter protects your vehicle from extreme weather conditions or theft. Take a look at the tutorial for great tips and advice about building your own cost-effective rv carport! getawaycouple
8. Building a Wooden Carport

Here is this comprehensive guide that will show you how to build a DIY carport, an affordable and effective way of protecting your vehicle from the elements. With this DIY project, you can save thousands of dollars by not having to hire professionals for labor. All it takes is concrete footings, joist hangers, gutter and downspout, and pressure-treated lumber to make the perfect shelter for your car. Building a DIY carport does require some skill, but with the help of family or friends, it can be both rewarding and satisfying once complete! onduline
9. DIY Carport on a Budget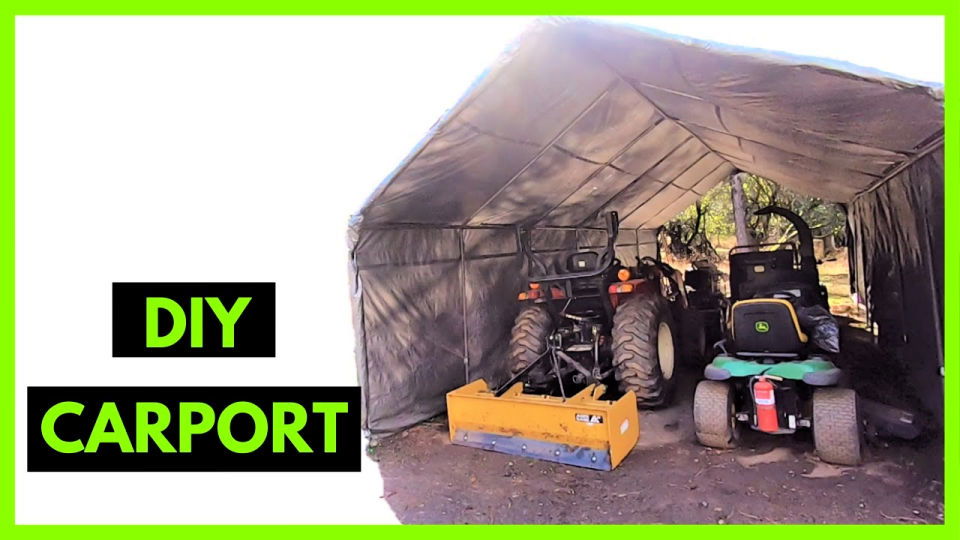 If you need to construct a carport for your tractors quickly and on a budget, here is the perfect solution! With just a few materials and some good old duct tape, you can easily erect a 35′ x 15′ DIY carport to protect your tractor from sun and rain. Check out the tips to build this cheap and easy carport today – no more worry about searching for expensive metal-based structures. This is your helpful guide to saving money while getting great tractor protection!
10. Building a 2 Car Carport for $600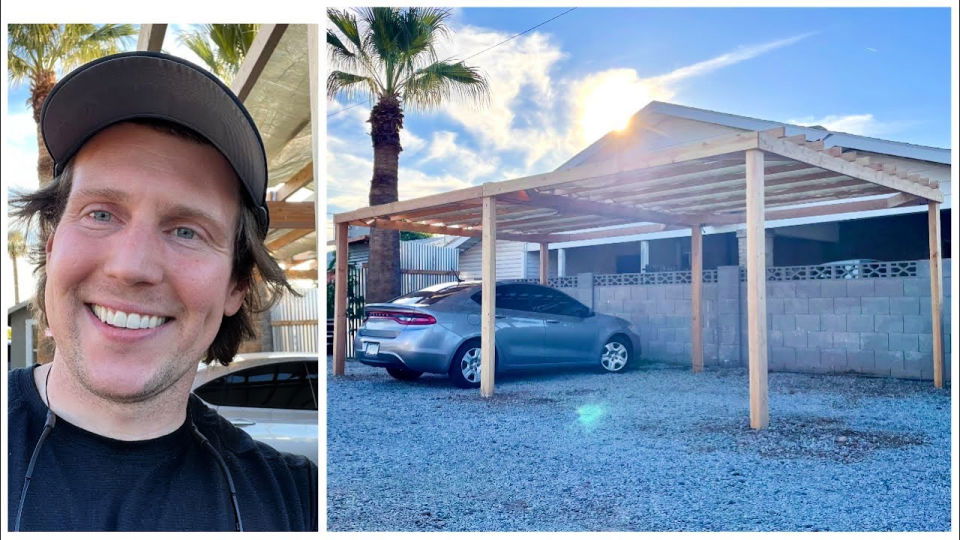 When you build your 2-car carport for just $600, save time and money! This DIY has all the needed materials, including 4×6's, 2x6s, 2×4's, and 12 x 14′ sun shades. Installation is easy, with detailed instructions. Plus, your new carport will add style to any home or business. Invest in a quality structure now that will last for years to come – get building your 2-car carport today!
11. Make a Metal Carport at Home
Learn how to build a metal carport yourself and save money on hiring professionals! This guide will show you every step, from setting the posts with welding to cutting them to height using a plasma cutter. Once the trusses are set, you can complete your metal carport at an affordable price. With this easy guide, you won't have to break the bank just to have secure parking for your vehicle!
12. Building a Lean to Carport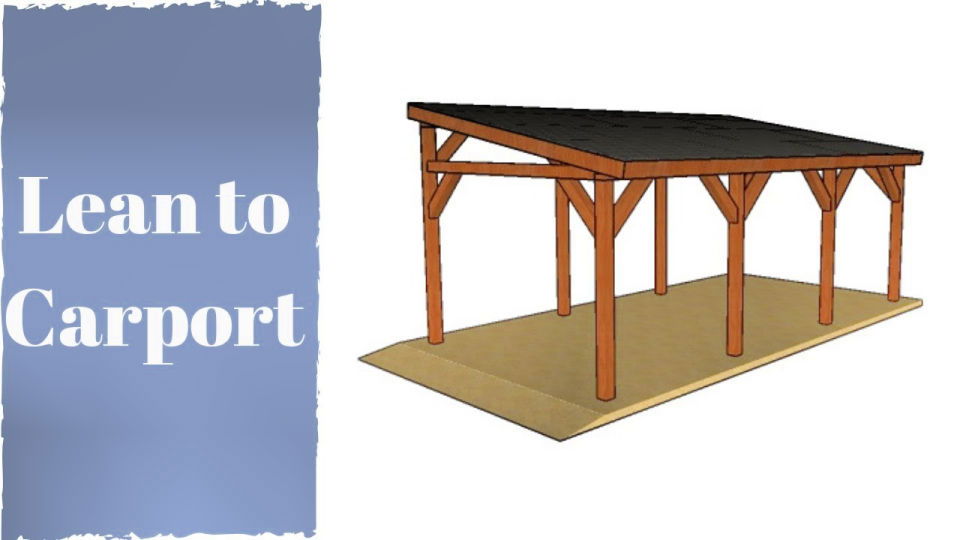 For an easy solution to protect your car from the elements, check out the free plans for constructing a lean-to carport! Not only is the frame super strong and designed with durability in mind – but the lean-to shape of the roof requires fewer materials, helping you save money! Additionally, the size of this carport can be adjusted to fit any vehicle. Start building today and have peace of mind that your car has been protected from weather damage for many years.
13. DIY Wooden Carport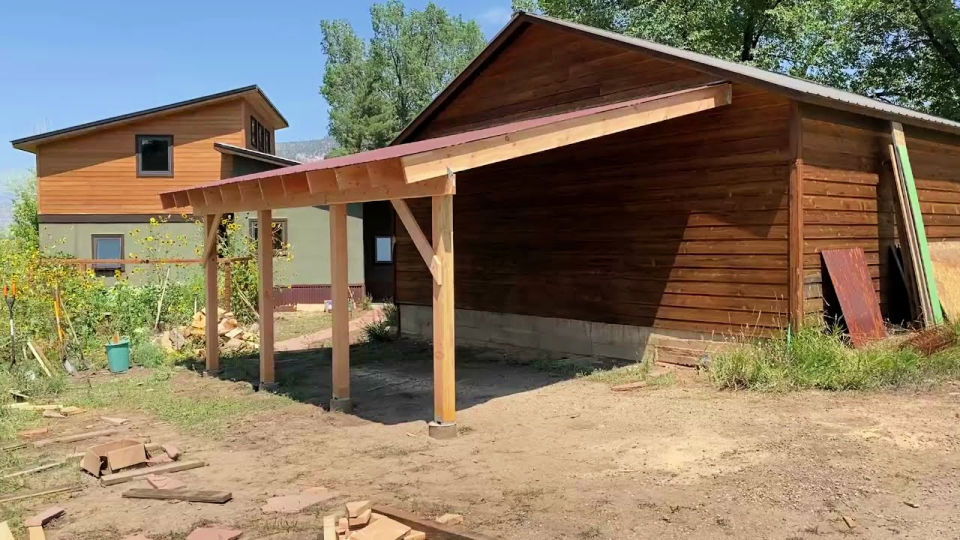 Make a custom and durable carport with this DIY carport build guide in only one week! Save time and money by getting the perfect protective shelter for your vehicle without breaking the bank. Get detailed instructions on every step of construction to ensure years of protection from outdoor elements. Begin today for an affordable investment that will last for years to come!
14. DIY Carport for a Small Car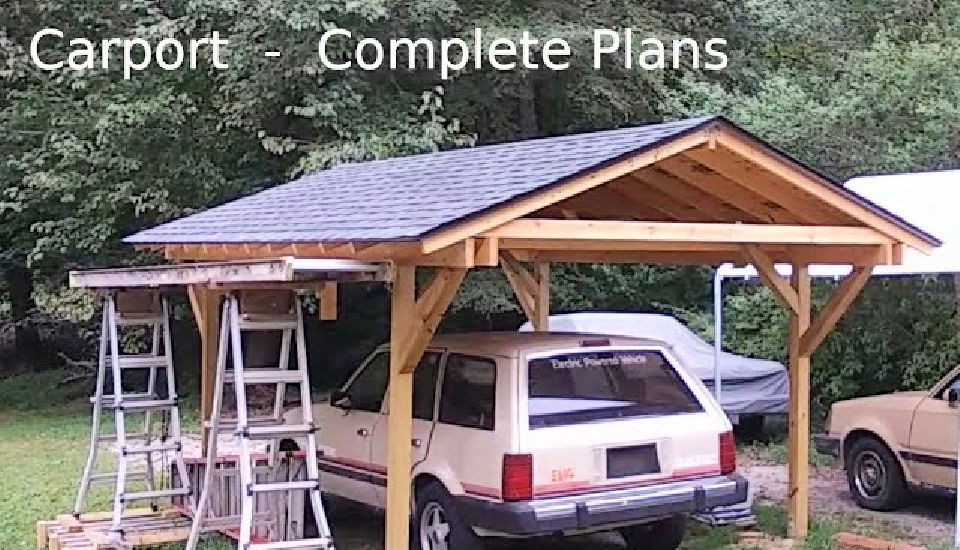 Reduce stress and hassle with this simple solution to parking small cars – DIY carport! This custom wood carport is designed to fit smaller vehicles, minimizing the cost of materials. At just $1500, it's comparable to metal carport kits that require assembly but way cheaper than either wood or fully assembled metal carports. Included are high-strength concrete base brackets, pt 4x4s, 2x6s + 2x4s, ridge & eave brackets, and 4'x9′ osb sheeting + shingles – all necessary parts at a total price of 1447.01! Get your car protected today with this easy-to-assemble DIY carport!
15. Build a Red Cedar Timber Frame Carport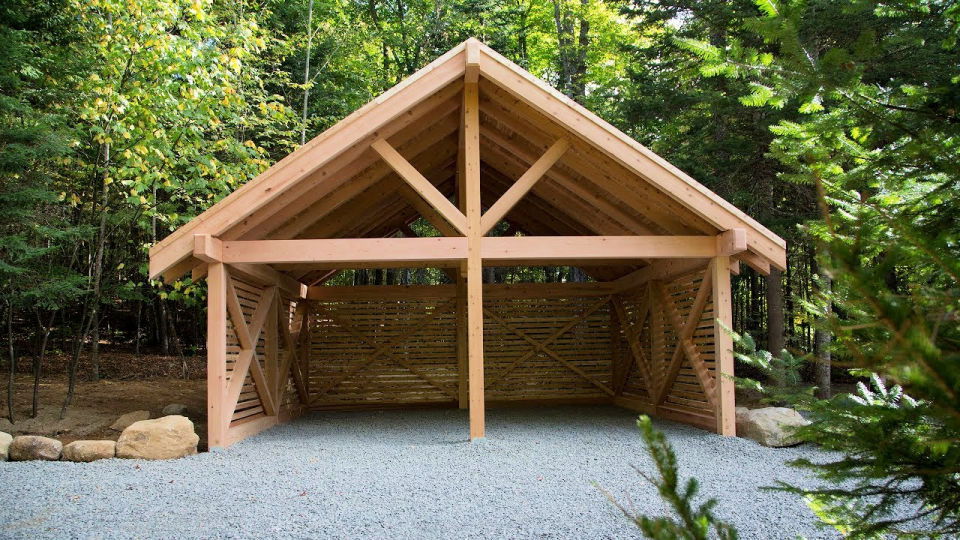 With this guide, Build your red cedar timber frame carport and save on labor costs. Real cedar is highly revered for its durability and natural resistance to rot, decay, and insect attacks making your carport last longer and require less maintenance. With the help of a few tools, you'll be able to see how great it turns out in no time! Get started now and experience the satisfaction of building something special with two hands.
16. DIY Alumimum Carport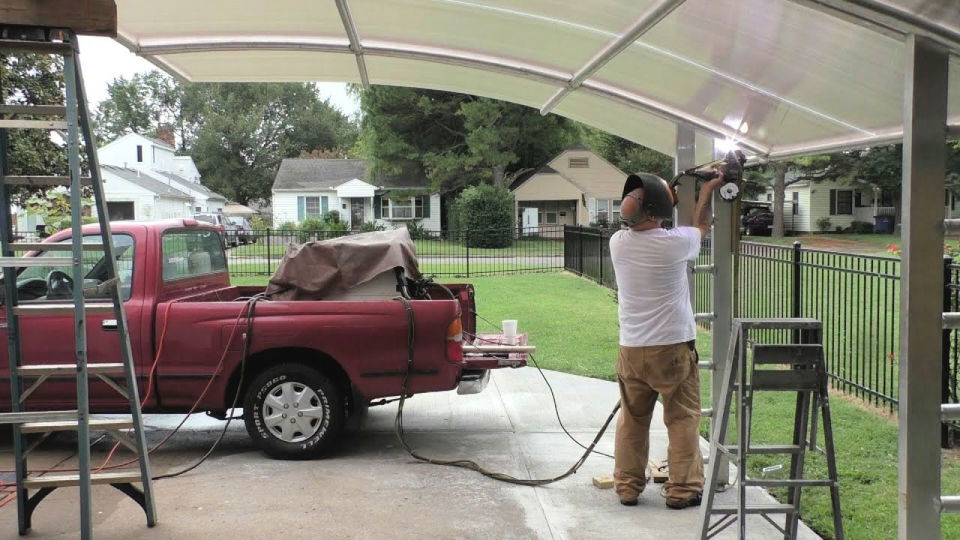 DIY aluminum carport – cut the costs and get exactly what you need with a do-it-yourself (DIY) aluminum carport. Avoid costly installation fees and make something completely customized to your needs. With easy-to-follow instructions and tips, learn how to construct an attractive, durable, long-lasting carport at a fraction of the cost. Using welded aluminum construction, DIYing an aluminum carport allows you to customize it for size, style, or color and gives you valuable welding experience. Get started today on your own DIY aluminum carport project!
17. Build Your Own Metal Carport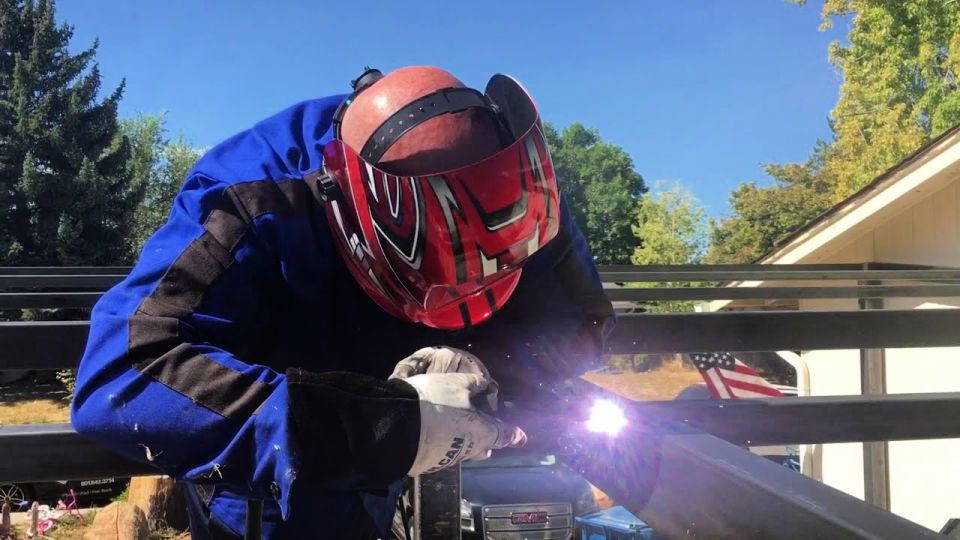 Are you looking for a way to protect your car from the elements this winter? Building your metal carport is an easy and cost-effective solution. With this instructional video, you can learn how to construct and install a metal carport on the side of your house in no time. Save yourself some money by boosting your DIY skills with this project – it's easier than you think! Get ready for snowfall season with a reliable metal carport that will protect your vehicle all year.
18. 600 Dollar Homebuilt Carport Tutorial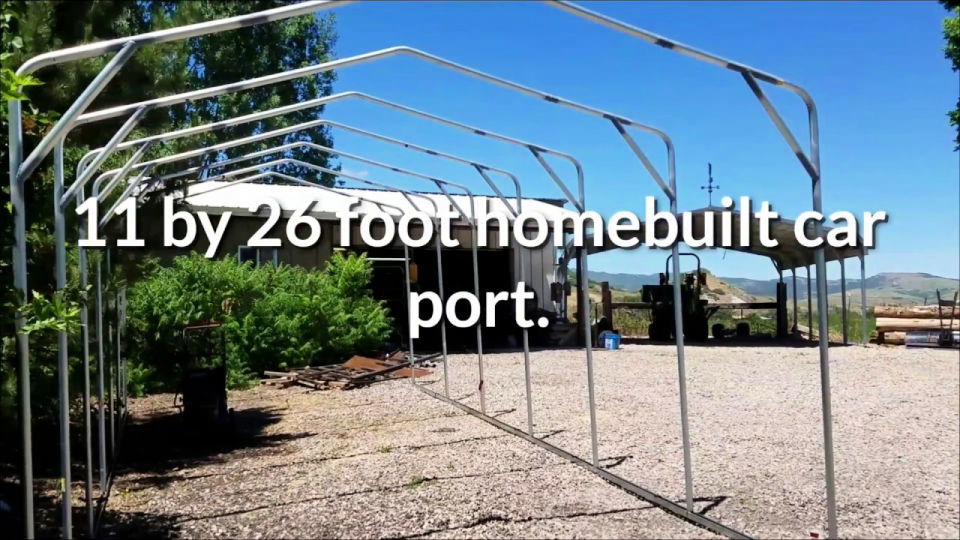 Making dreams come true without breaking the bank – let's build a carport! This 600$ homebuilt carport is the perfect solution to protect your vehicles from outside weather! Made from 1 ¼″ EMT electrical conduit, this carport is strong and durable – you'll never have to worry about protecting your vehicle from the elements again. Add value to your property and make extra parking space with this easy-to-install DIY project today!
19. How to Make a Carport Under $50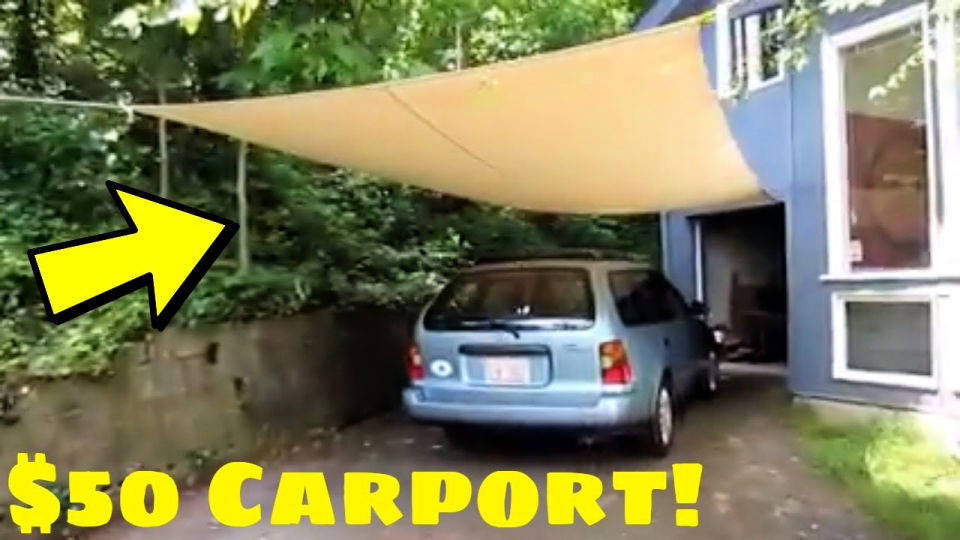 Say goodbye to expensive car repairs and hello to easy DIY solutions – build your carport for just $50 and keep your car safe from the elements! This DIY project is simple, fast, and easy – all you need is some rope, a canvas tarp, and fence posts. With a few steps, you can now have a cheap homemade carport to keep leaves, sap, and debris away from your ride. Save money with this affordable solution today and start enjoying peace of mind knowing that your vehicle is safe from harm!
20. How to Make a Carport at Home
Discover how to make a carport with simple tools and materials using these easy-to-follow plans. You'll need basic woodworking knowledge, high-quality materials, and professional instructions to build your single-car carport on a few weekends. Watch the video for helpful tips on choosing the right approach, and get started today!
21. Build Your Own Wooden Carport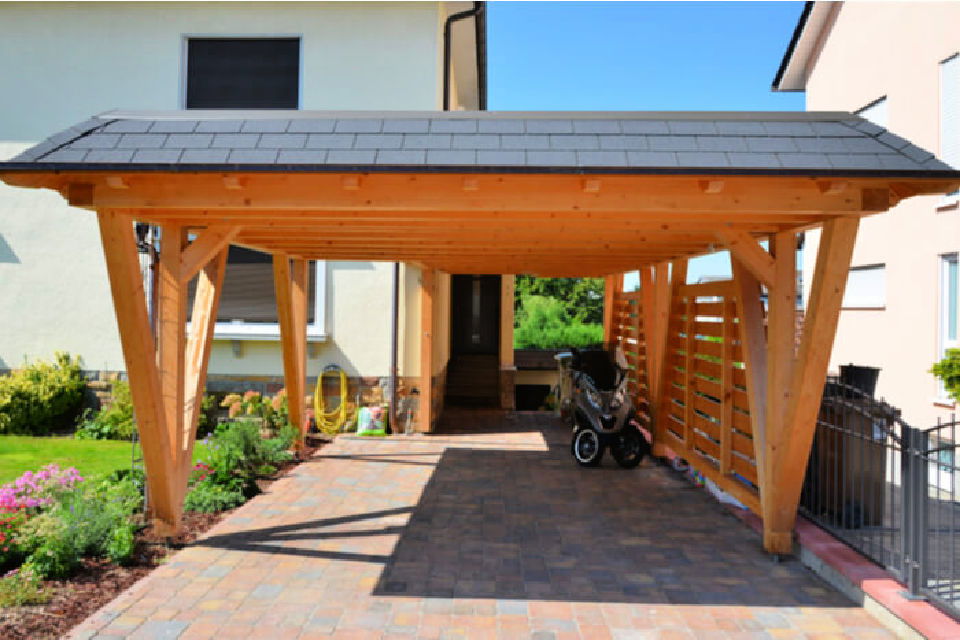 Ah, the joys of living in the countryside; bird droppings on cars are a daily nuisance. A wooden carport can be just the solution you need! Wooden carports protect from elements like bird droppings, dust, and dirt, so you don't have to worry about cleaning your vehicle before heading out. Learn how to build one yourself with helpful tips on constructing a wooden carport. With this expert advice, building a sturdy and reliable structure is simpler than ever! quick garden
22. Free RV Carport Plan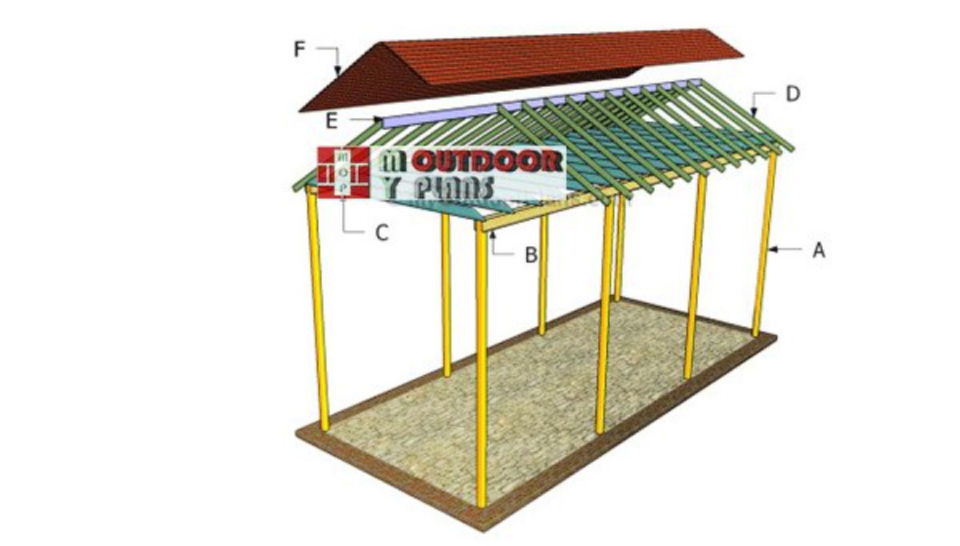 Protect your motor home from bad weather and excessive sunlight with this rv carport plan. This step-by-step woodworking plan will show you how to build a carport out of 4×4, 2×6, 2×4, and 1×6 lumber in no time. All the materials needed are available at any local hardware store, making this an easy weekend project for anyone looking to protect their vehicle from rain or snow. With these plans, you can quickly construct a single-wide carport that will keep your motorhome safe and sound year-round! myoutdoorplans
23. Easy Gable Carport Roof Plan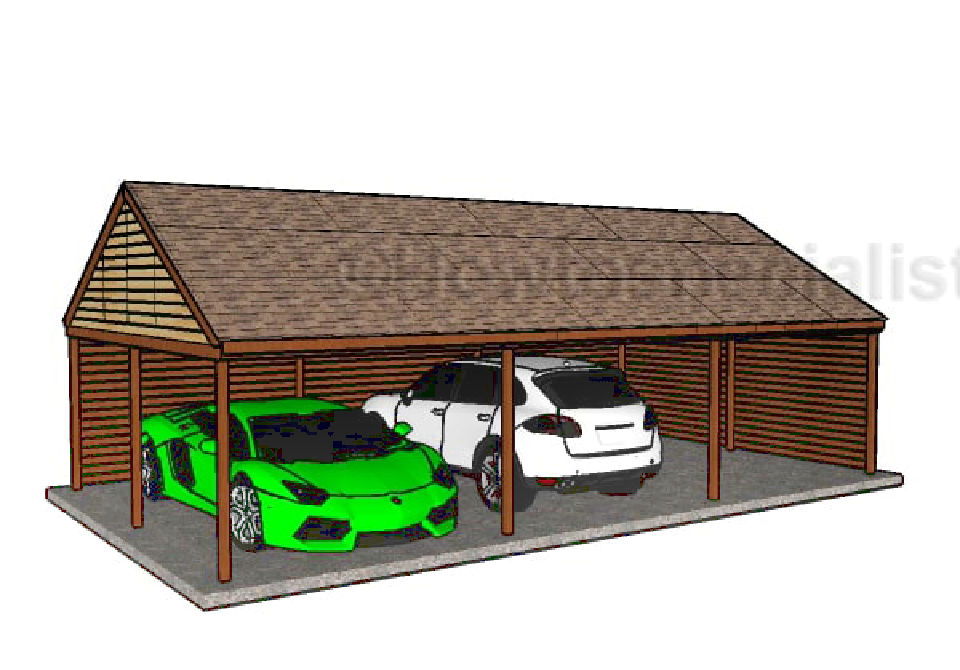 Planning to build your carport? Look no further! These gable carport roof plans will show you how to build a sturdy and attractive roof for your three-car carport. These plans provide detailed instructions on using 2×6 lumber, ¾″ plywood, 1×6 lumber, and tar paper. With easy-to-follow instructions, you can customize the perfect carport that will suit your needs in just one week. Get started today with these simple gable carport roof plans! howtospecialist
24. How to Build a Timber Carport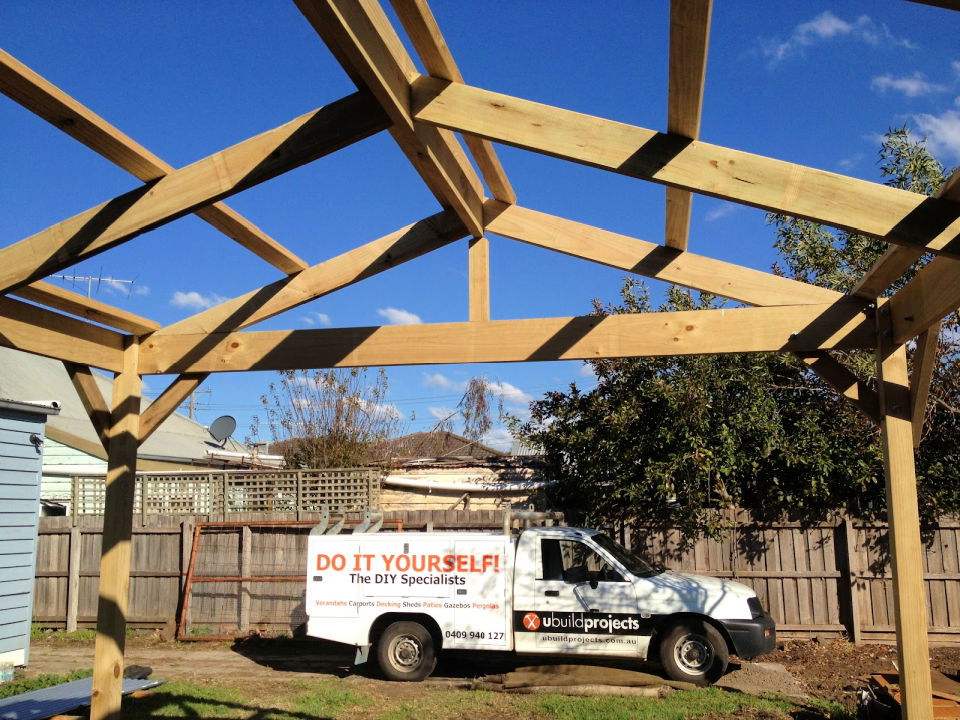 Take the initiative and construct your timber carport today – it's simpler than you think! The detailed instructions explain every process step, from selecting and cutting wood, assembling the frame, attaching posts and beams, installing roofing panels, and more. Once completed, you can admire your handiwork, knowing it will protect your vehicles from rain, snow, and wind for years. Follow this comprehensive guide today and have peace of mind with a strong and durable timber carport! ubuildprojects
25. DIY Carport With Storage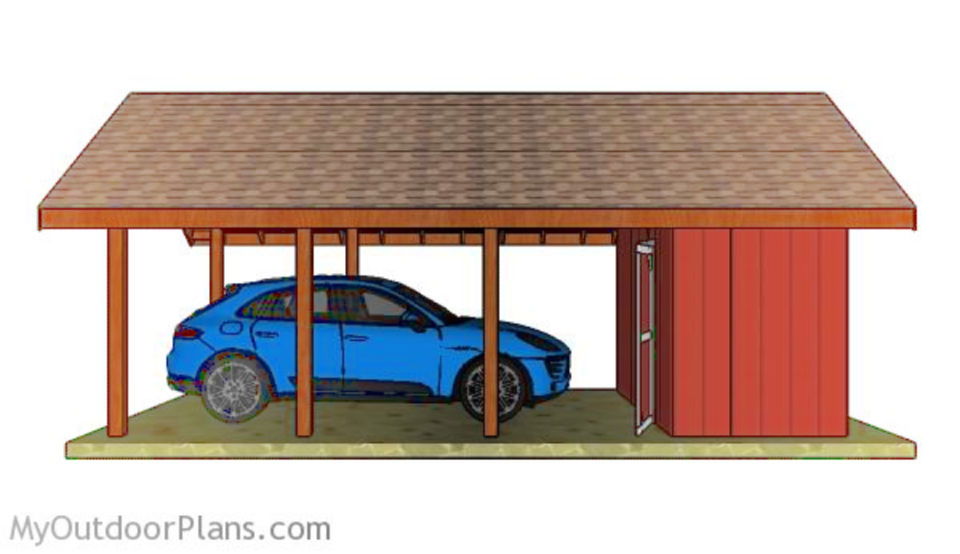 This step-by-step DIY project is about building your carport with a storage plan. This plan lets you easily park and protect your car from the elements. This project uses 6×6 lumber, 2×4 lumber, 2×6 lumber, t1-11 ⅝″ siding, wood filler, wood glue & stain/paint for a great finish. The bonus of having an attached 6′ x 12′ storage unit to store tires and other items gives you maximum convenience! Follow these directions carefully to successfully build your carport with storage plans. myoutdoorplans
Conclusion:
In conclusion, the world of DIY carport construction is vast and clever. You can venture on a journey to build your carport in different styles like metal carports, wooden carports, or even a DIY carport with storage. The list of DIY carport ideas is endless. The joy of creating something by oneself is empowering and fulfilling. Be resourceful, creative, and inventive in building your own carport, tailored to suit every preference, budget, and space size. Start your DIY carport project today to add functionality and aesthetic value to your home.