Making your own DIY candle holders is a fun and easy way to add some personality and charm to your home decor. Learn how to make candle holders with these 25 easy DIY candle holder ideas using simple and affordable materials. You will learn how to create beautiful and functional candle holders, from colorful balsa wood to sleek metal designs, and from cozy scrap plywood pieces to frosty glass creations.
Glass candle holders are especially elegant and versatile, and you can customize them to match any style or theme. Some of the cool options include creating gradient taper candle holders, marble-effect candle holders, and upcycled ombre candle holders. These tutorials will show you how to make DIY candlestick holders in no time, and the best part is that most of them use things that you already have at home.
For a more natural look, you can also make candle holders using wood such as the wood block, skateboard veneer, or even a rustic wooden log. And don't forget, candle holders made from jute roping or wool also look great. But that's not all; there are many more creative DIY candle holder ideas for you to explore.
Check out this list of DIY candle holder ideas, choose your favorite, get your materials ready, and start making your candle holders today! Remember, the secret to great DIY is all about letting your imagination run wild. Your own DIY candle holders are just a step away!
How to Choose the Right Material for Your Candle Holders
Candle holders are not only functional, but also decorative. They can add warmth, beauty, and ambiance to any space. However, not all materials are suitable for making candle holders. Some materials may be too flammable, fragile, or expensive. Therefore, it is important to choose the right material for your candle holder project.
There are many types of materials that you can use to make candle holders, such as glass, metal, wood, clay, etc. Each material has its own advantages and disadvantages. Here are some factors that you should consider when choosing the material for your candle holder:
Style: The material should match the style of your candle holder. For example, if you want a rustic or farmhouse look, you can use wood or metal. If you want a modern or minimalist look, you can use glass or ceramic.
Budget: The material should fit your budget. Some materials may be more expensive than others. For example, glass or metal may cost more than wood or clay. You can also use recycled or repurposed materials to save money and reduce waste.
Durability: The material should be durable and resistant to heat and fire. Some materials may crack, melt, or burn easily when exposed to high temperatures. For example, plastic or paper may not be suitable for making candle holders. You should also avoid using materials that are painted or coated with flammable substances.
Safety: The material should be safe and non-toxic. Some materials may emit harmful fumes or chemicals when heated or burned. For example, lead or mercury may be present in some glass or metal products. You should also avoid using materials that have sharp edges or splinters that can injure you or your guests.
The Basics of DIY Candle Holders Design
Candle holder design is not only about the material, but also about the shape, size, color, pattern, and texture. These elements can create different effects and moods for your candle holder. Here are some tips on how to design your candle holder:
Shape: The shape of your candle holder can affect the way the light and shadow are cast by the candle. For example, a round or oval shape can create a soft and cozy atmosphere, while a square or rectangular shape can create a sleek and elegant atmosphere.
Size: The size of your candle holder can affect the amount and intensity of light that is emitted by the candle. For example, a large or tall candle holder can create a bright and dramatic effect, while a small or short candle holder can create a dim and subtle effect.
Color: The color of your candle holder can affect the mood and theme of your space. For example, a warm color like red or orange can create a romantic and festive mood, while a cool color like blue or green can create a calm and soothing mood.
Pattern: The pattern of your candle holder can add interest and variety to your space. For example, a floral or geometric pattern can create a lively and cheerful mood, while a solid or plain pattern can create a simple and elegant mood.
Texture: The texture of your candle holder can add depth and dimension to your space. For example, a smooth or glossy texture can create a sleek and modern mood, while a rough or matte texture can create a rustic and cozy mood.
How to Make a Simple Candle Holder with a Mason Jar
One of the easiest and most popular ways to make a candle holder is with a mason jar. A mason jar is a glass jar that has a metal lid and ring. You can find them in various sizes and shapes at any grocery store or craft store. You can also use any other glass jar that you have at home.
Here are the steps on how to make a simple candle holder with a mason jar:
Gather the required materials and tools for this project. You will need:

A mason jar
A tea light candle
A pair of scissors
A glue gun
Some twine
Some dried flowers or leaves (optional)

Remove the lid and ring from the mason jar and set them aside.
Cut a piece of twine that is long enough to wrap around the mouth of the jar several times.
Apply some glue on one end of the twine and stick it to the inside of the jar near the mouth.
Wrap the twine around the mouth of the jar until you reach the other end.
Apply some glue on the other end of the twine and stick it to the inside of the jar near the mouth.
Cut off any excess twine.
If you want to add some decoration to your candle holder, you can glue some dried flowers or leaves on the outside of the jar along the twine.
Place the tea light candle inside the jar and light it up.
Enjoy your simple and beautiful candle holder!
How to Avoid Common Mistakes and Problems When Making Candle Holders
Making candle holders is fun and rewarding project, but it can also be frustrating and disappointing if you encounter some common mistakes and problems. Here are some of the common mistakes and problems that beginners might face when making candle holders, and how to avoid or fix them:
Cracking: Cracking is when the material of your candle holder breaks or splits due to thermal stress or physical impact. This can happen if you use a material that is too thin, brittle, or uneven. To avoid cracking, you should use a material that is thick, sturdy, and uniform. You should also avoid exposing your candle holder to sudden changes in temperature or humidity, or dropping or hitting it with hard objects.
Melting: Melting is when the material of your candle holder softens or liquefies due to high heat or fire. This can happen if you use a material that has a low melting point, such as plastic, wax, or butter. To avoid melting, you should use a material that has a high melting point, such as glass, metal, or ceramic. You should also avoid placing your candle holder near a heat source, such as a stove, oven, or fireplace.
Leaking: Leaking is when the material of your candle holder allows the melted wax or oil of the candle to seep out or drip down. This can happen if you use a material that is porous, cracked, or has holes. To avoid leaking, you should use a material that is non-porous, intact, and has no holes. You should also use a candle that fits snugly inside your candle holder, and trim the wick of your candle regularly to prevent excessive dripping.
Breaking: Breaking is when the material of your candle holder shatters or falls apart due to high pressure or force. This can happen if you use a material that is fragile, weak, or unstable. To avoid breaking, you should use a material that is durable, strong, and stable. You should also handle your candle holder with care and store it in a safe place.
How to Decorate and Display Your Candle Holders
Candle holders are not only useful, but also beautiful. They can enhance the look and feel of any space. However, not all candle holders are suitable for all spaces. Therefore, it is important to decorate and display your candle holders in a way that matches your style and purpose.
Here are some ideas on how to decorate and display your candle holders:
Group them together: You can group several candle holders together to create a focal point or a centerpiece for your space. You can group them by color, shape, size, or theme. For example, you can group red candle holders for Valentine's Day, star-shaped candle holders for Christmas, or small candle holders for a cozy corner.
Mix and match them: You can mix and match different candle holders to create contrast and variety for your space. You can mix and match by material, design, pattern, or texture. For example, you can mix glass and metal candle holders for a modern look, floral and geometric candle holders for a lively look, or smooth and rough candle holders for a rustic look.
Add some accessories: You can add some accessories to your candle holders to make them more attractive and interesting. You can add accessories such as ribbons, beads, crystals, shells, or feathers. For example, you can add ribbons to your candle holders for a festive look, beads to your candle holders for a glamorous look, or shells to your candle holders for a beachy look.
Place them strategically: You can place your candle holders strategically to create different effects and moods for your space. You can place them on different levels, such as on tables, shelves, mantels, or floors. You can also place them in different locations, such as near windows, mirrors, plants, or artworks. For example, you can place your candle holders on different levels for a dynamic look, near windows for a natural look, or near mirrors for a reflective look.
DIY Candle Holder Ideas
Do you love candles? Do you want to make your own candle holders? If yes, then you are in the right place. In this post, we will share with you 25 DIY candle holder ideas that are easy, fun, and creative. You can make these candle holders with simple materials and tools that you can find at home or at any craft store. You can also customize them according to your taste and preference.
Whether you want to make candle holders for yourself, for your friends, or for your family, you will find something that suits your style and purpose. Here are some of the DIY candle holder ideas that we have for you:
1. Paint Dipped Balsa Wood Candle Holder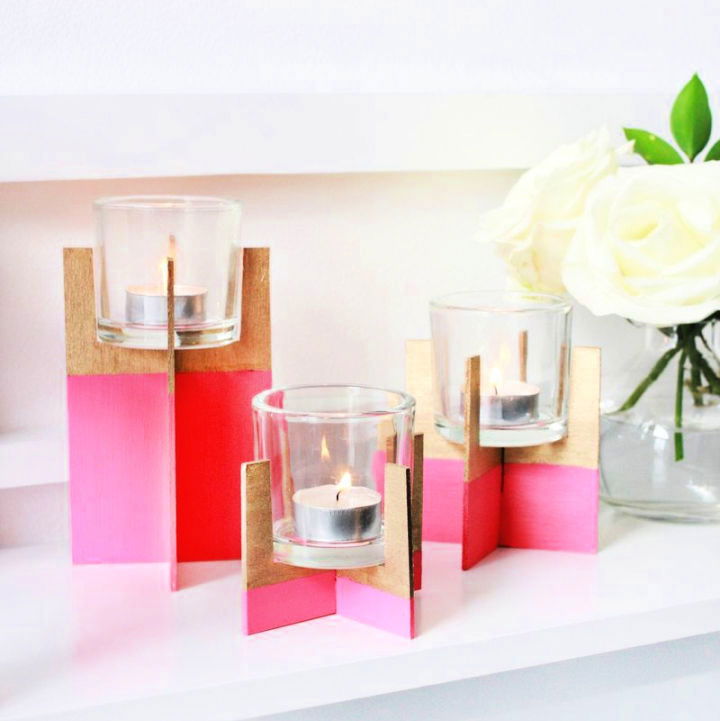 Make an eye-catching, modern DIY candle holder with a geometric feel using paint-dipped balsa wood. This project is large enough to be extra satisfying yet still looks adorable when finished.
You'll need basic supplies like balsa wood, gold and pink craft paint, masking or painter's tape, a ruler and an X-Acto knife for accurate wood cutting. Then add glass votives and tea lights for the perfect addition to any room in your home. Do this fun project today! abeautifulmess
2. DIY Ombre Taper Candle Holders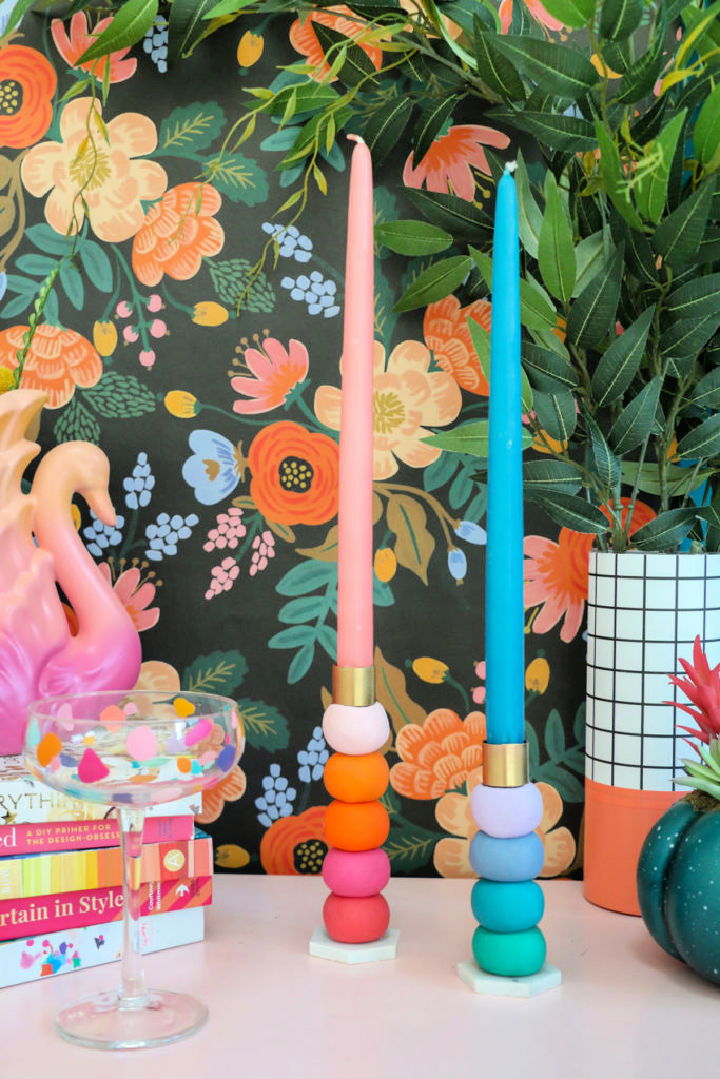 Bring warmth and modern style to your home with DIY ombre taper candle holders. These pretty candle holders are perfect for makinga cozy fall vignette or table setting, featuring an eye-catching ombre color scheme that will stand out in any décor.
You can easily make these beautiful candle holders with polymer clay, copper pipe ends, gold spray paint, popsicle sticks, 2″ marble hex tile, and epoxy glue! Brighten up your home in no time with ombre taper candle holders – perfect for showing off the beauty of autumn indoors. akailochiclife
3. Homemade Marbled Candle Holders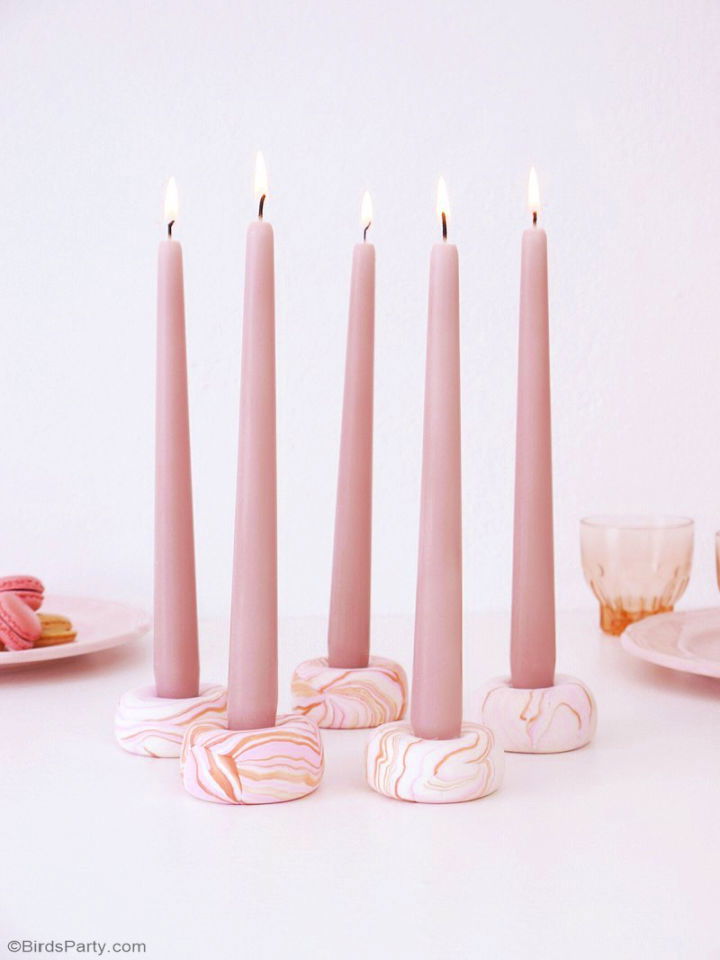 Enhance your home's decor, Thanksgiving or Christmas table with these marbled candle holders. These super pretty candle holders are incredibly easy to make and handle while being therapeutic.
Perfect for any occasion and highly economical, it requires only basic supplies such as sandpaper, painter's tape, paint stir stick, plastic wrap etc. Get creative with the marble design you choose on this quick DIY project that will bring a lovely touch to your special events. birdsparty
4. How to Make an Arch Candle Holder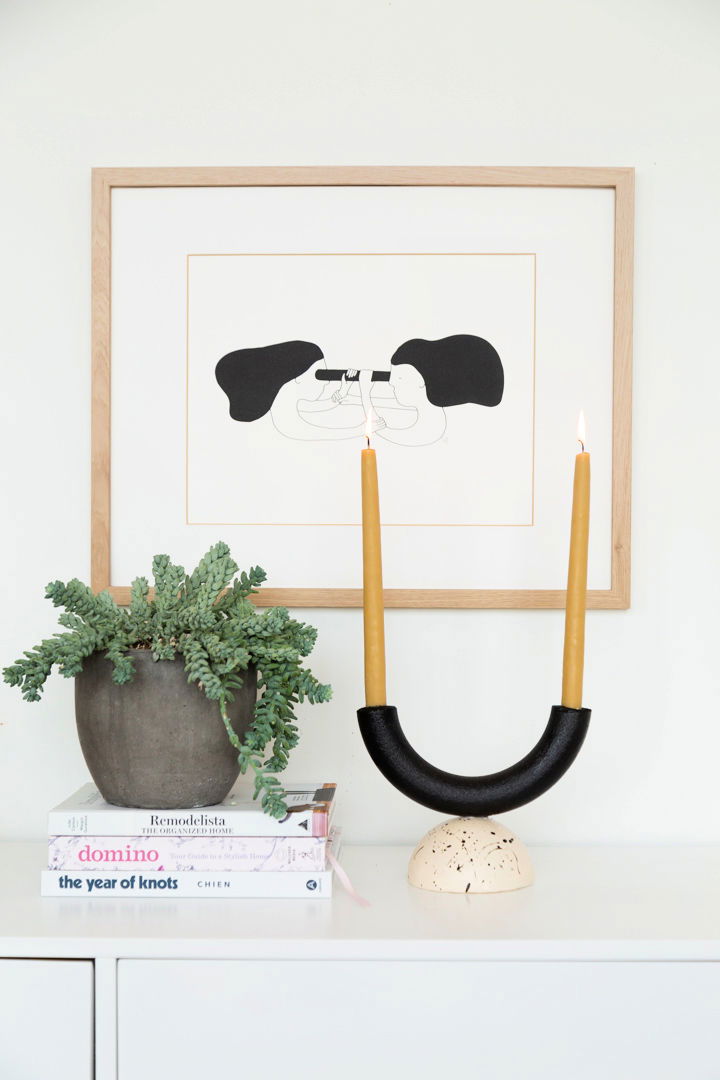 Behold the perfect birthday table centerpiece: This DIY arch candleholder! Crafted with only large craft wood blocks and a few skinny tapered candles, this decorative statement piece will be the talk of your home.
Whether you're looking for a unique new decor piece or want to show off your creative side, you'll love the results of this easy-to-make project. So don't wait – give it a go and see why everyone else is falling in love with their handmade arch candle holder. aliceandlois
5. Modern DIY Metallic Candle Holder
Invite some stylish, mood-setting ambiance with this modern DIY metallic candleholder! Make a personalized statement piece to add the perfect flair to your home.
This winter project requires just a few simple supplies and offers an easy and enjoyable way to make something unique. All you need is two plastic cups, nonstick spray, plaster of Paris, water, a small sponge, sandpaper/sanding screen, a mixing bowl, a spatula, an X-Acto blade & a serrated knife, plus primer & paint to give your candle holder its lovely patina for that sleek atomic look everyone will love. abeautifulmess
6. Handmade Scrap Plywood Candle Holders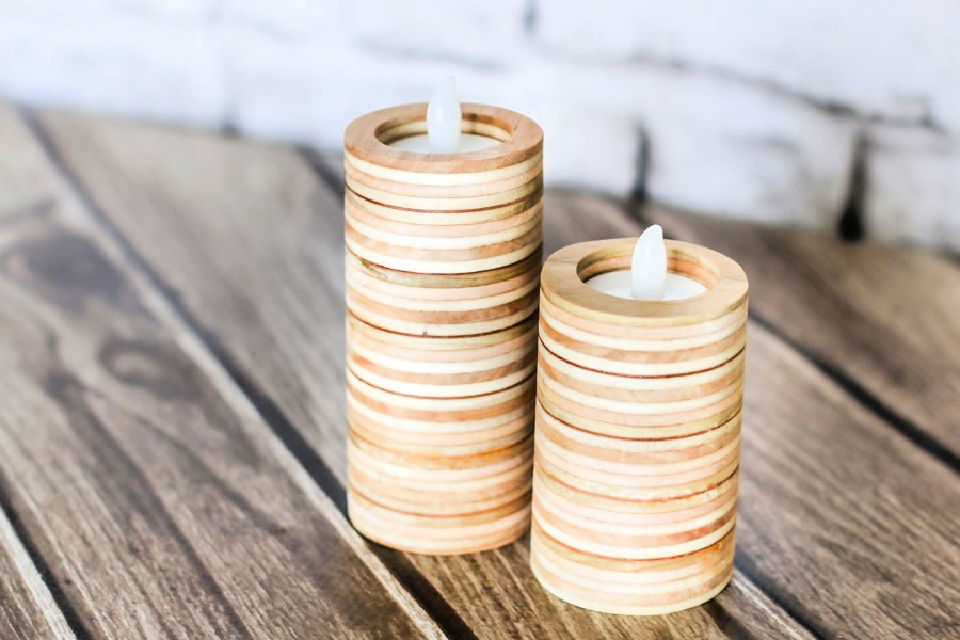 Add a touch of charm to home décor with these beautiful handmade scrap plywood candle holders. Perfect for upcycling and making the most out of those leftover pieces of wood, these candle holders are easy to make and will add a cozy vibe wherever they're placed! Crafted with care, you only need some scrap plywood, sandpaper, stain or paint, glue, and sealer – everything else can be found in your craft box.
These delightful little holders will lighten up any room or corner with their cute presence. Make yours today! jenwoodhouse
7. Wood Candle Holder Made From Skateboard Veneer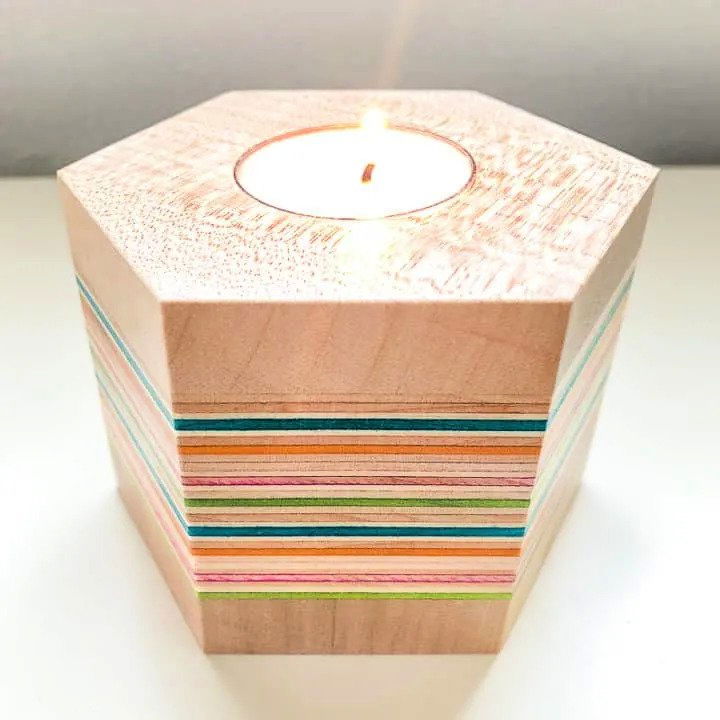 Brighten your space with this unique DIY wood candle holder from skateboard veneer! Whether you're a beginner or an advanced crafter, this project is easy to make and adds bold colors to any room.
Use it as an air plant holder to showcase your favorite plants. All you need are a skateboard veneer, wood glue, a miter saw and clamps for assembly. Add sandpaper and a 1 ½" Forstner bit to complete the look for drilling the tea light's center hole. In no time, make an eye-catching piece of decor that will fill your home with beauty and color! handymans
8. DIY Painted Mason Jar Candle Holders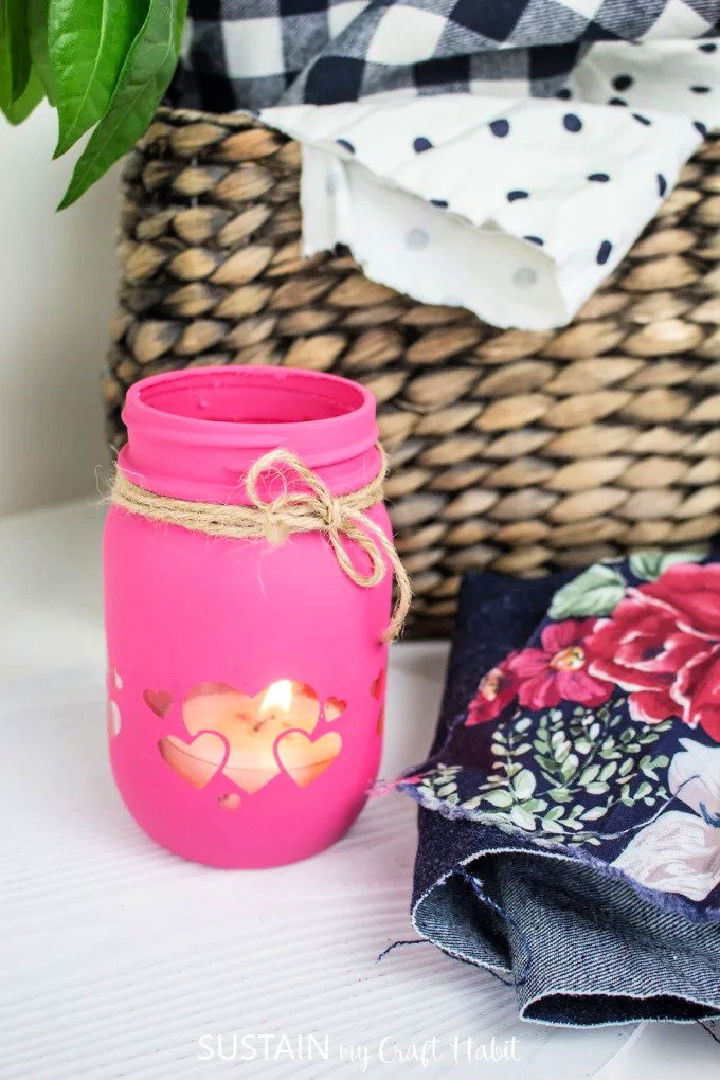 Take a special touch of romance to your home this Valentine's Day with these easy DIY-painted mason jar candle holders. You can make an elegant decoration that will impress your friends and family using simple chalky paint and vinyl heart cutouts from Cricut.
Just fill the jars with votive candles, and voilà! You have a stunning centerpiece or mantle accent that will set the perfect romantic atmosphere for any occasion. Get creative and make something one-of-a-kind with these fun supplies – they'll be sure to brighten up your evening! sustaincrafthabit
9. Make Your Dollar Tree Candle Holder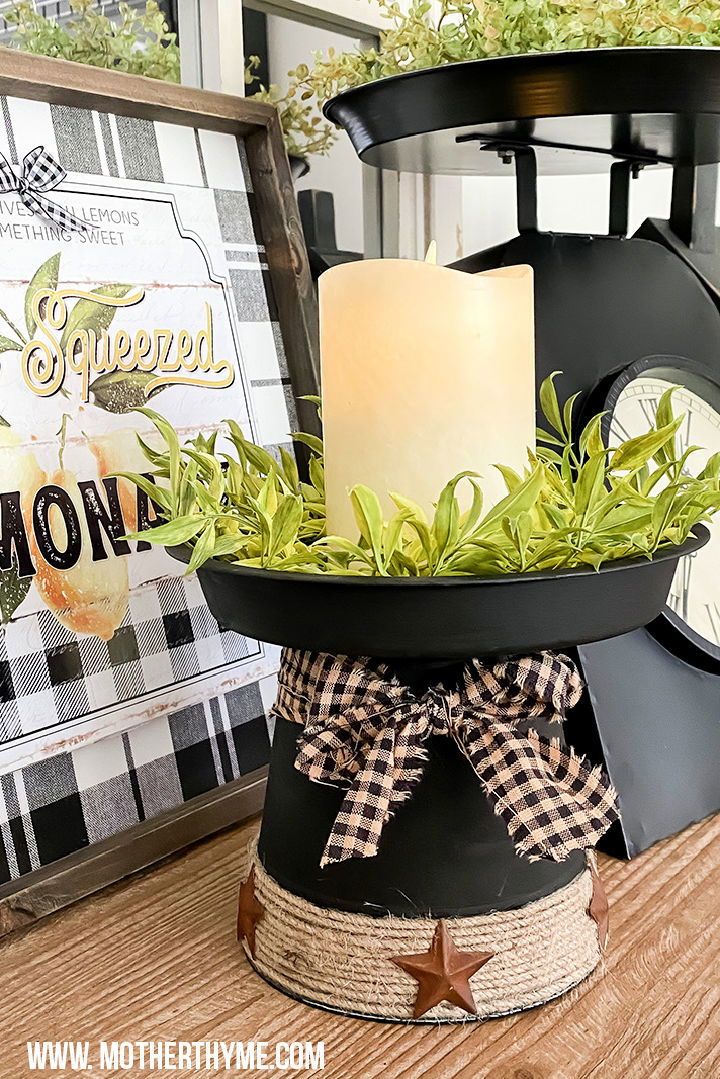 Make your unique candle holder using only a few inexpensive supplies from Dollar Tree!
This easy project will surely add charm and character to any room in your home. Start with a galvanized bucket, cake pan, painter's tape and FolkArt Chalk Paint in Rich Black. Add embellishments like homespun ribbon, rusty stars or whatever you'd like to customize it however you'd like — then seal it with clear E6000 and hot glue for lasting quality.
In no time, you can have an attractive centerpiece that will look great wherever you display it — the amazing way this candleholder turned out! motherthyme
10. DIY Thrifted Ombre Candle Holders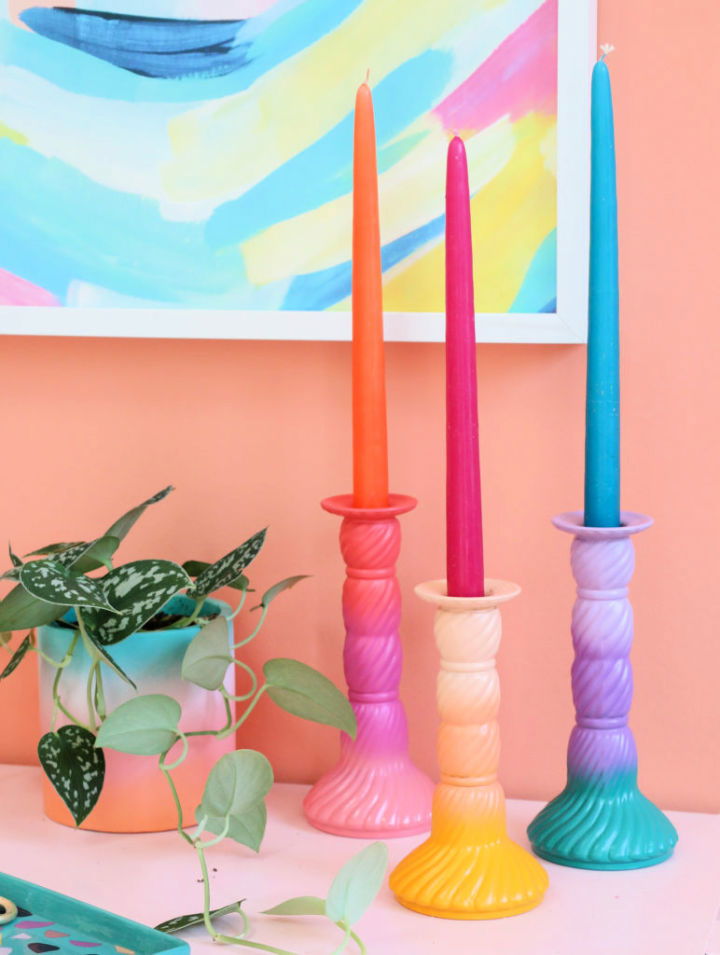 Transform your thrifted candle holders and make something unique with DIY ombre candle holders!
This project is simple, yet the gradient colors bring out the texture of the glass, making it look incredibly eye-catching. Whether you use round or twisted shapes for your candle holders, this easy-to-do decoration will improve their look and fit in perfectly with the decor. All you need are some supplies like spray paint, tape and a little patience and creativity to give these secondhand objects an amazing makeover!
Try this thrifted ombre candle holder today for a stunning result that's sure to be admired by many! akailochiclife
11. Easy Farmhouse Candle Holder Design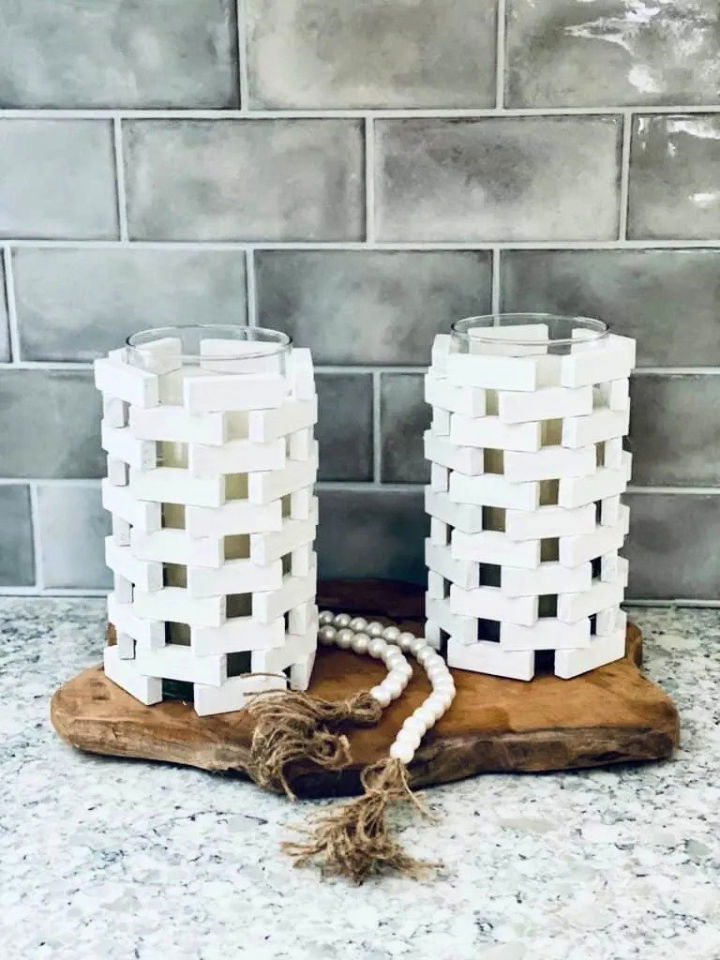 Make your home look chic with this DIY, easy farmhouse candle holder design! Decorate any room with these decorative candle holders for a rustic, woodsy look.
You can have beautiful farmhouse decor quickly with just a few dollar-store supplies. You'll need glue gun & glue sticks, Dollar Tree cylinder vases & tumbling towers games, white chalk paint & paint brush – that's it! Follow the easy steps to make your ideal candle holder design today – you won't be disappointed! singlegirlsdiy
12. Making a Patterned Candle Holder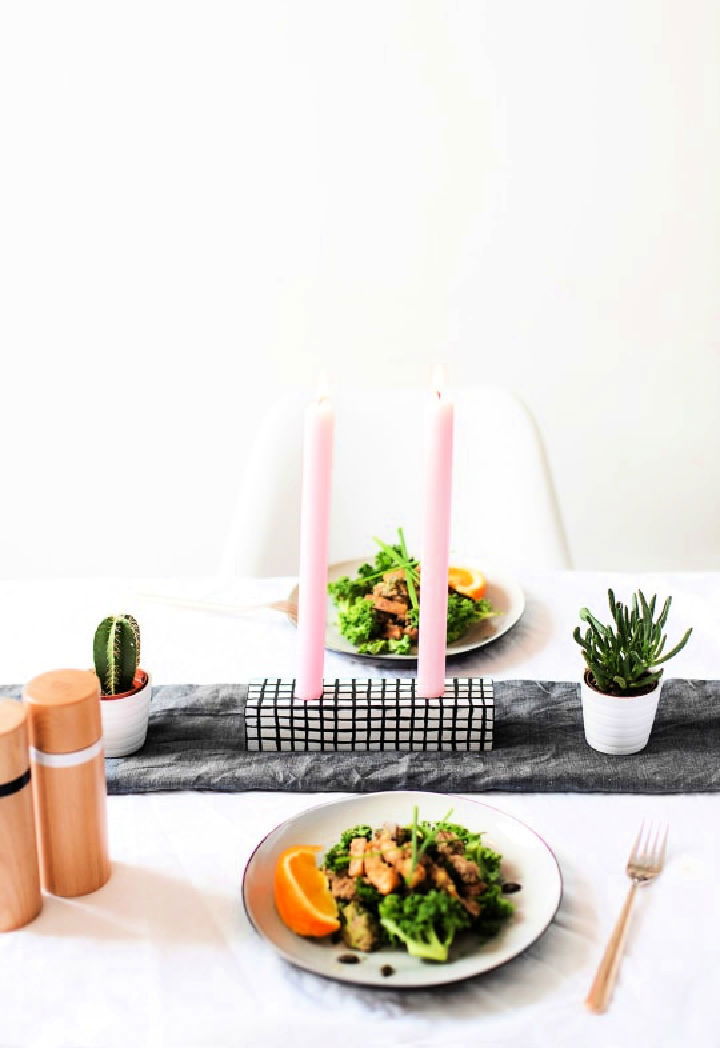 Add a creative spark to your home with this DIY patterned candle holder. Perfect for those who want an easy and quick way to spruce up the living room, this patterned candle holder is simple yet requires some styling effort.
Pick from any color combination you like – from bold blues and reds or something more subtle like white and black- and mix it up depending on what holiday it is. For Valentine's Day, add a touch of pink! All you need are balsa wood, white spray paint, acrylic paint, a brush drill wide drill bit for candles, a pencil ruler and some candles. Have fun makingyour unique candle holders with these items! sugarandcloth
13. DIY Copper Wood Candle Holder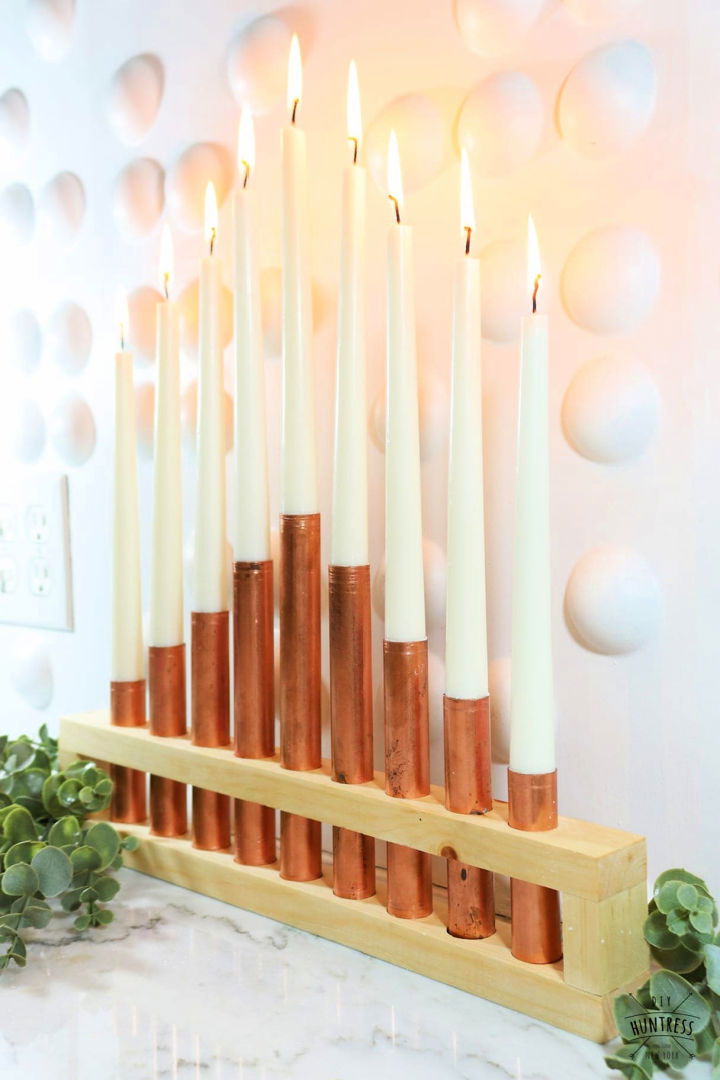 This holiday season, take a unique, modern DIY copper wood candle holder menorah! This adorable piece adds a special touch to any home and makes for a wonderful activity to do with the family.
Craft it with love using simple supplies like wood, copper pipes, and screws – then enjoy it over latkes and apple sauce together! Make memories that will last forever by building a stylish menorah that you can proudly display yearly. diyhuntress
14. Simple Wood Block Candle Holder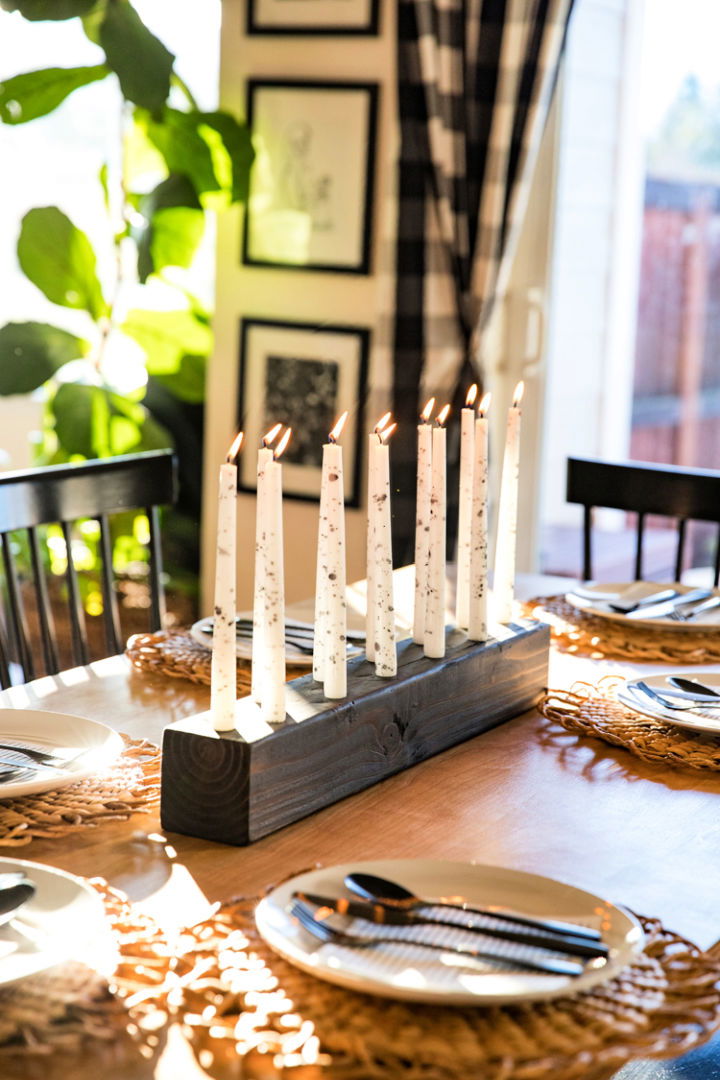 Introducing the perfect candle holder for any space – this simple wood block candleholder! Make a look that is as big or small as you like without it being overpowering in the small spaces.
The effect of these trendy wood block holders is stunning. Supplies needed to make your own include: a 4×4 inch fir wood post, power drill and Forstner bit, sandpaper/sander, ruler/measuring tape and pencil. Whether you want to add extra ambiance to your home or celebrate special occasions with friends & family, remember this wooden candle holder's simple yet eye-catching beauty. deliacreates
15. Unique DIY Frosted Candle Holder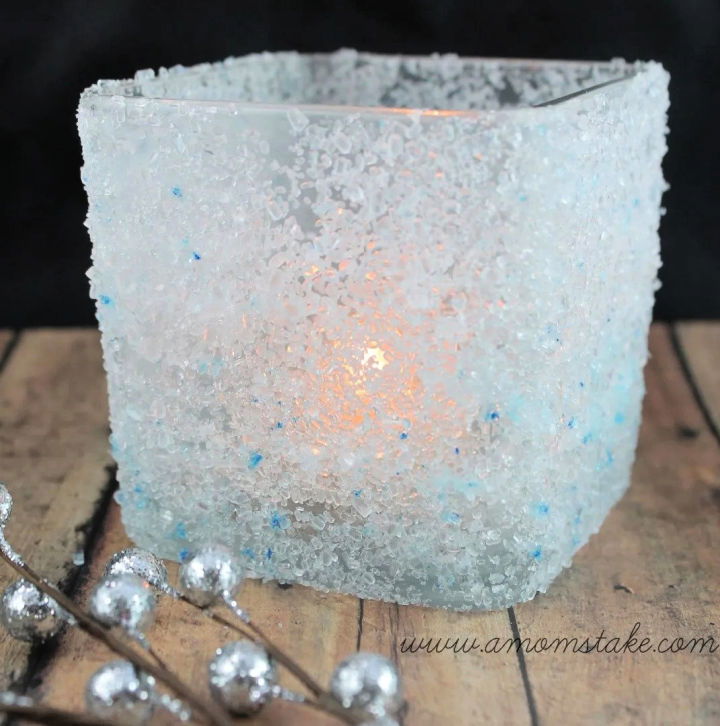 Achieve a unique and eye-catching DIY project with our easy-to-replicate frosted candle holders. Perfect for votive-sized candles or using a larger glass jar for a larger candle, this simple and inexpensive craft gives your home something uniquely beautiful.
All you need is glass jars, Mod Podge, Epsom salt, and food coloring to make it happen! Spice up any room at an affordable price and make stunning decorations to show off to family & friends proudly! amomstake
16. How to Make Taper Candle Holders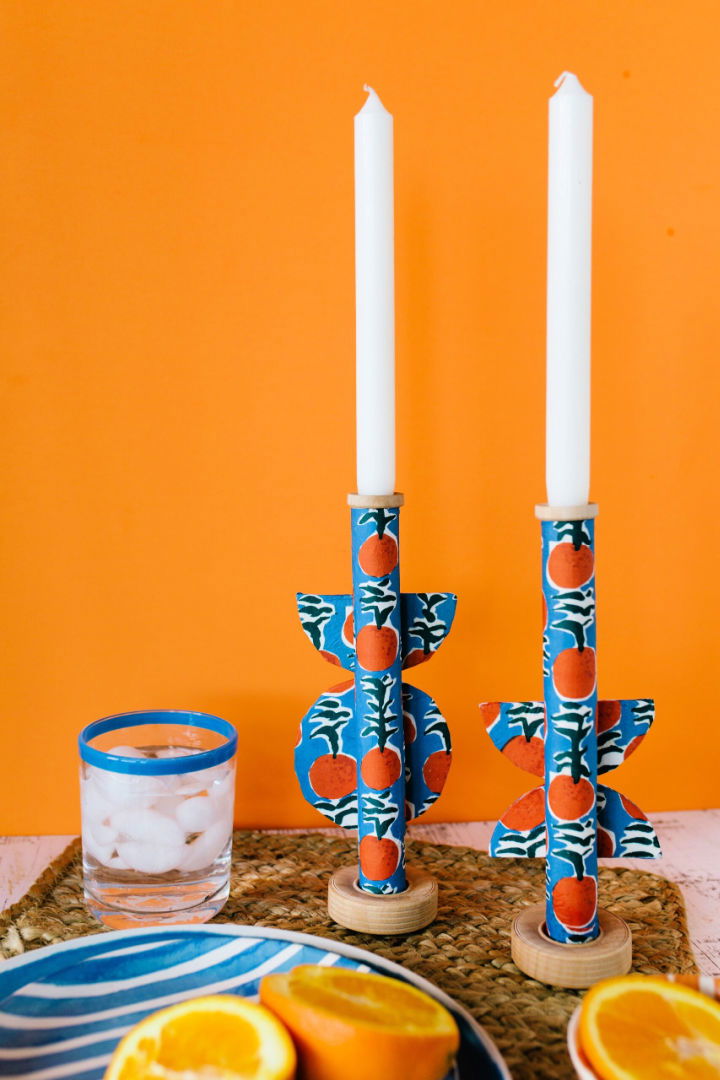 Add a classic decor piece with a modern twist to your home table with DIY taper candle holders!
Make your unique set of taper candle holders using wood dowels, unfinished wood checker pieces, wooden wheels, flat wooden circles and more. Just grab some supplies – such as table saws, Aleene's Original wood glue and Mod Podge in matte – and use them along with foam brushes, patterned paper napkins, Aleene's Original Clear Gel tacky glue or Candle Adhesive to make the perfect taper candle holders for your special occasions.
Give yourself peace of mind knowing that you can easily make beautiful lighting arrangements when you try these taper candle holders today! prettylifegirls
17. Pink Candles And Glitter Candle Holders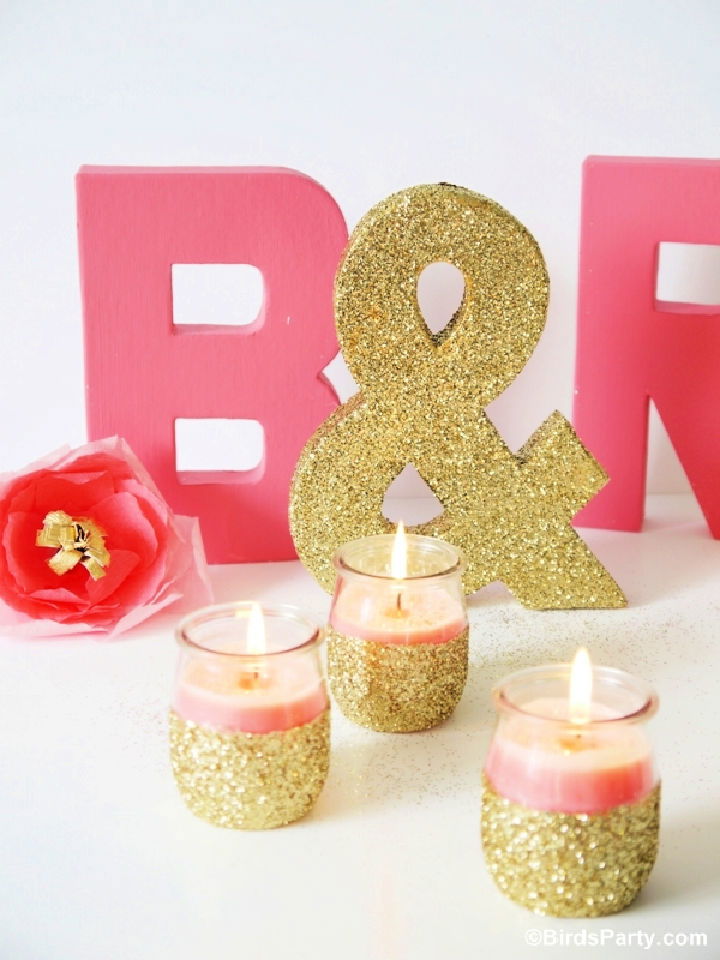 Make beautiful DIY pink candles and glitter candle holders with minimal effort! These stunning pieces are perfect for decorating your home or making a special gift. With just glass yogurt pots, gold paint/PVA glue, foam paintbrush, glitter and optional masking tape, you can have these delightful little glimmering cuties in no time!
Enjoy the pretty flicker of light on lazy summer evenings or use them as table decorations – either way, they will make any space look extra special. Get started now, and let your creativity shine through! birdsparty
18. Make Candle Holder with Jute Roping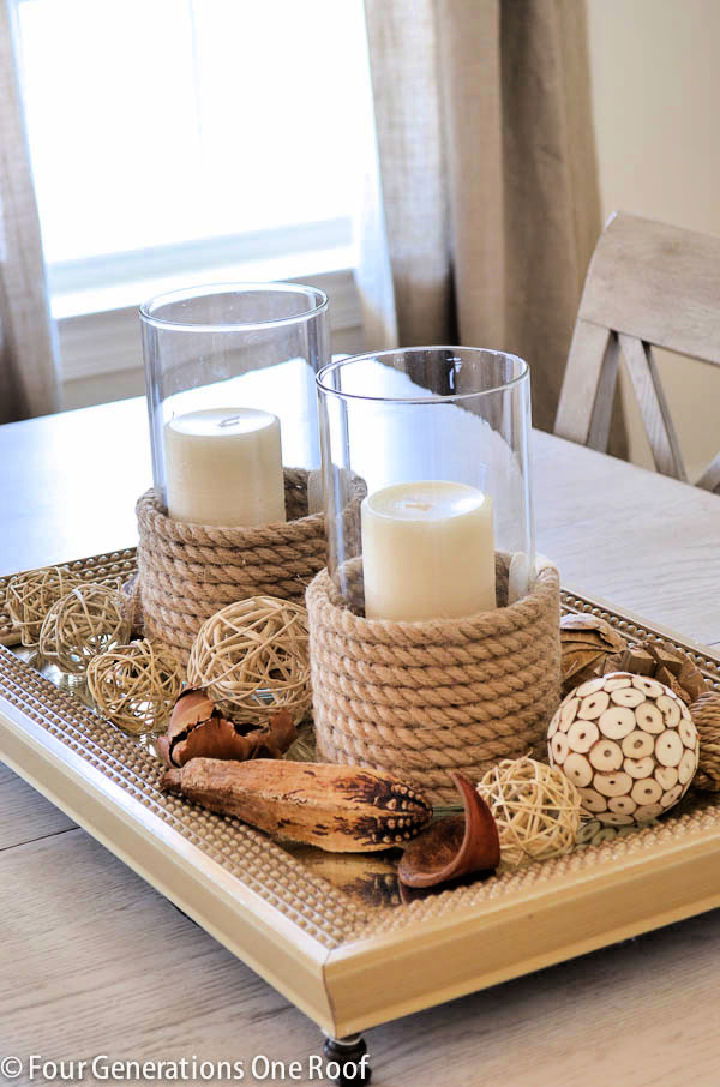 This DIY candle holder with jute roping is a timeless and beautiful accent piece for your home. It's easy to assemble in three minutes, so that you can save time and money with this crafted coastal-style design.
The glass hurricane holder adds charm to any room, while the twisted jute roping gives it that classic cottage look that will make it stand out in your dining space, or anywhere else you choose! With minimal supplies, make something special you'll love having around! generation
19. Cute DIY Pillar Candle Holders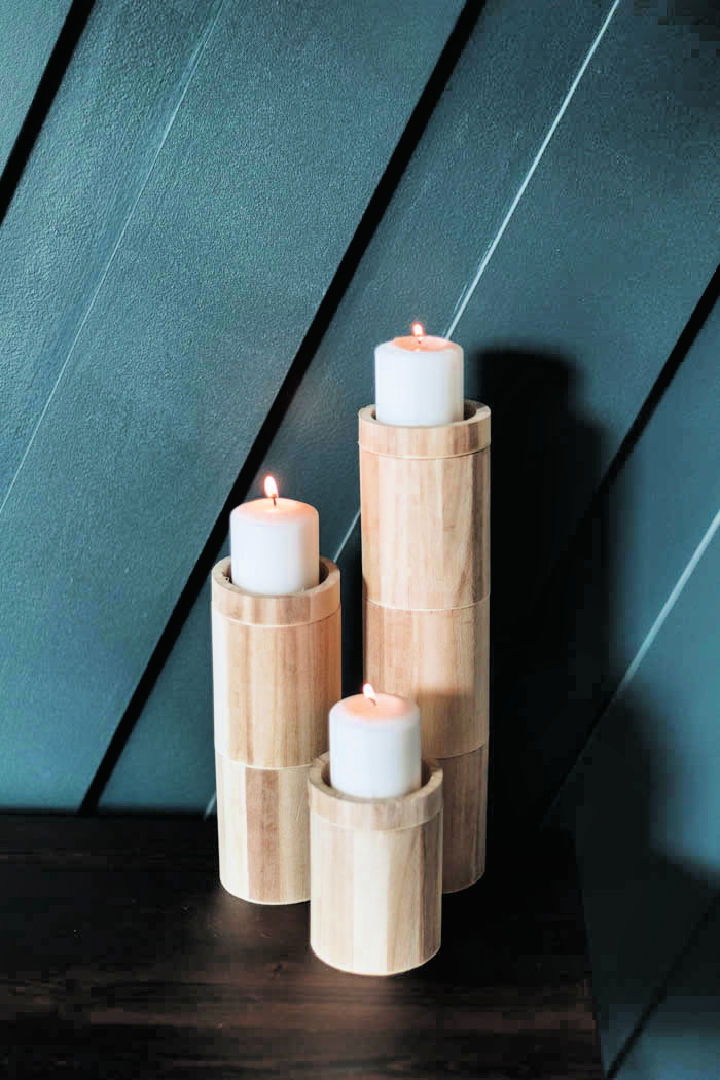 You are introducing these DIY pillar candle holders – perfect for adding a beautiful focal point to any room in your home! Using supplies from your local Dollar Store, such as glass bottles, candles and acrylic paint, these holders are easy to make and look amazing when finished – like expensive decor but without the hefty price tag!
You'll love how they turn out – give them a try today and enjoy the rustic charm of it all. lovecreate
20. Build a Wooden Candle Holder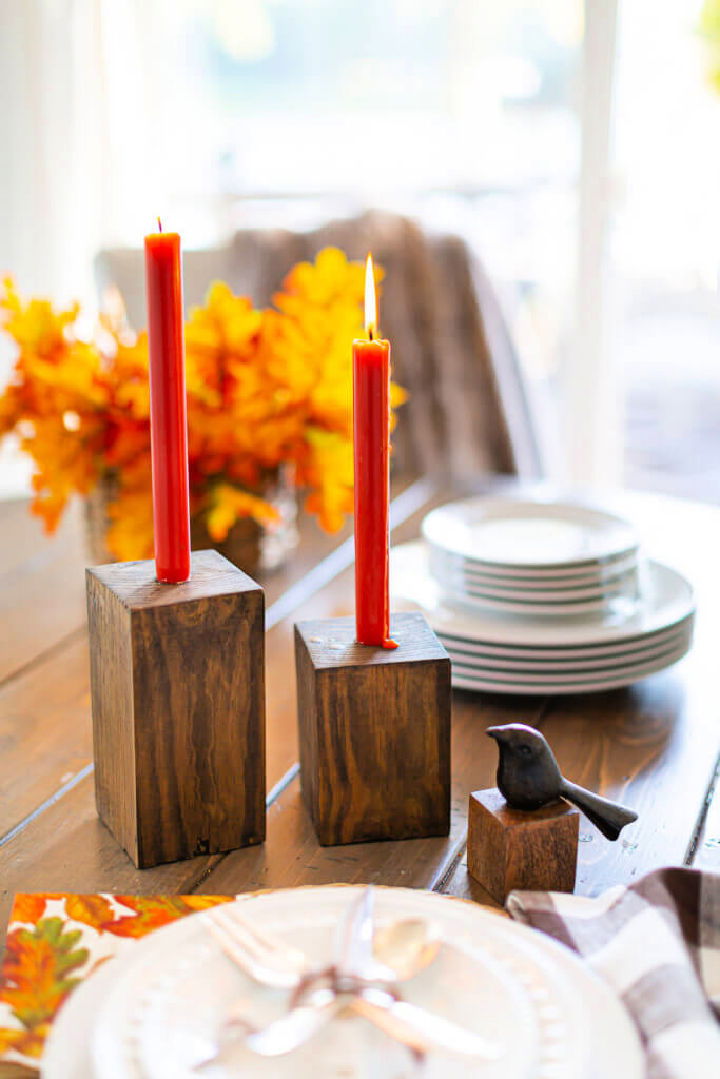 Welcome the warmth of candlelight into your home with this easy-to-make DIY wooden candle holder. With a modern rustic look, it's perfect for decorating any room for the holidays and making an impressive gift to give family and friends. Crafted by you with love, this wooden candle holder adds the soft glow of candlelight and a cozy ambiance that will last long after the holiday season ends.
Remember to pick up all the supplies needed – get creative! Transform your living space with this one-of-a-kind handmade decoration today. inmyownstyle
21. Copper Striped Candle Holders to Make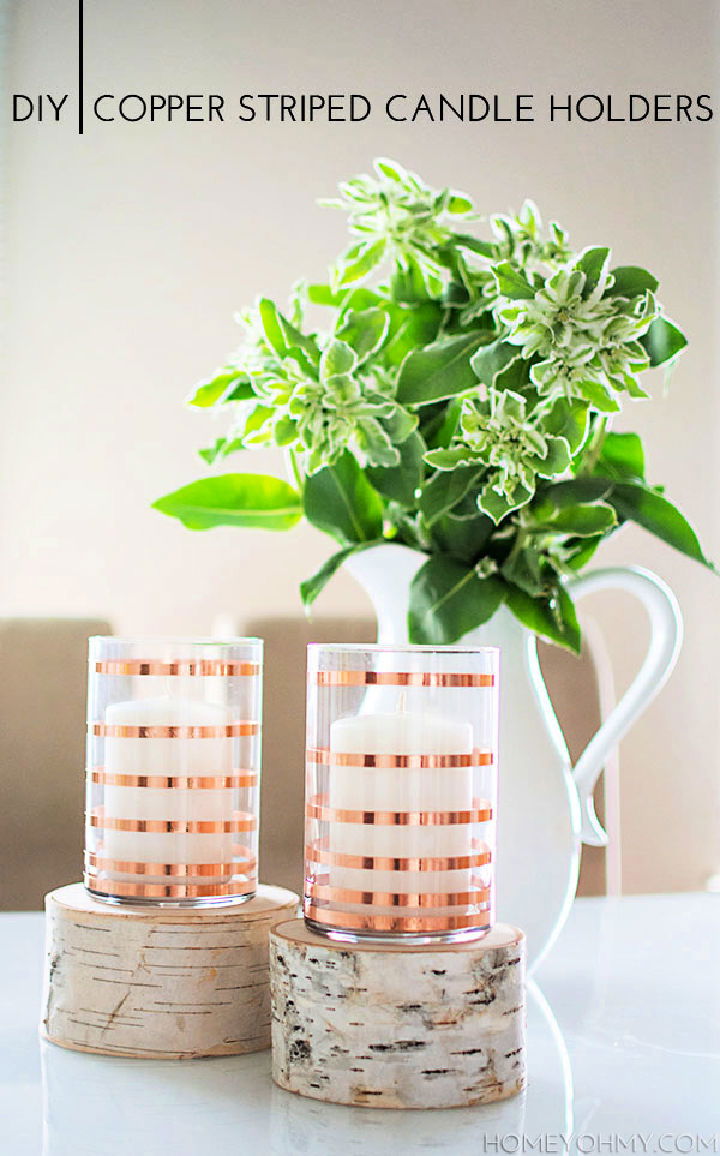 These stunning DIY copper-striped candle holders bring warmth and style to any room. With copper tape, you can make them yourself in no time, adding a bit of sparkle to your home décor. Just ¼″ copper tape is all it takes – it's so simple!
These candle holders make for an easy fall decor craft project that will lighten up any space – what could be better? So don't wait. Gather your supplies today and prepare to add sophisticated charm to your interior design. homeyohmy
22. Glass Gem Votive Candle Holders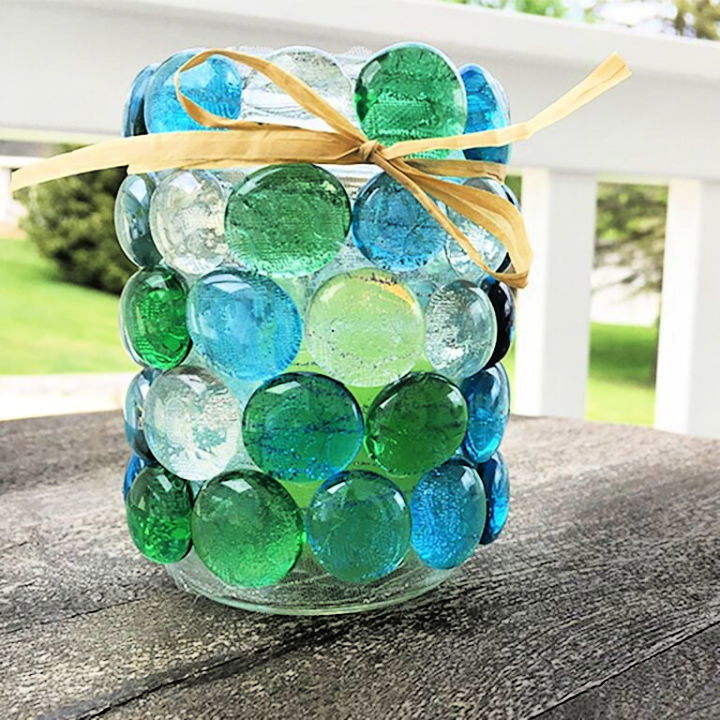 Elevate your special occasion with these DIY glass gem votive candle holders! Perfect for weddings, showers, or to give as gifts, these little votives add a lot of sparkles and shine. Choose from aqua and sea green gems to make them truly unique.
Making them is easy – all you need are glass jars or votives, sheer mesh, E6000 Adhesive, glass gems cardstock elastic bands and decorative ribbon or raffia. You can make something amazing to wow your guests with just a few supplies and minimal effort! craftidly
23. How to Make Wool Candle Holder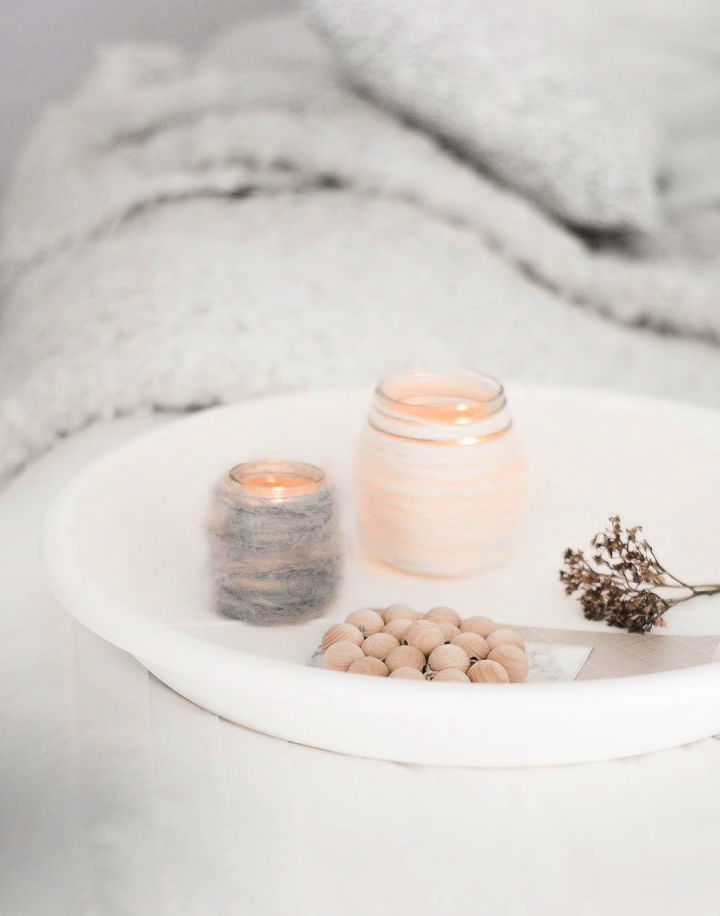 Transform small jars into beautiful candle holders with this DIY wool candle holder project! An easy and budget-friendly way to make your home cozier, all you need are scissors, small empty jars, double-sided tape and wool.
Doing it yourself will give you a sense of accomplishment while makingsomething unique. You'll have your own set of homemade candle holders in no time – perfect for adding extra warmth around the house or as a thoughtful gift. homedit
24. DIY Raffia Tealight Candle Holder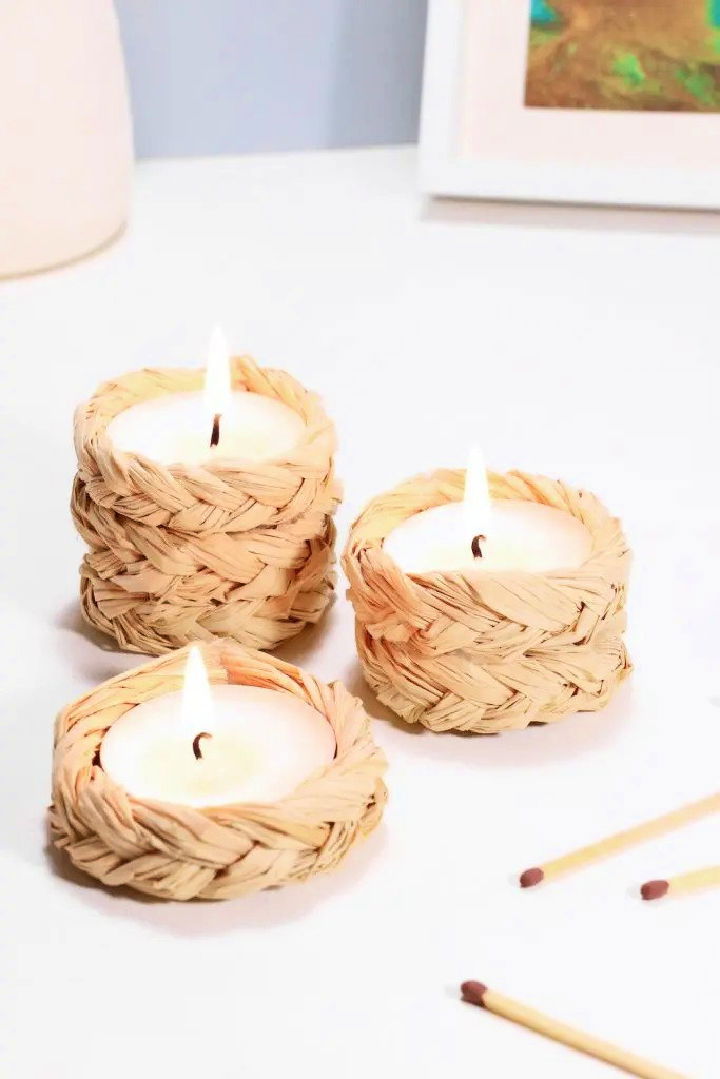 Beautify your home with a unique DIY raffia tealight candle holder. This easy-to-make craft project will add an impressive statement piece to any house room.
With just a few simple supplies such as raffia, wooden beads and glue, you can turn something useful into something very quick, pretty and eye-catching. Top it off with tealights at the top of each holder for an extra special touch. Get creative and let your inner designer shine – you won't be disappointed! veryliv
25. Rustic Wooden Log Candle Holder Tutorial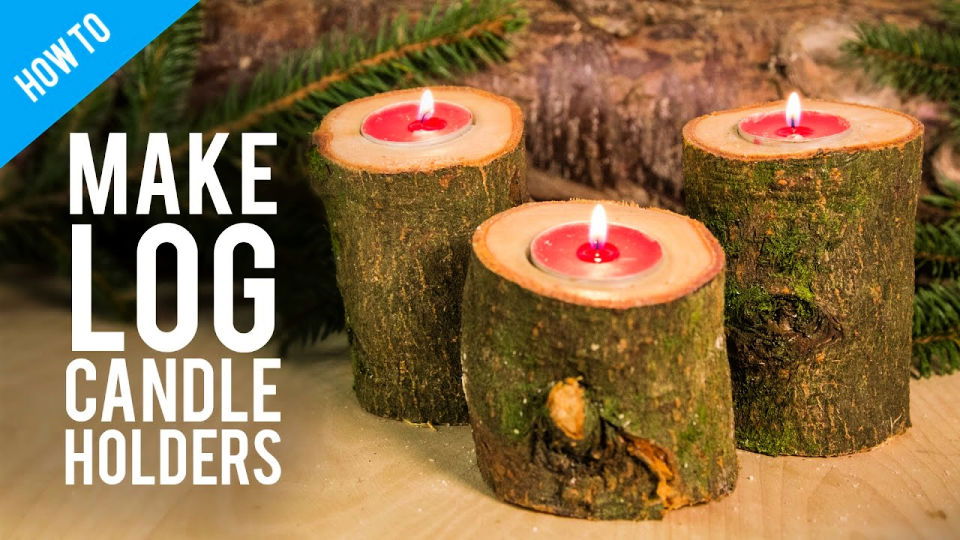 Enhance your Christmas décor with a one-of-a-kind rustic candle holder. With minimal supplies and effort, you can make this beautiful DIY wooden log candle holder perfect for the holiday season! All you need are some wooden logs, a saw, a secure vice and fire retardant varnish to make stunning tealight holders out of branches.
Make your house more festive and get creative by makingthese unique pieces for your home today!
Conclusion:
Making your own candle holders is a rewarding and enjoyable way to express your creativity and personalize your home decor. Whether you prefer a rustic, modern, or eclectic style, you can find a DIY candle holder idea that suits your taste and budget. You can use a variety of materials, such as wood, glass, clay, metal, or even natural elements like branches, flowers, or spices. You can also customize your candle holders with paint, glitter, tape, or other embellishments. The possibilities are endless!
We hope you enjoyed this collection of 25 easy DIY candle holder ideas and found some inspiration for your next craft project. Candle holders are not only decorative but also functional, as they create a cozy and romantic atmosphere in any room. They also make great gifts for your friends and family, especially during the holidays. So don't hesitate to try out some of these DIY candle holders and share your results with us. We would love to see your beautiful creations! Happy crafting!