Straw crafts are a wonderful way to unleash your creativity and make amazing things. Whether you use plastic or paper straws, you can transform them into beautiful and useful items with just a few steps. Here are 30 easy straw crafts that will inspire you to try this fun and eco-friendly hobby. You will learn how to make a paper straw tulip, a DIY paper straw frame, and even a straw geodesic dome for budding engineers.
There is something for everyone in this collection of straw crafts. You can make stunning decorations for your home, such as drinking straw starbursts craft or DIY neon straw hanging planters. You can also have fun with your kids and make paper straw wreaths, straw shooter crafts, or stem projects with straws. These activities are not only enjoyable but also educational, teaching your kids about science, math, and art. You can also express your personality and style with DIY crazy straws design, which lets you create your own unique straws.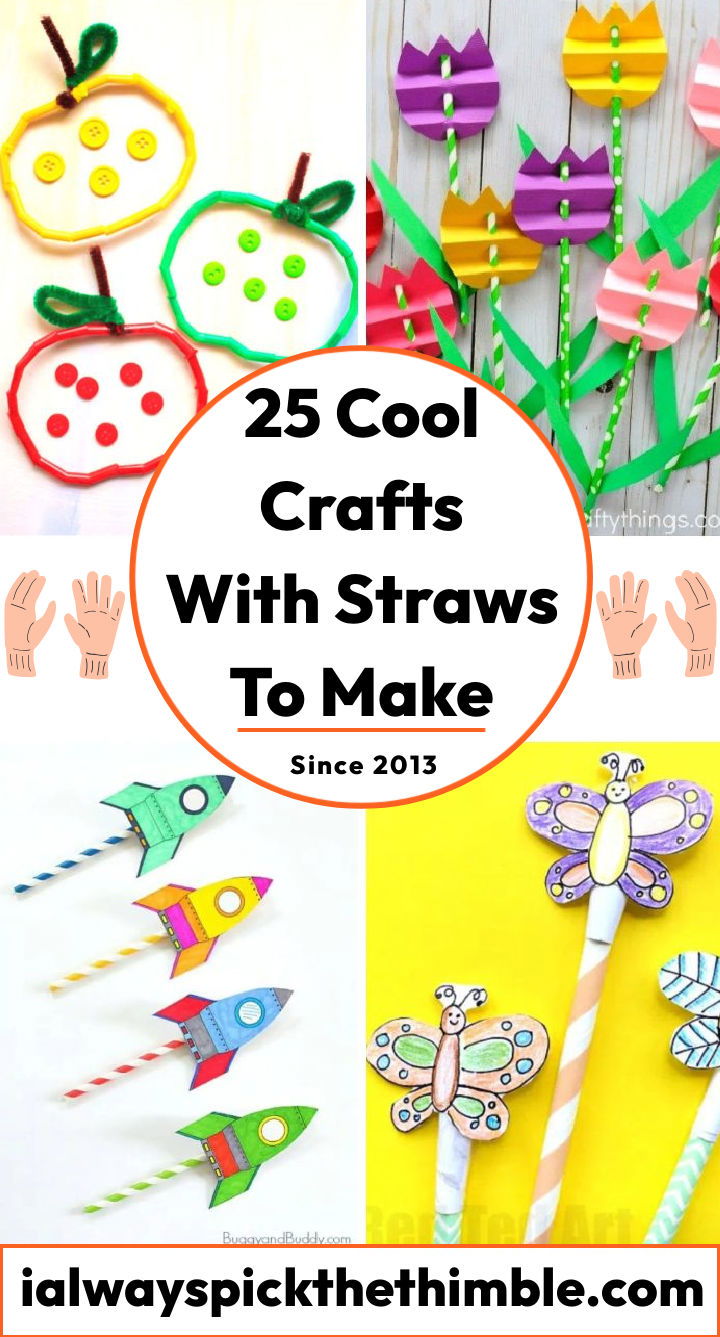 Straw crafts are more than just a hobby. They are also a way to protect the environment and reduce waste. By using paper straws instead of plastic ones, you are helping to save the oceans and wildlife from pollution. Paper straws are biodegradable and compostable, so they won't harm the planet.
You can also reuse plastic straws that you already have and turn them into something new and useful. So, don't throw away those straws. Use them to make amazing straw crafts that will brighten up your day and the world. Start your straw craft journey today and discover the magic of straws!
1. How to Make a Paper Straw Tulip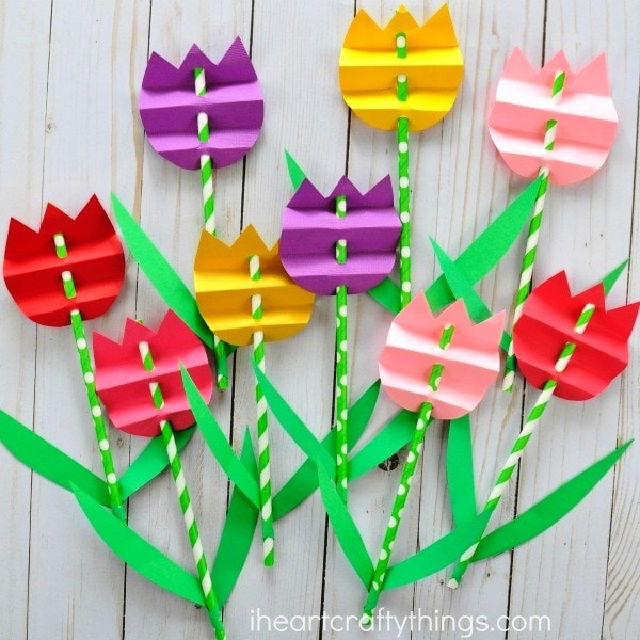 Are you looking for an easy craft that looks so beautiful and unique? Look no further than these DIY paper straw tulip instructions! Not only is it crazy simple to throw together, but the result will be a stunning display of bright and gorgeous tulips.
With materials like paper straws, crepe paper, scissors, and glue sticks – all easily found at your local craft store – you can learn how to make these delightful springtime flowers in just a few steps. All you need is an afternoon, some creativity, and patience to make one-of-a-kind tulips! These vibrant blooms are perfect for gifting or brightening any room with their cheerful beauty. Get ready to make something special – follow the paper straw tulip instructions today! iheartcraftythings
2. DIY Neon Straw Hanging Planters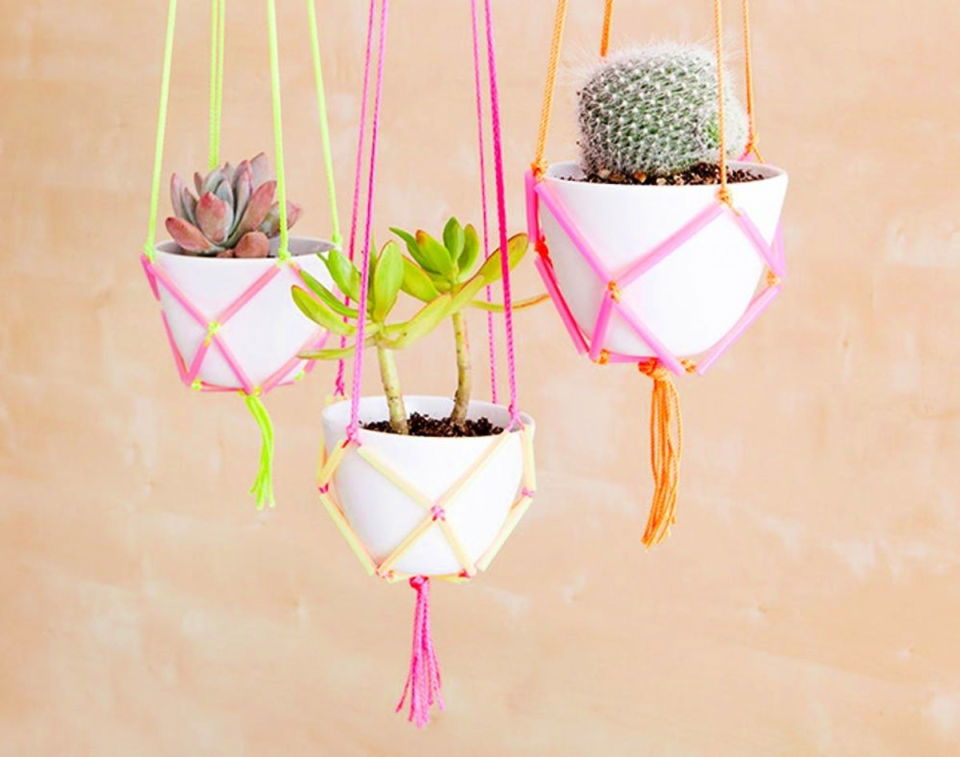 Light up your home with these unique DIY neon straw hanging planters! In just 15 minutes, easily make modern planters that give any room an instant rustic vibe.
Perfect for the kitchen or anywhere else in your house, the contrast of both color and texture between the neon cord and straws adds a truly eye-catching appeal. Get creative and craft some of these magnificent hanging planters using nothing but neon cord and neon straws – it's time to transform your space! brit co
3. Paper Straw Wreath – Step by Step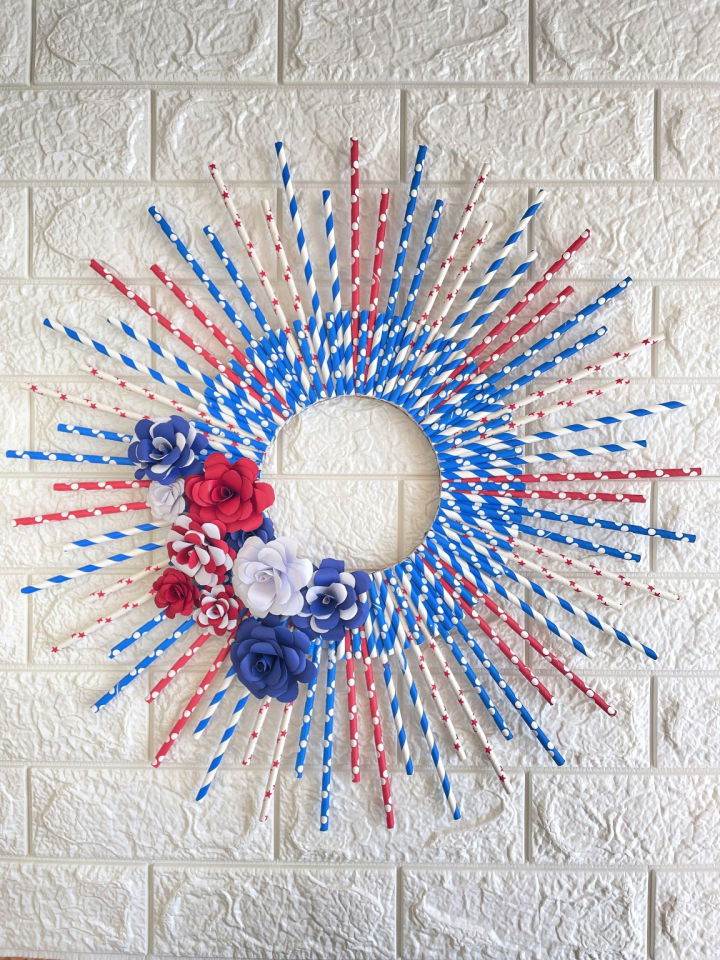 Put your creative DIY skills to the test with this bright and beautiful DIY paper straw wreath! This fun project is incredibly easy to make, and the possibilities are endless – you can customize it however you'd like by using whatever colors of paper straws you fancy. Plus, all the materials you need for this crafty endeavor can be found in your recycling bin! Step-by-step instructions make this an ideal project for crafters of any age or skill level. This simple, environmentally-conscious wreath creates a unique addition to your home today. acountrygirlslife
4. Best Pen Pot Straw Project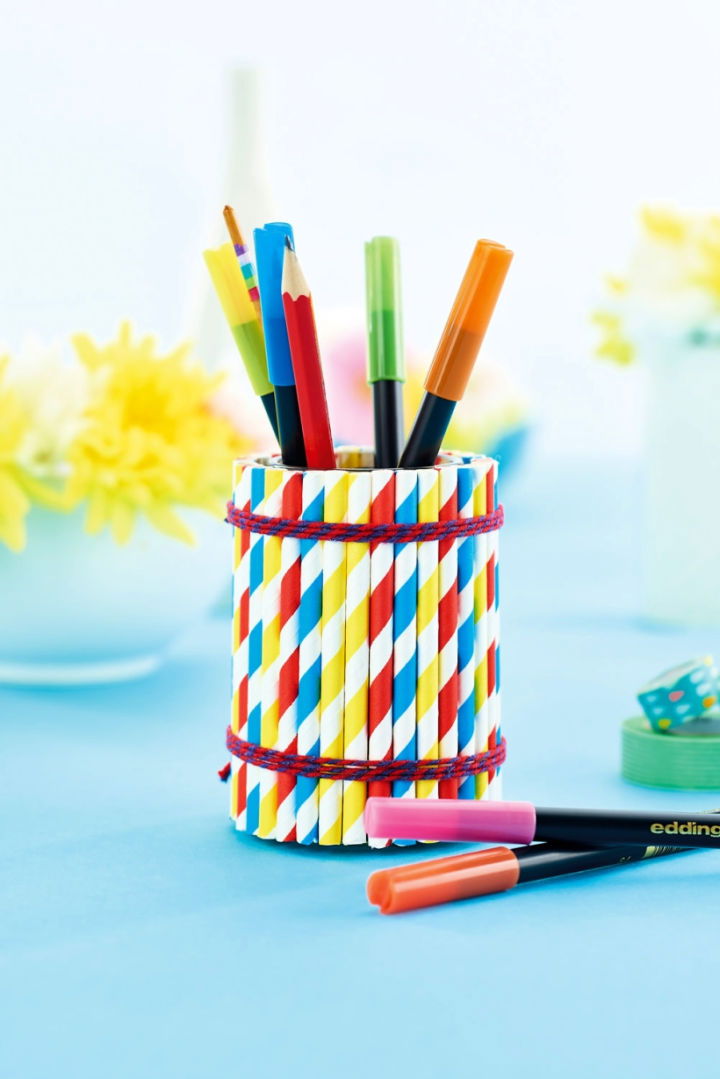 Get creative with these fun and easy crafts with straws that are perfect for kids and adults alike. This easy DIY pen pot straw project makes your desk look chic and organized! Get creative with colors and patterns of straws to craft a stylish pen pot that will only take 5 minutes to make.
This project requires minimal supplies, so all you need is some leftover straws, a hot glue gun, a marker, or paint for decoration (optional) – the possibilities are endless! And it's doable even if you're on a budget. With an attractive design like this one in plain sight, keeping things neat has never been easier. So get busy crafting; it'll be worth it once your desk items are arranged in their new homey spot! papercrafter
5. Creative Engineering With Straws and Playdough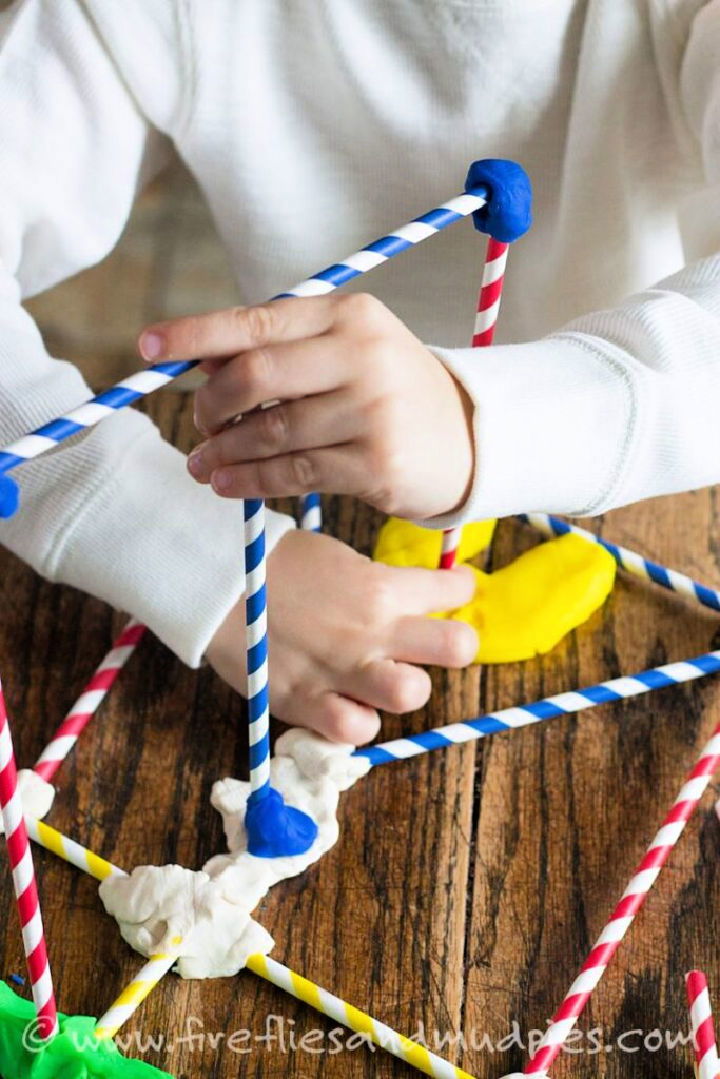 Keep the kids entertained with these engaging and educational activities with straws that are sure to spark their imagination. Kids of all ages can tap into their creative engineering skills with a fun activity involving straws and playdough. Not only does this DIY project help to develop fine motor skills, inspires analytical problem-solving, and encourages STEAM learning through engaging play. And best of all – it's simple to put together!
All you need is some straws cut in half lengthwise and some colorful playdough for added decoration. The possibilities are endless – kids will love constructing shapes like pyramids or buildings with a basic structure called a "house." This activity promotes hands-on educational development and will entertain your little ones for an entire afternoon! Plus, what could be better than using such an inexpensive material? With this crafty engineering experience using straws and playdough at home, your kiddos' creative ideas will surely sparkle! firefliesmudpies
6. Drinking Straw Starbursts Craft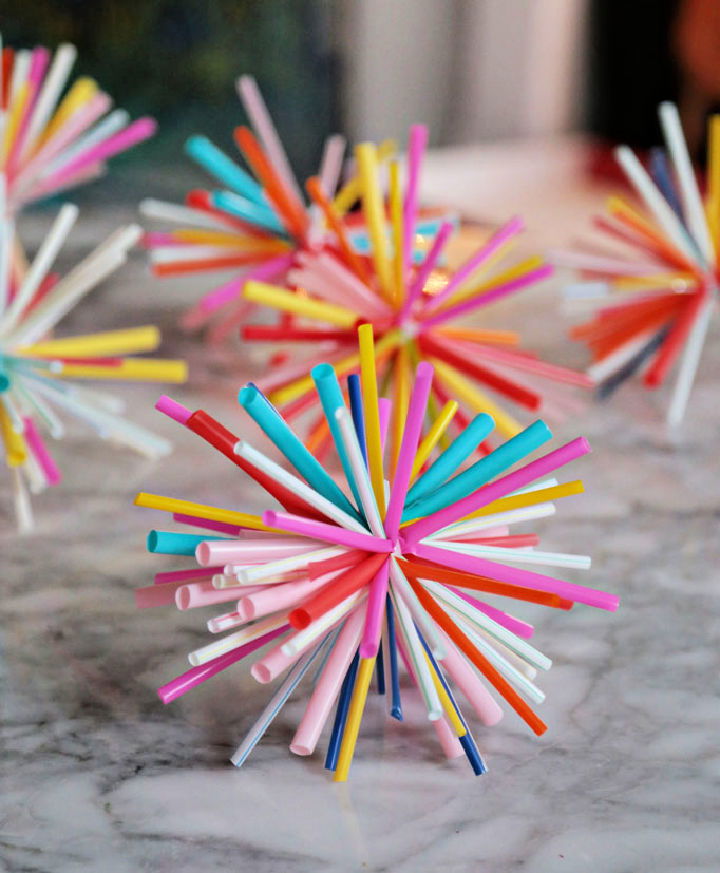 Transform any ordinary afternoon into a creative craft-filled day with this amazing DIY drinking straw starbursts craft! All you need are some plastic drinking straws, zip ties, scissors, and optional pliers to make these colorful starburst shapes – perfect for decorating a wall or adding unique fun to the dining room table.
Whether for an upcoming party or just because of this easy craft project, it will surely add plenty of pizzazz and sparkle wherever you decide to put your creations. Plus, they look great displayed in a bowl! Gather up all your supplies and get ready for some serious crafting fun.
You'll be admiring the beauty of your artistic masterpieces in no time. So grab those materials and have a blast makingthese awesome paper straw stars that will bring extra sparkle to any gathering place or special occasion! auntpeaches
7. Making a Paper Straw Flower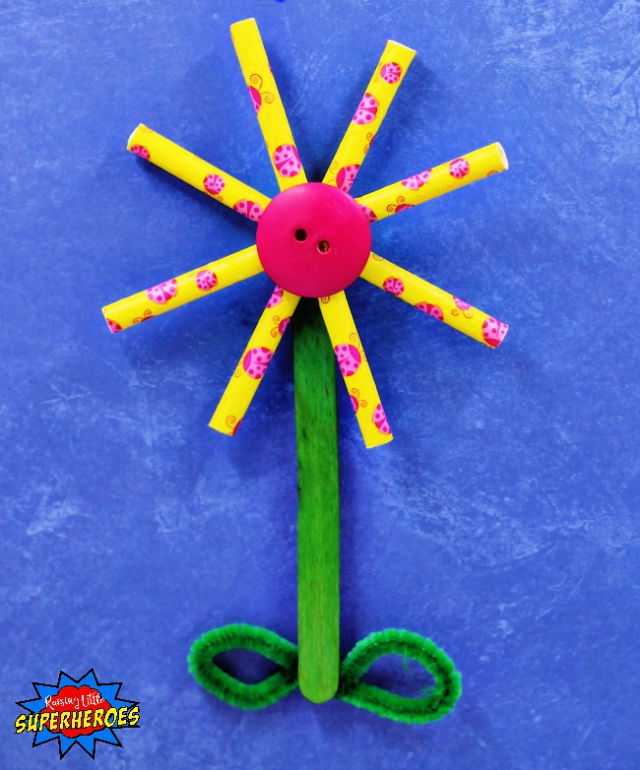 Welcome the sweet, warm days of Spring with a creative DIY paper straw flower craft! This fun and easy project brings cheerful colors and lively vibes to your home. With just a few colorful paper straws, you can make an eye-catching flower arrangement that will charm any indoor or outdoor space.
Not only is it perfect for brightening up a dreary day, but it also makes a great gift for friends and family! Add some ribbon, buttons, or other decorations to make it unique. Start crafting today – all you need is scissors, a hot glue gun (or paper fastener), and the imagination – so let your creativity blossom! superheroes
8. Make Your Own Straw Rockets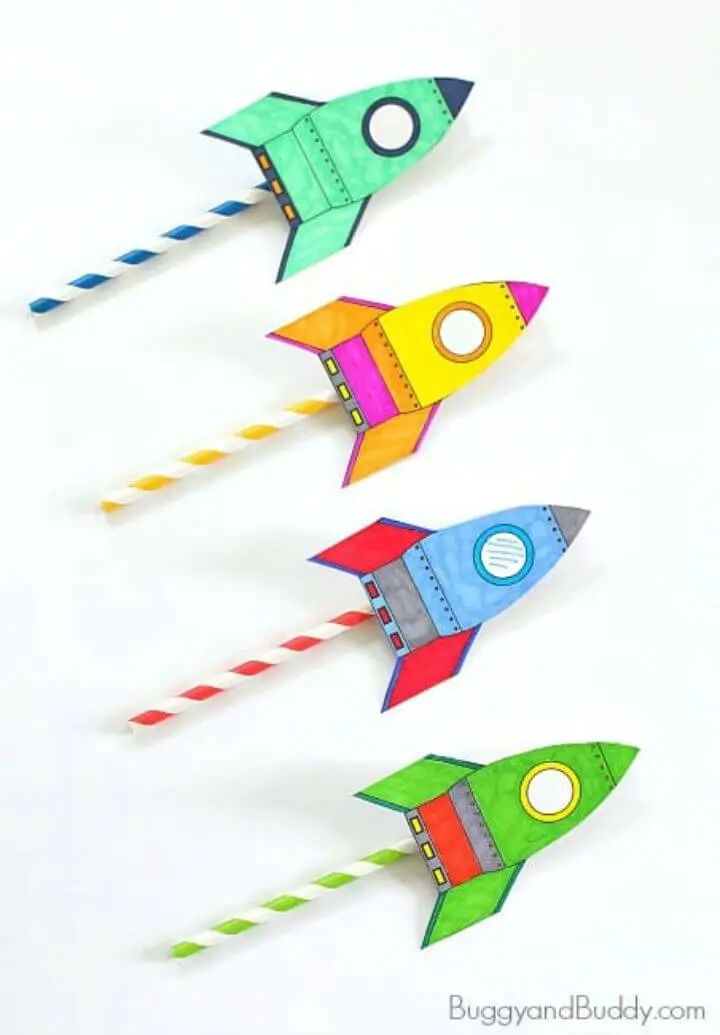 Are you ready to blast off? With DIY straw rockets, you can explore science fun and creatively! Kids of all ages will surely be dazzled as they design rockets made from straws. This incredible activity is an easy way for kids to learn about physics, space, the night sky, and things that fly.
Plus, it's perfect for rainy days when everyone needs something to do indoors. Get started by downloading the free rocket printable and have the supplies ready – some paper straws, scissors, tape or glue, and colorful markers or crayons – then create! Once your handmade rockets are ready for launch day, watch them soar into the air with amazing speed. Let imaginations take flight with straw rockets – an educational experience. buggyandbuddy
9. Straw Geodesic Dome and Sphere Engineering for Kids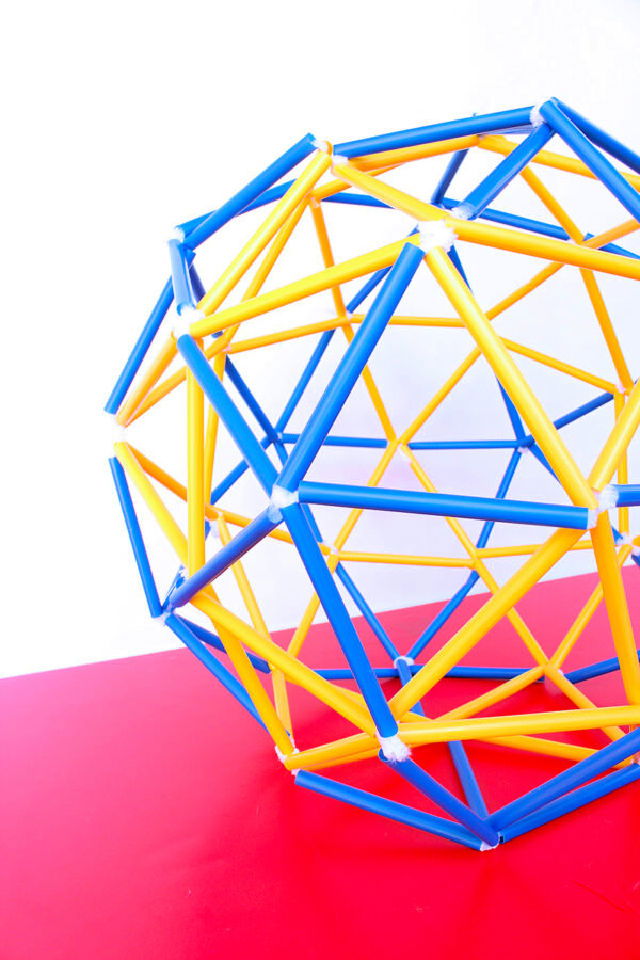 Let your children explore the fascinating engineering world with this DIY straw geodesic dome and sphere engineering for kids! Kids can easily make amazing geodesic domes and spheres to play with just some straws, pipe cleaners, scissors, rulers, and a little imagination.
It's an awesome way to introduce them to the basics of architectural geometry while having fun at the same time. The geodesic dome is one of nature's most fabulous yet efficient structures – its strength lies in its triangle-shaped framework that distributes weight evenly throughout the entire structure.
Not only does it look amazing, but it also teaches your kids about basic physical theories like tension and stability. So what are you waiting for? Gather those supplies now so your children can start making incredible geodesic structures today! babbledabbledo
10. DIY Halloween Paper Straw Garland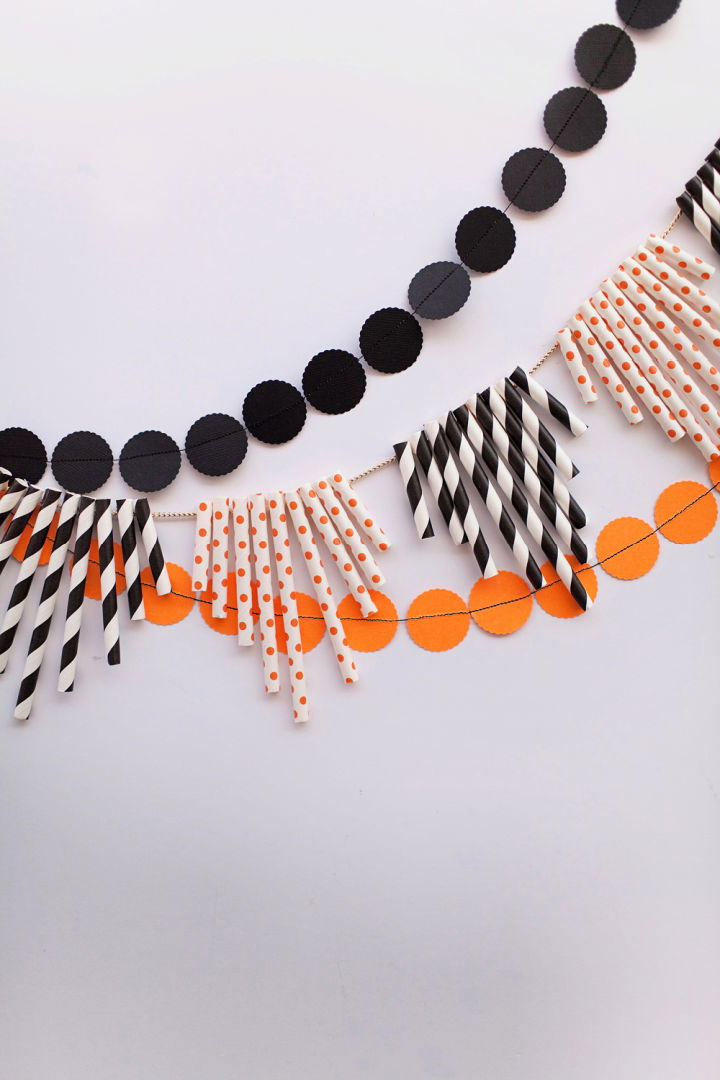 Make your Halloween special this year with a spooky DIY paper straw garland! It's the perfect way to bring some festive spirit into your home. This easy-to-make craft can be made quickly and will surely make you smile.
With simple supplies like paper straws, twine, glue gun, and scissors, you can make an eye-catching decoration that everyone will love. You'll have fun putting together the garland, and when it's done, you'll be delighted by its cheerful colors and unique design. Make this creative garland for yourself or as a gift for someone special – either way, and it's sure to brighten up any room! loveandparty
11. Paper Plate Sun Craft for Preschoolers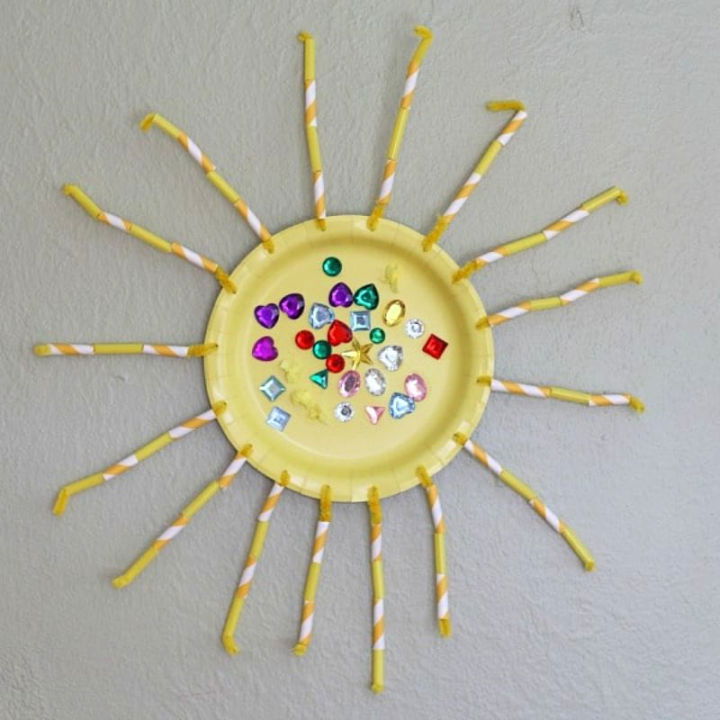 From jewelry to home decor, these drinking straw crafts are perfect for adding a unique touch to your space. Your preschoolers will love makingtheir version of the sun with this DIY paper plate sun craft. It is a great activity to help your little ones develop fine motor skills and practice math concepts such as counting, sorting, and colors. Not only is it super fun to make, but it also serves as a perfect addition for summer crafts when you want something that stands out!
With just a few supplies such as paper plates, cotton balls, paint brushes, and some colorful markers or crayons – your child can easily make an eye-catching artwork they'll be proud of showing off. Let them experiment by making different designs with shapes or patterns and have an educational crafting experience that will last all season long! buggyandbuddy
12. Spring Flowers Made With Straws and Paper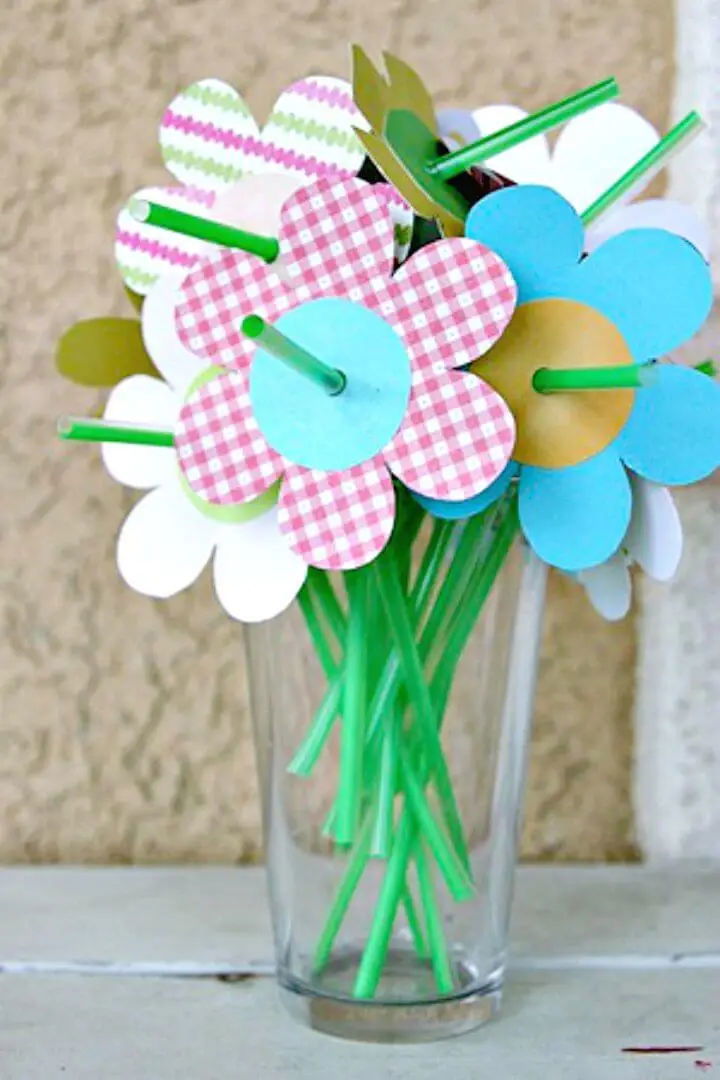 Let the creative juices of your little ones flow this Spring with a fun DIY project. With just a few simple materials like bendy straws, flower cookie cutters or stencils, assorted scrapbook paper, and glue sticks – you can craft beautiful bouquets that will bring smiles to all. This easy-to-follow guide walks you through how to make these pretty blooms in no time! Gather up your supplies, and let's get started!
Your kids will be so proud when they show off their amazing creations! Don't forget the scissors for cutting petals and stems from the scrapbook paper. Now that you have gathered items, ready to start crafting these exquisite flowers made with straws and paper! multiplesandmore
13. Cute DIY Paper Straw Spider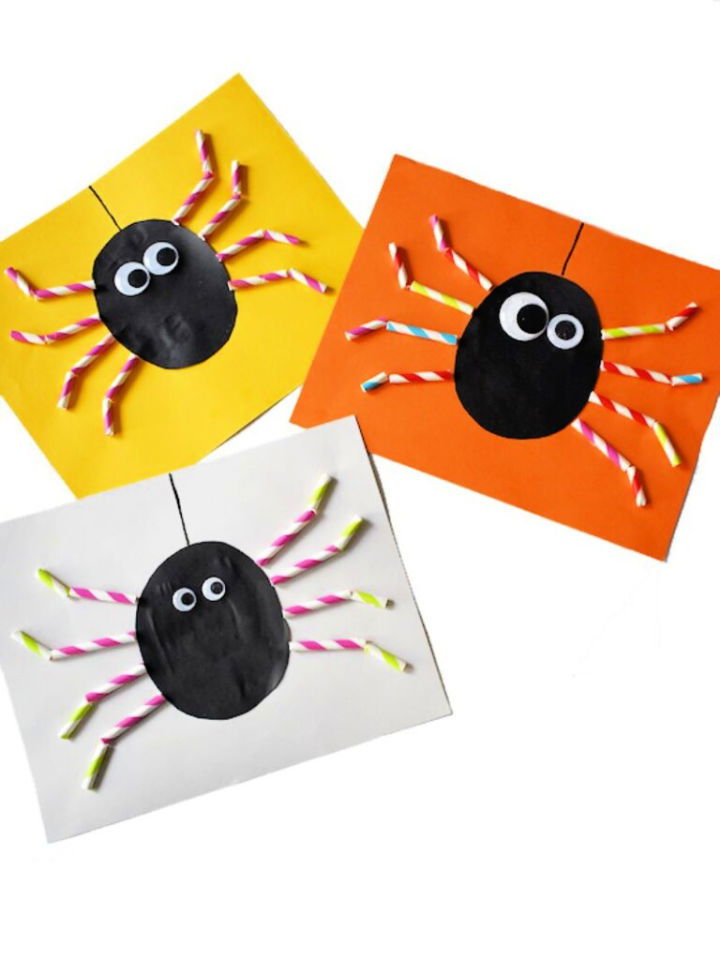 These easy crafts with straws are perfect for beginners and can be completed in just a few simple steps. Make your cute spider with this DIY paper-strew spider craft! This simple but fun concept will help you make a unique and adorable spider that's sure to bring a smile to everyone around. With just some paper straws, glue, and black paint, you can craft a silly critter in no time. Make it for yourself as an interesting decoration or give it away as a thoughtful gift – either way, you'll love this craft.
Get creative with the design by adding eyes of all shapes and sizes or mixing up the colors – whatever works best for you! It's guaranteed to be an enjoyable activity that results in something beautiful. From Halloween decorations to party favors, this paper straw spider craft is perfect for any occasion! ourkidthings
14. Making Bat Straw Rockets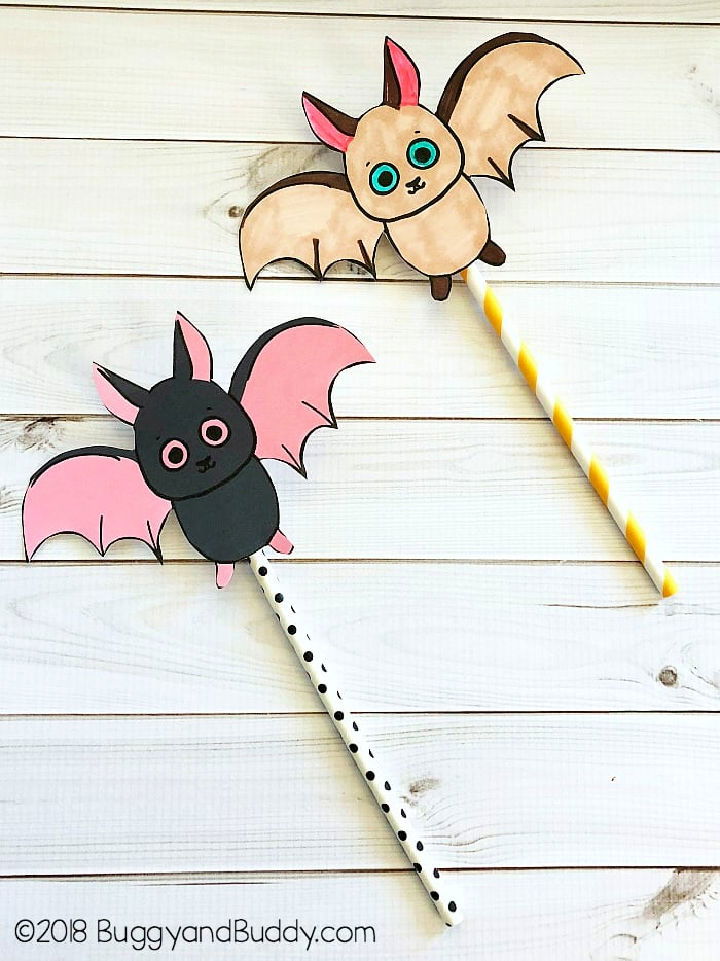 If you're looking for a fun and creative Halloween project with the kids, look no further than DIY bat straw rockets! These cute little flying bats are easy to make using our free printable bat template. This craft is an absolute blast for kids of all ages: they can assemble rockets and watch them soar.
As a bonus, this activity is also a great extension activity that can accompany any Bat Unit in school or at home. With just some straws, paper clips, and construction paper, makingthese awesome flying creatures is super easy – making it fun for your littles (or bigs)! So gather the supplies and prepare to fly into Halloween fun with bat straw rockets! buggyandbuddy
15. Summer Straw Shooter Craft Idea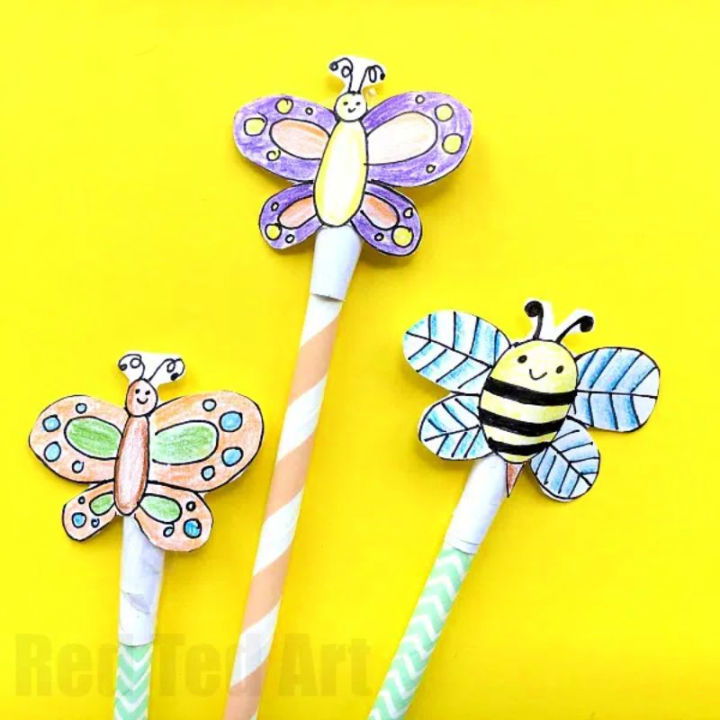 Encourage creativity and imagination in young children with these fun and educational straw craft ideas for kindergarten. A creative activity to keep the kids entertained this summer is the DIY summer straw shooter craft idea! This easy-to-make and quick project is perfect for indoor and outdoor activities, ensuring hours of fun for everyone. It provides an opportunity to get crafty with your little ones, and the shooter can be used afterward as a game or toy that will bring endless entertainment.
All you need are some straws, washi tape, scissors, and imagination! With just these simple materials, you can make an amazing shooter that will inspire delight in all who use it. So don't wait any longer – get your family together today and let the crafting begin! redtedart
16. Easy DIY Pipe Cleaner and Straw Apple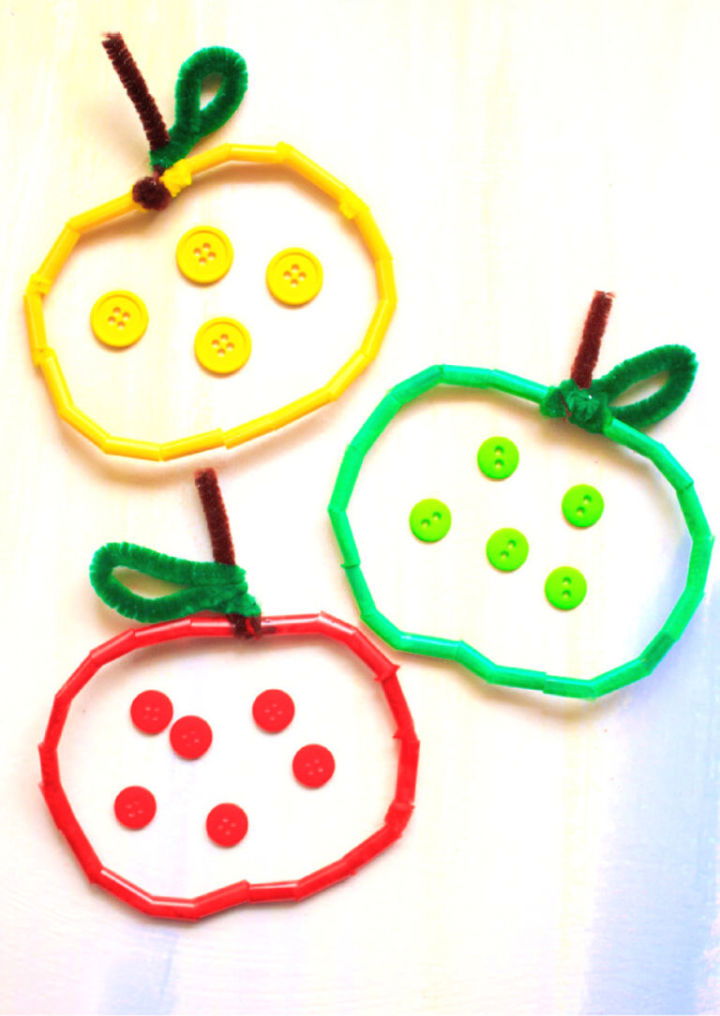 Want to get your kids excited about learning? Check out this easy DIY pipe cleaner and straw apple – perfect for language arts and math centers in preschool, pre-K, Kindergarten, and First Grade classrooms. It's packed full of inviting student activities that will make learning fun! Plus, it's a great addition to any busy bag or backpack as an activity that can be done on the go.
With its fine motor practice components like threading straws through pipe cleaners and assembling apples with pipe cleaner stems – not to mention the creative stories you can invent together – it's sure to become one of your child's favorite activities! And at just eight easy steps, you'll only need 10 minutes max before having tons of fun ready for them. So why wait? Get makingtoday! adabofgluewilldo
17. Stem Activities With Straws for Kids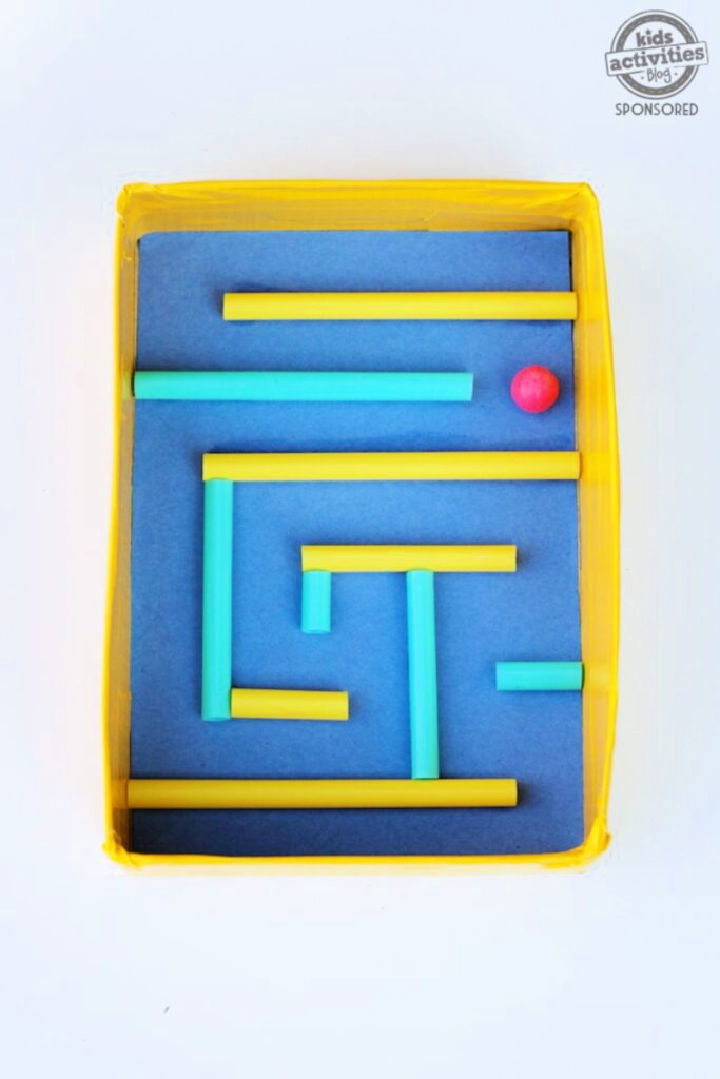 Bring out the kid in your child with this fun and easy DIY stem activity! This creative craft project is perfect for children of all ages, whether they are doing it at home or in the classroom. With just a box, duct tape, construction paper, drinking straws, glue, scissors, and marble, you can make an amazing marble maze that will keep them occupied for hours.
Start by makinga grid pattern on top of your box using duct tape and constructing paper – then get creative by cutting shapes from drinking straws to form pathways within the maze. Finally, use glue to secure each piece before setting down your marble – now you have a fantastic custom-made indoor playground that will bring fun and learning opportunities! kidsactivities
18. How to Make Paper Pinwheel With Straw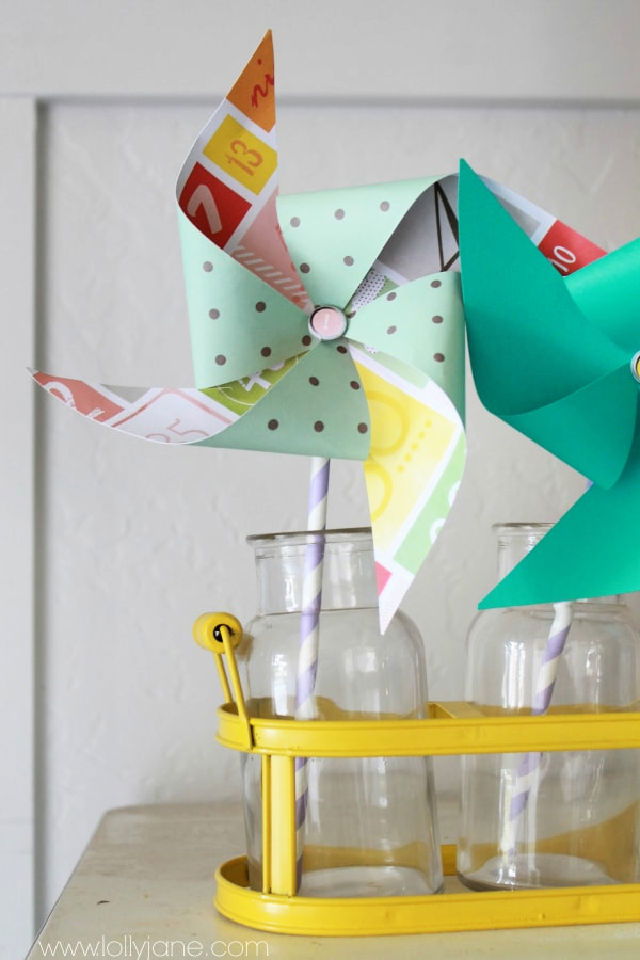 Let your imagination soar this summer and make a fun, festive DIY paper pinwheel with straw. This easy-to-make craft can brighten up any mantel or shelf for the various holidays throughout the year!
You only need scrapbook paper, paper straws (or dowels), scissors, glue guns, buttons or embellishments, and jars. Little ones will love helping make these colorful pieces together – it's an entertaining activity that will keep them occupied while spicing up your décor! Make sure to use holiday-themed papers of different colors, such as red and green for Christmas or shades of orange and black for Halloween.
If you like jazzing things up even more – add some extra three-dimensional touches, such as plastic gems, ribbons, or glittery accents. Let your creativity flow while making lovely memories with friends & family simultaneously! lollyjane
19. Straw Swing Set Art Project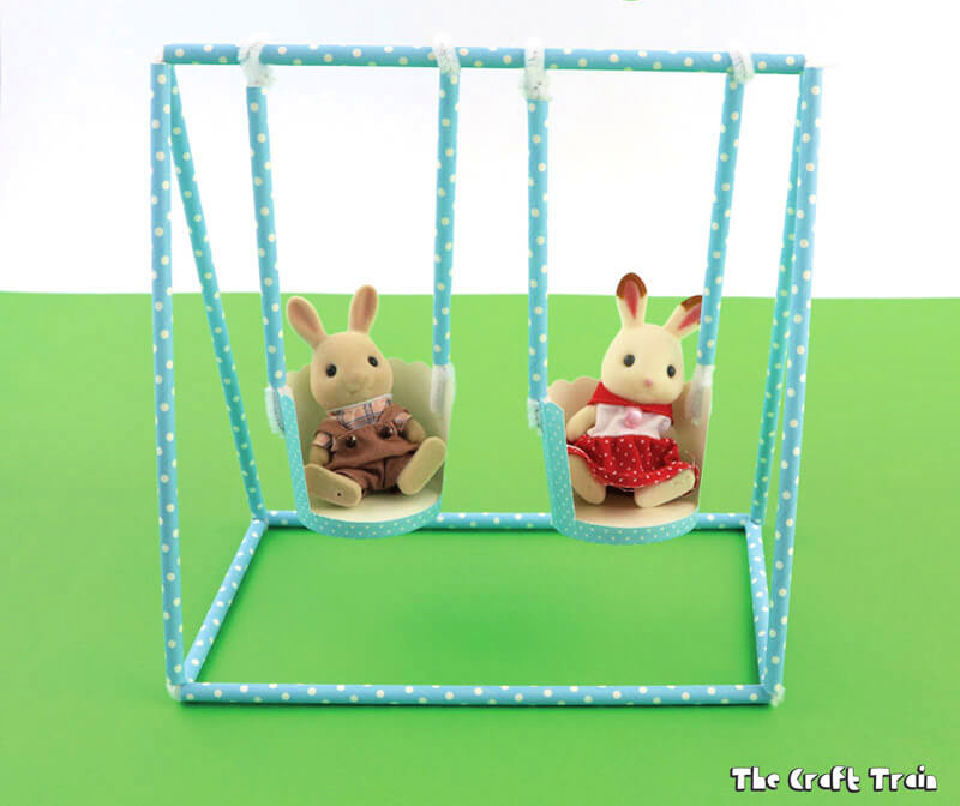 Unleash your inner artist with these unique and creative straw crafts that are perfect for all skill levels. They are introducing a fun and creative STEM activity for kids – a DIY straw swing set art project! This unique craft project is perfect for both indoor and outdoor play. It's so easy to make; even toy bunnies love this one!
In no time, you can make an attractive swing set with straws that provides hours of imaginative play. Don't worry if you're new to crafting because it includes easy instructions on building it and tips to ensure a successful outcome. Your children will be delighted to watch their handiwork come alive in a sturdy yet lightweight swing set that looks like a fairytale.
With bright colors and interesting shapes, your little ones will get excited about makingtheir playground right from home. As they assemble each piece, they'll also learn valuable skills in physics and engineering while having loads of fun along the way! So let your kids explore the wonders of STEM through this amazing straw swing set art project today! thecrafttrain
20. Paper Straw Monster Craft for Kids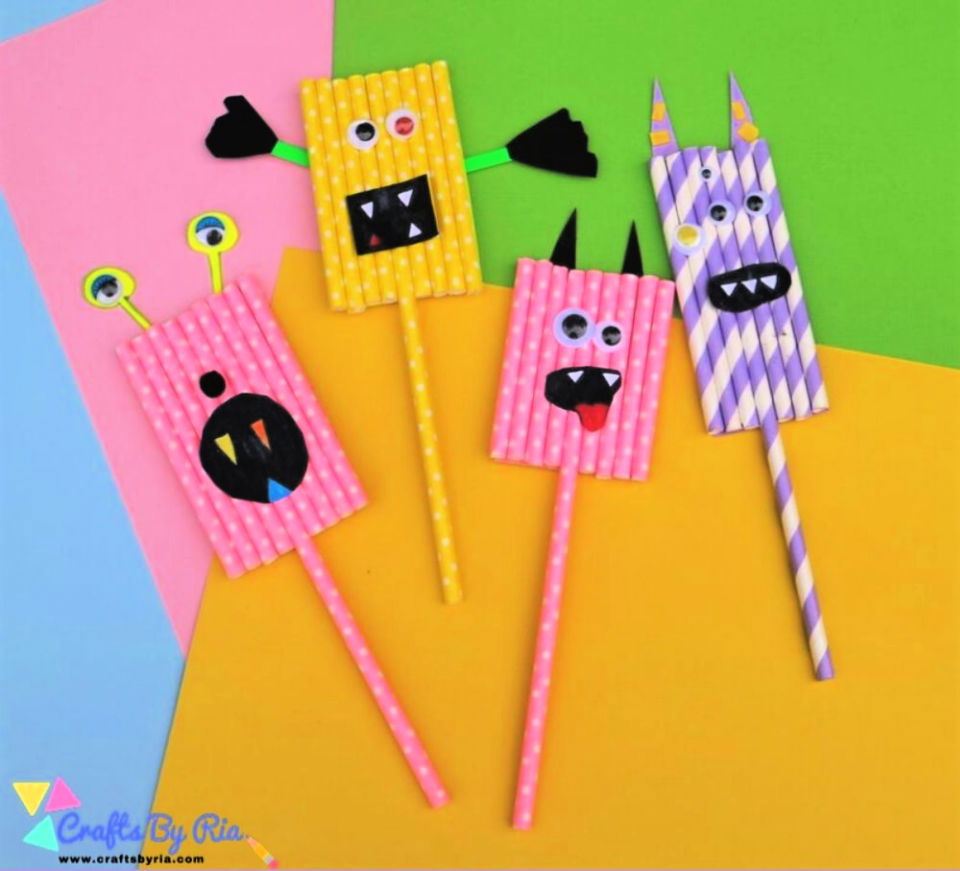 Make crafting with your kids even more fun with this DIY paper straw Mmonster Ccraft! This monster-making activity will provide hours of entertainment – perfect for turning paper straws into the cutest, silliest-looking monsters.
You can make an easy monster craft that your kids will love with simple supplies like pipe cleaners, googly eyes, and colorful cardstock. Let their imaginations run wild as they customize their monsters however they want – from scary creatures to friendly ones. It's a great way to spend quality time together as a family while makinglasting memories. Get ready for silly fun and start making these adorable little creatures today! craftsbyria
21. DIY Plastic Straw and Rope Wall Hanging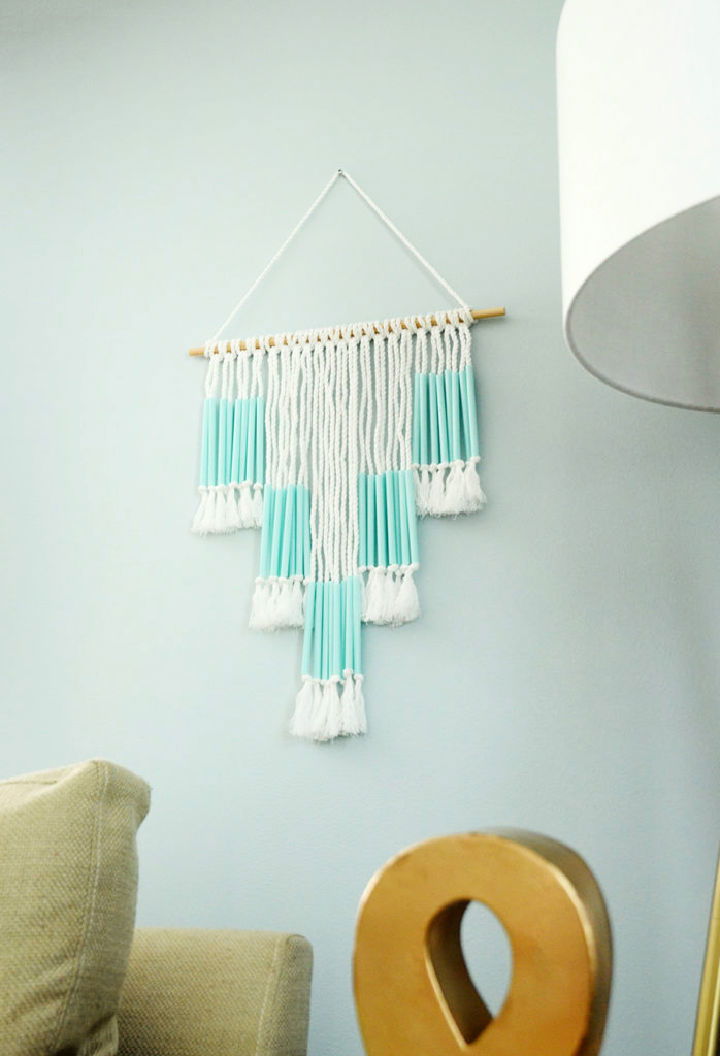 A touch of nostalgia and southwestern style to your home decor with this DIY plastic straw and rope wall hanging! This wall hanging looks chic in any setting, featuring distinct shapes, vivid colors, and crisp white rope.
It's an easy project that requires minimal supplies – just plastic straws, cotton rope, and some colorful fabric – perfect for anyone with intermediate crafting skills. Plus, it's incredibly affordable since all the materials used are reusable or easily found around the house.
You'll be amazed at how quickly this craft comes together as you braid the strands of plastic straws together before wrapping them in twisted ropes for a unique look. Add fun tassels as a finishing touch to bring out its southwestern feel even more! This plastic straw and rope wall hanging will surely give your walls a personal charm that will last through time! curbly
22. Building With Straws – Fun for Kids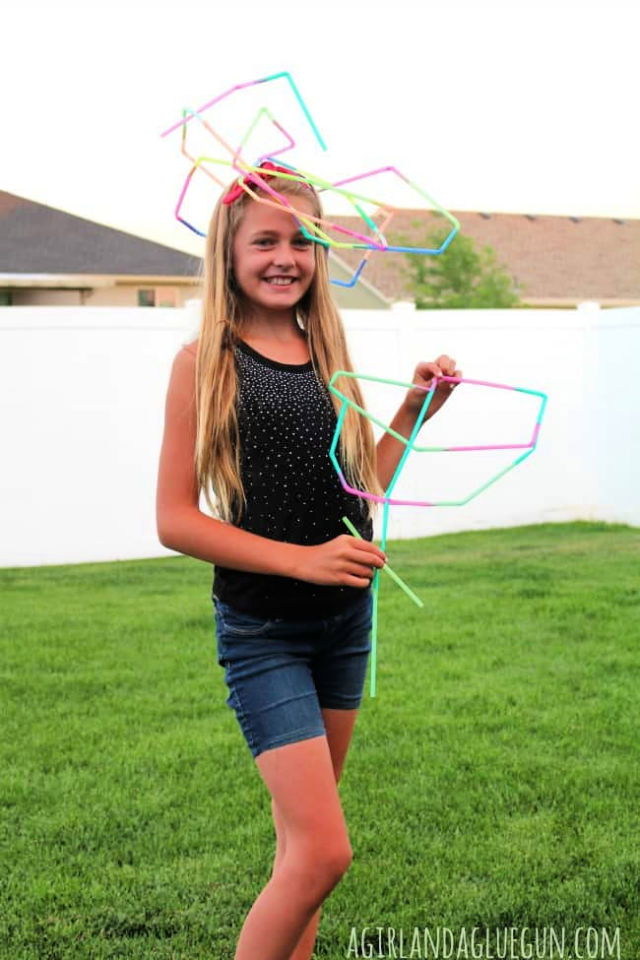 Are you looking for a fun and creative way to entertain your kids? DIY building with straws is an awesome activity that will keep them engaged and having a blast! It is incredibly cost-effective since all you need are straws, and it encourages creativity and problem-solving.
Plus, with the endless possibilities of what you can build – from structures to sculptures – your kids won't even realize they're learning something new. Whether working alone or in teams, building with straws provides hours of entertainment and a chance to explore their imagination.
And when your little ones get tired or run out of ideas, there's always the satisfaction of stepping back at the end to admire what they've created – be it towers tall enough to reach the ceiling or intricate designs that look like professional artwork! thirtyhandmade
23. Heart Necklace Valentine's Day Craft for Kids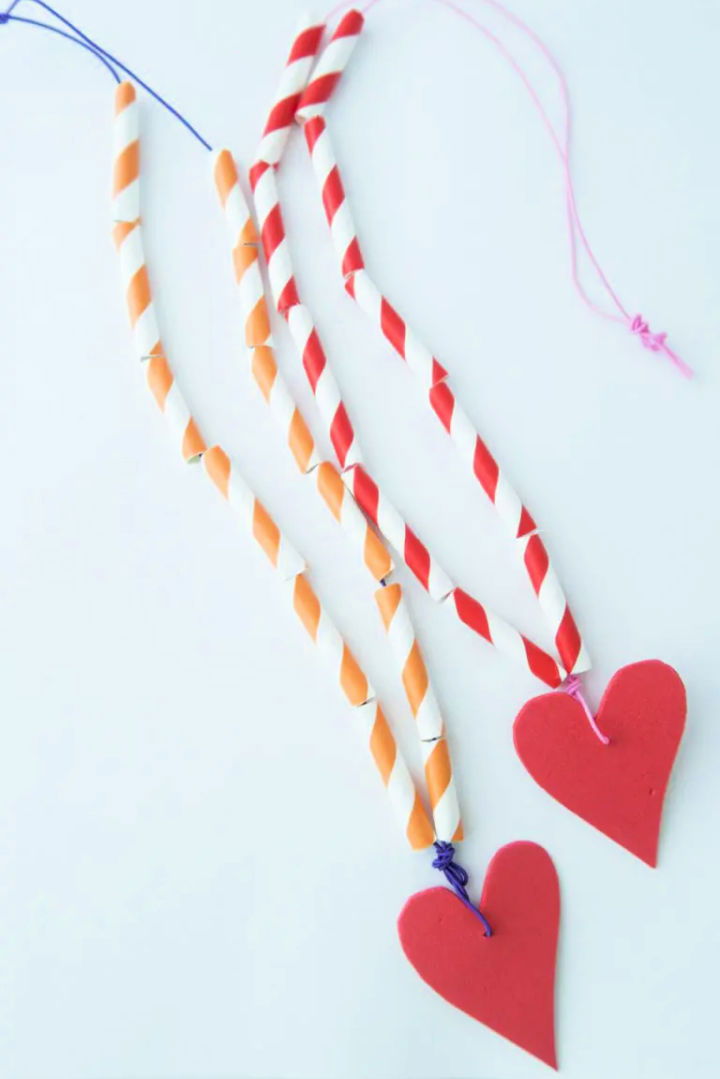 Show someone you care about this Valentine's Day with an extra special DIY heart necklace! Whether you make them for yourself, your significant other, or your friends, these cute necklaces bring heart-themed fun. With simple materials like ribbon and felt hearts, makingsomething truly memorable will show how much you care about the recipient is easy.
Once completed, give them out as gifts or wear one during February to add a bit of love to any outfit. Get creative with colors and patterns – no two necklaces must be alike! So don't wait until the last minute – start crafting today and tell everyone how much they mean to you this Valentine's Day! gluesticksgumdrops
24. DIY Paper Flower Lei Using Straws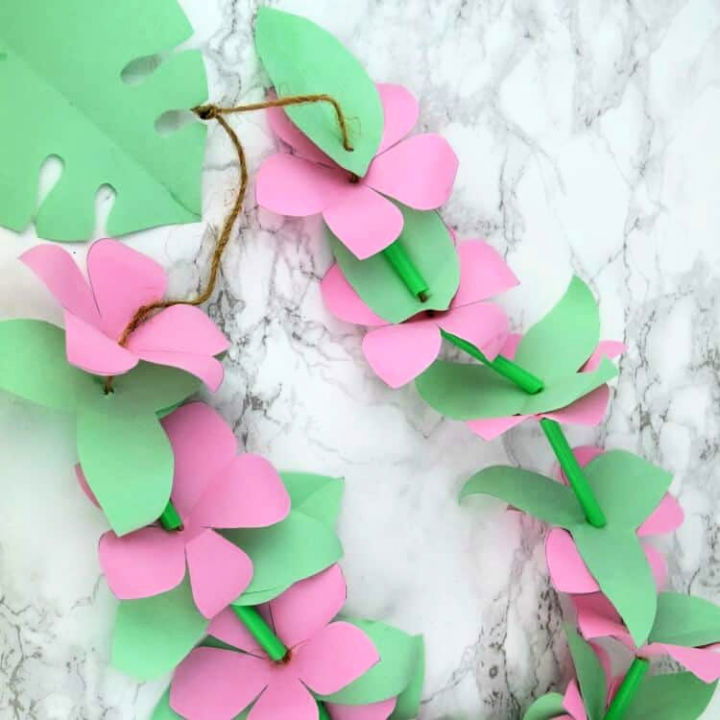 Get inspired with these fun and easy straw craft ideas that are perfect for adding a personal touch to your space. Transform your next family movie night into a stunningly creative affair with this DIY paper flower lei using straws! Perfect for any occasion, this easy-to-assemble paper craft is surprisingly simple to make.
With just a paper flower lei template and some straws, you can easily make a fun, vibrant decoration that looks great and adds perfect beauty. Set up in no time and sure to add an extra sparkle of joy to your evening gathering, this remarkable design will surely be appreciated by all who see it. So get ready to show off your crafting skills with this delightful paper flower lei using straws – you won't be disappointed! rufflesandrainboots
25. DIY Light Up May the Fourth Be With You Cards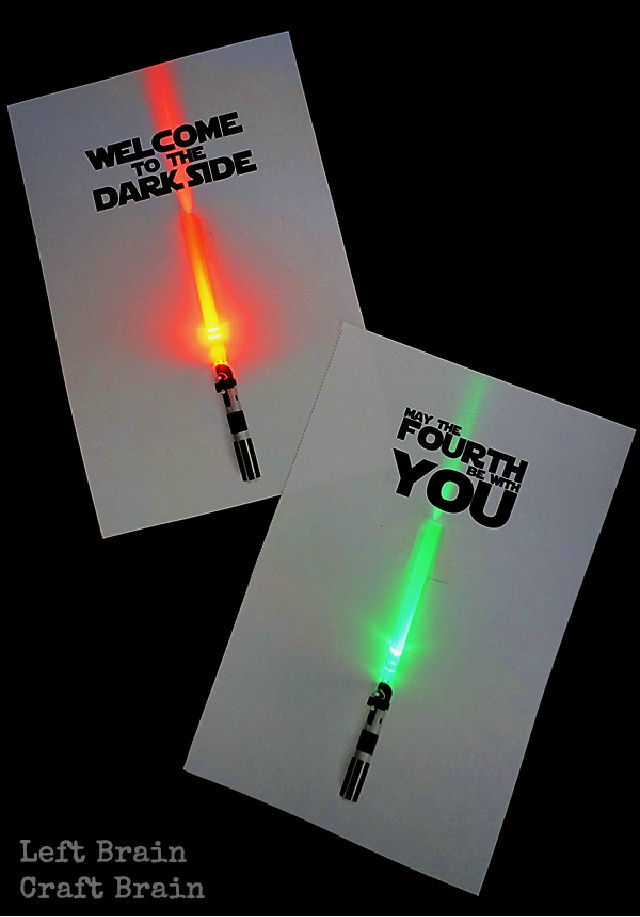 Celebrate the iconic Star Wars movie franchise with your DIY light-up may the fourth be with your cards! Crafting your cards is easy and fun, as each card comes with a free printable template so you can customize it to show off your geeky side. With simple supplies like scissors, craft paper, LEDs, and batteries – you can make unique designs that light up everyone's faces on this special day.
Show how much of a fan you are by makingamazing cards for friends and family that will make them smile. Get creative today and make May the Fourth even more memorable with these one-of-a-kind light-up cards! leftbraincraftbrain
26. Dr. Seuss the Lorax Inspired Straws Craft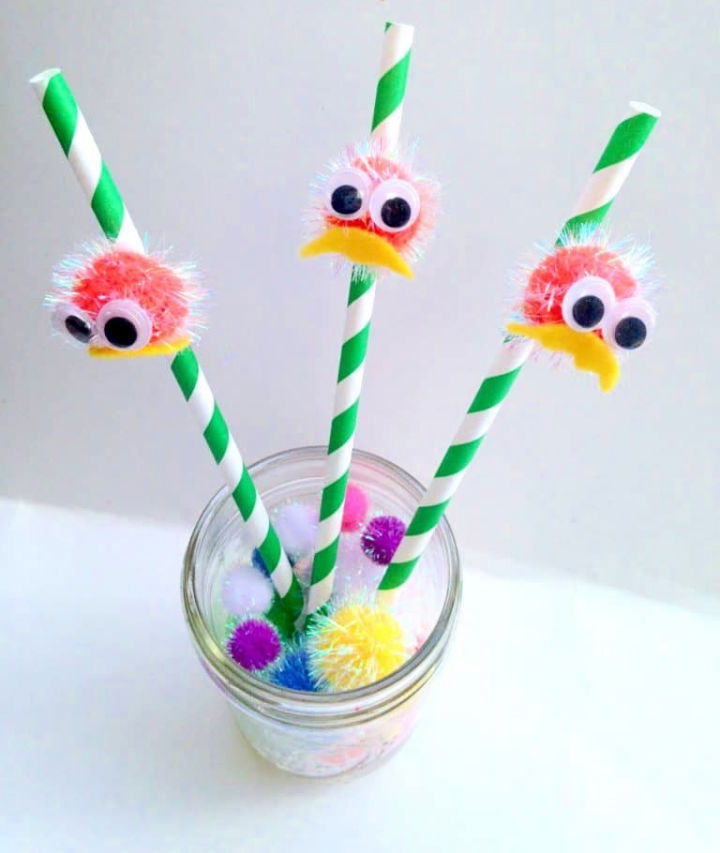 Let your creative imagination come to life with this adorable Dr. Seuss the Lorax-inspired straw craft! You only need a few materials, so it's super easy and fun to make – perfect for a Lorax-themed party, Read Across America Day or even an Earth Day celebration!
This craft is great for kids of all ages and allows you to share an important message about caring for our planet. All you need are colorful straws in different sizes, markers, glue guns, and scissors. Have your little one draw faces on the straws with markers and then place them together like they're holding hands – just like The Lorax characters! Use a glue gun to secure them at the neck so they won't slip apart.
Once done, display your masterpiece proudly as a reminder that we must be mindful of our planet's preservation. Get inspired by this Dr. Seuss creation today and bond over quality family time while having fun crafting something special! surviving
27. Beautiful Hawaiian Leis Kid Craft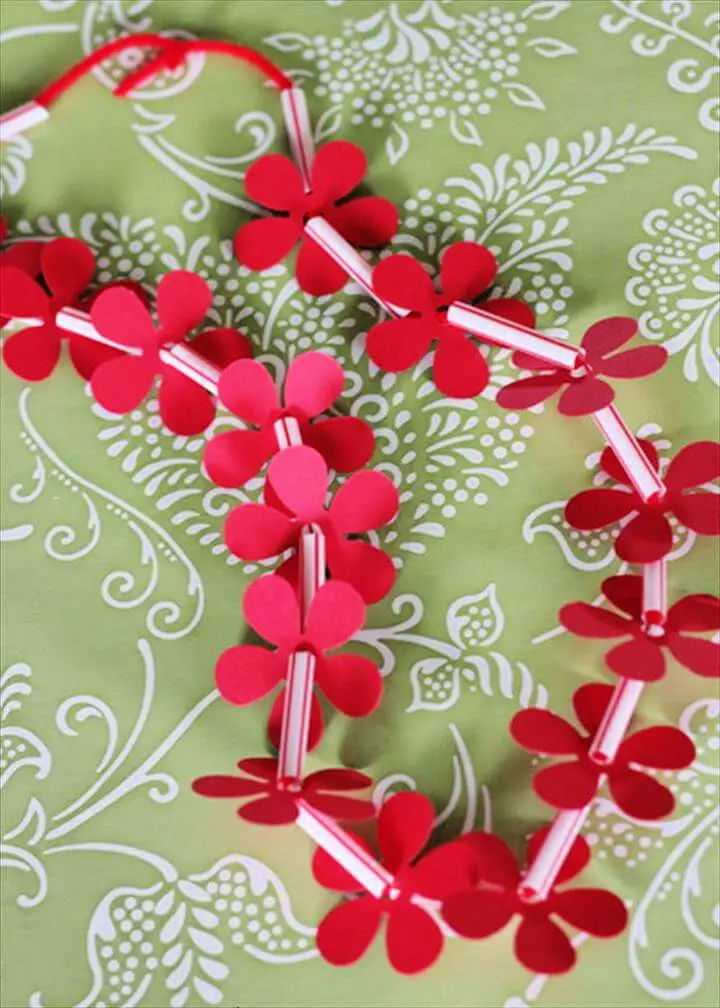 Unleash your inner beach creativity with the ultimate Hawaiian Lleis kid craft! Get your kids involved in this fun and creative activity. Making their beautiful leis for a luau or any summer party can be great fun and help them develop their motor skills all at once.
Rediscovering the joy of crafting is easy when you have everything you need to make these beautiful Hawaiian-inspired lenses; from colorful ribbons to scented flowers – it's all here! This project will surely bring out that one-of-a-kind style in each child as they design their unique flower necklaces.
It's an ideal way for children to explore their imaginations and get creative with a hands-on approach while making something special that will always remind them of those hot summer days spent having fun crafting together. Let them make lasting memories with the beautiful DIY Hawaiian leis kid craft – perfect for a memorable day filled with laughter and enjoyment! craftingchicks
28. DIY Crazy Straws Design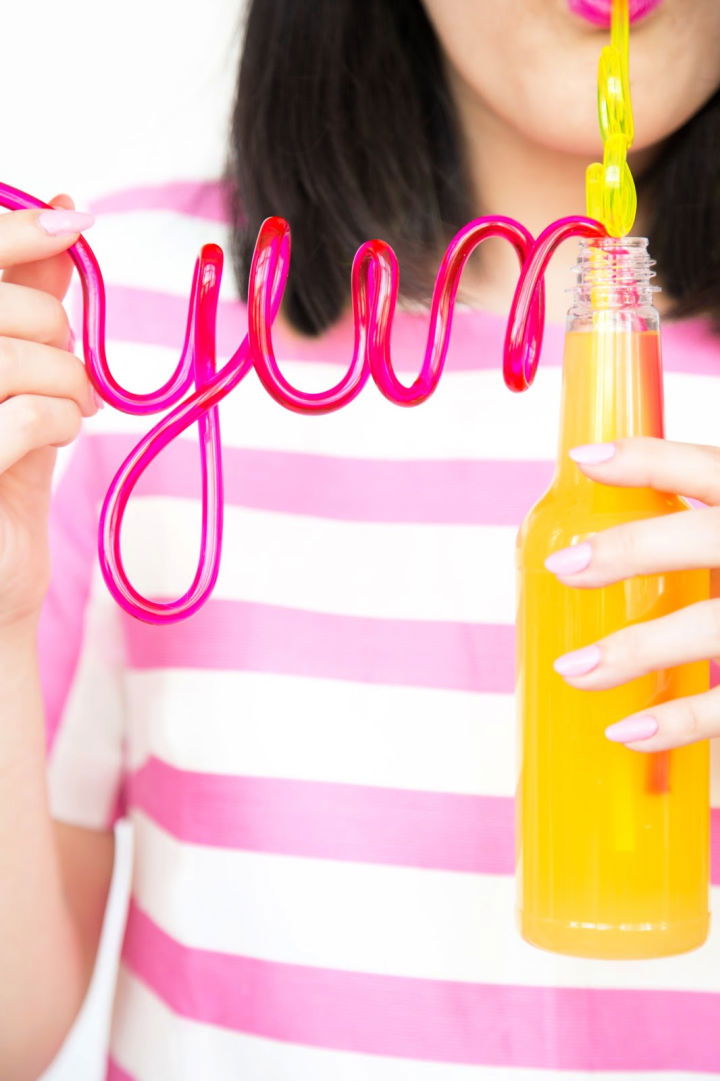 Give your summer drinks a fun twist with amazing DIY crazy straw design! Unleash creativity and have fun in the sun by crafting straws. These custom-made sippers will impress everyone – perfect for any occasion, from pool parties to birthday bashes. Get ready to take out those acrylic straws, heat guns, small toaster oven, oven mitts, and pen and paper – let's get this party started!
With these materials, you can draw any pattern on the straw that takes pleasure from your imagination. Make countless designs: swirl patterns, spirals, zigzags, or even floral motifs – each more beautiful than the last. Enjoy a cool drink and an eye-catching design – sure to make anyone smile! Summer just got ten times cooler with crazy straw designs! awwsam
29. Fine Motor Octopus Craft for Kids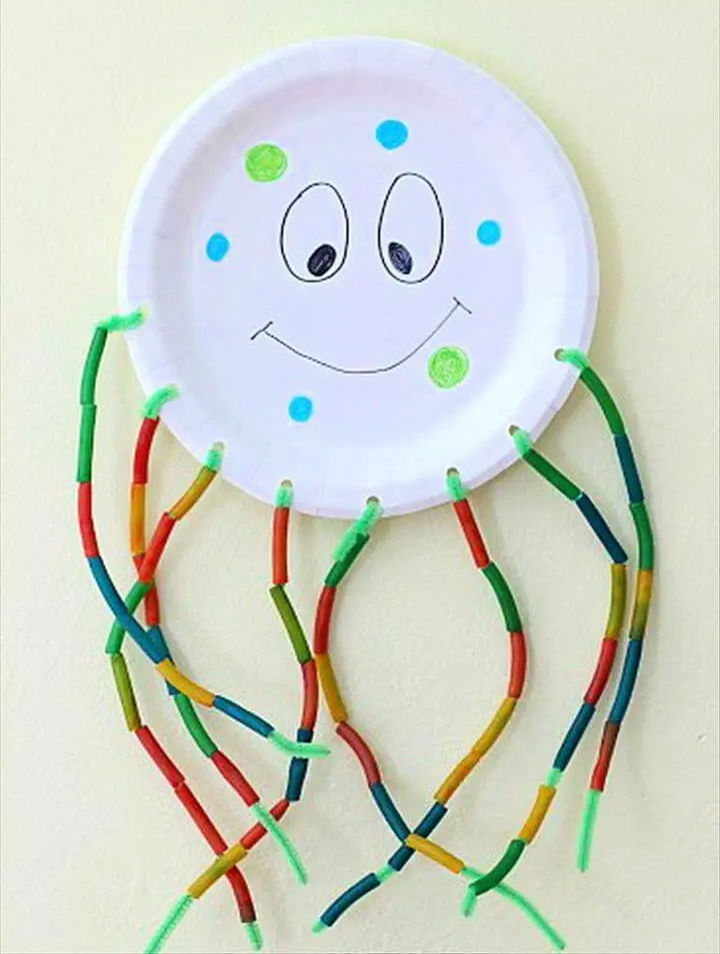 Allow your child to explore the depths of the sea without even getting wet with this DIY fine-motor octopus craft for kids. This craft is super simple to make and uses items you most likely already have at home, making it an excellent choice for parents who need something fun and easy! Not only will kids get to make their ocean animal craft, but they'll also engage in fine motor practice that can be done repeatedly.
Perfect for a rainy day project or a hands-on activity when having a new octopus exhibit, this octopus craft provides hours of entertainment and strengthens vital skills in writing, drawing, cutting –and more! Get ready for some squeals of delight as your little ones enjoy makingtheir fun-filled art piece. So what are you waiting for? Dive into this simple yet creative octopus Ccraft today! buggyandbuddy
30. Easy DIY Paper Straw Frame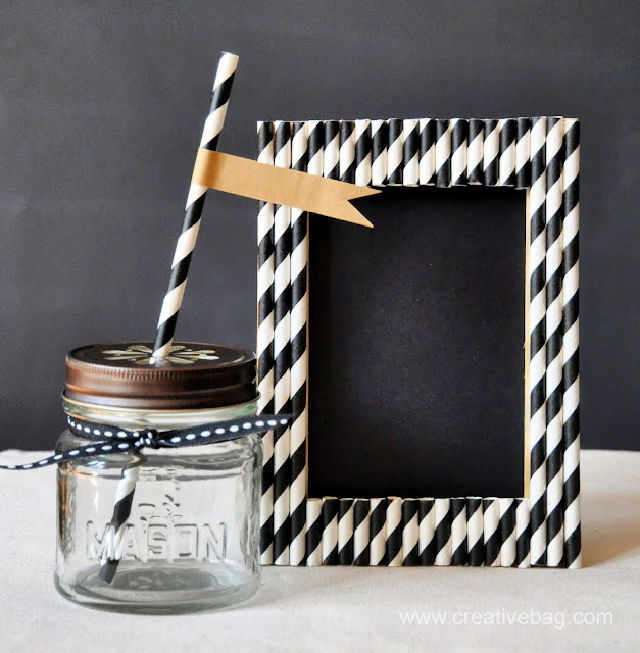 Express your creativity by adding a unique touch to any special event with this easy DIY paper straw frame! This charming frame can be made in the afternoon, making it the perfect way to quickly make a decorative element for weddings, baby showers, and other celebrations.
Ideal for displaying signs that alert guests of food allergies or dietary restrictions – such as nuts, dairy, and gluten – this versatile paper straw frame is sure to make your party extra special. Show off your creative side by crafting an amazing piece of decor everyone will love with this easy-to-follow project. creativebag
Conclusion:
Straws are an incredibly versatile crafting material that can be used to create various fun and creative projects. With these 30 easy crafts with straws, you'll have plenty of ideas for things to make with straws. From bracelets to bagpipes, there's something for everyone in this collection of straw crafts. So why not gather your materials and start fun and creative crafts with straws today?