Discover 50 fun crafts for teens that will spark their interest and unleash their creativity. These easy crafts for teenagers include decorating notebook covers with paper, making personalized pom pom keychains, and many more. The creative journey continues with paracord snakes, macrame rainbows, and heart string art. Plus, these crafts for teens also combine art and functionality, such as dip-dye succulent pots and beach sunset paint pour coasters.
For DIY enthusiasts, these fun and easy craft ideas for teens include such as making their own lip balm in 10 minutes or crafting embellished zippered pouches. Moreover, these crafts for middle schoolers also offer unique activities like fabric flowers, candy button dot earrings, and homemade bath bombs.
With this wide variety of cool crafts for teens, there's something for every teenager's taste and hobby. So let's explore this treasure trove of crafts for 11-year-olds, 13-year-olds, and all teens alike and make the creative journey more fun and exciting. With 50 fun crafts for teens, creativity has no limits!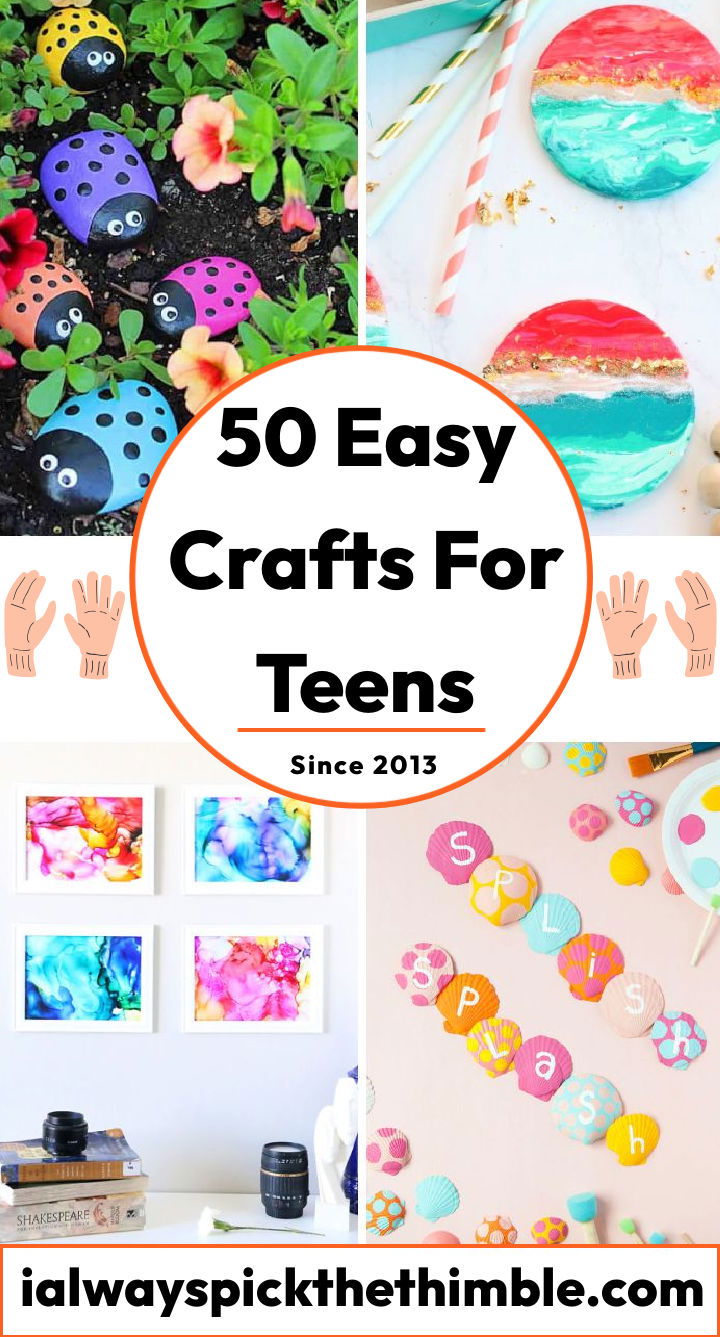 Crafts for teens are a great way to express your creativity, learn new skills, and have fun. Whether you are looking for a hobby, a gift, or a way to decorate your room, there are many types of teen crafts that you can try. In this guide, I will show you some of the benefits of crafting, the materials you need, the safety tips you should follow, and some of the best art and craft ideas for teens that you can try in different seasons and occasions. Let's get started!
Crafts for Teens Guide for Beginners
Crafting is the act of making something by hand, using various materials and techniques. Crafting can be done for pleasure, as a form of art, or as a way to make useful or decorative items. Some examples of crafts are knitting, sewing, painting, origami, jewelry making, candle making, and more.
Crafting is not only fun but also beneficial for teens. It can help you develop your imagination, creativity, problem-solving skills, fine motor skills, and self-esteem. It can also reduce stress, boredom, and anxiety and improve your mood and mental health. Crafting can also be a way to express your personality, interests, and emotions.
Benefits of Crafts for teens
There are many benefits of crafting for teens, both physical and mental. Here are some of them:
Crafting can help you relax and unwind. When you craft, you focus on the present moment and forget about your worries and troubles. Crafting can also release endorphins, the hormones that make you feel happy and calm.
Crafting can boost your brain power. When you craft, you use both sides of your brain: the left side for logic and reasoning and the right side for creativity and intuition. This can improve your memory, concentration, and cognitive abilities.
Crafting can enhance your skills and knowledge. When you craft, you learn new things, such as how to use different tools and materials, how to follow instructions and patterns, how to measure and cut accurately, and how to combine colors and shapes. You also practice math, science, art, and language skills.
Crafting can foster your social connections. When you craft with others, you share ideas, tips, feedback, and compliments. You also bond over a common interest and have fun together. Crafting can help you make new friends or strengthen your existing relationships.
Crafting can increase your self-confidence and self-expression. When you craft, you create something unique and original that reflects your style and taste. You also feel proud of your achievements and accomplishments. Crafting can help you discover your talents and passions.
Types of crafts for teens
There are many types of crafts that teens can enjoy. Some of them are:
Knitting: Knitting is the method of creating fabric by looping yarn with needles. You can knit scarves, hats, gloves, sweaters, blankets, and more.
Sewing: Sewing is the process of joining fabric pieces with a needle and thread. You can sew clothes, bags, pillows, dolls, stuffed animals, and more.
Painting: Painting is the method of applying color to a surface with a brush or other tool. You can easily paint on canvas, paper, wood, ceramic, glass, and more.
Origami: Origami is the art of folding paper into various shapes and figures. You can make animals, flowers, stars, boxes, and more.
Jewelry making: Jewelry making is the process of creating accessories with beads, wire, clay, metal, and more. You can make earrings, necklaces, bracelets, rings, and more.
Candle making: Candle making is the method of creating candles with wax, wicks, dyes, scents, and more. You can make candles in different shapes, sizes, colors, and aromas.
And many more!
Materials needed for Teen Crafts
The materials you need for crafting depend on the type of craft you want to do. However, some of the basic materials that are useful for most crafts are:
Scissors: Scissors are used to cut fabric, paper, yarn, and other materials.
Glue: Glue is used to stick materials together. You can use white glue, hot glue, glue sticks, or glue dots.
Tape: Tape is used to secure materials together or to create patterns or shapes. You can use masking tape, duct tape, washi tape, or double-sided tape.
Needle and thread: Needle and thread are used to sew materials together or to embroider designs or words. You can use sewing needles, embroidery needles, sewing thread, embroidery thread, or yarn.
Paintbrushes: Paintbrushes are used to apply paint to surfaces. You can use different sizes and shapes of brushes depending on the effect you want to create.
Markers: Markers are used to draw or write on surfaces. You can use permanent markers, washable markers, fabric markers, or paint markers.
And many more!
Safety tips for crafting
Crafting can be fun and rewarding, but it can also be dangerous if you are not careful. Here are some safety tips you should follow when crafting:
Always read and follow the given instructions and warnings on the labels of the materials and tools you use.
Always wear protective gear, such as gloves, goggles, aprons, or masks, when handling hot, sharp, or toxic materials or tools.
Always work in a well-ventilated, well-lit, and spacious area.
Always keep your work area clean and organized. Dispose of any waste or scraps properly.
Always keep your materials and tools away from children, pets, or fire sources.
Always ask for help or supervision from an adult if you are not sure how to use a material or tool or if you encounter any problems.
How to get started with craft ideas for teens
If you are new to crafting, you might feel overwhelmed by the variety of crafts and materials available. Here are some tips on how to get started with crafting:
Choose a craft that interests you and suits your skill level. You can browse online or offline for inspiration, such as blogs, magazines, books, videos, or tutorials. You can also ask your friends or family for recommendations or join a craft club or class.
Gather the materials and tools you need for your chosen craft. You can buy them from craft stores, online shops, or thrift stores. You can also use recycled or repurposed items from your home, such as old clothes, bottles, cans, or cardboard.
Follow the instructions or steps for your chosen craft. You can use a printed or digital guide, a video tutorial, or a live demonstration. You can also improvise or customize your craft according to your preference.
Enjoy the process and the result of your craft. You can display your craft in your room, give it as a gift, sell it online or offline, or donate it to a charity.
Teen Crafts Tips for beginners
If you are a beginner in crafting, you might face some challenges or difficulties along the way. Here are some tips to help you overcome them:
Be patient and persistent. Crafting takes time and practice to master. Don't give up if you make mistakes or fail at first. Learn from your errors and try again until you succeed.
Be creative and adventurous. Crafting is a way to express yourself and have fun. Don't be afraid to experiment with different materials, techniques, colors, and designs. You might discover new possibilities and potentials.
Be open-minded and flexible. Crafting is not an exact science. There is no right or wrong way to do it. Be willing to adapt and adjust to different situations and outcomes. You might find new solutions and opportunities.
Be resourceful and economical. Crafting doesn't have to be expensive or wasteful. You can use what you have at hand or find alternative ways to obtain what you need. You can also reuse or recycle what you don't need anymore.
Crafting ideas for different seasons and occasions
Crafting can be a fun way to celebrate different seasons and occasions throughout the year. Here are some crafting ideas for each season and occasion:
Spring: Spring is the season of growth and renewal. You can craft items that reflect the beauty and freshness of nature, such as flower pots, wreaths, garlands, or vases. You can also craft items that celebrate Easter, such as eggs, baskets, bunnies, or chicks.
Summer: Summer is the season of warmth and sunshine. You can craft items that reflect the joy and fun of summer activities, such as sunglasses, hats, fans, or beach bags. You can also craft items that celebrate Independence Day, such as flags, stars, fireworks, or lanterns.
Fall: Fall is the season of change and harvest. You can craft items that reflect the colors and flavors of fall, such as leaves, pumpkins, apples, or candles. You can also craft items that celebrate Halloween, such as masks, costumes, spiders, or ghosts.
Winter: Winter is the season of coldness and coziness. You can craft items that reflect the comfort and warmth of winter, such as scarves, mittens, socks, or blankets. You can also craft items that celebrate Christmas, such as ornaments, stockings, trees, or snowmen.
How to make your own craft supplies
If you want to save money or be more eco-friendly, you can make your own craft supplies instead of buying them from stores. Here are some examples of how to make your own craft supplies:
Paper: You can make your own paper by recycling old paper products, such as newspapers, magazines, books, or envelopes. You need to tear them into small pieces, soak them in water, blend them into pulp, spread them on a screen, press them with a cloth, and let them dry.
Paint: You can make your own paint by mixing different ingredients, such as flour, water, salt, food coloring, or natural pigments. You need to stir them well in a bowl, adjust the consistency and the hue, and store them in a jar or a bottle.
Clay: You can make your own clay by combining different ingredients, such as cornstarch, baking soda, water, oil, or vinegar. You need to cook them over low heat in a pot, stirring constantly until they form a dough-like texture, and let them cool down.
Glue: You can make your own glue by mixing different ingredients, such as milk, vinegar, baking soda, or gelatin. You need to heat them in a saucepan, stirring occasionally until they thicken and bubble, and strain them through a cheesecloth.
Yarn: You can make your own yarn by recycling old fabric items, such as t-shirts, jeans, or sweaters. You need to cut them into long strips, stretch them slightly to curl the edges, and twist or braid them together.
How to encourage your teenager's creativity and imagination through crafts
Creativity and imagination are essential skills for children to develop and nurture. They can help them explore their interests, express their feelings, solve problems, and have fun. Crafts for teens are one of the best ways to stimulate your child's creativity and imagination. Here are some tips on how to encourage your child's creativity and imagination through crafts:
Provide a variety of materials and tools for your child to use. You can use store-bought or homemade craft supplies, such as paper, fabric, yarn, clay, paint, glue, scissors, etc. You can also use recycled or natural items, such as cardboard, bottles, cans, leaves, flowers, etc. Let your child choose what they want to use and how they want to use it.
Create a safe and comfortable space for your child to craft. You can use a table, a floor, a couch, or any other surface that is suitable for crafting. You can also use a basket, a box, or a drawer to store your craft supplies. Make sure the space is well-lit, well-ventilated, and spacious enough for your child to move around and spread out their materials.
Encourage your child to experiment and explore with different materials and techniques. You can show them some examples or tutorials of crafts that they can try but don't impose any rules or expectations on them. Let them discover their own style and preferences. You can also ask them open-ended questions or give them challenges or prompts to spark their curiosity and imagination.
Praise your child's efforts and achievements. You can compliment their craft by pointing out what you like about it, such as the colors, the shapes, the textures, or the details. You can also ask them to tell you more about their craft, such as what it is, what it does, or what inspired them to make it. You can also display their craft in your home or share it with others online or offline.
Enjoy the process and the result of crafting with your child. You can craft with your child by joining them in their activities or by doing your own projects alongside them. You can also craft for your child by making them gifts or surprises with your own hands. You can also craft from your child by using their creations as inspiration or materials for your own crafts.
Explore Fun Crafts for Teens
Discover a collection of 50 fun crafts and art ideas specifically designed for teenagers:
1. Decorate a Notebook Cover With Paper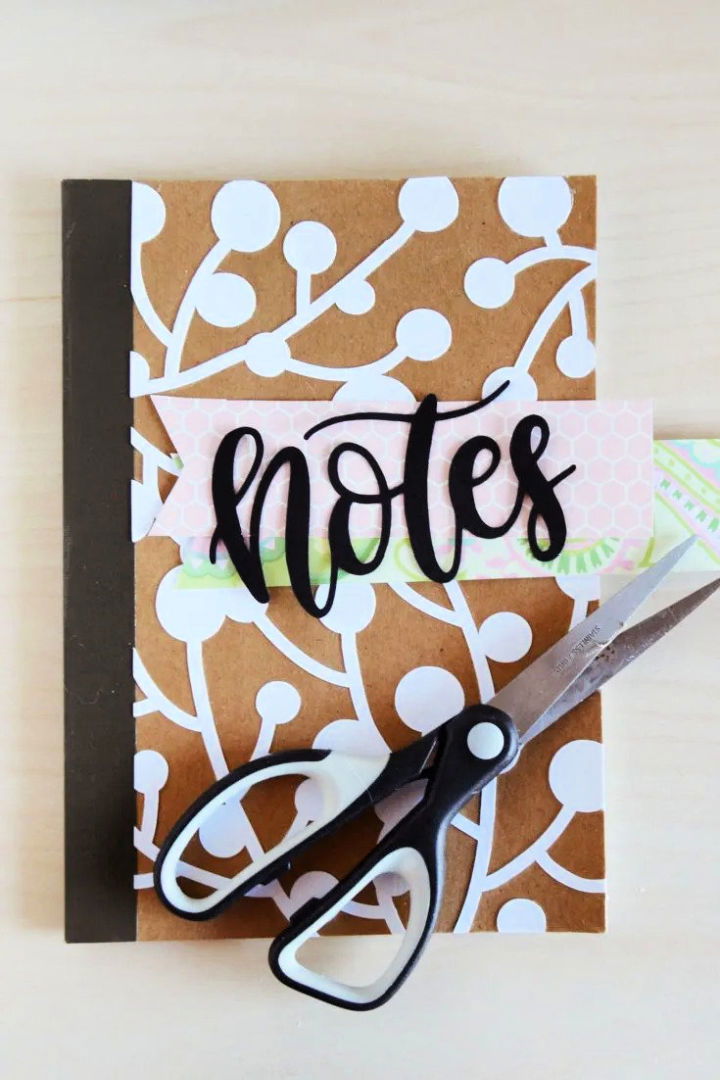 Make a unique and stylish notebook cover with laser-cut overlays and mod podge! With easy-to-follow steps, even beginners can learn how to decorate their notebooks. Perfect for students getting ready for back-to-school or adults who want something special. All you need is thicker paper (like scrapbook paper), so wrinkles form less easily, die-cut embellishments, mod podge and your favorite decorations. Show off your style without spending too much – try this fun craft today! modpodgerocks
2. DIY Pom Pom Keychain Bag Charm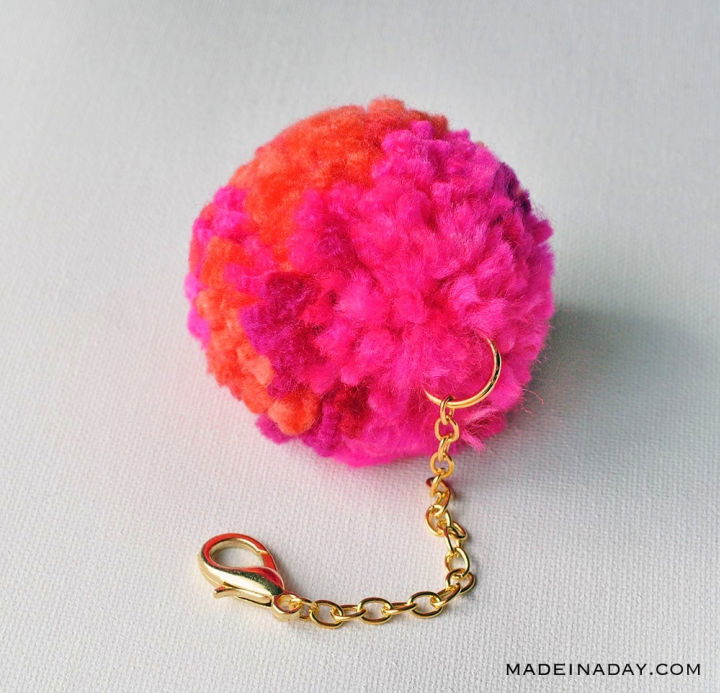 Craft your own fashionable pom pom bag charms with this easy tutorial! With just a few supplies like pom pom maker, yarn, scissors and jewelry findings, you can make colorful homemade keychains that will add the perfect personal touch to any beach bag, tote or handbag. Get step-by-step instructions on attaching them to a gold chain and lobster claw clasp so you can start crafting today. Make your own trendy DIY pom pom keychains now and watch everyone's eyes light up with envy! madeinaday
3. How to Make Paracord Snakes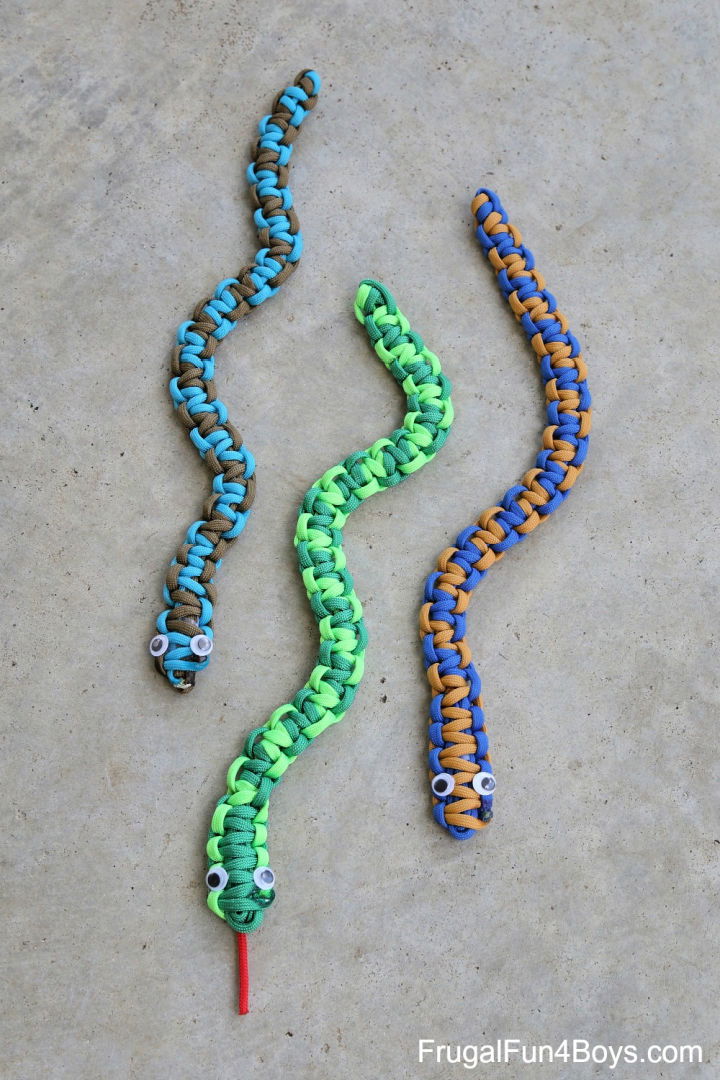 Kids can have a slithery good time with this easy paracord snake craft! Making colorful and flexible snakes takes basic materials like paracord and googly eyes. Perfect for kids ages 8+ to do at summer camps, nature clubs or on rainy days at home with adult help for fusing the paracord with a lighter. Follow along with the simple steps today to make your paracord snakes – an exciting project you will remember! frugalfun4boys
4. Easy Macrame Rainbow Craft for Beginners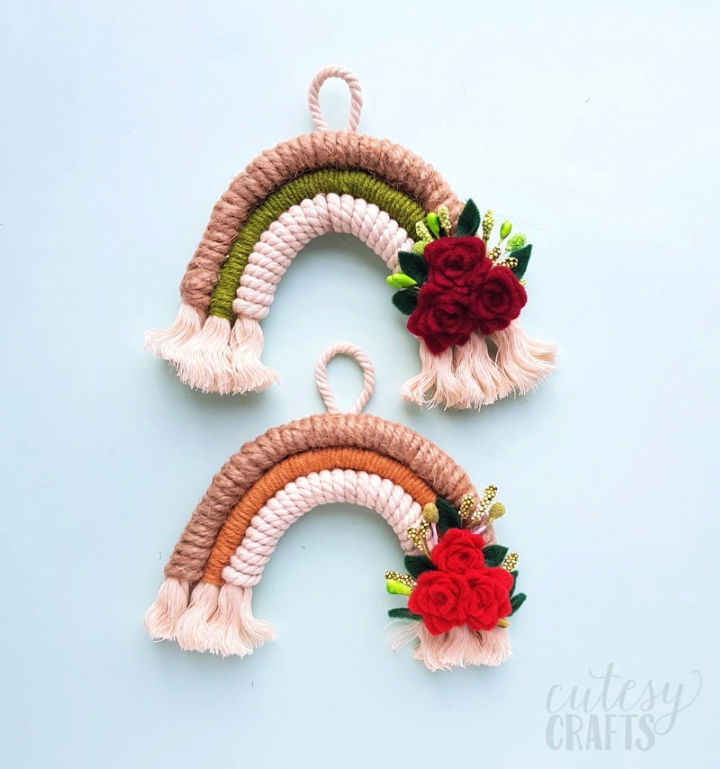 Bring out your inner artist and get creative with this easy beginner macrame project! Make a beautiful, unique decoration for your room with this DIY macrame rainbow. Perfect for a teen or tween craft night, you only need natural twisted cotton rope, smaller rope or yarn, scraps of felt, a hot glue gun and scissors. Let your imagination soar as you choose colors, textures and sizes that fit your taste – endless possibilities! This simple craft is manageable even for beginners – let's start and make something special today! cutesycrafts
5. DIY Heart String Art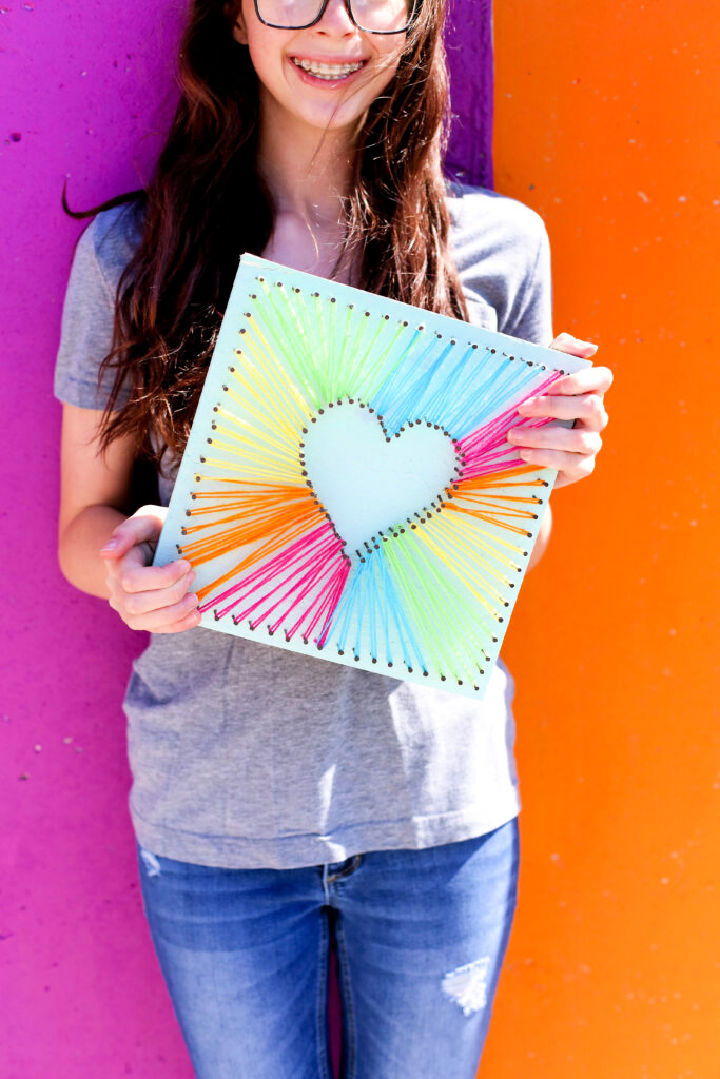 Keep your teens busy and happy with these awesome crafts for teenagers that they will love. Discover how to make an eye-catching rainbow string heart art project with this easy tutorial! Perfect for adding a splash of color and fun to any room, all you need is yarn or string, a board, nails and a hammer. Start simply with the given tips and tricks for basic shapes – use a hot glue gun to secure the strings in place. Make your beautiful masterpiece today by following these steps – learn how to make stunning rainbow string art that will brighten any space! sugarbeecrafts
6. Beach Sunset Paint Pour Coasters Idea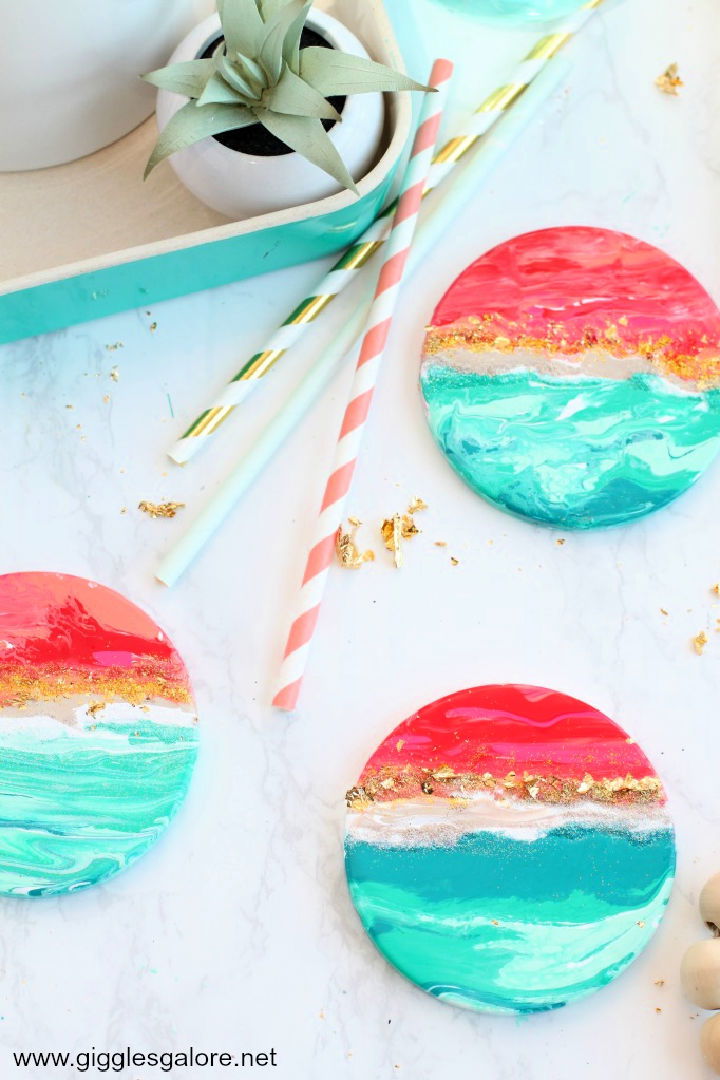 Transform your home with beautiful DIY beach sunset coasters! With decoart acrylics, you can make stunning ceramic pieces in the colors of a gorgeous beach sunset. All it takes is supplies, such as gold leaf and painter's tape, and following this tutorial to master the popular dirty pour or puddle pour techniques. Craft an eye-catching set of practical yet pretty coasters that will bring out those beach vibes without ever leaving home – plus use decoart clear pouring top coat for a sparkling finish! gigglesgalore
7. DIY Dip Dye Succulent Pot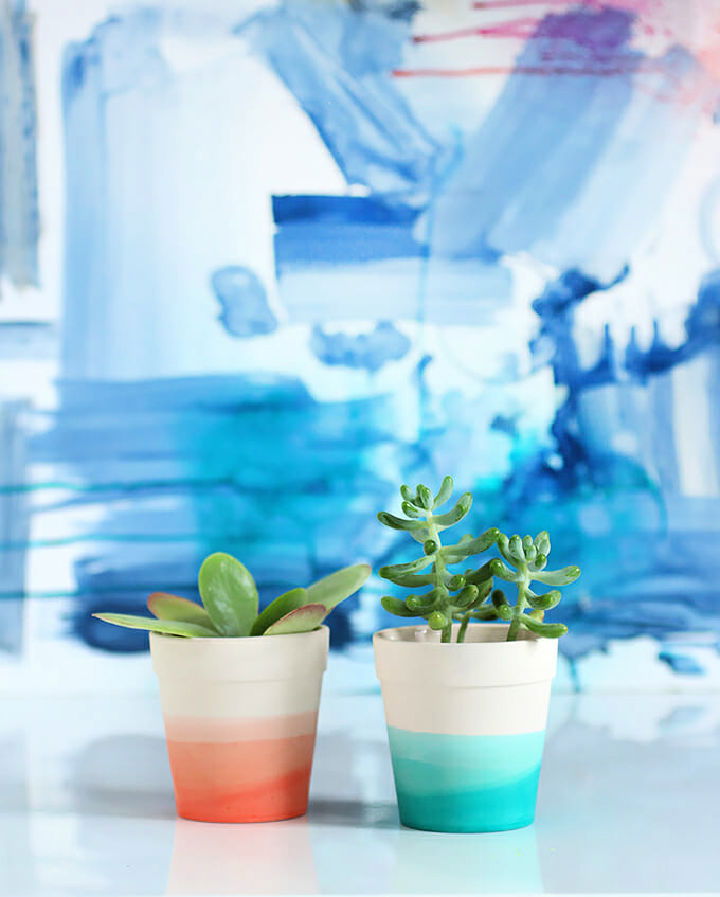 Upgrade your plain ceramic pots with this DIY dip dye succulent pot project! It's quick and easy, requiring only a few simple supplies: ceramic pots, tumble dye tie, and water. Perfect for the crafty DIY enthusiast or as an unforgettable gift for friends. Make beautiful ombre effects in minutes by dipping the pot into dye multiple times – hold for different lengths each time until you achieve your desired color. Let it dry, then add succulents of choice – get the kit or finished product to upgrade any room in your home today instantly! ispydiy
8. Make Your Own Looms and Weavings Art With Kids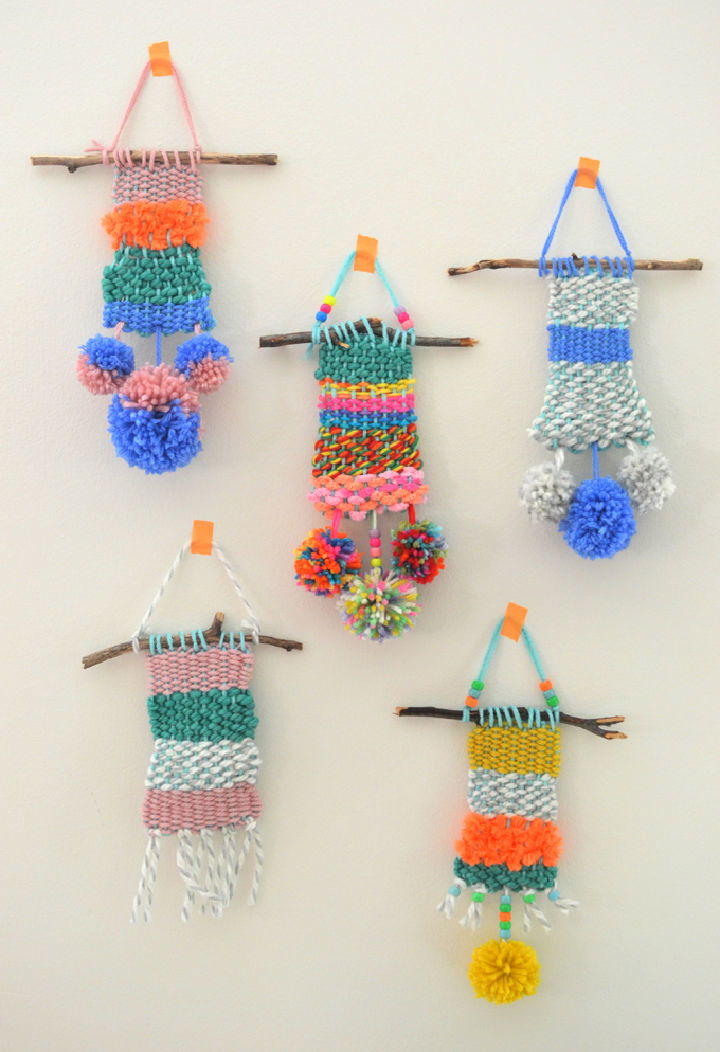 These crafts for teenagers are not only fun, but also useful, educational, and eco-friendly. Introduce your kids to the amazing craft of weaving with this easy and fun DIY project! With just some simple materials like cardboard, yarn, and a plastic needle, you can make a homemade loom in no time. Perfect for children ages 5 and up, this activity will spark their creativity and keep them occupied for hours. Make it even more exciting by adding pom-pom makers or pony beads. Follow the step-by-step instructions on making your own cardboard loom to make beautiful weavings with your little one's today! artbarblog
9. DIY Lip Balm in 10 Minute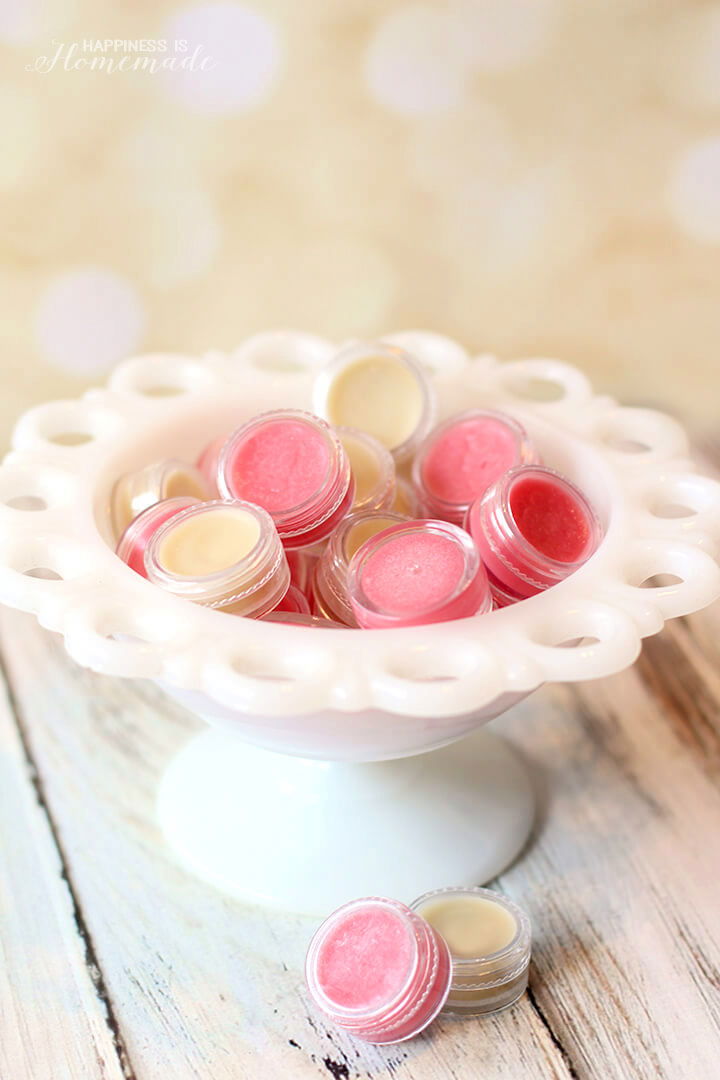 Make the perfect pout with this easy DIY lip balm recipe! Make your custom lip balm or gloss in under 10 minutes using beeswax pellets, shea butter, coconut oil and essential oils. You can choose different flavors and colors to customize your lip care product for any occasion – it makes a great gift idea for friends and family! Whether you want to lock in moisture or add shine to your look, this simple DIY recipe has got you covered. This quick, easy homemade solution prepares you to put your lips on the show. happinessishome
10. Stained Glass Votive Holders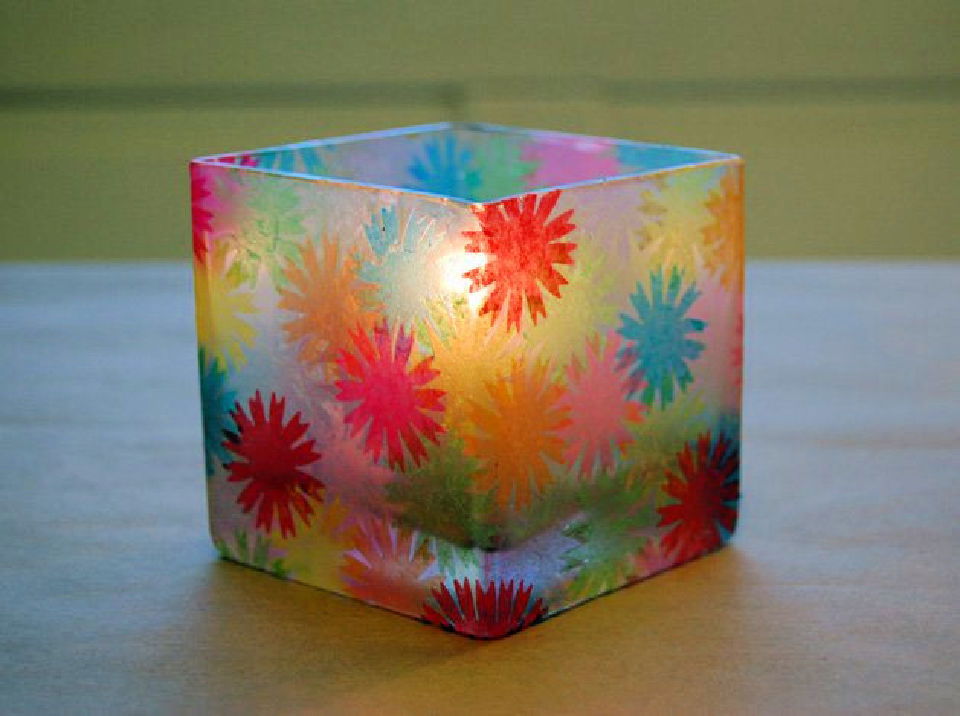 Transform your home décor or make custom party decorations with beautiful "stained glass" votive holders in just a few easy steps. You only need tissue paper, mod podge or school glue, a paintbrush, votive glass holders and optional paper punches & q-tips to make this budget-friendly DIY project. Cut the tissue paper into shapes, then layer them onto the holder with mod podge or glue. Once complete, enjoy the beautiful glow of your candles! Make stunning stained glass votive holders today! makezine
11. DIY Embellished Zippered Pouch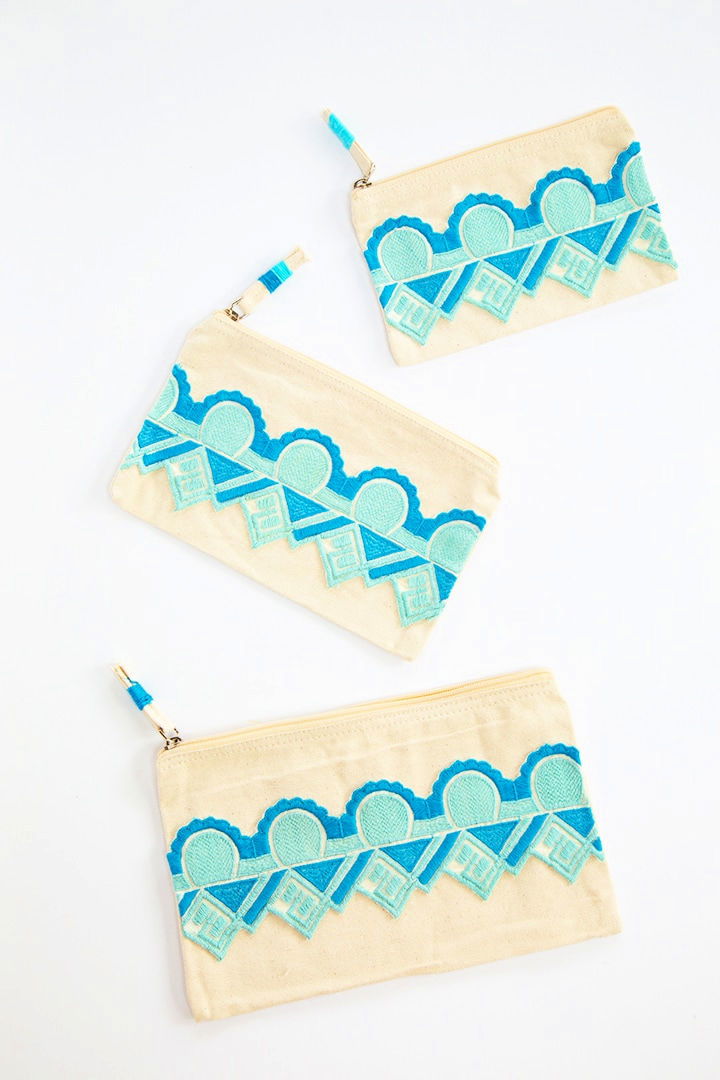 Make your own stylish, one-of-a-kind accessory with this easy DIY embellished zippered pouch project. All you need are canvas pouches, decorative trim or ribbon, permanent fabric glue and embroidery floss – no sewing required! Watch the step-by-step video tutorial to make these personalized bags for yourself or as a gift. Transform plain canvas pouches into chic accessories that will turn heads. Make a statement with your very own custom designed zippered pouch today! aliceandlois
12. Concrete Planter Craft for Teens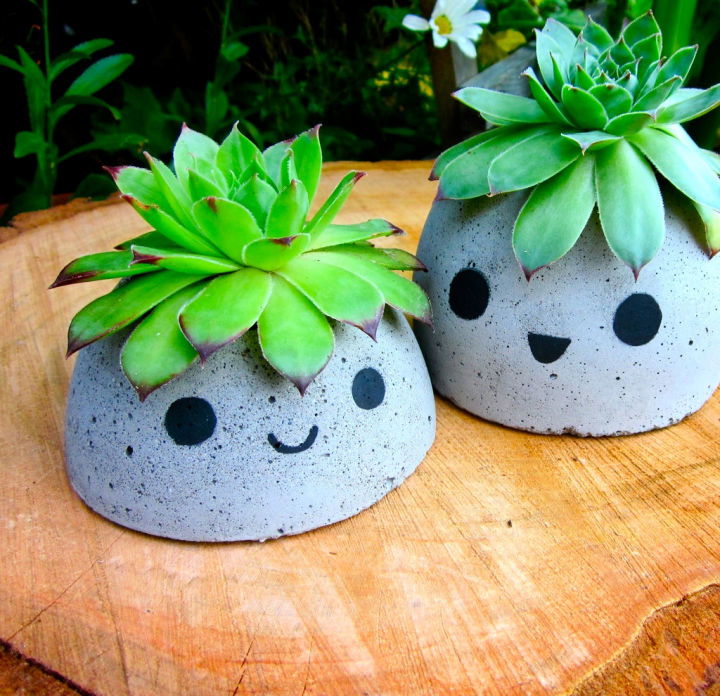 Put together custom, cute and affordable concrete planters with recycled materials! You only need a few common household items – like plastic pop bottles, scissors, utility knives and drinking straws – plus the necessary supplies to mix and cast your concrete. Once that's done, grab some paint, a paintbrush, coconut fiber or potting soil and plants for decoration. With easy-to-follow instructions and minimal effort, you can bring a touch of green into any home or garden in no time. Try making these impressive yet affordable DIY concrete planters today! instructables
13. How to Make Sand Terrariums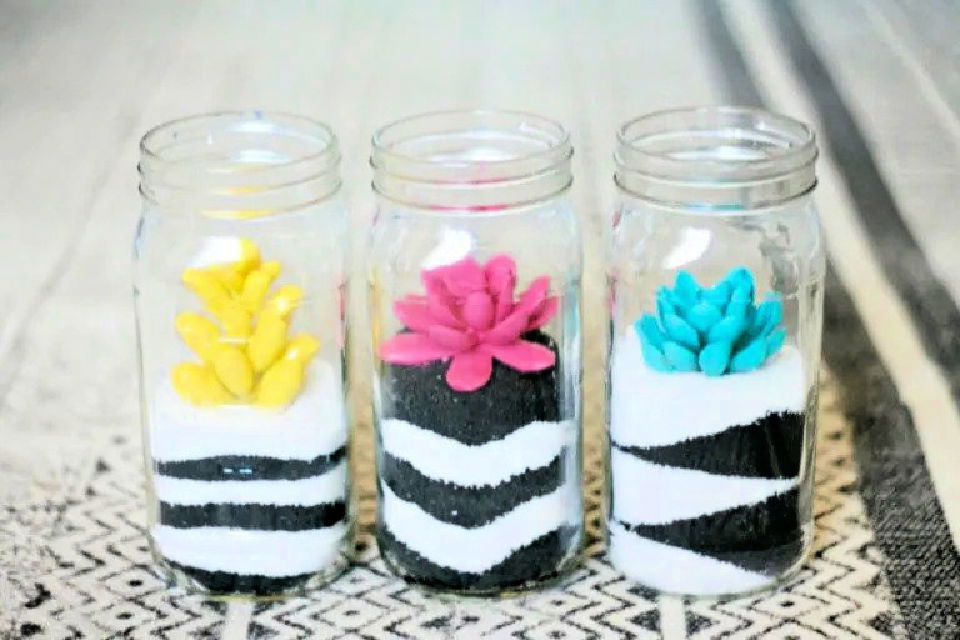 Looking for a fun and creative DIY craft project? Why not make a sand terrarium with painted faux succulents? This easy project is perfect for any skill level and can be customized to fit your style. Gather all the necessary supplies, including mason jars, colored sand, faux succulents, spray paint and a funnel & scoop. Follow along with this tutorial guide to make a beautiful spring centerpiece or add some cheer to your desk or countertop. Remember to use thin coats of spray paint for flawless results! Get started now on this colorful craft that's sure to impress! diycandy
14. DIY Glitter Phone Case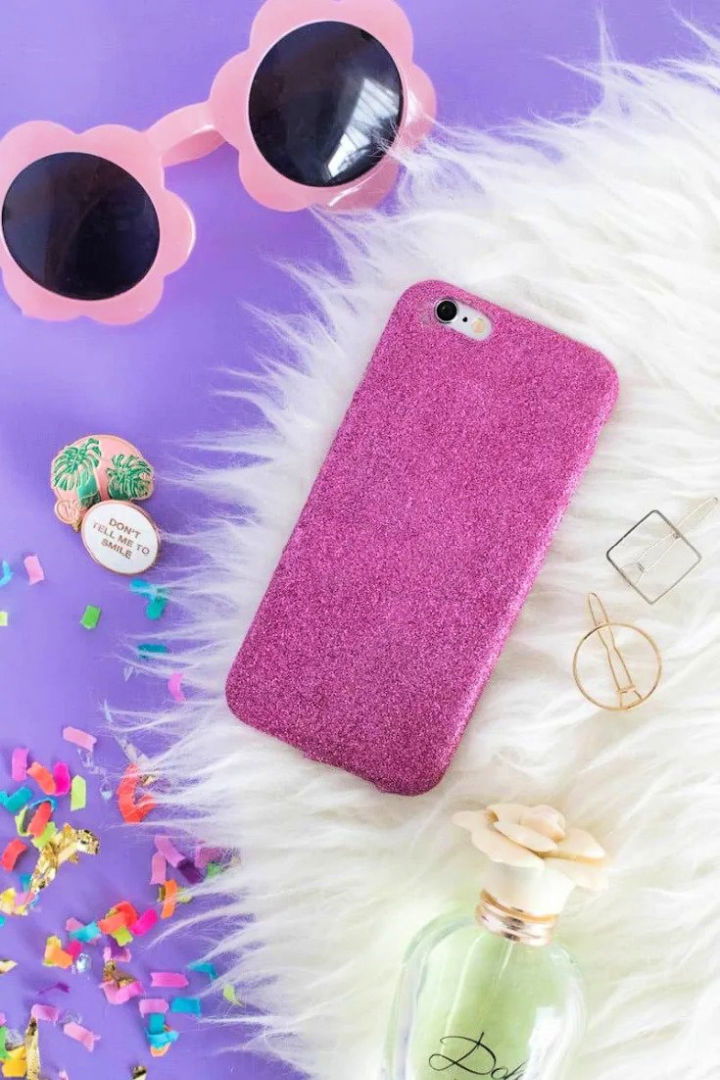 No matter what your teen's interests are, you can find crafts for teenagers that suit them. Add some sparkle to your phone with this easy DIY glitter phone case! In just four quick and simple steps, you can make a unique and durable case that is perfect for yourself or as a gift. All you need is a clear phone case, mod podge gloss, glitter and a paintbrush – making it ideal even for beginners. Teens or anyone looking to update their phone's look will love this fun yet affordable crafting project. Get ready to shine with this DIY glitter phone case! modpodgerock
15. Marbled Clay Ring Dish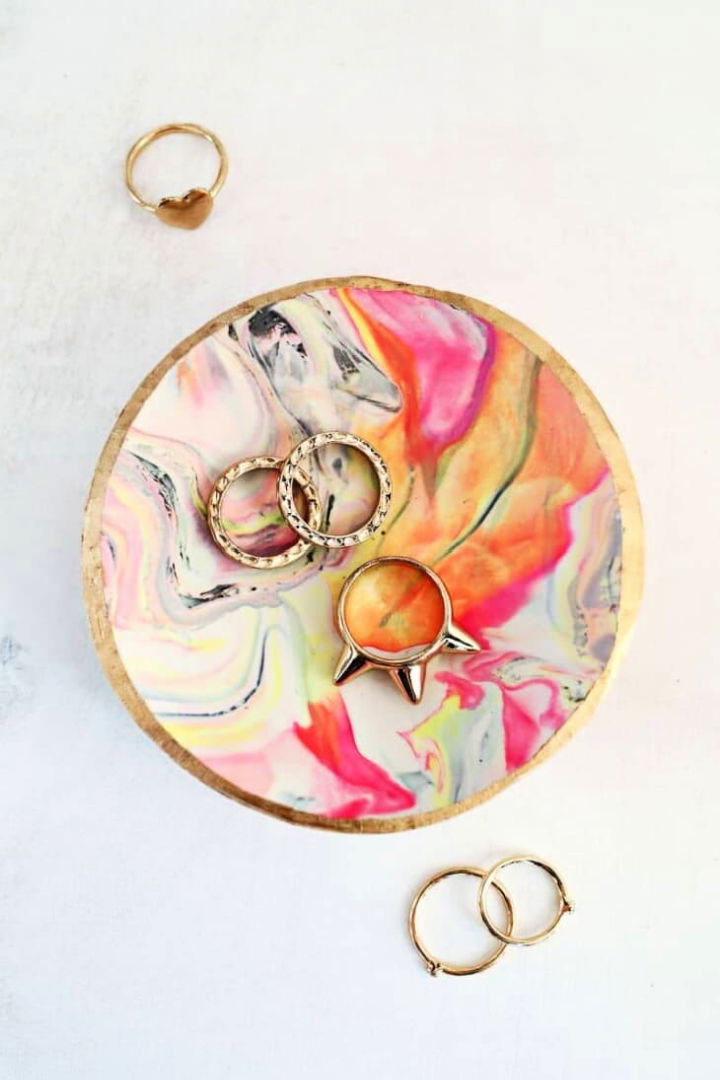 Time to make your own marbled clay ring dishes with this easy and cheap tutorial! Show off your creative side with these DIY dishes made from colorful oven-bake clay. All you need is an x-acto knife, a small bowl or baking ramekin, a silicone rolling pin or large round jar, some gold paint and glaze for sealing the dish. Follow the text and image tutorial or watch the video to get started making beautiful decorative pieces for your home. With just these few supplies, you can make unique and personalized ring dishes that charm any decor! abeautifulmess
16. Make Your Own Bath Bombs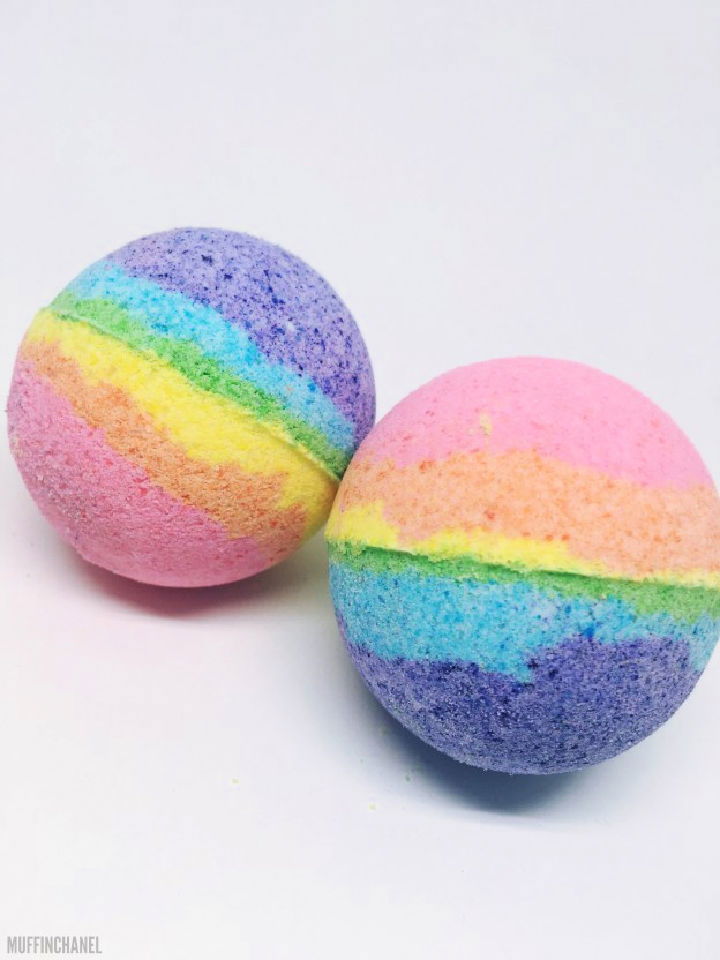 Learn how to make luxurious, lush-inspired bath bombs with this easy DIY project! You can customize your fizzy creations with simple ingredients like baking soda, citric acid, almond oil, and essential oils. Add colors and even gold luster dust for an extra special touch. Gather your mixing bowls, bath bomb molds and silicone molds to start this fun and creative project — perfect for relaxation or a unique gift idea. Relax in the tub with these amazing homemade bath bombs! muffinchanel
17. Dollar Store Hanging Flower Basket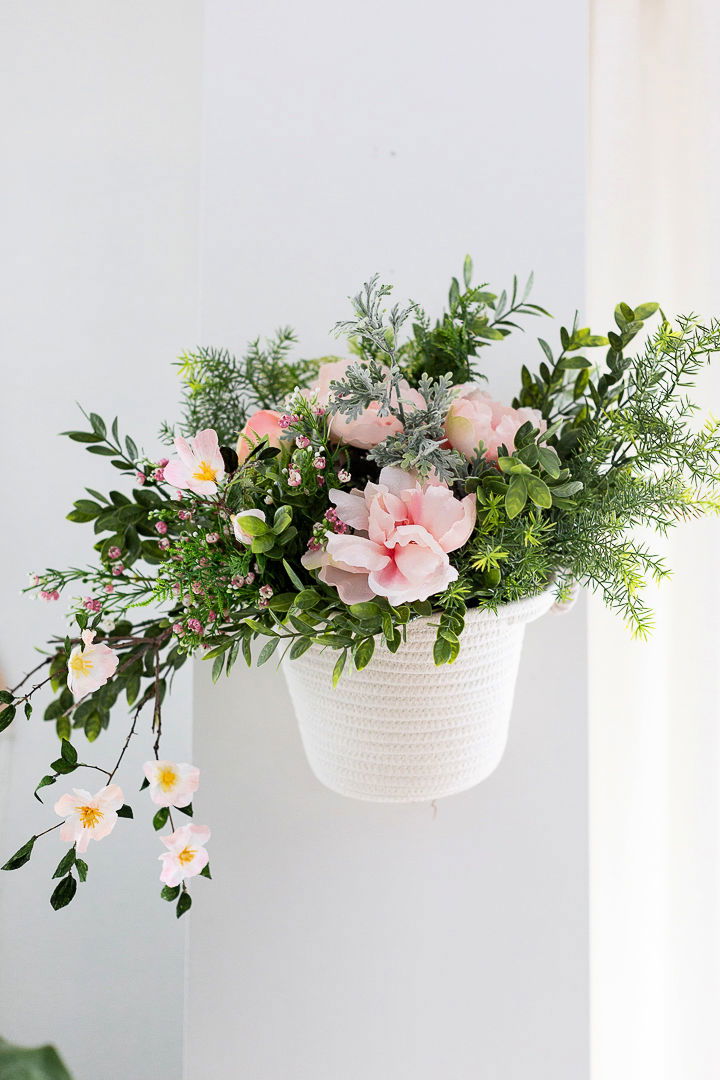 Brighten your home decor with a budget-friendly and easy DIY dollar store hanging flower basket! All you need is some dollar store items, crepe paper blossoms and a little creativity. Watch the quick video tutorial to learn how to make this cute and simple basket in no time. Get ready for spring with this inspiring project f – perfect for rainy days or just adding a touch of beauty! craftberrybush
18. Make Your Own Fabric Flowers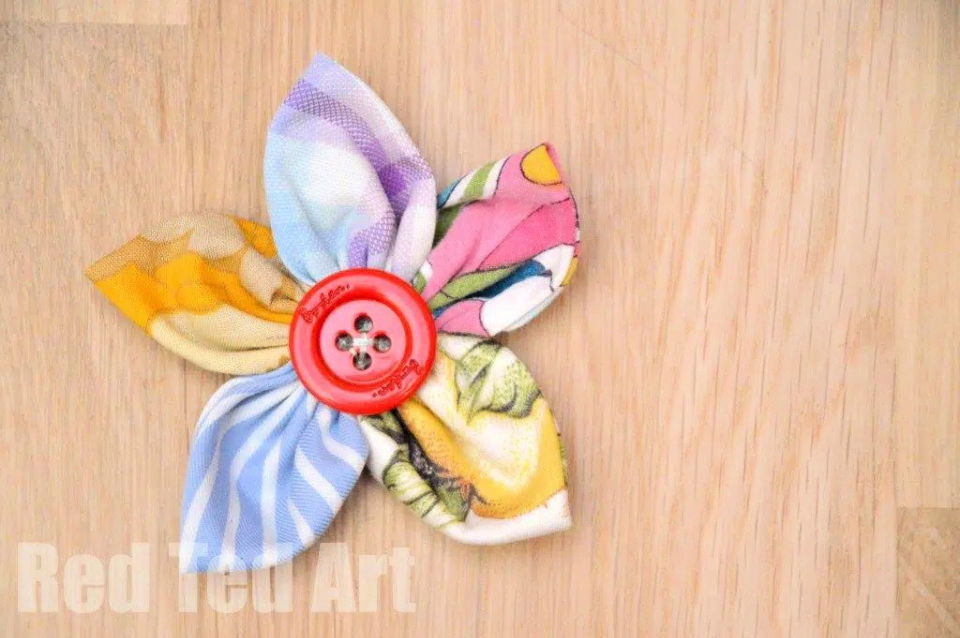 Reuse old fabric scraps with this beginner-friendly tutorial for making beautiful, easy fabric flowers! Gather 5 pieces of fabric, a circular stencil, thread and a button to make your own upcycled floral décor. Optional extras such as felt for the back or safety pins for brooches add extra fun. Creativity abounds with this simple project that adults and kids alike can enjoy – follow the step-by-step instructions in the tutorial! redtedart
19. DIY Candy Button Dot Earrings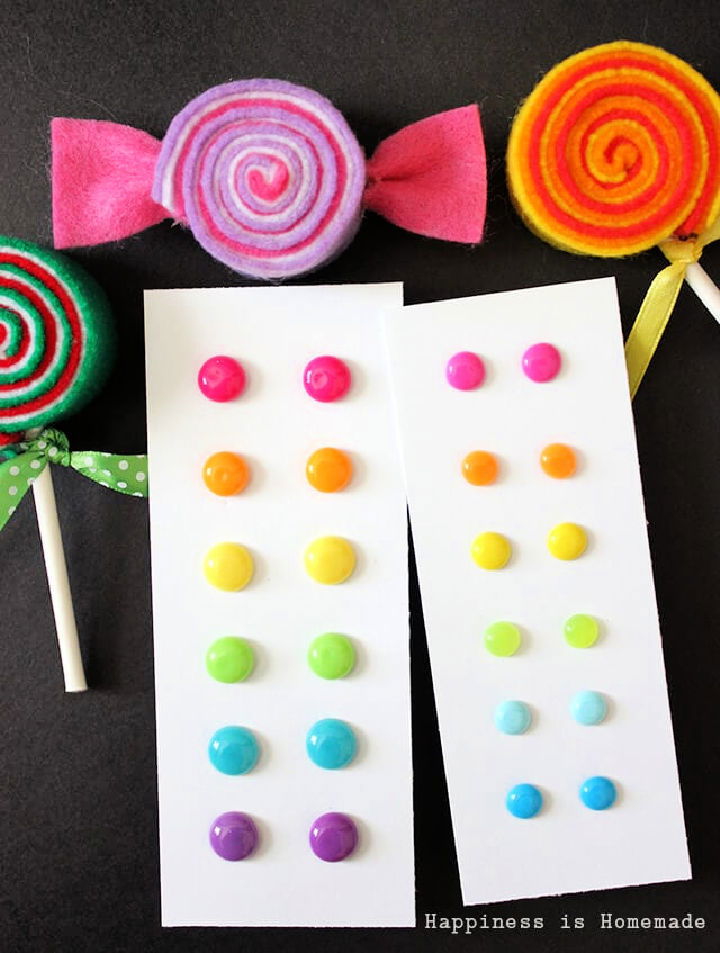 Craft these DIY candy button dot earrings for a quick and affordable gift idea that's sure to please! You can quickly make custom earrings with perler and pony beads, earring posts, backs, and e6000 adhesive. Each pair costs only 15 cents, so why not make an entire strip for under $1.00? Preheat the oven, melt the beads separately, then attach them with adhesive; crafting these unique handmade gifts is fun and easy! Add a personal touch of creativity at an unbeatable price – get started today on your DIY candy button dot earrings! happinessishomemade
20. Ladybug Painted Rocks Craft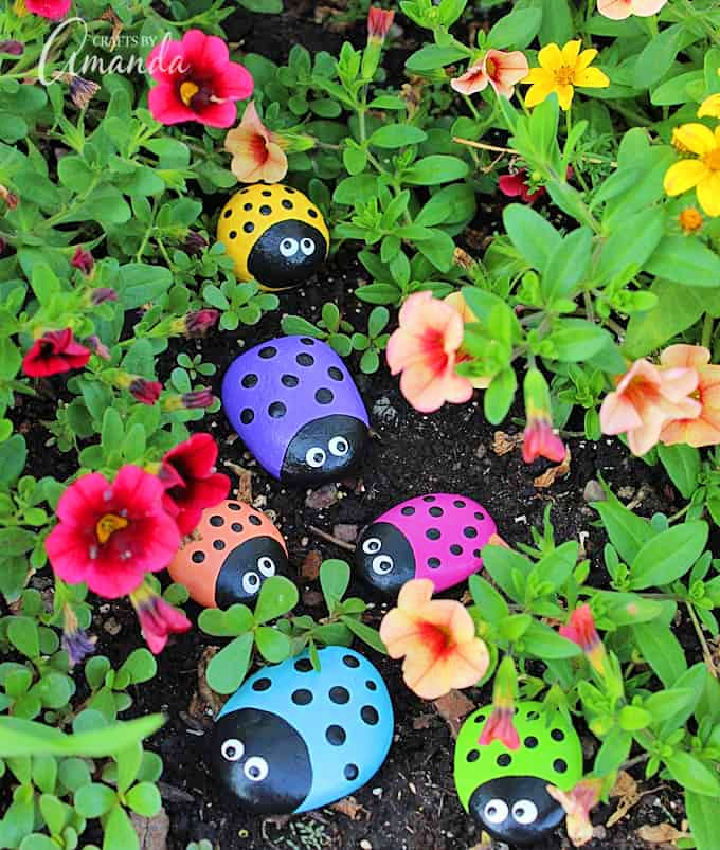 Make some cool and trendy crafts for teenagers with these easy and affordable DIY projects. Upgrade your garden with these fun and easy-to-make ladybug painted rocks! All you need is some smooth oval or round rocks, patio paint in various colors (like larkspur blue, petunia purple, fiesta yellow and more), a paintbrush and a toothpick. Kids and adults alike can be creative while making this timeless craft. To keep your artwork looking good for years, use an outdoor sealer or outdoor mod podge/patio paint clear coat to finish it off. Transform your garden into something special today! craftsbyamanda
21. Cute Sock Bunnies Craft for Teens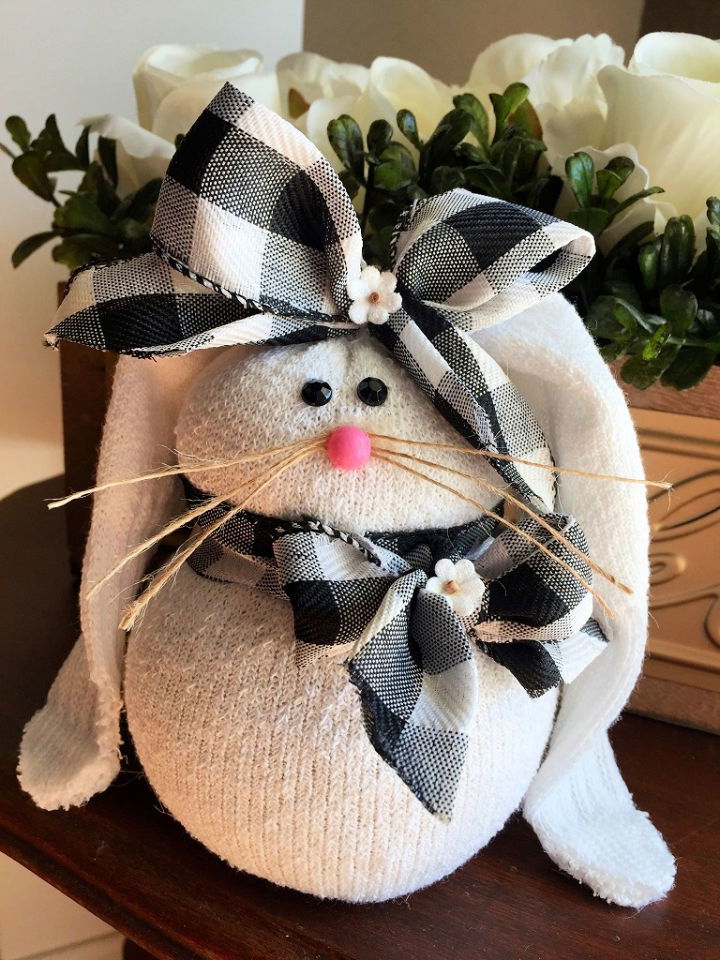 Get ready for Easter with this adorable and easy-to-follow DIY sock bunny tutorial. With just a few supplies, including a white sock, rice, hot glue, embellishments, and ribbon, you can make a cute and cuddly bunny that is perfect for Easter or as a gift for someone special. Watch the step-by-step tutorial and follow along to make your own unique sock bunny. This fun and creative project is perfect for all ages, and is sure to add a touch of charm to your holiday decor. Get started today and make your own sock bunnies for Easter! craftymorning
22. DIY Pom Pom Mouse Pad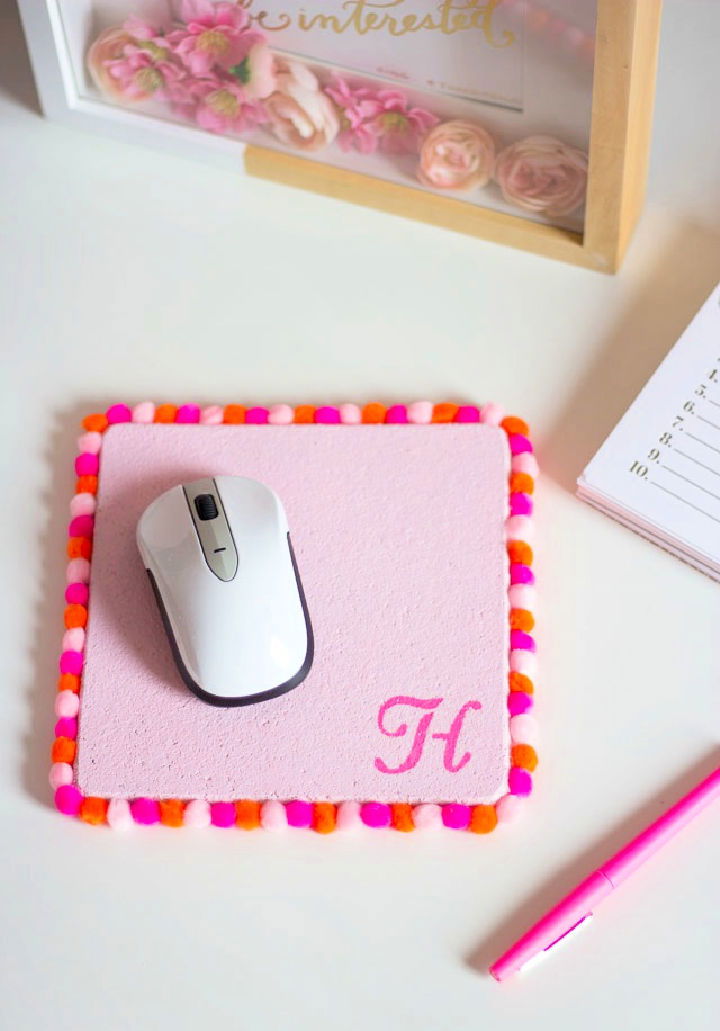 This easy DIY pom-pom mouse pad gives a unique and fun touch to your workspace! You only need acrylic craft paint, a letter stencil, ⅜″ – ½″ pom poms, a foam brush and a hot glue gun. You can make your design on the inexpensive cork trivet for an extra personal touch! Ideal as a gift or to add some color and texture to your office desk. Follow the simple step-by-step tutorial to make your one-of-a-kind decorative mousepad today! designimprovised
23. Make Your Own Pom Pom Magnets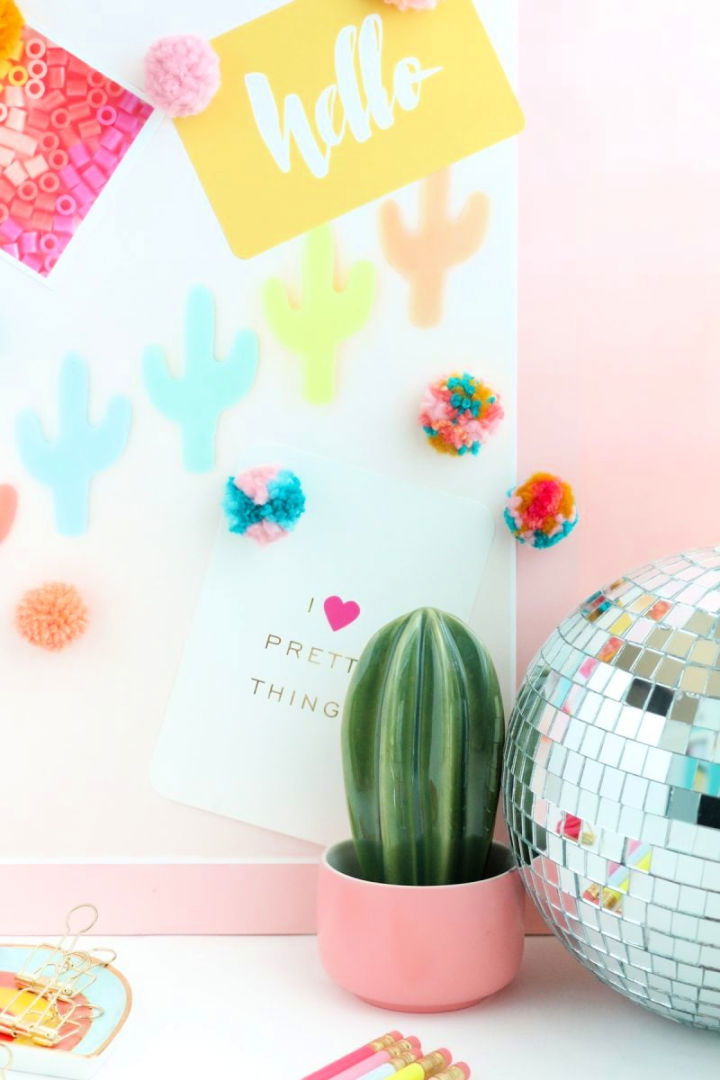 Crafting with friends and kids is a great way to have fun together! Make DIY pom pom magnets for your fridge, bringing some whimsy and vivid color into the kitchen. All you need are yarn in several colors, a mini pom-pom maker, low temp glue gun (safe for kids) & strong magnet rounds. The mini pom-pom maker helps make perfect homemade pom poms every time! Start adding pops of color to your space with this easy project – get ready to start obsessing over cute little pom poms! lovelyindeed
24. How to Embroider a Hat by Hand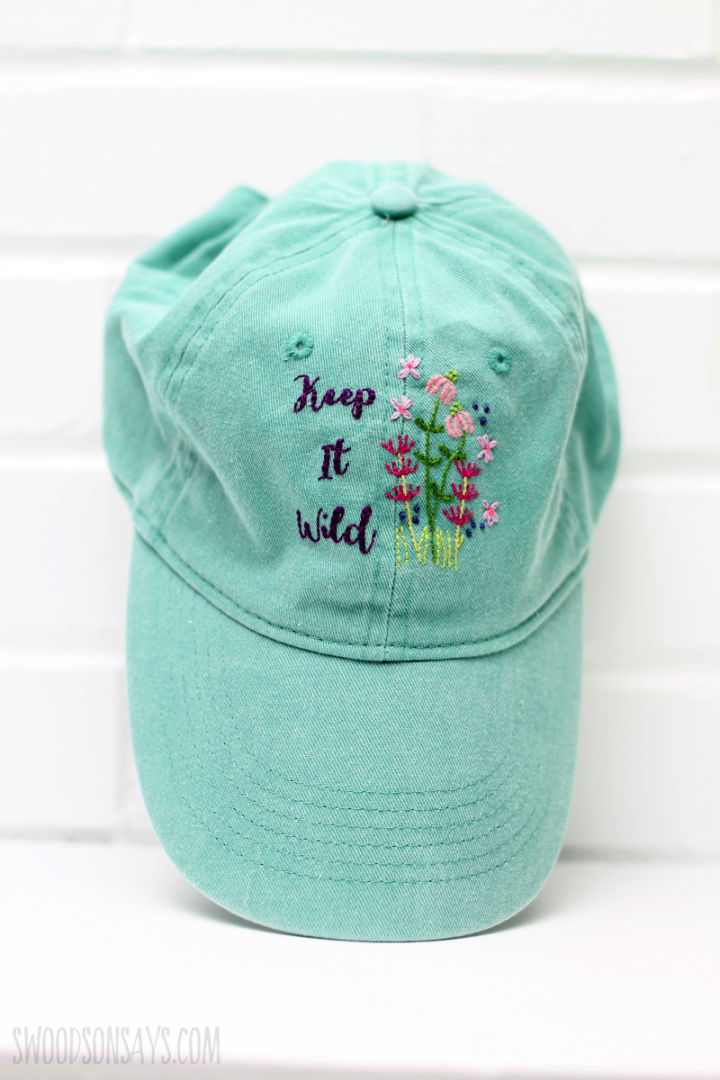 Learn how to make a unique and one-of-a-kind statement piece with this easy DIY project teaching you how to embroider a hat by hand! Hand embroidering your hat is perfect for beginners, requiring minimal supplies such as an embroidery hoop, needles, floss and sulky fabri solvy. You can even use the free floral pattern provided for extra style. This is the perfect summer project you can take on the go – in no time, you'll have a personalized and stylish hat that everyone will ask about! Stop by now to get started hand embroidering your very own hat today. swoodsonsays
25. DIY No Sew Pop Tart Pillow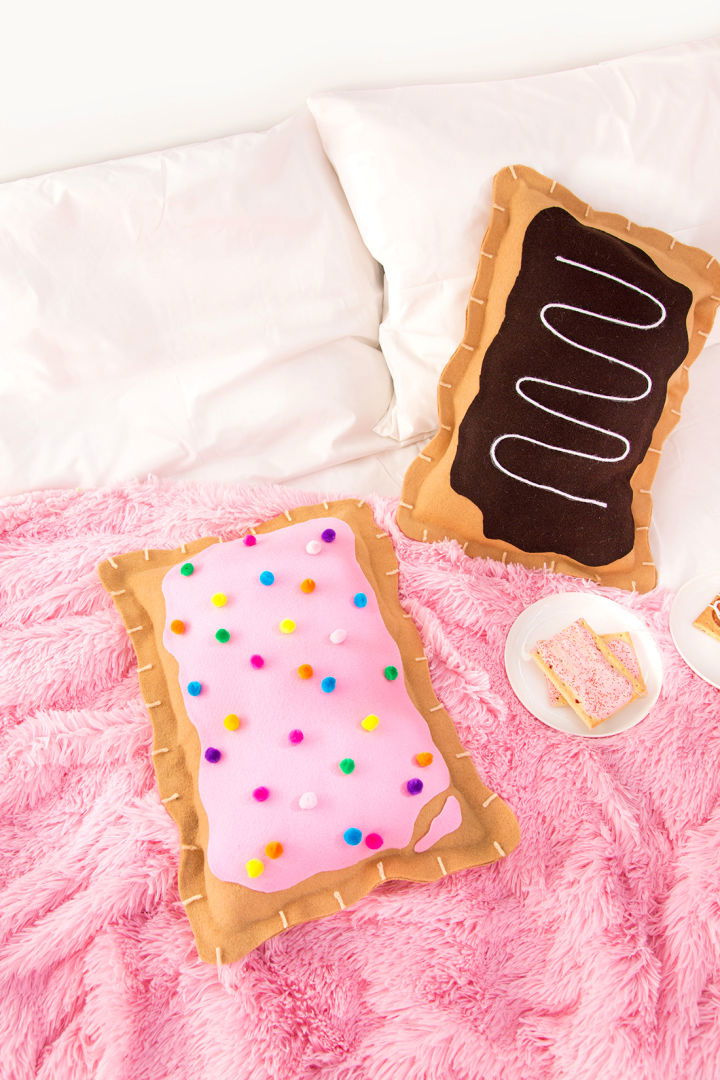 Show off your skills and creativity with these crafts for teenagers that you can share with your friends. This DIY project is the perfect way to make your home decor stand out. No sewing is required – just assembling a pop tart pillow! Using felt in beige, light pink and brown, fabric glue, polyester stuffing and a few extra supplies, you can assemble an oversized pillow that looks like your favorite toaster pastry. Perfect for beginners and adding a fun touch to any room. Finish it off with rainbow pom poms, white yarn and beige yarn for the ultimate pop of color. Get started crafting today! awwsam
26. How to Make Galaxy Coasters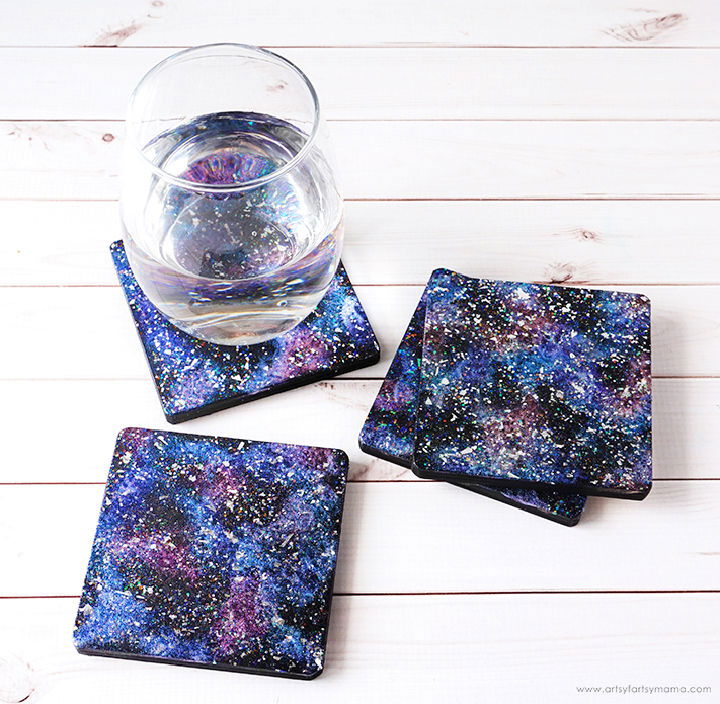 Make your own intergalactic galaxy coasters following this simple tutorial! These marvelous creations can be unique, making an out-of-this-world atmosphere in your home. Perfect for those who love space-inspired designs, these coasters will protect your tables from watermarks in style. All you need is unfinished wooden coasters, multi-surface paint, dragonfly glaze, glitterific paint, mod podge ultra, nylon brushes, and spouncers – it's easy! So take advantage of this amazing opportunity to bring a bit of the galaxy into your home. artsyfartsymama
27. DIY Phone Stand From Recycled Toilet Paper Rolls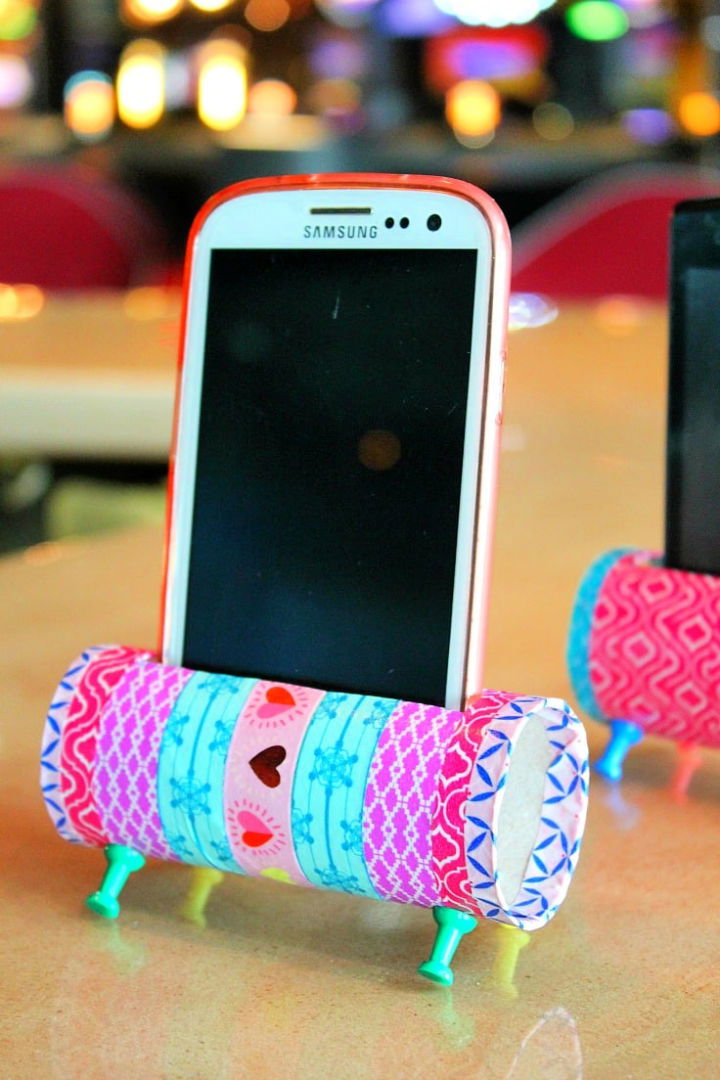 Turn your old toilet paper rolls into a practical, eco-friendly DIY phone holder! This easy project is perfect for kids, as a homemade gift, or to keep your home organized. Add unique touches with washi tape, tissue paper or fabric to make it stylish and colorful. Say goodbye to cluttered and scratched surfaces and hello to an addition that will bring life to your home decor! All you need is toilet paper rolls, decorations, and creativity – get started today on this quick craft! theseamanmom
28. How to Make Dried Flower Candles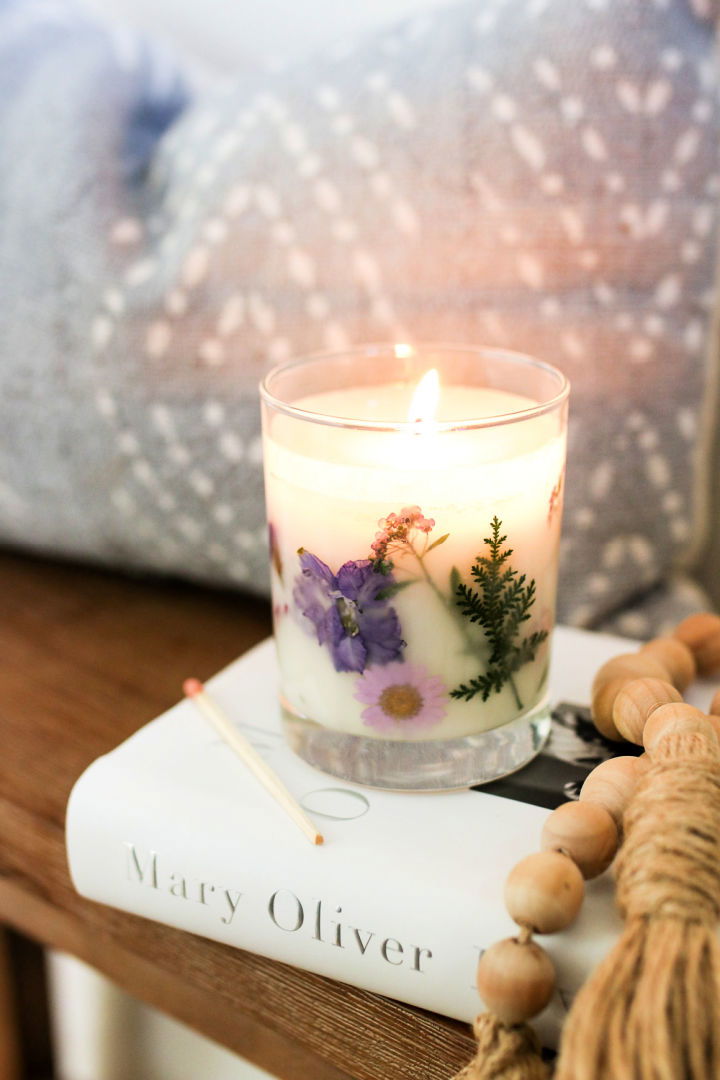 Are you looking for a unique holiday gift or home décor item? With this easy DIY tutorial, you can make stunning dried flower candles! You only need a few supplies, including paraffin wax, cotton wicks, essential oils, and glass containers. If desired, choose soy wax for your first pour to keep toxins to a minimum. Follow the steps outlined in this guide and make beautiful botanical candles that bring natural beauty into any home. Make them as gifts or enjoy yourself; these festive decorations will surely impress! hellonest
29. Making a Pom Pom Rug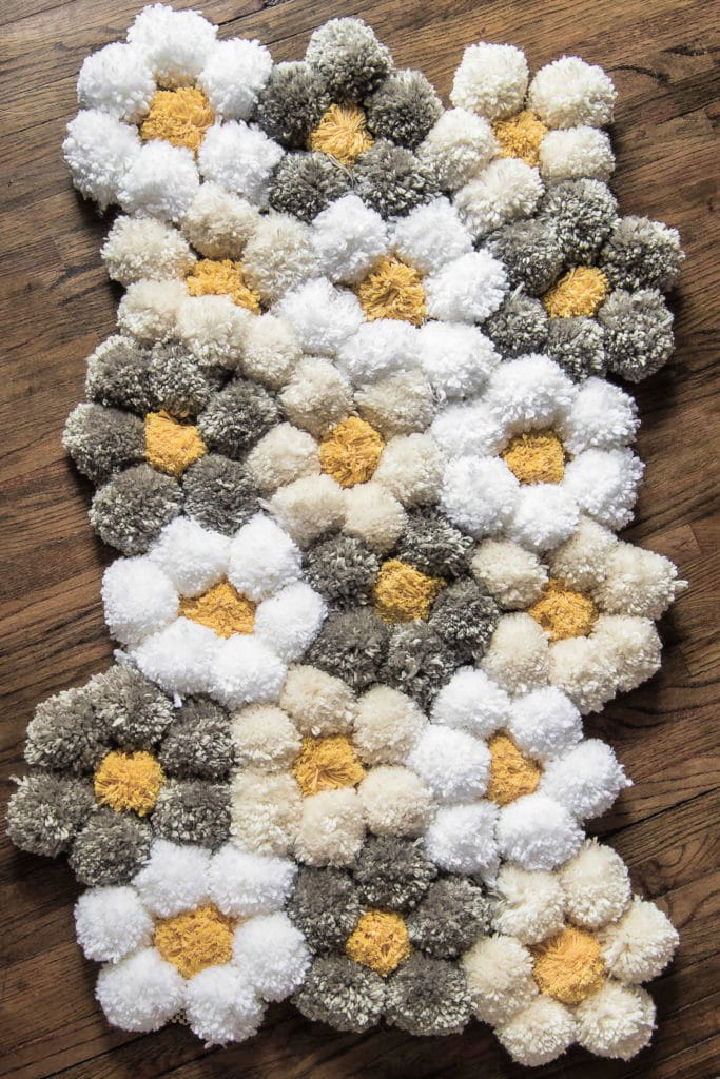 Make your home cozier with this easy tutorial on how to make a beautiful pom-pom rug! All you need is 15 skeins of grey, white, cream and yellow yarn and 2.5-inch large pom pom makers – or, if you prefer, make the pom poms by hand. The project will show you the trick to winding the yarn faster so this 24″ x 42″ flower patterned rug will be ready quickly. Perfect for adding some warmth and texture to any room! littleyellowwheel
30. DIY Mud Cloth Inspired Organizer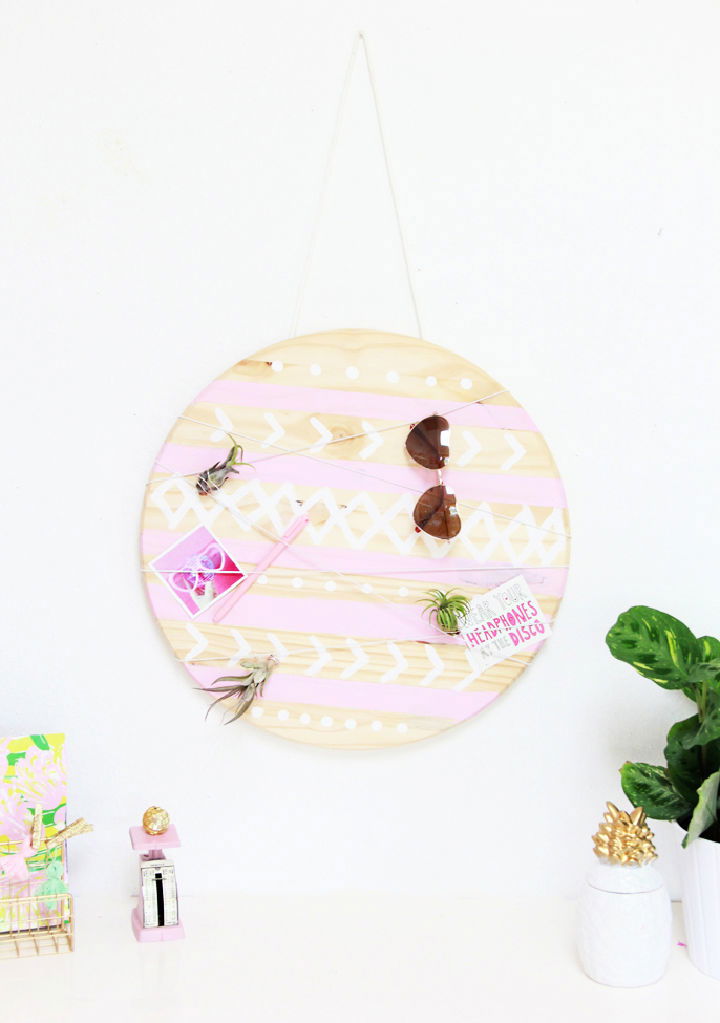 These crafts for teens are so cool, you'll want to make them all yourself. Craft your unique, budget-friendly mud cloth-inspired organizer with this easy DIY project! All you need is a wooden circle, paint, rope, an elastic cord, and a staple gun. Paint pink and white freehand lines, dots, and triangles for an original twist on the traditional black-and-white design. Attach a rope to make a handle to move it around easily. Use the elastic cord to store items like pens or utensils inside the organizer. This simple craft project is perfect for tidying up any desk or small space in your home! abubblylife
31. Cutest DIY Flamingo Snow Globes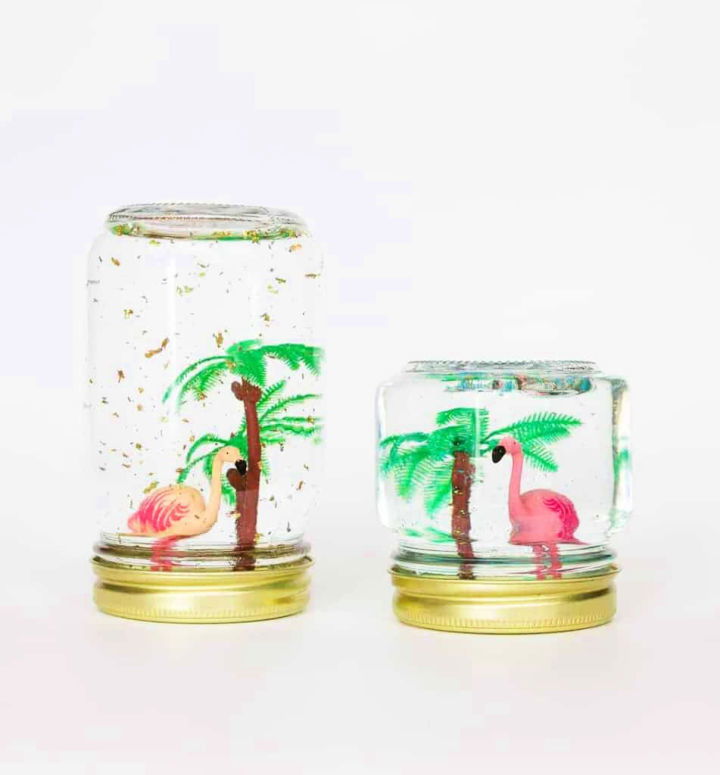 Turn your home into a caribbean paradise with these easy-to-make flamingo snow globes! They're the perfect addition to any tropical themed decor. Perfect for any flamingo and palm tree lover, this project is both easy and fun. Gather your supplies, such as mason jars, plastic flamingo & palm tree figurines, glycerine, and glitter in your favorite colors, plus a hot glue gun or super glue/epoxy to secure everything in place. Choose from small or large jars and gold or regular lids – these snow globes will make a splash! Bring some sunshine into your home today with this creative craft idea. ohsolovelyblog
32. Macrame Feathers Craft for Teens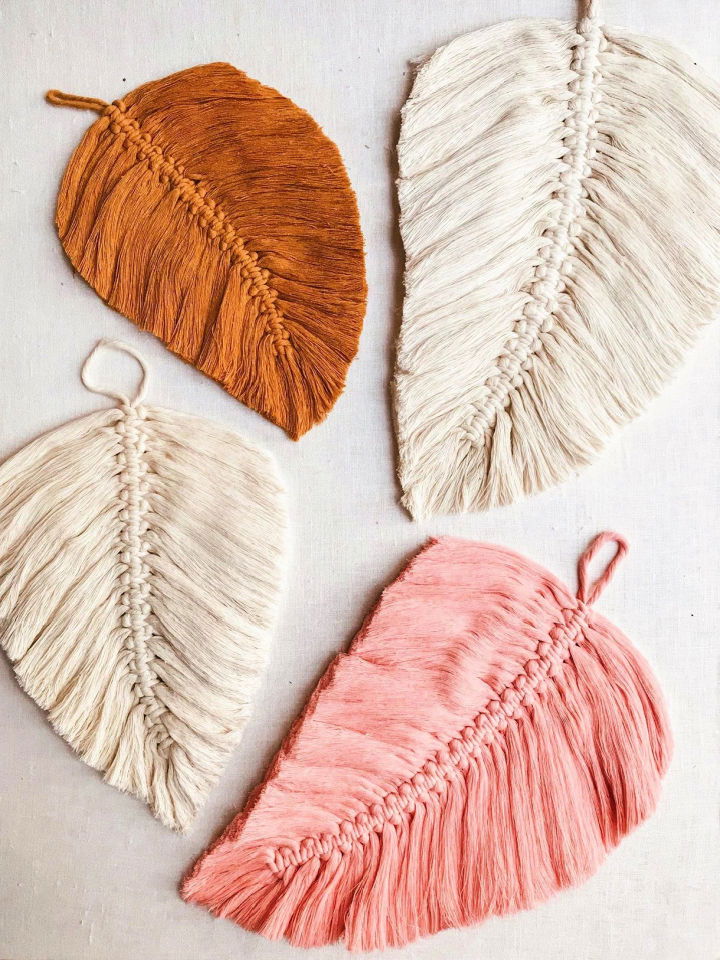 making beautiful macrame feathers can be a breeze with this helpful tutorial! It's simple to follow and will have you making gorgeous masterpieces in no time. With just a few strands of cord, a cat brush, and some scissors, you can make your custom feather décor. Follow the instructions to cut the correct length of strings for each section of the feather, then use the simple knotting technique to make its shape. With various colors and sizes available, these handmade feathers are perfect for adding a touch of boho charm to any room in your home. honestlywtf
33. Fluffy Slime Recipe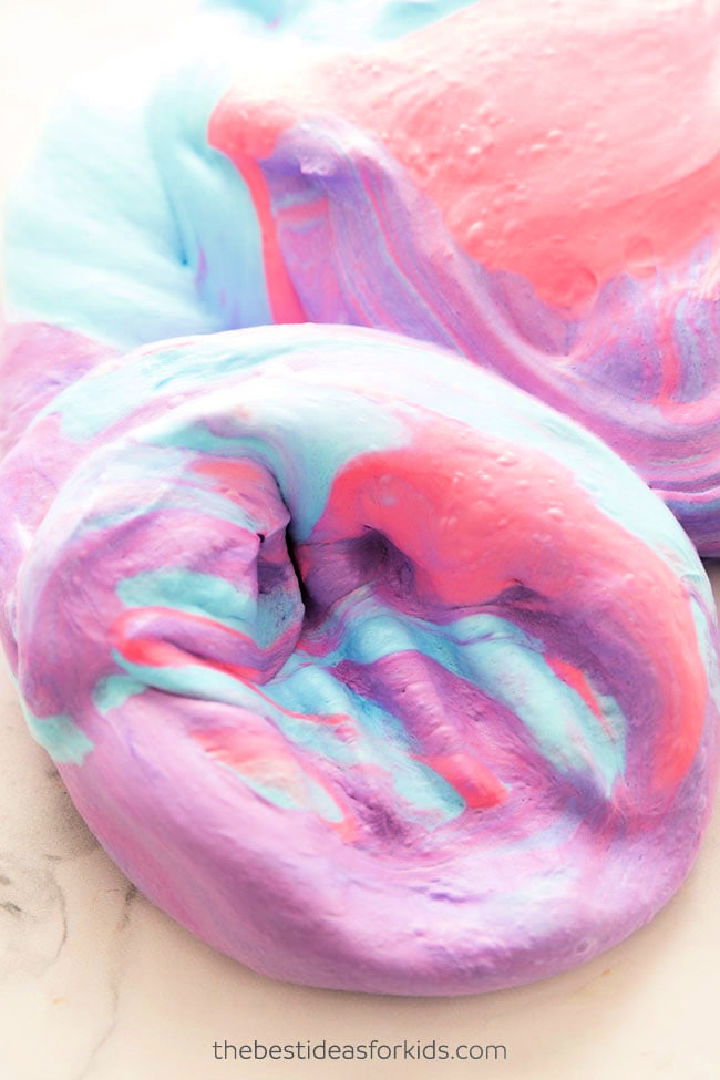 Looking for a fun activity to do with the kids? Try crafting this fluffy unicorn slime! This easy-to-follow recipe comes complete with brightly colored pink, teal, and purple hues that will captivate their creative minds. Utilizing shaving cream for extra fluffiness and compatible glue & contact lens solution brands ensures success every time. All you need is patience while they stretch, squish, and play with this fun slime for hours! Give it a go now – your kids won't regret it! thebestideasforkids
34. DIY Photo Luminaries from Paper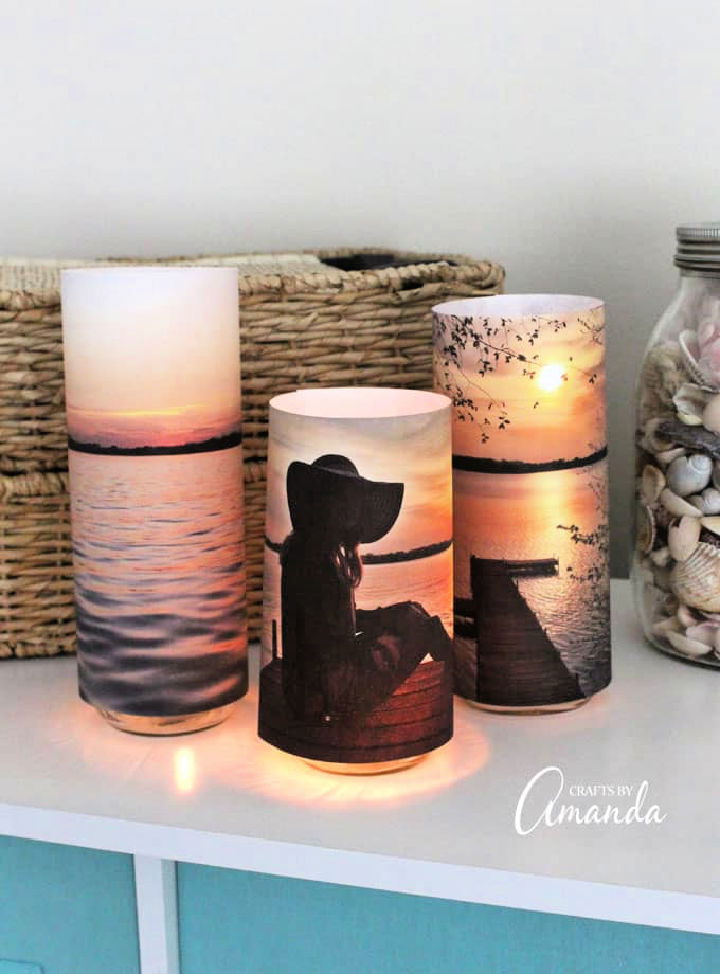 Add some color and fun to your room with these crafts for teens that are easy to make. This easy and quick DIY project brings a bit of extra wow factor to any special occasion. Learn how to make stunning and highly personalized photo luminaries from paper without glue or paint. Perfect even for those who are not crafty, these beautiful luminaries can be made in minutes using your favorite photos – summer, winter, or weddings! You'll find simple instructions on making one today and exploring all the endless possibilities that await you. Start making your photo luminaries now! craftsbyamanda
35. Felt Ball Necklace Tutorial
Upgrade your wardrobe in less than 10 minutes with this amazing DIY felt ball necklace tutorial. Gather some jewelry chains, jump rings, wire cutters, ribbons etc, to make a unique statement necklace that will add color and personality to any outfit. Choose from either black & white or pink & yellow felt balls for an extra special touch. Make this colorful accessory your signature style with minimal effort! polkadotchair
36. Make Your Own Unicorn Sugar Scrubs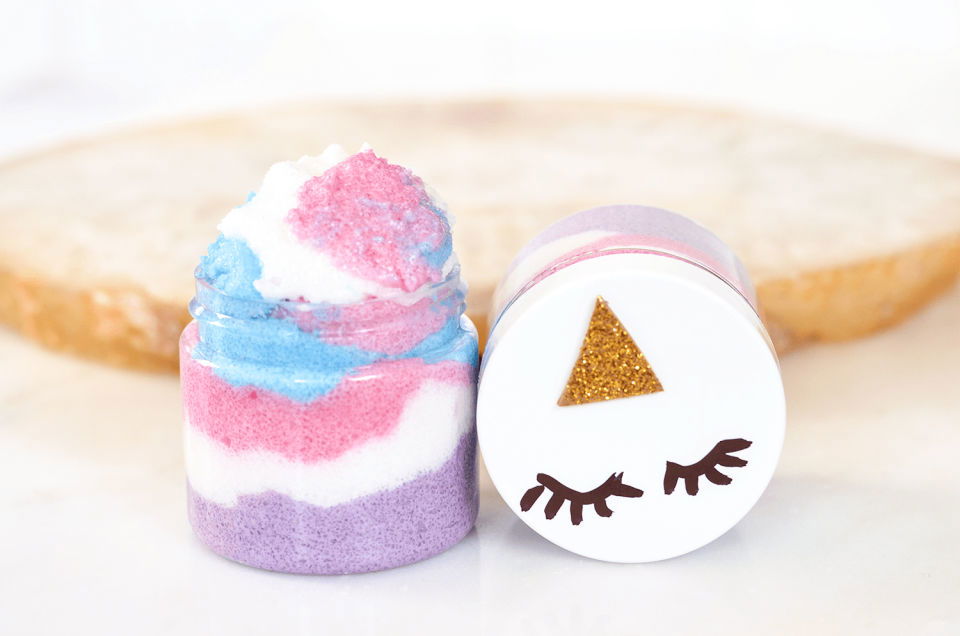 Get ready to make your skincare routine extra magical with DIY unicorn sugar scrubs! Refined shea butter and apricot oil provide moisture, while white sugar and cosmetic mineral micas leave skin soft and glowing. Decorate the jars with gold glitter adhesive foam and a permanent marker to make even more enchantment. Kids love mixing colors and scents for a fun crafty project at sleepovers or girls' nights. Get creative with unicorn-inspired beauty products that are perfect for all ages! abeautifulmess
37. Gorgeous DIY Fired Alcohol Ink Art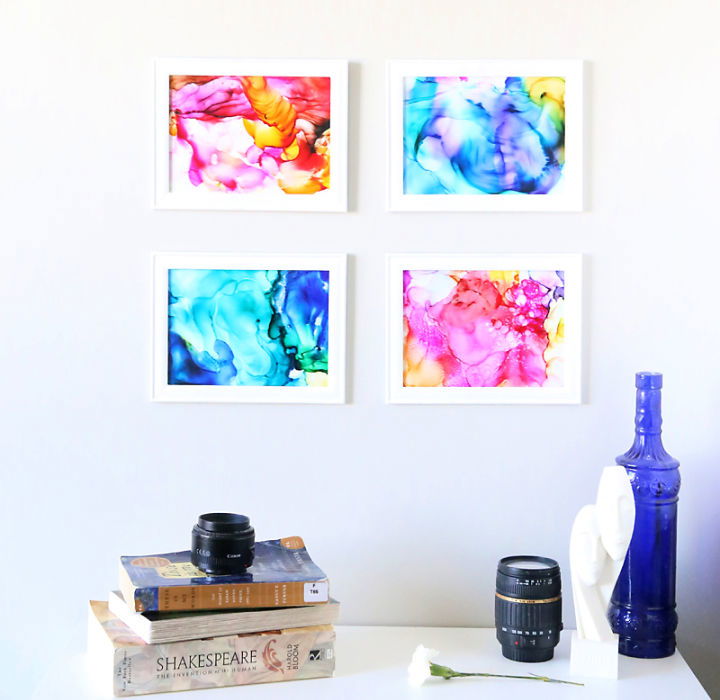 This fired alcohol ink craft is easy to introduce a unique artistic flair to your living space! This effortless craft is perfect for all ages and requires minimal supplies and no artistic skills. Grab a picture frame and remove the glass from the frame, then add alcohol inks followed by rubbing alcohol. Gently swirl them together and light the mixture on fire – watch as stunning designs come to life! Once it has burned out, back the glass with white paper before placing it in its frame for instant DIY art. Remember to use caution when working with fire & supervise children if necessary. Make beautiful wall decor that will last forever! itsalwaysautumn
38. Yarn Wrapped Rainbow Wall Hanging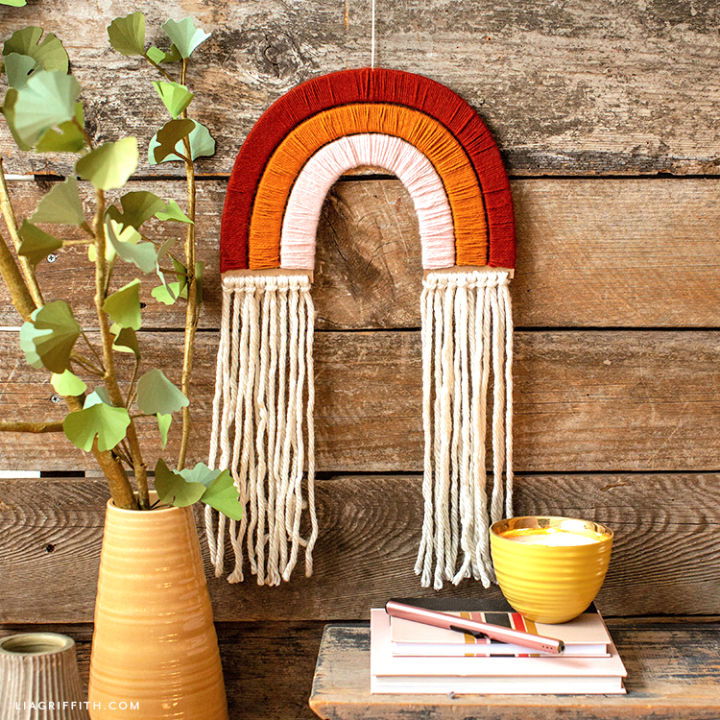 You don't need a lot of money or time to make these crafts for teens that are super cute. Brighten your home with this creative DIY project – a cheerful yarn-wrapped rainbow wall hanging! This piece will add a vibrant pop of color to any room. You only need a chipboard, yarn, scissors, and a cricut maker (or detail knife). Personalize this versatile wall hanging to match any of your room's decor. You can use knit picks brava worsted yarn in blush, persimmon, paprika, and knit picks biggo yarn in bare. Follow the tutorial for easy instructions, and add color to your home today with this DIY project for teens! liagriffith
39. Simple DIY Explosion Box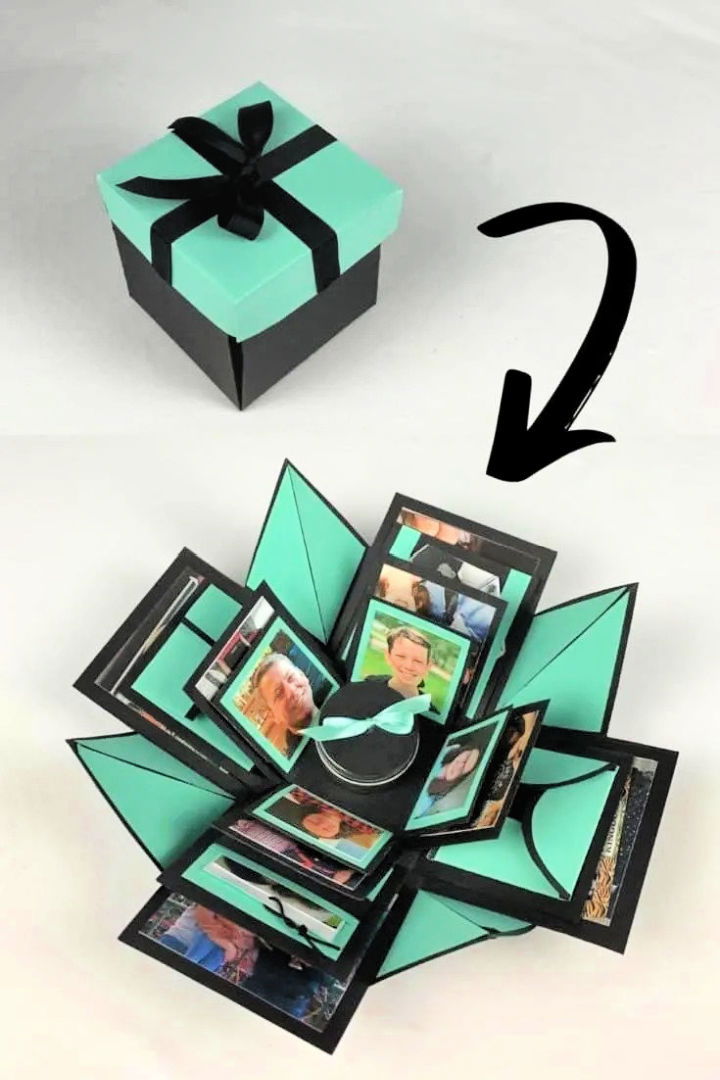 Be creative and put together something meaningful that your beloved ones will treasure. This DIY explosion box tutorial is the perfect way to make a personalized, one-of-a-kind gift for your special someone! With simple materials like cardstock, scrapbook paper, scissors and glue, you can make something special for birthdays, anniversaries or fandom-themed boxes – be it harry potter or star wars fans. Customize the box further by adding decorations such as ribbons, tin boxes, paper flowers, and mini bottles. Follow along to discover all the details on making an explosion box! chaoticallyyours
40. DIY Alcohol Ink Resin Keychains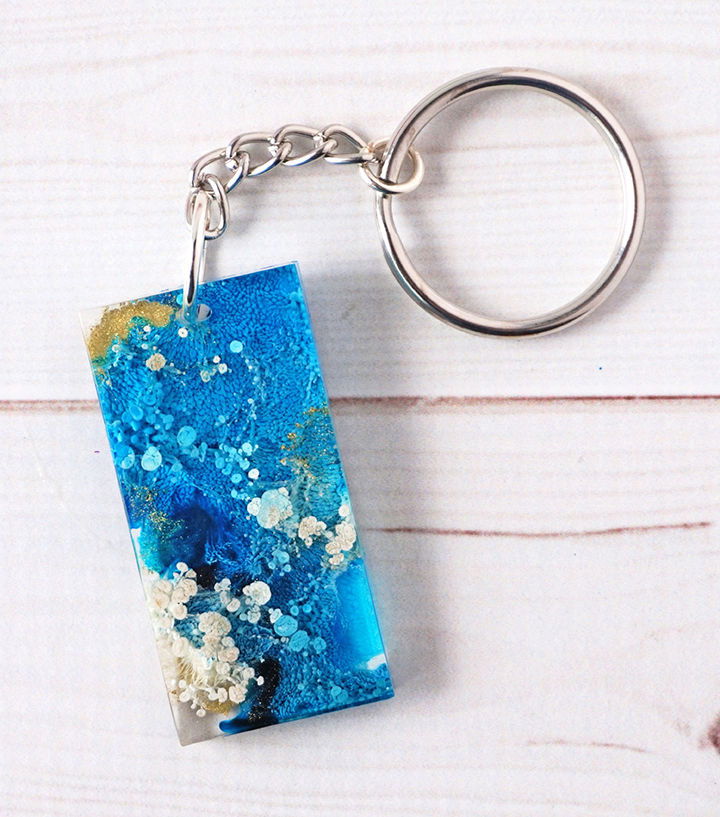 Go handmade and make your own one-of-a-kind DIY alcohol ink resin keychains with this resin craft! This project uses the popular "petri dish" method to make beautiful pendants and keychains. All you need are clear casting epoxy, a mold conditioner, a jewelry mold, jump rings, chains, and key rings. Perfect as a personalized gift or an eye-catching accessory for yourself! Follow easy instructions to make your stunningly unique alcohol ink resin keychain today! resincraftsblog
41. DIY Cupcake EOS Tutorial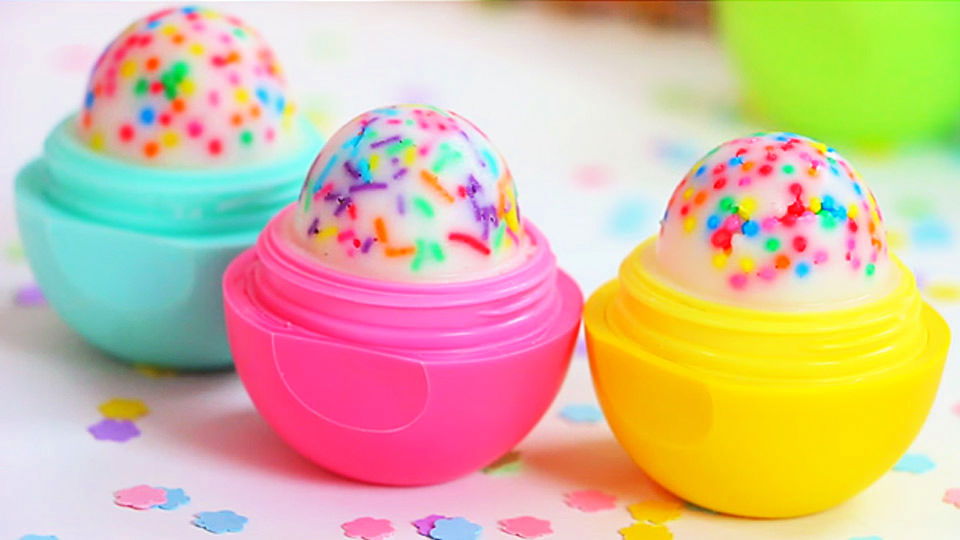 Impress your friends and family with these crafts for teens that show off your creativity and talent. Want your lips to look, feel and smell amazing? Learn how to make your own adorable and moisturizing cupcake eos lip balm with this 5-step tutorial! You'll surely impress your friends with basic ingredients like vaseline petroleum jelly, beeswax, and coconut oil. Add a touch of fun with some vanilla extract and sprinkles for an extra special finish. All you need is an eos container, a plastic knife, a small mixing bowl and a few other supplies – it's that simple! Get creative with colors and scents while making your own homemade creation that will leave your lips feeling soft all day. diyprojectsforteens
42. Painted Seashells Craft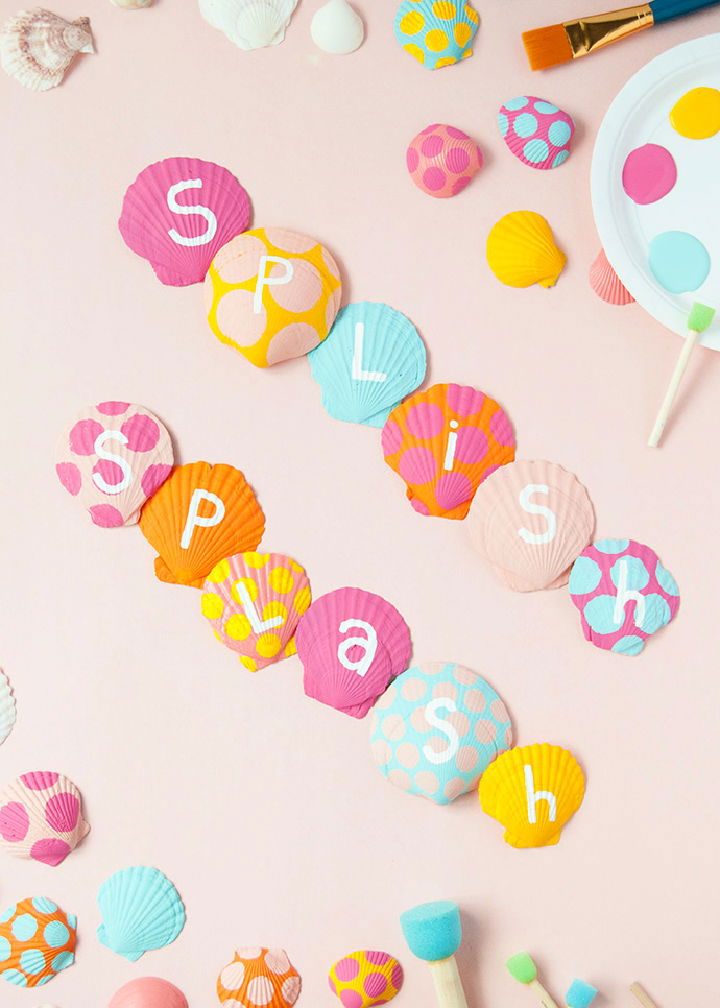 Make a unique summer craft, the adorable DIY painted seashells, with seashells and apple barrel acrylic paint! This project is easy and customizable, perfect for kids or as a DIY souvenir of your beach vacation. Get creative – paint the shells to match where they were found, or add the date and location. Need a seashell collection? No worries – most craft stores and dollar stores sell them too! With just some seashells, paintbrushes, foam spouncers and apple barrel acrylic paint, you will make something special to remember your beach trip. handmadecharlotte
43. How to Make Tie Dye Shoes With Sharpies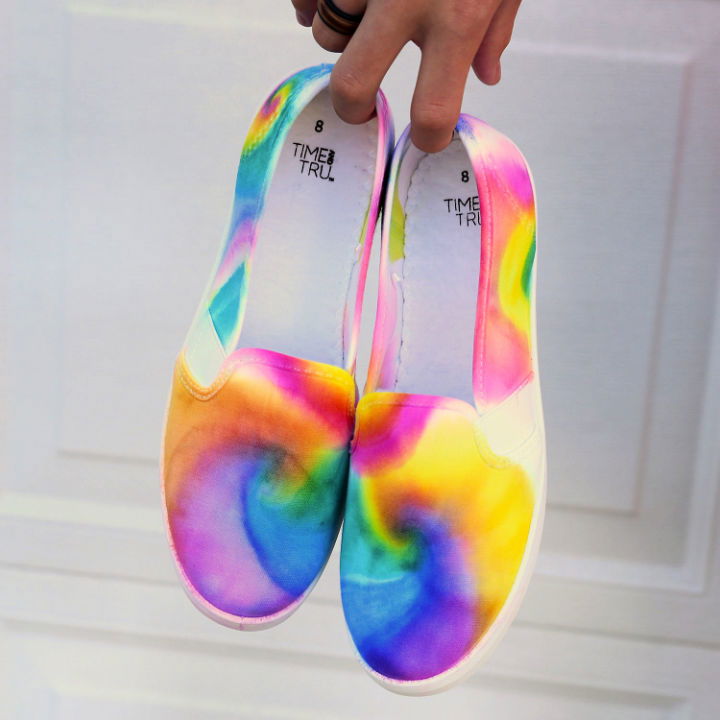 Have a blast with these crafts for teens that are perfect for parties, gifts, or just for fun. Get ready to make your summer style stand out with this easy and fun tie-dye project! Brighten any outfit by quickly and easily transforming plain white canvas shoes into colorful masterpieces. All you need is some sharpies, 91% rubbing alcohol, a dropper, and optional masking tape to keep the soles clean – no messy buckets of dye or rinsing required. It only takes one hour to make show-stopping shoes that will put a smile on everyone's face. Perfect for kids and adults alike – try it today! itsalwaysautumn
44. DIY Mini Spring Succulent Planters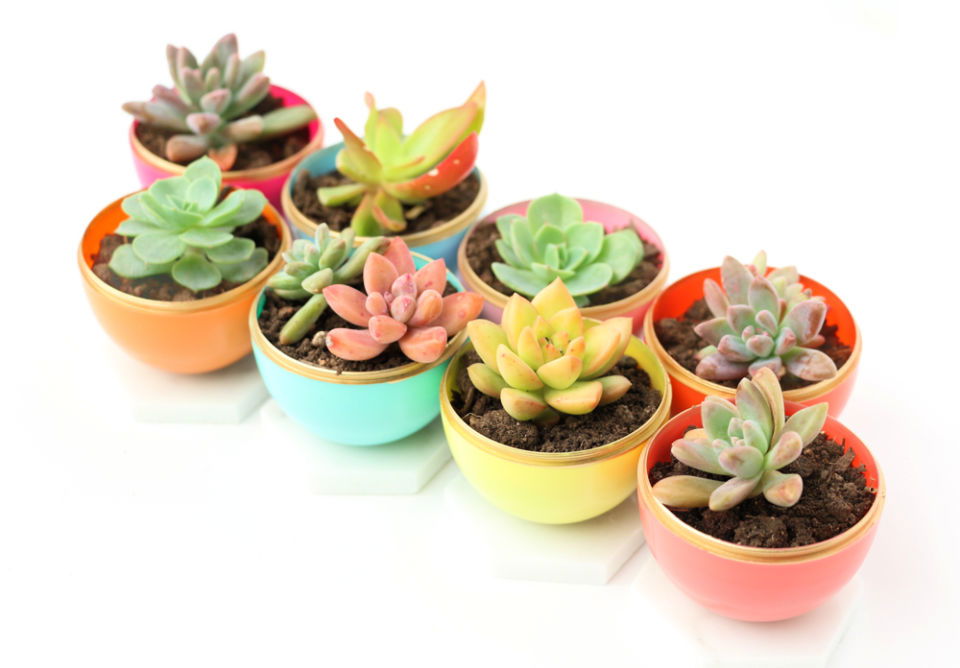 Welcome the beauty of succulents into your home with this easy and budget-friendly DIY mini spring succulent planter project! All you need is plastic easter egg bottoms, a gold leaf pen, and marble hexagon tiles – all for less than $0.50 each! Perfect for spring parties, bridal showers, or decorating any shelf in your home, these stylish planters incorporate trendy accents like gold and marble. Get ready to impress everyone who sees them with this fun craft project that will add a dash of personality and style to any event or room! akailochiclife
45. Make Your Own Macrame Rainbow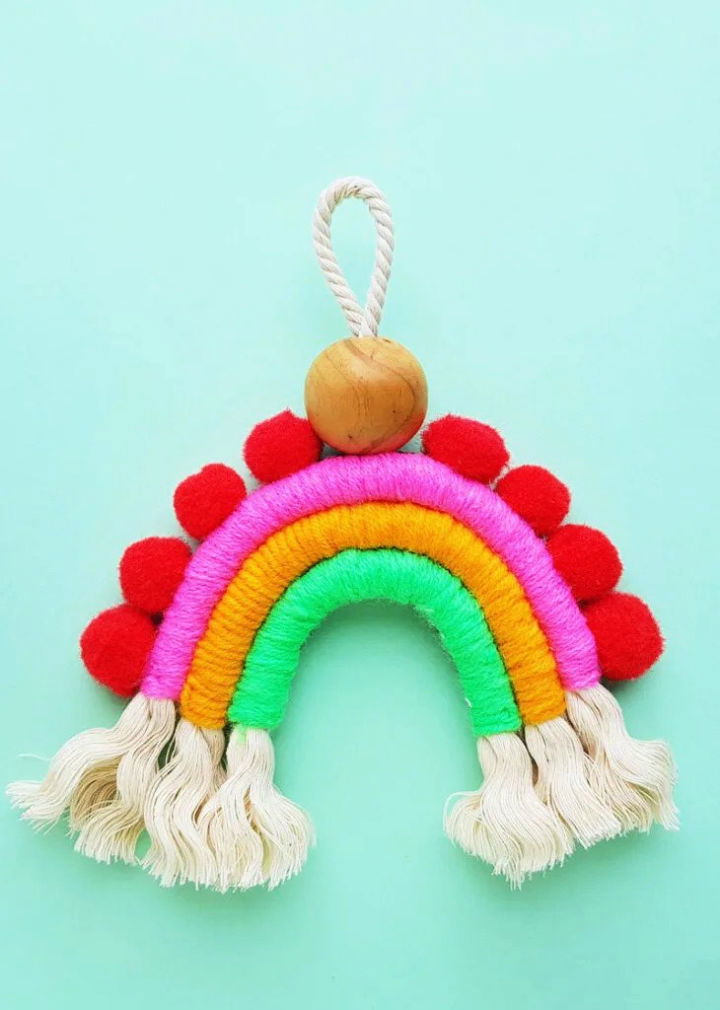 Make a cheerful, trendy DIY macrame rainbow with this easy tutorial that is perfect for beginners and teens. All you need is a natural twisted rope, colorful yarn or thread, a round wooden bead, pom poms and some basic crafting tools like scissors and a hot glue gun. Hang it as a charm or turn it into a wall hanging or backpack dangle! Make it more special by having a group project full of customization options such as different kinds of beads, pom poms, rope thicknesses and string textures. Get creative and make your own charming DIY macrame rainbow today! momsandcraft
46. DIY Canvas Banner Hoop Wreath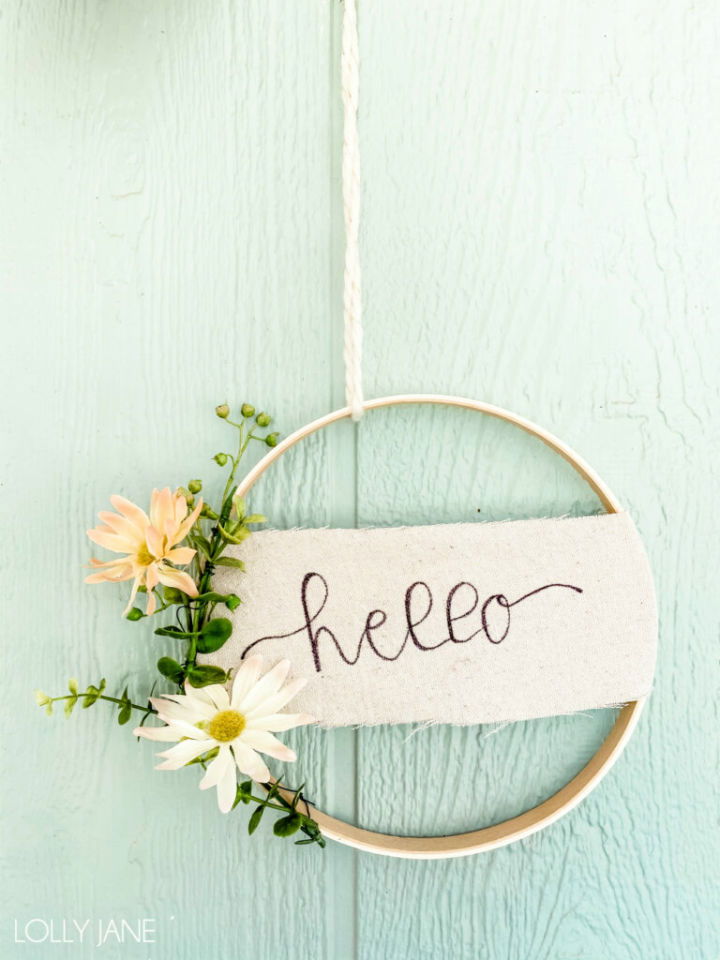 Design a cost-effective and attractive canvas hoop wreath in a flash with this DIY project. Perfect for teens! You only need supplies like an embroidery hoop, drop cloth, faux floral dried billy balls, and greenery stems. This DIY home decor craft will only take 30 mins to complete- the perfect way to repurpose items you have on hand for a beautiful front door decoration. Follow the instructions and get started with this project! lollyjane
47. St. Patricks Day Rainbow Craft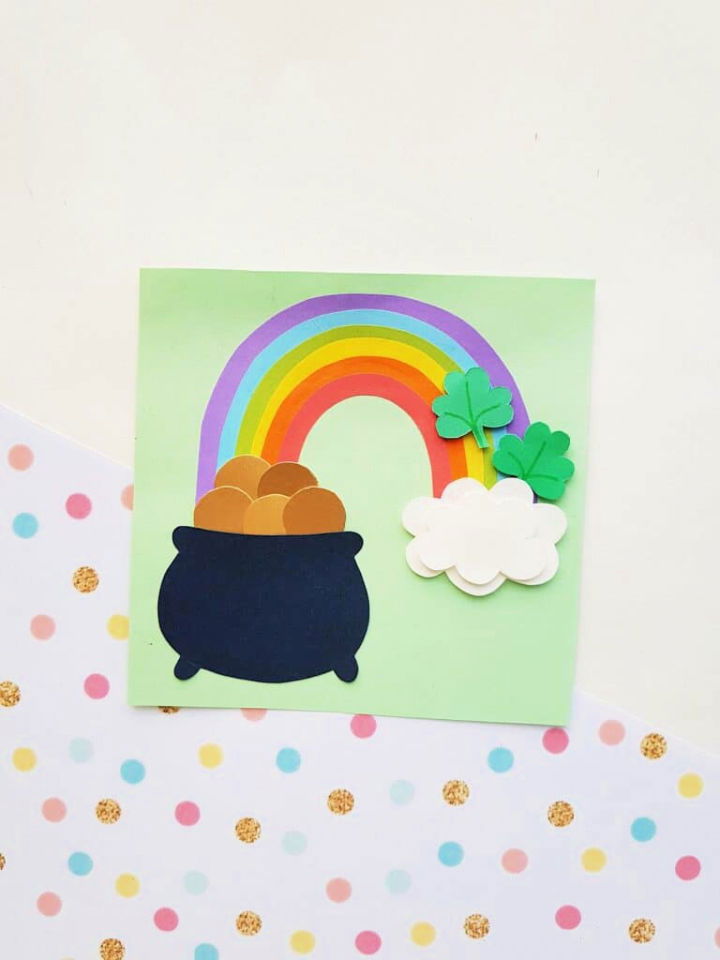 Spread the st. patrick's day cheer with this fun and colorful rainbow craft! Perfect for kids of all ages, make a 3d masterpiece with simple supplies like colored paper, gold paper, foam stickers, craft foam, and glue. Plus, use the included template to ensure your design turns out perfectly! Display your finished product to share the festive spirit. Get creative this holiday season and add a little luck of the irish in your home with this easy-to-follow DIY rainbow craft! bigfamilyblessings
48. St. Patricks Day Framed Art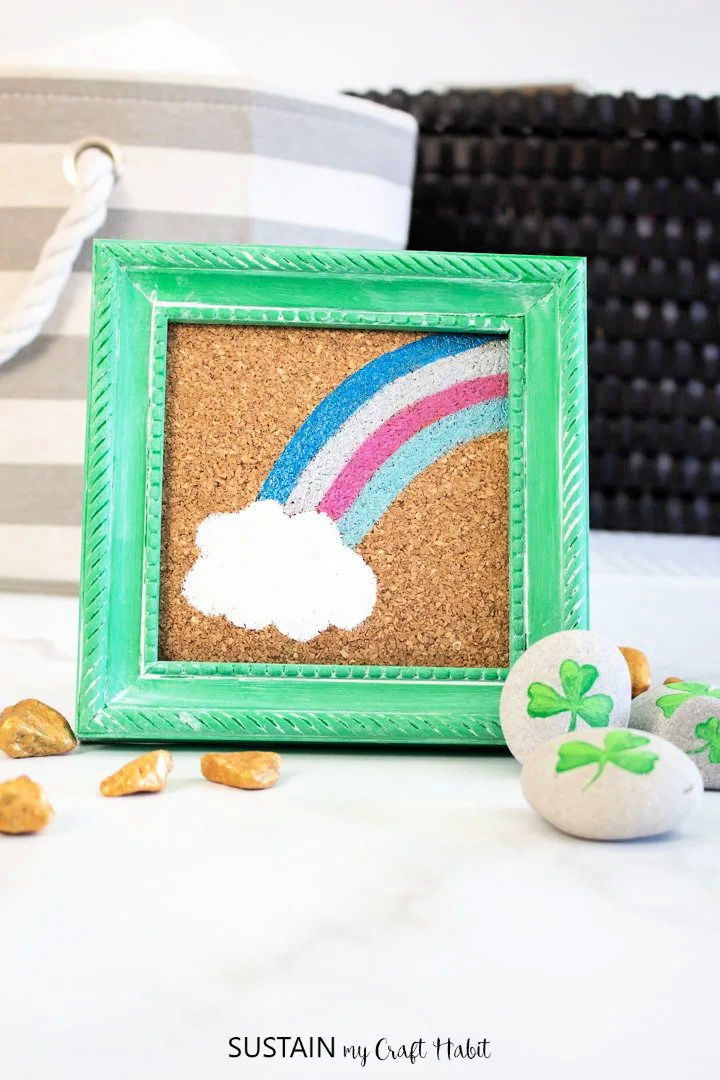 Get crafty with an easy and eco-friendly upcycling project this st. patrick's day! You can make a vibrant work of art with simple materials like a thrifted picture frame, corkboard, paints, and paintbrushes. Follow the step-by-step instructions to transform your old frame into a festive rainbow masterpiece that will brighten any room. Get creative and have fun this st. patricks day with this unique craft project! sustainmycraft
49. Paper Snowflake Craft for Teens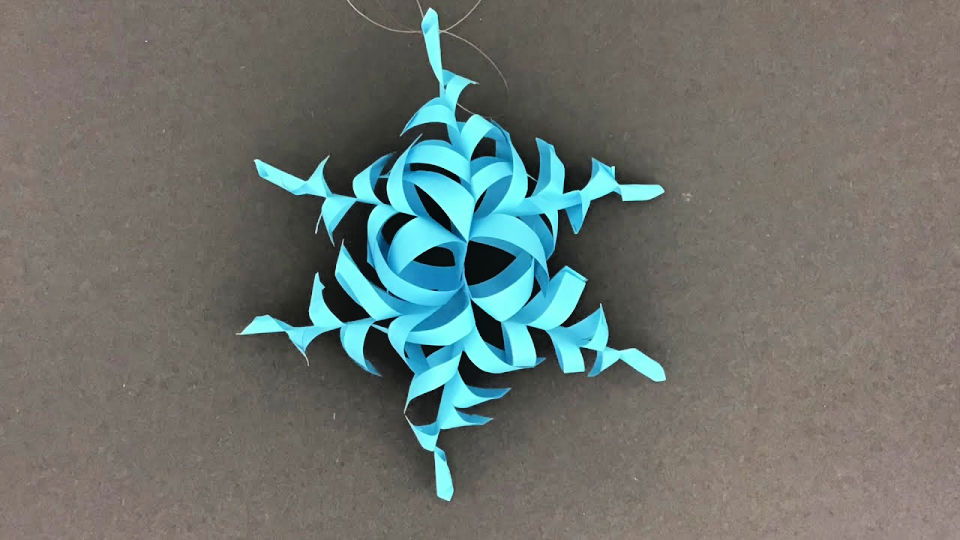 Welcome the winter season in style with this fun paper snowflake craft! Perfect for teens, the grab-&-go kit contains everything you need to make a beautiful decorative snowflake. The kit includes six (8×8 cm) pieces of paper, a fishing line, a ruler, a pencil, a pen, scissors and glue – plus easy instructions. Add warmth to your home without any hassle; grab your kit today, and don't miss out on this festive and creative activity!
50. How to Make Friendship Bracelets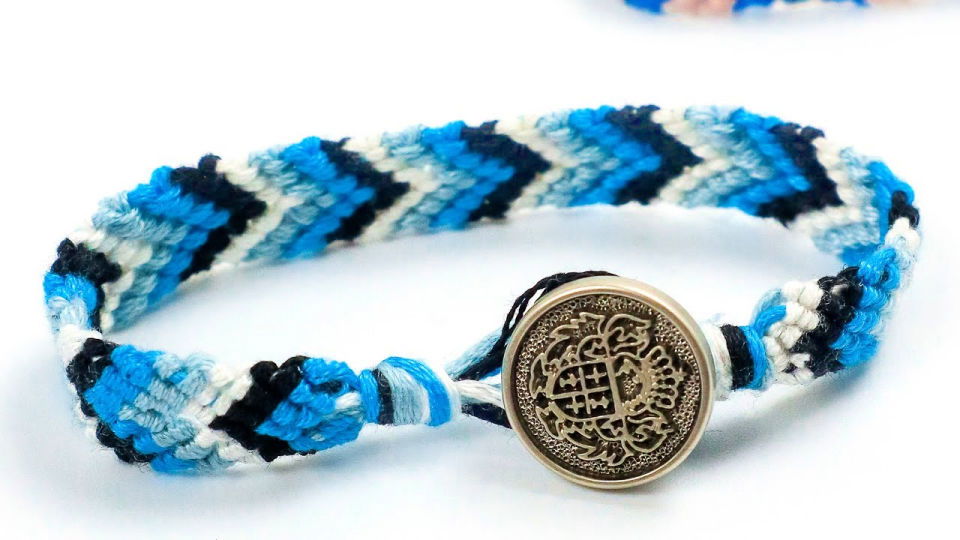 Learn how to make friendship bracelets with this step-by-step guide! All you need is embroidery floss, a bulldog clip, buttons and a chopping board. This DIY project is perfect for teens and adults – add an extra touch by adding a pretty charm or medallion. Revive the classic craft trend and make some wholesome memories with your friends! Check out the video tutorial for a visual guide to get started. With just these simple materials, you can become a bracelet-making pro!
Conclusion:
Crafting is a great way to express your creativity, have fun, and make something useful or beautiful. Whether you are into duct tape, concrete, or jewelry, we have shared 50 cool and fun crafts for teens and tweens that you can try at home or with your friends. You can also customize your crafts to suit your style and personality. Crafting can also be a relaxing and rewarding activity that can boost your mood and confidence. So, what are you waiting for? Grab some supplies and start making some awesome things with these craft and art ideas for teenagers today!